The know it all guide to Cardano blockchain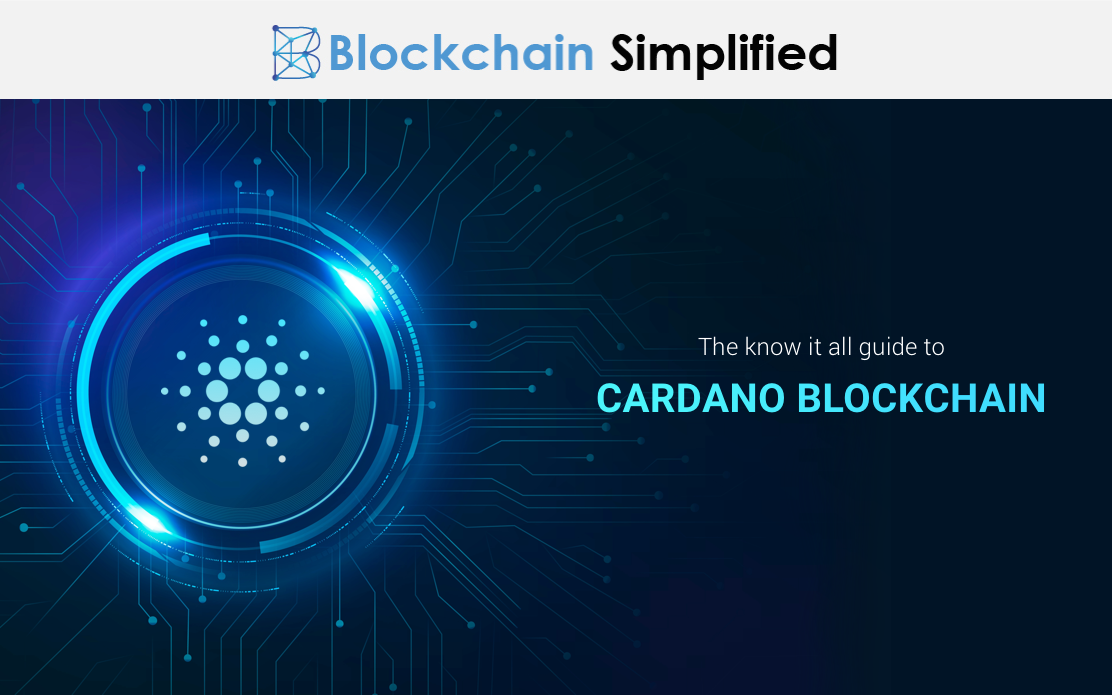 By now, we have learnt about plenty of blockchains like Bitcoin, Ethereum, Ethereum 2.0, Hyperledger, Fabric 2.0, Hyperledger Indy, Hyperledger Sawtooth etc, in our previous blogs. Each has its own features and its own different purpose for which it is built. Blockchain was struggling for long in its complete adaptability by organizations due to scalability issues and interoperability issues. While Ethereum 2.0 tried to resolve the scalability issue for the Ethereum blockchain, Layer 2 Scaling solutions like Bitcoin Lightning Network & Ethereum Plasma also were designed to address the issue. Blockchain bridges and Polkadot were developed to take care of interoperability issues in blockchain.
Cardano Blockchain is a blockchain network that facilitates the transfer of digital funds on its platform. But what makes Cardano blockchain unique is that it implements layered architecture to solve both the issues of scalability and interoperability.
In this blog, let us understand what Cardano blockchain is and how it works in order to achieve scalability and interoperability.
(https://blockchainsimplified.com is a top offshore Blockchain development company in Pune, India.)
What is Cardano Blockchain and its principles?
Cardano Blockchain was invented with the intention of filling the loopholes or other issues that other Blockchains were facing. First and foremost was addressing the issue of scalability. Hence, Cardano blockchain was designed in a layered manner where accounting and computation were to be performed on different layers. This automatically reduces the load on the base layer and allows the system to scale itself for more network traffic.
Building forkless upgrades to already deployed applications was also one of the objectives with which Cardano Blockchain was built. Cardano blockchain was built with a decentralized funding mechanism in mind that could help building future DeFi apps easily.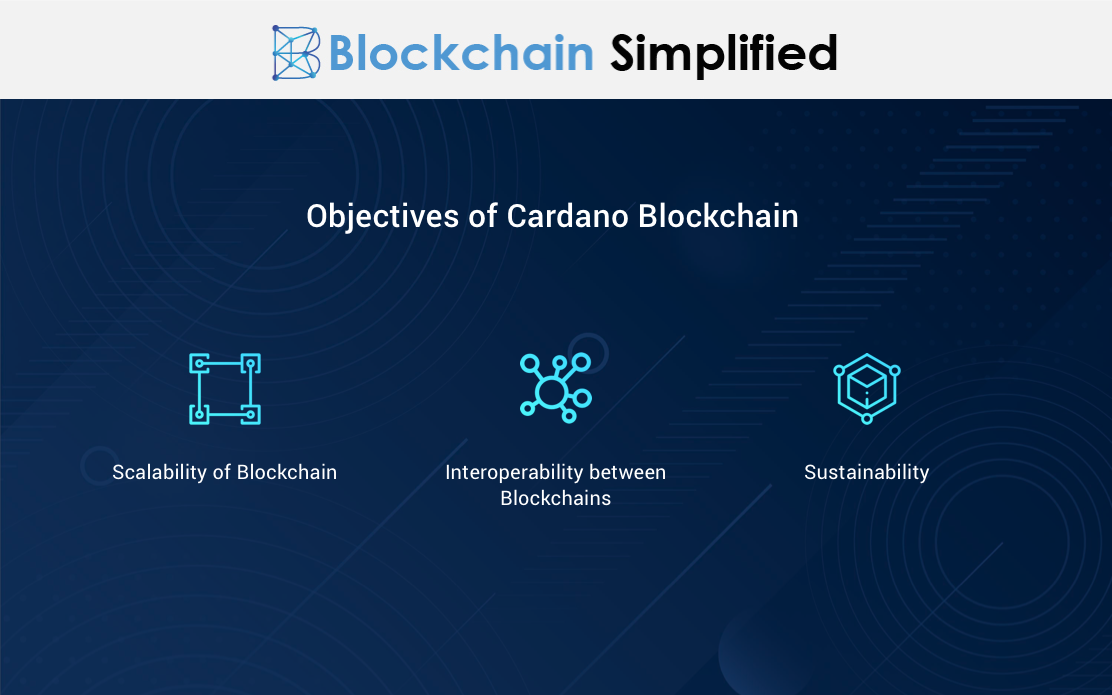 Cardano Blockchain for Scalability
Scalability of any blockchain is measured by the rate of transactions it processes every second. The time delay in transaction processing, the latency makes the entire system slow and lagging. It is important to take into account the network structure as well as the amount of data on the network while calculating scalability. Cardano blockchain uses the Ouroboros PoS algorithm in order to be able to process a large number of transactions. It also follows the RINA - Recursive Inter-Network Architecture to create a heterogeneous network. Cardano blockchain also follows the concept called as Partitioning where users/nodes only have the relevant information regarding a transaction and not the entire data. This significantly reduces the network storage issue and more resources are available in order to achieve supreme scalability.
Cardano Blockchain for Interoperability
Cardano is capable of implementing cross-chain transfers without the need of any centralized exchanges. This is possible because of sidechains. A sidechain is nothing but a chain that runs in parallel with the main chain but is connected to the main chain. This side chain is used to communicate with other blockchains to establish interoperability between the two and facilitate transfers. If these transfers include exchange between the crypto and the legacy world, it becomes extremely difficult to trace back the data and personal information regarding the transaction. This is where Cardano blockchain is researching as to how interoperability between the crypto and legacy world can be eased.
(Visit us at https://blockchainsimplified.com to hire Blockchain developers. We are an offshore blockchain development company based out of Pune, India)
Cardano Blockchain - Conclusion
Cardano Blockchain is equipped with solving the two most complex issues that blockchains face - scalability and interoperability. It is also a credible smart contract development platform, just like Ethereum. In the coming days, Cardano blockchain will be on everybody's mind just for the sheer ease with which it solves the most critical challenges.
About Blockchain Simplified
Blockchain Simplified is a Top blockchain development company in Pune - India which works on all major Blockchain requirements. We specialise in Blockchain, Web and Mobile development (One Stop Shop for all technology development needs).
Our clientele includes Multiple Funded Start - Ups, SMBs and few MNCs few of which are NASDAQ and NSE listed.
Some of our work includes,
Blockchain based-
hubrisone.com - is a Live app with 100,000+ downloads, All-in-One Cryptocurrency current account. The entire development from scratch carried out by Blockchain Simplified.
All in one Platform - Complete responsibility of entire software development of the platform ,for a $1m funded blockchain start up, led by a team of serial entrepreneurs and tech veterans in Silicon Valley.
Well funded Blockchain startup - Blockchain Simplified helped a $6m funded American Blockchain startup to build the first blockchain protocol to leverage on-chain smart contracts to manage distributed storage of application data off-chain.
Multinational Bank - The company helped one of the top 3 ranking Multinational Banks to integrate various cryptocurrencies into their banking application.
and more…
Non-Blockchain-
SHC - Built entire platform and app from scratch for a $1m funded startup led by a team of Americans including PhD degree holders.
VMW - Developed app for a multi-national company providing mass factory-to-factory shipment services. App is being used by 53 of the Fortune 500 companies such as John Deere, Coca-Cola, Nissan.
and more…
Expertise
Blockchain Development : Bitcoin, Ethereum, Hyperledger, Corda, and more.
Mobile App Development : Android Native, iOS Native, React Native, Flutter, Xamarin.
UI/UX Design : Strategy, Planning, UI/UX Design, Wireframing, Visual Designs.
Web App Development : Node.JS, Angular, React.JS, PHP.
Backend Development : MongoDB, MySQL, AWS, Firebase.
Visit our official website https://blockchainsimplified.com/ for more information