All you need to know about Decentralized Finance (DeFi)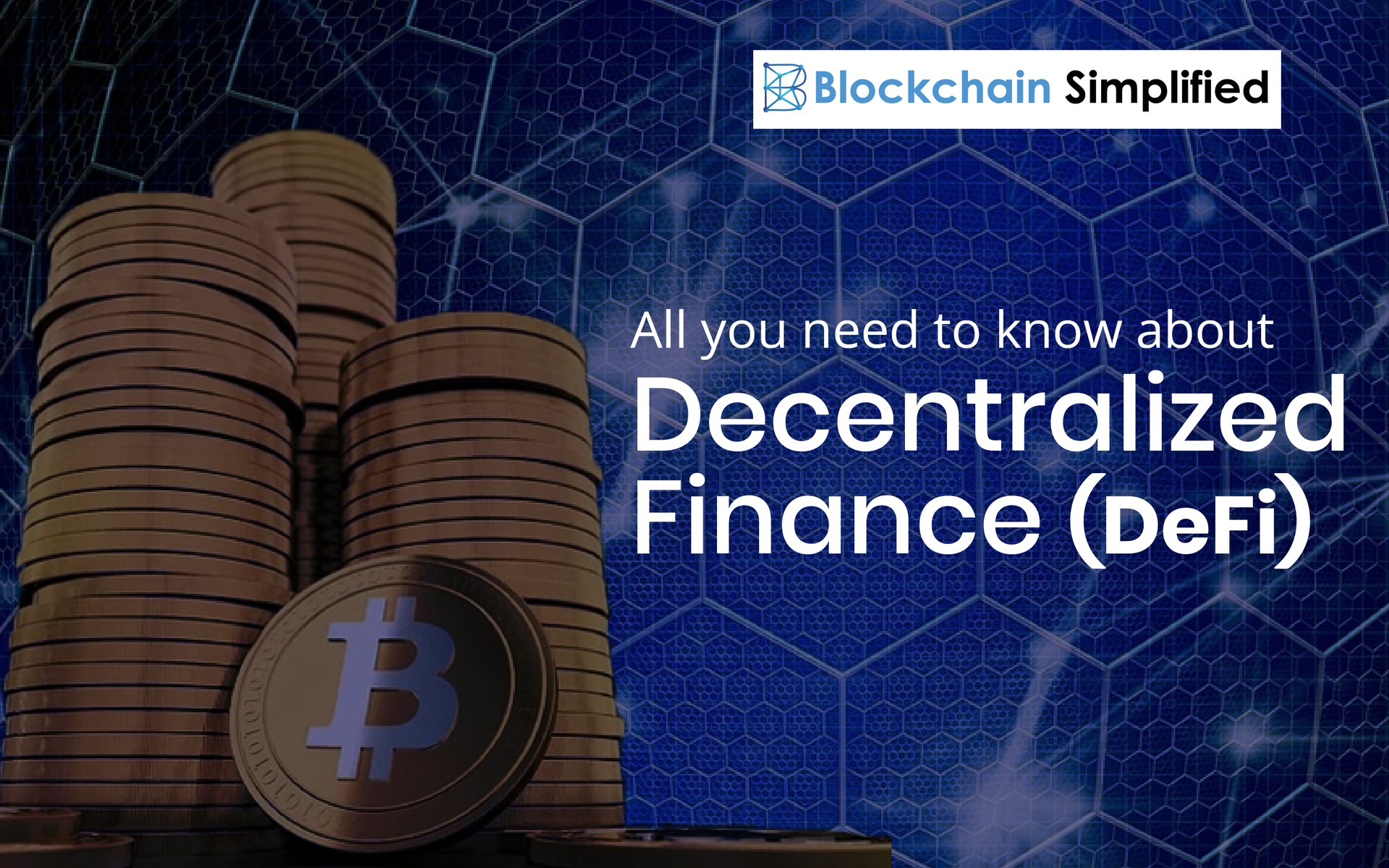 We understood in one of our previous blogs how Blockchain has the power to disrupt the Insurance sector and streamline the entire process. But can Blockchain be of any use to the magnanimous Finance field? Are there any applications of Blockchain in the Fintech field that can transform the way it works? The answer is Yes. One of the greatest applications of Blockchain in Finance is Decentralized Finance (DeFi). Today in this blog, let us go through the basic concept of Decentralized Finance while also discussing the benefits and use-cases of DeFi.
Why is there a need for Decentralized Finance?
By now, we all know the risks and challenges associated with centralized authorities controlling our personal and confidential data. In a similar fashion, a traditional finance set-up is also centralized. Typically, a central governing financial authority of a country issues a national currency in the market for trading and business. These powerhouses, like the governments and the banks also dominate and control the supply and flow of this money in the market. To earn profits and higher returns, customers save their money in banks and other financial institutions in the form of Fixed Deposits or Recurring Deposits etc.
This clearly means that these authorities have complete access and control over all the assets and funds, thus increasing the risk of any manipulation. Also, out of the huge profits that banks earn via lending loans at higher interest rates or stock market investments, the actual depositors earn very little interest over the investment (profit). These authorities have the final say on customer's investments, have complete access of their accounts and also there is no transparency throughout the process.
To solve these problems, there arose a need to have an open and decentralized set-up and this is where Decentralized Finance emerged to the core.
What is Decentralized Finance (DeFi) ?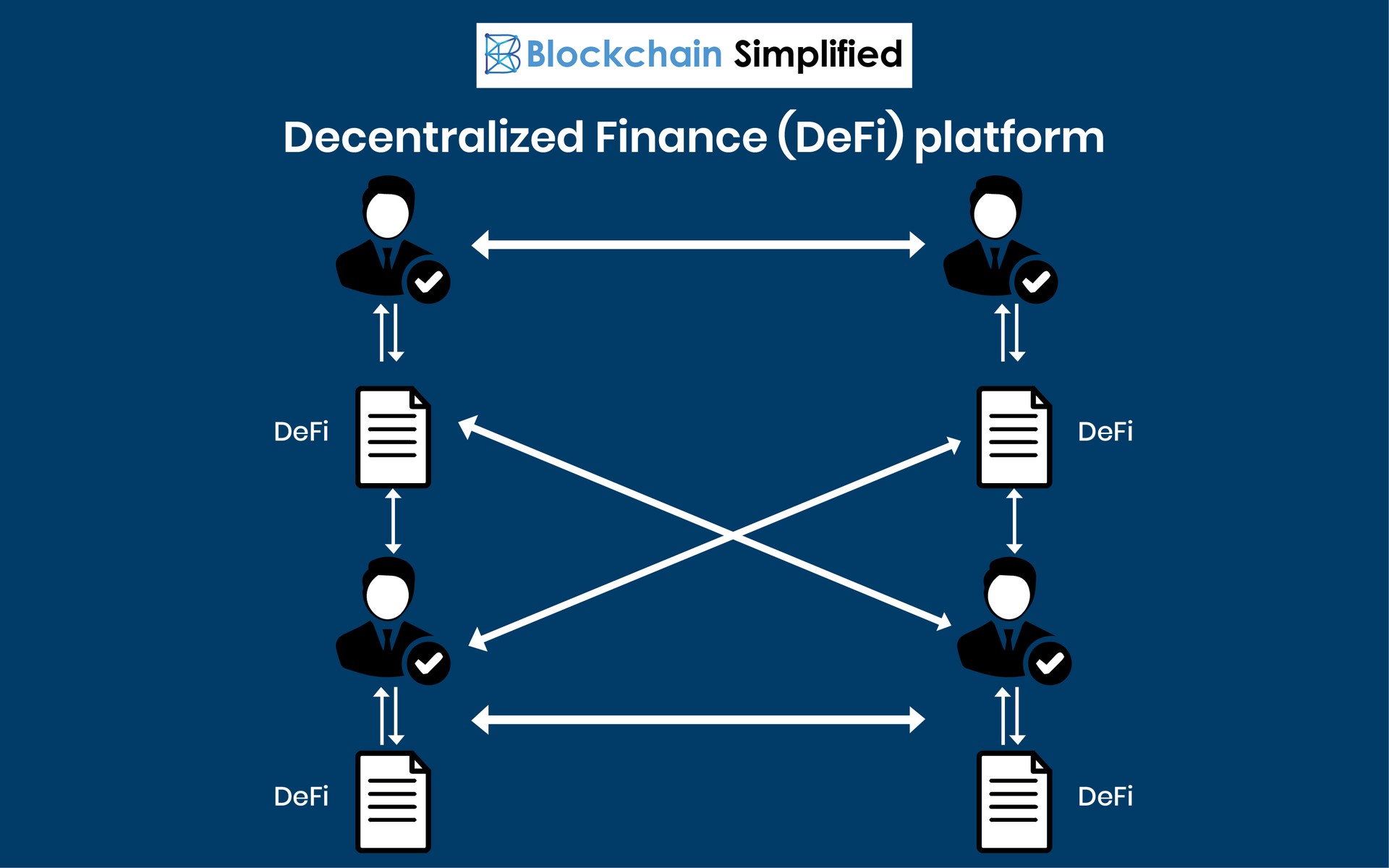 While cryptocurrencies were introduced with the objective of creating decentralized financial systems for trading, it was more of issuance of money, payments and storage. It eliminated intermediaries like banks, this giving users complete control over their money. Decentralized Finance (DeFi) goes a bit further to provide several other financial services like loans, insurance etc on a decentralized blockchain platform that can be accessed by people world over.
By building DApps on a Blockchain platform like Ethereum (it can be built on other Blockchains also) and implementing smart contracts for automation, it is possible to include different financial services on a single network. We saw our blog on Digital Objects on Blockchain, here the digital object is the digital money.
There are already live examples of dApps built for lending automated loans called crypto loans from one person to another in two different parts of the world. Go through some of the Decentralized Finance (DeFi) platforms live as of today. There are several apps related to DeFi like creating stablecoins, asset exchange, investment options etc available in the market today. Decentralized Finance can also be used to create pooled lending platforms, asset tokenization platforms etc.
(Hire the best Blockchain developers at https://blockchainsimplified.com)
Benefits of Decentralized Finance (DeFi)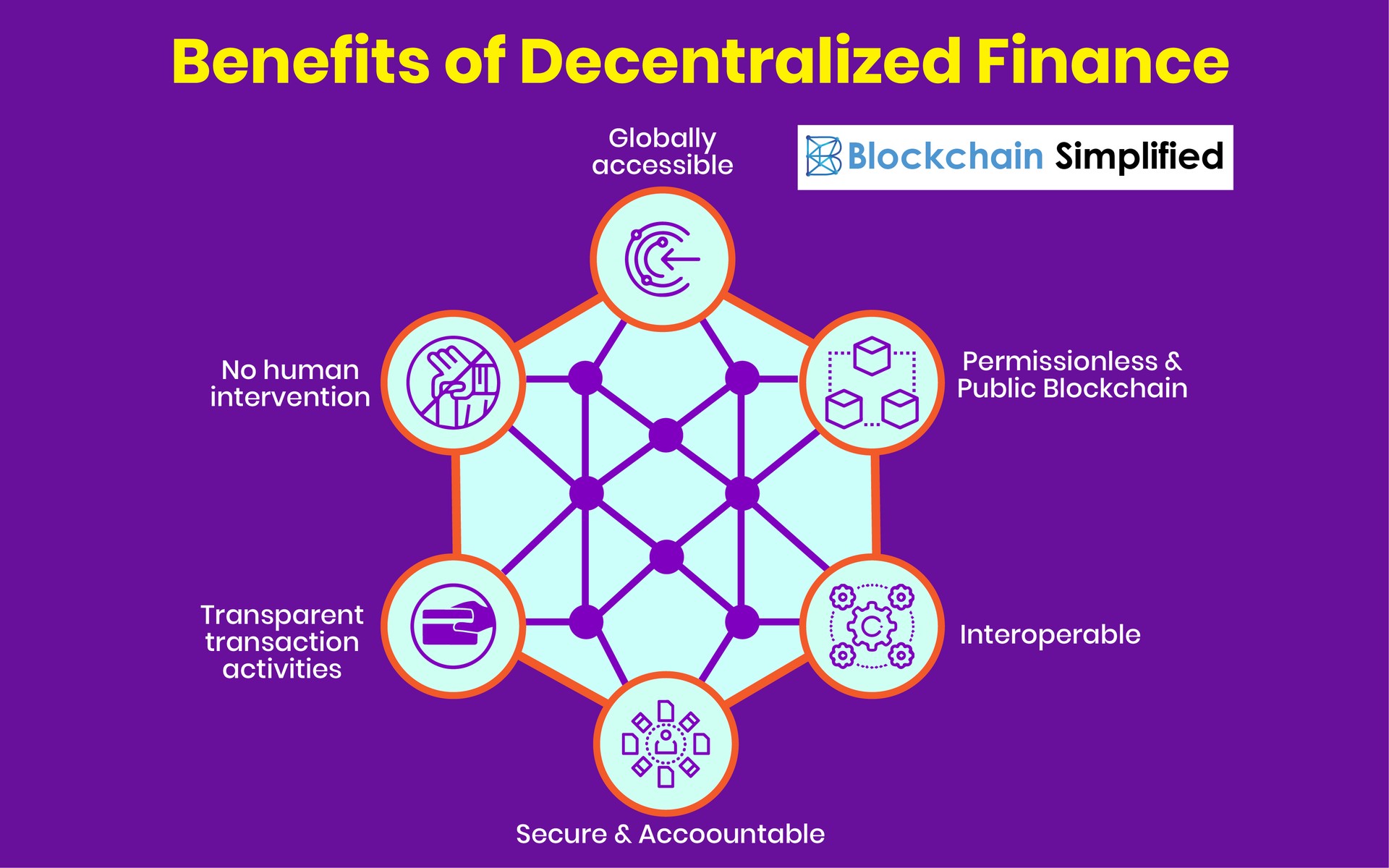 1) Since DeFi dApps are decentralized, they eliminate any level of intermediaries and human intervention thus maintaining utmost security and integrity. Since business rules are automated within smart contracts deployed over the Blockchain platform, these smart contracts execute themselves without the requirement of any manual interference.
2) Acquiring Blockchain's fundamental quality of transparency, Decentralized Finance provides complete transparency of transaction activities to all the users publicly.
3) All DeFi apps and their financial services are globally accessible to anyone across the world. Typically, Decentralized Finance dApps are built on permissionless, public blockchains that enable anyone to create these apps and everyone to use them. The cryptocurrency required to execute the transactions on the Blockchain is directly interactive with a user's crypto wallet.
4) Multiple DeFi apps can interact with each other in a secure manner as they are built to complement one other thus exhibiting interoperability.
5) Ofcourse, since Blockchain is immutable and tamper-proof, DeFi apps provide complete security throughout the financial process.
Read about the advantages of building a Blockchain based cryptocurrency trading platform.
(Blockchain Simplified is a top Blockchain development company in Pune, India)
Applications of Decentralized Finance (DeFi)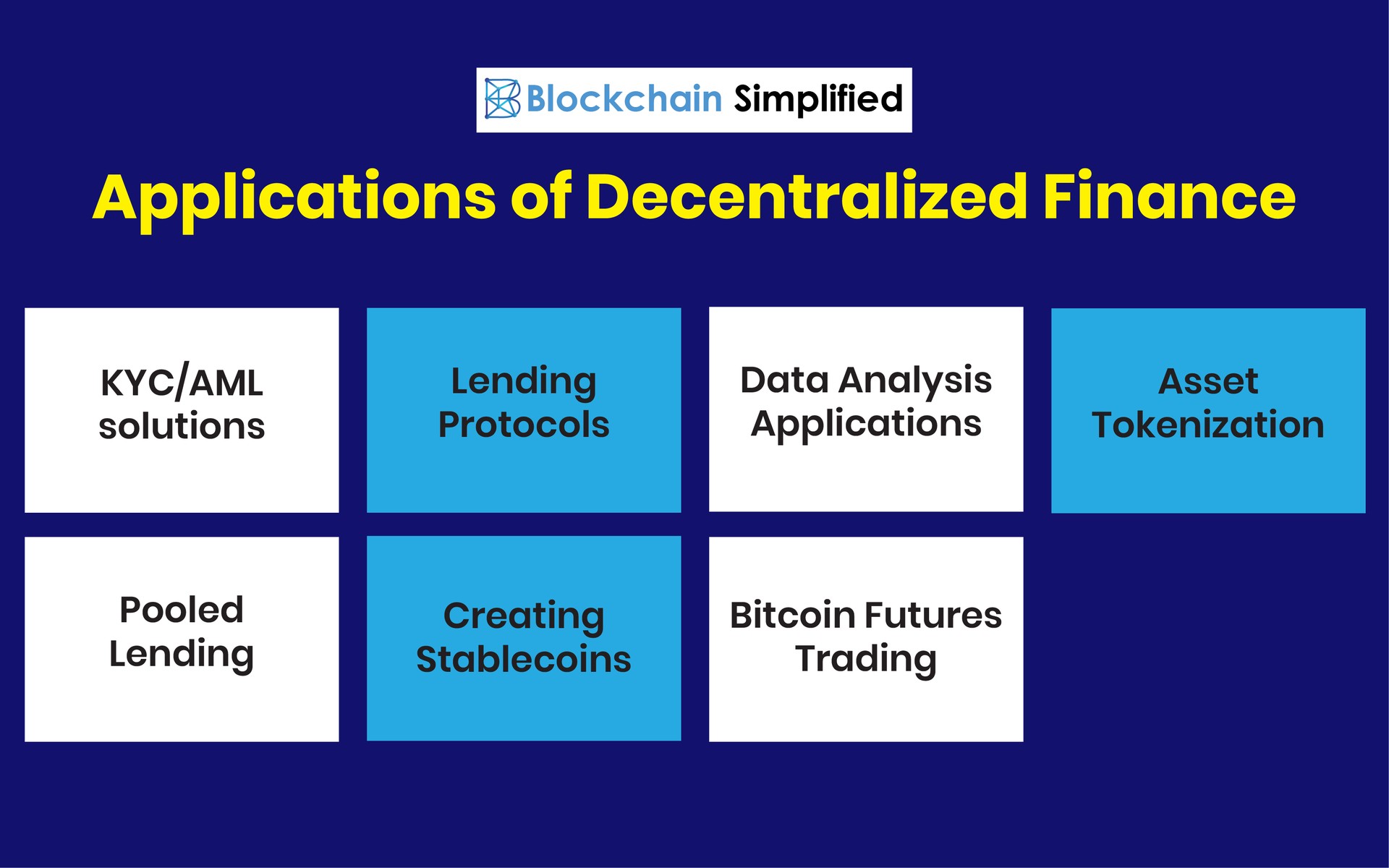 A very prominent use-case of Decentralized Finance is KYC and AML.. Blockchain based DeFi solutions can be used to check and authenticate transaction details to curb frauds and scams. DeFi is also used as an exchange for crypto derivatives trading like Bitcoin Futures. Other examples of products of DeFi include lending protocols, payment protocols, data analysis applications and many many more.
Go through this amazing blog which illustrates how Decentralized Finance (DeFi) is changing the world of Finance in a massive way.
About Blockchain Simplified
Blockchain Simplified is a Top blockchain development company in Pune - India which works on all major Blockchain requirements. We specialise in Blockchain, Web and Mobile development (One Stop Shop for all technology development needs).
Our clientele includes Multiple Funded Start - Ups, SMBs and few MNCs few of which are NASDAQ and NSE listed.
Some of our work includes,
Blockchain based-
hubrisone.com - is a Live app with 100,000+ downloads, All-in-One Cryptocurrency current account. The entire development from scratch carried out by Blockchain Simplified.
All in one Platform - Complete responsibility of entire software development of the platform ,for a $1m funded blockchain start up, led by a team of serial entrepreneurs and tech veterans in Silicon Valley.
Well funded Blockchain startup - Blockchain Simplified helped a $6m funded American Blockchain startup to build the first blockchain protocol to leverage on-chain smart contracts to manage distributed storage of application data off-chain.
Multinational Bank - The company helped one of the top 3 ranking Multinational Banks to integrate various cryptocurrencies into their banking application.
and more…
Non-Blockchain-
SHC - Built entire platform and app from scratch for a $1m funded startup led by a team of Americans including PhD degree holders.
VMW - Developed app for a multi-national company providing mass factory-to-factory shipment services. App is being used by 53 of the Fortune 500 companies such as John Deere, Coca-Cola, Nissan.
and more…
Expertise
Blockchain Development : Bitcoin, Ethereum, Hyperledger, Corda, and more.
Mobile App Development : Android Native, iOS Native, React Native, Flutter, Xamarin.
UI/UX Design : Strategy, Planning, UI/UX Design, Wireframing, Visual Designs.
Web App Development : Node.JS, Angular, React.JS, PHP.
Backend Development : MongoDB, MySQL, AWS, Firebase.
Visit our official website https://blockchainsimplified.com/ for more information.