Application of Blockchain technology in Insurance sector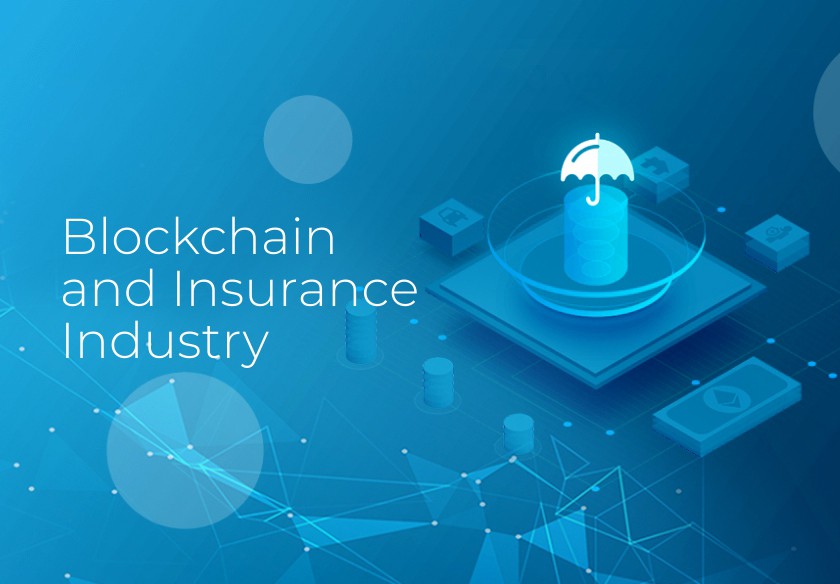 Image Source : medium.com
Life is unpredictable; you never know what the future holds for you! While we always hope for the best, there may arise some unforeseen and unfortunate circumstances that may suddenly require you to take notice and manage risks and finances for the betterment of the future of your family. For example, untimely death, accidents, critical illnesses etc of a lone earning member of any family brings financial challenges to other members who then have to struggle a lot to make ends meet. Insurance is a way of mitigating these risks and provide protection against financial losses in times of dire need.
"Insurance is a means of protection from financial loss. It is a form of risk management, primarily used to hedge against the risk of a contingent or uncertain loss."
An insurance company or insurer provides you an insurance policy of an assured amount (and/or other rules decide the amount) in exchange for a premium you pay them every year. Whenever you claim the insurance, the assured insured amount is paid to you. There are multiple insurances available in the market like life insurance, death insurance, health insurance, auto insurance, home insurance and many more.
A major contributor to a nation's GDP, the Insurance industry in the US stood tall contributing around 2.8 percent, to the nation's gross domestic product (GDP) in 2018, according to the U.S. Bureau of Economic Analysis. Even worldwide, the Insurance sector has a strong foothold in the country's economic growth. India, also a breeding hub for Insurance industries over the years, will see substantial and increased growth in the coming years as well. which means that the industry will continue to rule economic markets, now and always.
However, what looks all hunky and dory from outside, the insurance sector is ridden with a lot of challenges inside. In this blog, we will understand what these challenges are and how implementing Blockchain technology in Insurance sector will solve these problems?
The Need for Blockchain Technology in Insurance Sector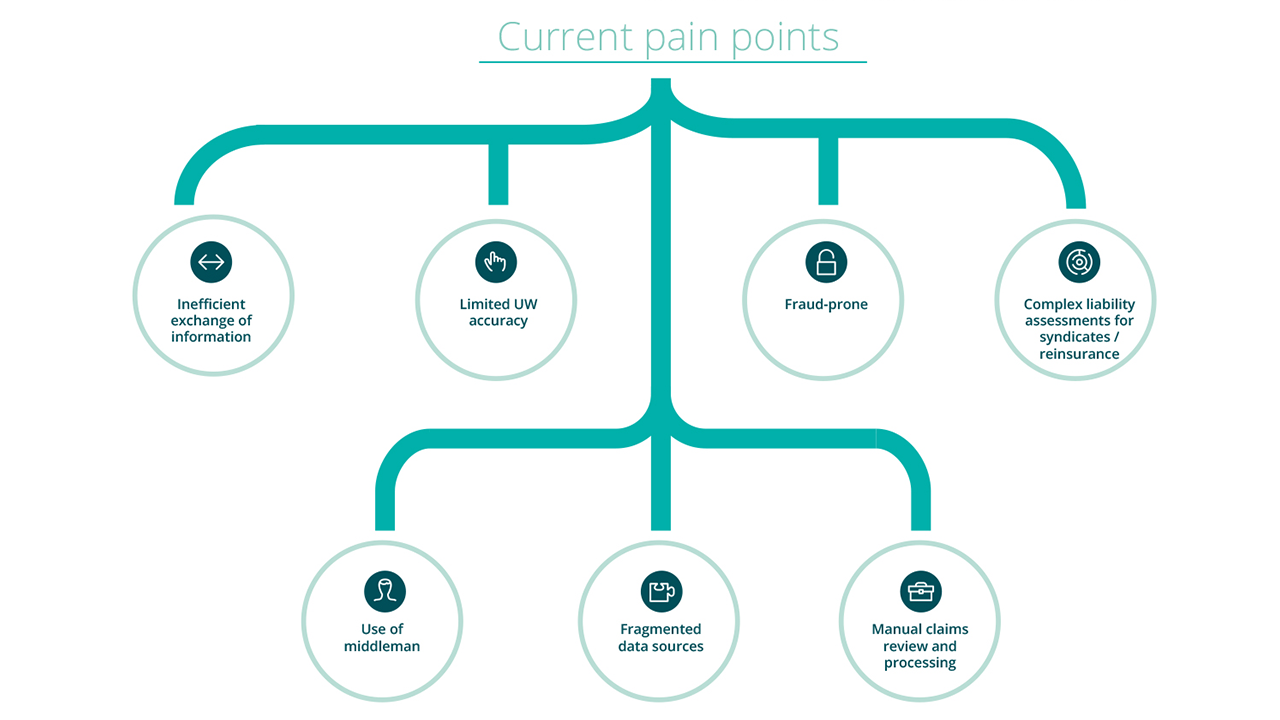 Image source : altoros.com
The Insurance industry, although well-established and worthy enough, is posed with several risk-factors that threaten its well-being and functioning. Data inefficiency, fraud schemes like misleading information or shared insurance plans or hiding important medical diagnoses, intermediate agents, human caused errors due to manual processing so on and so forth. Problems are created both ways - Insurer causing manipulation in the data OR Insured providing wrong information to the company.
Frauds can be caused in innumerable ways. Fake and false claims to earn more profits have been on the rise in the industry. For example, Health Insurance companies face issues of fraudulent claims asking for compensation for services not rendered from the hospital or doctor or exaggerating number of services to claim higher payments etc. In other general insurance industries, there have been instances of people hiding information of other insurance policies they hold to earn double benefits or a divorced couple applying for compensation from a mutual benefit insurance program. These are just a few cases, there are plenty of dubious policyholders with fake accounts and multiple insurance plans for the same services and conditions. Can Blockchain mitigate this risk and eliminate fraud? Can Blockchain technology in Insurance provide a platform where data is not exposed to manipulation?
On the other hand, internal issues like manual processing of policies and claims, redundant and complex methods of data storage and reconciliation that form the core of an insurance operation, middlemen extorting money from companies and customers alike as commission, are many other factors affecting the insurance industry from within. Privatization of insurance companies and competition between them is a big concern. Data is scattered, companies don't want to share it with other competitors due to the risk of losing a customer. Without sharing of data, it is impossible to identify fake claims and policyholders. Can Blockchain technology in Insurance provide a decentralized network present a platform for sharing the data across multiple insurance companies?
This unwillingness of insurance firms leads to loopholes in cybersecurity exposing them to hackers and cyber criminals which results in sensitive data breach. Also, delay in claim applications and processing offers a lot of time for hackers to carry out their malicious activities. Attackers have identified it as an attractive area for data theft and manipulation compromising on cyber-security. Can Blockchain technology in Insurance create a trusted and reliable platform devoid of cyber-attacks?
(Please visit https://blockchainsimplified.com to hire the best Blockchain developers)
Implementing Blockchain Technology in Insurance industry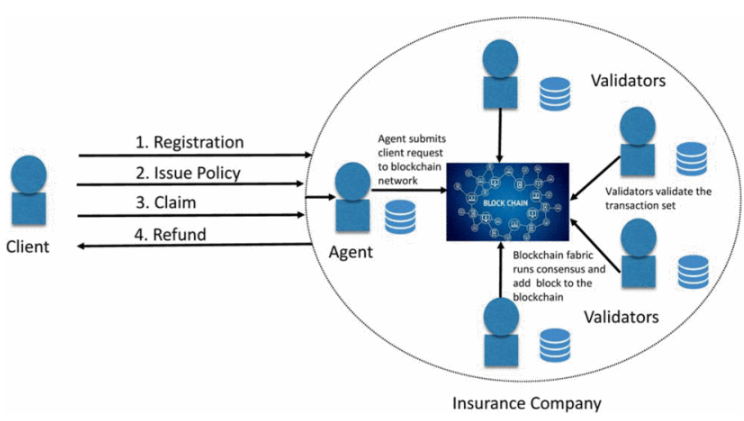 Image source : innovate.ieee.org
Blockchain optimizes the efficiency, security and transparency of the insurance industry. Distributed Ledger Technology (DLT) has beneficial applications for streamlining insurance claims processing, boosting cybersecurity protocols and even speeding up payment times.
Blockchain, with its ability to provide a platform that is decentralized, transparent and immutable is the ideal solution to eliminate the many challenges Insurance industry faces.
Blockchain technology in Insurance for a distributed network
Let's consider an example of Blockchain technology in Insurance related to health, a platform shared by multiple insurance companies who share information with each other to proofread and cross check if there are fraudulent claims can be built. Insurers, Insured, Hospitals all can be participants in the network enabling peer-to-peer communication. Hospitals can record all the data regarding a patient and his medical history on the system that is accessible to the Insurance companies. Policyholders can claim compensation from the insurance company directly via the platform. Data once added on the platform cannot be modified by anybody, hence data entered by the hospital or receipts created by the insurance companies cannot be altered at any stage.
Blockchain technology in Insurance - Smart Contracts for Automatic processing
Manual processing of data and reconciliation can be automated using smart contracts on the Blockchain. A smart contract that executes based on certain conditions and agreement between the insurance company and policyholder can be devised to perform specific data entries and calculation to process payments for any claims. This reduces manual intervention as well as simultaneously expedites the speed of transactions indirectly also lowering the transaction costs of the process. This can help in faster claim compensations and happy customers.
Blockchain technology in Insurance for improving Cyber Security
Blockchain in itself, is a robust framework that encapsulates strong encryption methods for data protection. Blockchain's hashing algorithm enforces stringent cryptographic techniques to safeguard data from being misused or tampered with. In our blog on Blockchain in Cyber Security, we saw how Blockchain has the power to shield data from potential hackers and keep it safe and secure on the network.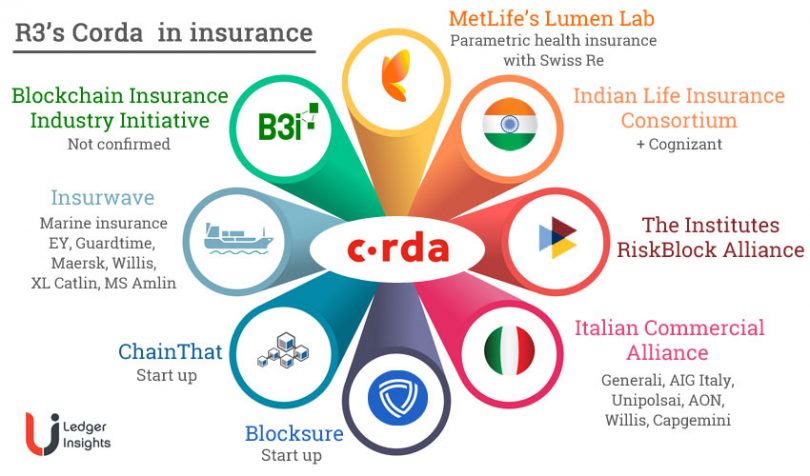 Image source : ledgerinsights.com
More on Blockchain technology in Insurance at this link.
Potential combinations like Blockchain coupled with AI, Blockchain integrated with Big Data can cause disruptive changes in the Insurance Industry. Read this to learn how.
( Blockchain Simplified is a top Blockchain, web and mobile app development company in Pune,India. Please visit https://blockchainsimplified.com for more details )
Blockchain Technology in Insurance Sector : A Must
Blockchain has been making wakes across every possible field existing today. Implementing Blockchain technology in Insurance industry will surely prove to be a game-changer for the sector by completely eradicating multiple challenges it faces everyday.
About Blockchain Simplified
Blockchain Simplified is a Top blockchain development company in Pune - India which works on all major Blockchain requirements. We specialise in Blockchain, Web and Mobile development (One Stop Shop for all technology development needs).
Our clientele includes Multiple Funded Start - Ups, SMBs and few MNCs few of which are NASDAQ and NSE listed.
Some of our work includes,
Blockchain based-
hubrisone.com - is a Live app with 100,000+ downloads, All-in-One Cryptocurrency current account. The entire development from scratch carried out by Blockchain Simplified.
All in one Platform - Complete responsibility of entire software development of the platform ,for a $1m funded blockchain start up, led by a team of serial entrepreneurs and tech veterans in Silicon Valley.
Well funded Blockchain startup - Blockchain Simplified helped a $6m funded American Blockchain startup to build the first blockchain protocol to leverage on-chain smart contracts to manage distributed storage of application data off-chain.
Multinational Bank - The company helped one of the top 3 ranking Multinational Banks to integrate various cryptocurrencies into their banking application.
and more…
Non-Blockchain-
SHC - Built entire platform and app from scratch for a $1m funded startup led by a team of Americans including PhD degree holders.
VMW - Developed app for a multi-national company providing mass factory-to-factory shipment services. App is being used by 53 of the Fortune 500 companies such as John Deere, Coca-Cola, Nissan.
and more…
Expertise
Blockchain Development : Bitcoin, Ethereum, Hyperledger, Corda, and more.
Mobile App Development : Android Native, iOS Native, React Native, Flutter, Xamarin.
UI/UX Design : Strategy, Planning, UI/UX Design, Wireframing, Visual Designs.
Web App Development : Node.JS, Angular, React.JS, PHP.
Backend Development : MongoDB, MySQL, AWS, Firebase.
Visit our official website https://blockchainsimplified.com/ for more information.