The Chiliz (CHZ) Blockchain - Fan Tokens for Sports
We learnt about the Rarible and the Rally network in our previous blogs. We saw how both these platforms are dedicated to the trading of Non-Fungible Tokens (NFTs) primarily in the field of Art. We know Blockchain technology has penetrated possibly every industrial & social sector existing in today's times and has carved a niche for itself for being available to solve the complex challenges associated in these sectors.
In this blog, we will understand Blockchain and its association with Sports. You may wonder how can Blockchain be of any use to the field of Sports? What challenges does the Sports sector face and how can Blockchain eliminate these hurdles?
The Chiliz blockchain platform was built for the purpose of bridging the gap between Sport stars/clubs and their fans. By using this platform, fans are not only able to communicate and engage with their favourite sport organizations but can also participate and influence decisions associated with them. Let us understand in depth what the Chiliz blockchain is, what is the CHZ token, what are fan tokens and how do they all work?
(To hire Blockchain developers, visit us at https://blockchainsimplified.com)
What is the Chiliz (CHZ) blockchain?
-According to their website, Chiliz is a blockchain fintech provider for Sports and Entertainment.
-Chiliz is a Sport fans engagement network that aims to build a link between fans and their favourite sport stars/clubs.
-The native digital currency of the Chiliz network is the CHZ and the CHZ utility token can be used for engaging in Fan Tokens trade offs, voting for surveys and polls etc.
-Built on Ethereum, The Chiliz blockchain not only enables fans to interact with sport organizations but also provides rewards in lieu of participation.
What is the CHZ Token?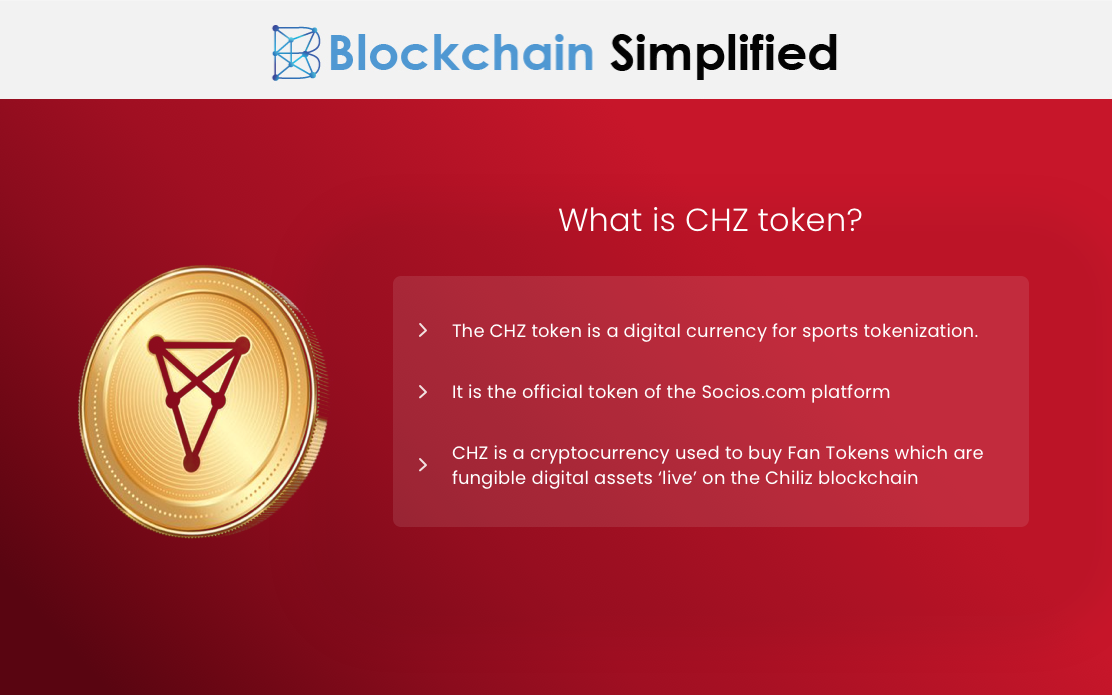 As mentioned above, the CHZ token, an ERC-20 token by nature, is the native cryptocurrency of the Chiliz network. It is with this token that fans can participate in numerous transactions on the network, be it purchasing Fan Tokens on the Socios.com app - the consumer facing app on Chiliz, perform usual crypto trading on popular DeFi exchanges like Binance etc. The CHZ token allows fans to participate and contribute in decisions regarding their respective clubs, be a part of events organized by the club and also earn profits and rewards by regular engagement.
(Visit us at https://blockchainsimplified.com to hire Ethereum developers. We are an offshore Ethereum development company based out of Pune, India)
What are Fan Tokens on Chiliz?
Fan Tokens are fungible assets specific to a particular team/club. Any sport organisation can create their own Fan Token and these tokens can be exchanged in lieu of the CHZ token to participate in different activities of the club. To earn Fan Tokens of a particular club, fans need to be a part of the Chiliz Blockchain, should possess CHZ tokens on the platform and have access to the Socios.com marketplace. Socios.com is the app/interface on which fans interact with their respective teams. The Socios.com is available both as an iOS app and Android app. Once fans own Fan tokens of their favourite team, they can be a part of contests, offers, giveaways hosted by that team.
Below is how the CHZ-Fan Token exchange process works.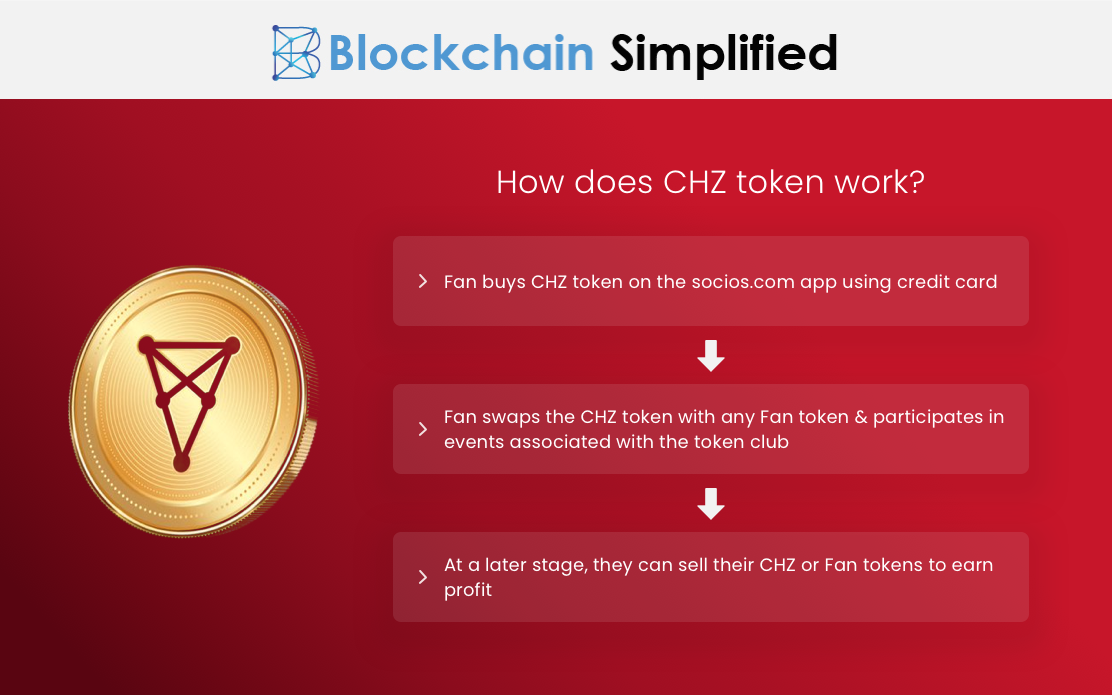 Blockchain and the world of Sports
Sports are a huge influence on today's generation. Blockchain, like always, has managed to eliminate the barrier between fans and their favourite teams by introducing the Chiliz blockchain which acts as a bridge between both. Fans now have a direct channel to interact with their favourite teams and express their passion and support towards them. Not only that, but they can also be decision makers in many of the processes involved with the organisations. Sports industry giants like FC Barcelona, AC Milan have already joined hands with Chiliz when they learnt about the innumerable possibilities it offers to the world of Sports. It would not be wrong to say that they have paved the way for others to follow the Sports-Crypto revolution!
About Blockchain Simplified
Blockchain Simplified is a Top blockchain development company in Pune - India which works on all major Blockchain requirements. We specialise in Blockchain, Web and Mobile development (One Stop Shop for all technology development needs).
Our clientele includes Multiple Funded Start - Ups, SMBs and few MNCs few of which are NASDAQ and NSE listed.
Some of our work includes,
Blockchain based-
hubrisone.com - is a Live app with 100,000+ downloads, All-in-One Cryptocurrency current account. The entire development from scratch carried out by Blockchain Simplified.
All in one Platform - Complete responsibility of entire software development of the platform ,for a $1m funded blockchain start up, led by a team of serial entrepreneurs and tech veterans in Silicon Valley.
Well funded Blockchain startup - Blockchain Simplified helped a $6m funded American Blockchain startup to build the first blockchain protocol to leverage on-chain smart contracts to manage distributed storage of application data off-chain.
Multinational Bank - The company helped one of the top 3 ranking Multinational Banks to integrate various cryptocurrencies into their banking application.
and more…
Non-Blockchain-
SHC - Built entire platform and app from scratch for a $1m funded startup led by a team of Americans including PhD degree holders.
VMW - Developed app for a multi-national company providing mass factory-to-factory shipment services. App is being used by 53 of the Fortune 500 companies such as John Deere, Coca-Cola, Nissan.
and more…
Expertise
Blockchain Development : Bitcoin, Ethereum, Hyperledger, Corda, and more.
Mobile App Development : Android Native, iOS Native, React Native, Flutter, Xamarin.
UI/UX Design : Strategy, Planning, UI/UX Design, Wireframing, Visual Designs.
Web App Development : Node.JS, Angular, React.JS, PHP.
Backend Development : MongoDB, MySQL, AWS, Firebase.
Visit our official website https://blockchainsimplified.com/ for more information