The world of Rarible and RARI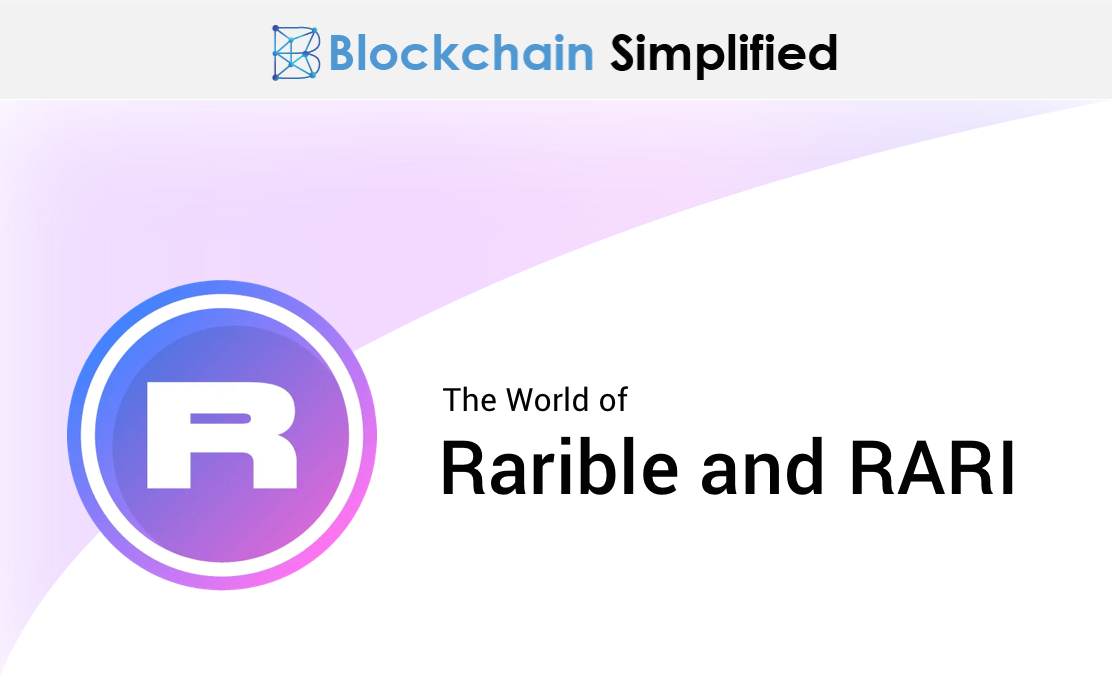 If you keenly follow Blockchain technology, the DeFi industry and the crypto market, you must have definitely come across Digital Objects and Non-Fungible Tokens (NFTs). NFTs represent unique assets, each different from the other, exhibiting different functionalities. Unlike Fungible tokens, which can be swapped with each other or exchanged between one another, NFT's are not generic and cannot be interchanged. Hence, NFT's depict complete ownership of the asset/token.
With the objective of building a platform to focus on the trading of such NFT's focussing on the field of art, Alex Salnikov and Alexei Falin founded the Rarible platform cum marketplace.
Let us understand in depth what the Rarible platform is all about, how it works and what are its features in this blog.
What is Rarible and how does it work?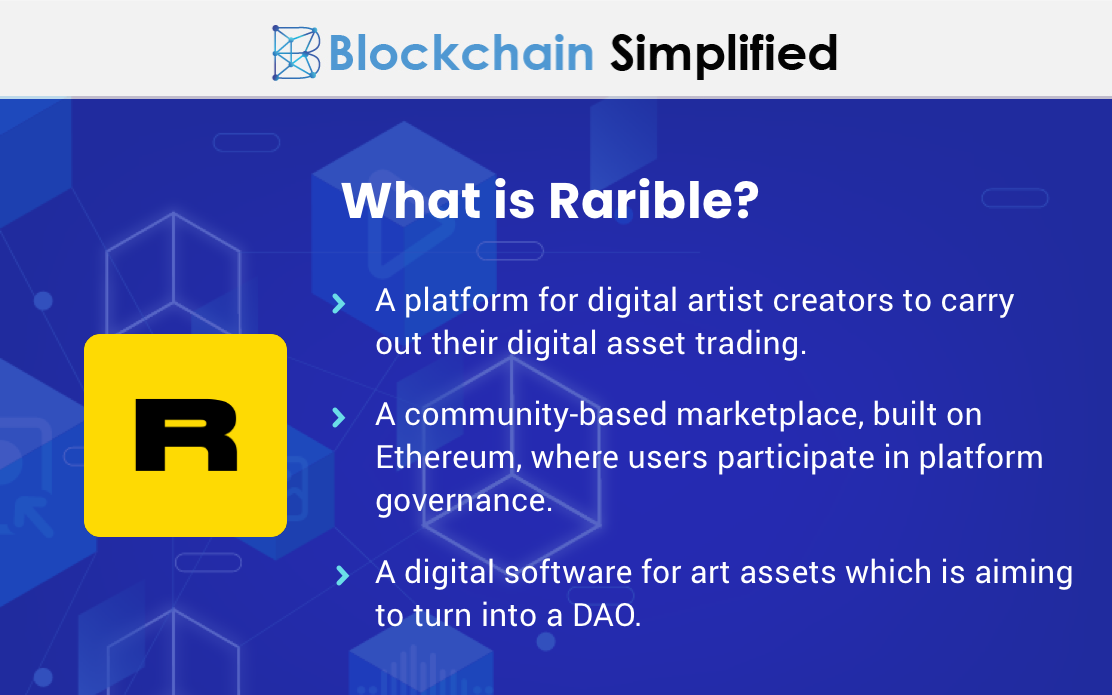 Built on Ethereum, Rarible is a decentralized platform for storing digital assets in the art field. Digital art content creators can use the Rarible software to secure their artwork. These creators can be painters, meme makers, book authors, music album or movie sellers etc. Not only does Rarible provide a platform for secure storage of these assets but also acts as a marketplace that allows the creators in trading of their assets. Below we explain how sellers and buyers engage in NFT trading on Rarible.
To convert their work into NFT's on Rarible platform, users are required to mint their tokens representing the image of their work, related and relevant information of the same, a listing price and other mandatory prerequisites. Once creators provide all the information, the NFT is created on the Rarible platform. Go through this step-by-step guide to learn how to mint an NFT token on Rarible.
Any prospective buyer interested in purchasing the token from the creator gets to see a preview or snippet based on which he/she can decide to engage in the trade-off. Using a specific software, the NFT can be transferred into the buyer's wallet from the seller's wallet very easily. Once the buyer purchases the NFT, he has complete ownership of it.
All the transactions between the seller and buyer and relevant information is stored on the Rarible platform. Both the parties are required to pay transaction fees to the Rarible platform after every successful transaction.
(To hire Blockchain developers, visit us at https://blockchainsimplified.com)
RARI - Rarible's Crypto Token
RARI is Rarible's ERC-20 governance token, which has a pivotal role to play in carrying out the management and operations of the Rarible platform. Users who own RARI tokens on the network earn the right to audit and monitor submitted artworks, to vote for proposals relating to changing rules of transaction fees, rules relating to managing content creators etc.
The supply of RARI tokens is set at 25 million in a predefined software. It is judicially divided into users, investors, NFT holders, the Rarible governance team and a majority of it is open for marketplace mining. Users can earn the RARI tokens simply by regularly dealing in buying or selling on the Rarible platform. Also, every week, the platform distributes RARI tokens evenly to the buyers and sellers. Thus, these users owning RARI tokens get the ability to submit various proposals and vote for these proposals as mentioned above.
However, until now the Rarible company holds the authority to decide whether or not to accept the opinions and proposals and if yes, when and how to implement them. But the aim of Rarible is to grow into a complete community-based marketplace, controlled and governed by users. It is pushing itself to turn into a Decentralized Autonomous Organization (DAO).
If you wish to read more, here is a detailed article about the RARI token.
(Visit us at https://blockchainsimplified.com to hire Ethereum developers. We are an offshore Ethereum development company based out of Pune, India)
Features of Rarible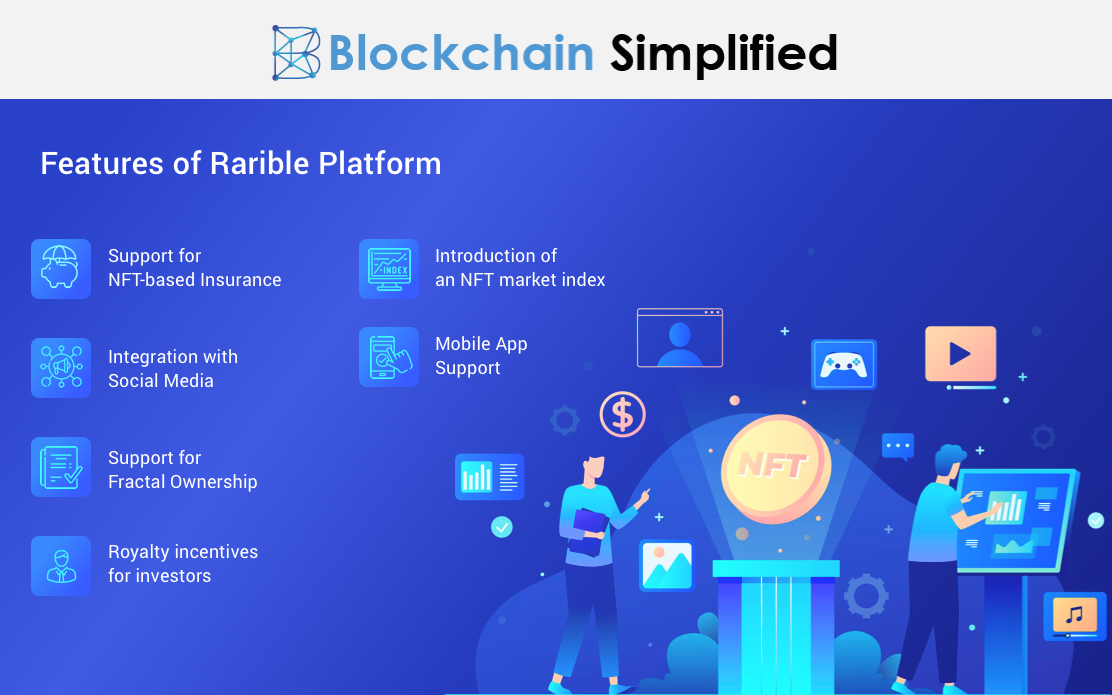 Rarible offers NFT-based Insurance support in event of any losses. This will help investors and users to invest with a sense of security. Rarible is also toying with the idea of introducing an NFT market index that displays the tokens and collectibles that are valued highest thus guiding investors/buyers in the right direction. Integration with Social Media, Mobile App Support, Fractal Ownership are other benefits that Rarible platform is planning to provide soon.
One of the best features of Rarible is to incentivize creators by paying immediate royalty for a sale.
About Blockchain Simplified
Blockchain Simplified is a Top blockchain development company in Pune - India which works on all major Blockchain requirements. We specialise in Blockchain, Web and Mobile development (One Stop Shop for all technology development needs).
Our clientele includes Multiple Funded Start - Ups, SMBs and few MNCs few of which are NASDAQ and NSE listed.
Some of our work includes,
Blockchain based-
hubrisone.com - is a Live app with 100,000+ downloads, All-in-One Cryptocurrency current account. The entire development from scratch carried out by Blockchain Simplified.
All in one Platform - Complete responsibility of entire software development of the platform ,for a $1m funded blockchain start up, led by a team of serial entrepreneurs and tech veterans in Silicon Valley.
Well funded Blockchain startup - Blockchain Simplified helped a $6m funded American Blockchain startup to build the first blockchain protocol to leverage on-chain smart contracts to manage distributed storage of application data off-chain.
Multinational Bank - The company helped one of the top 3 ranking Multinational Banks to integrate various cryptocurrencies into their banking application.
and more…
Non-Blockchain-
SHC - Built entire platform and app from scratch for a $1m funded startup led by a team of Americans including PhD degree holders.
VMW - Developed app for a multi-national company providing mass factory-to-factory shipment services. App is being used by 53 of the Fortune 500 companies such as John Deere, Coca-Cola, Nissan.
and more…
Expertise
Blockchain Development : Bitcoin, Ethereum, Hyperledger, Corda, and more.
Mobile App Development : Android Native, iOS Native, React Native, Flutter, Xamarin.
UI/UX Design : Strategy, Planning, UI/UX Design, Wireframing, Visual Designs.
Web App Development : Node.JS, Angular, React.JS, PHP.
Backend Development : MongoDB, MySQL, AWS, Firebase.
Visit our official website https://blockchainsimplified.com/ for more information