Top NFT projects on the Polygon (Matic) network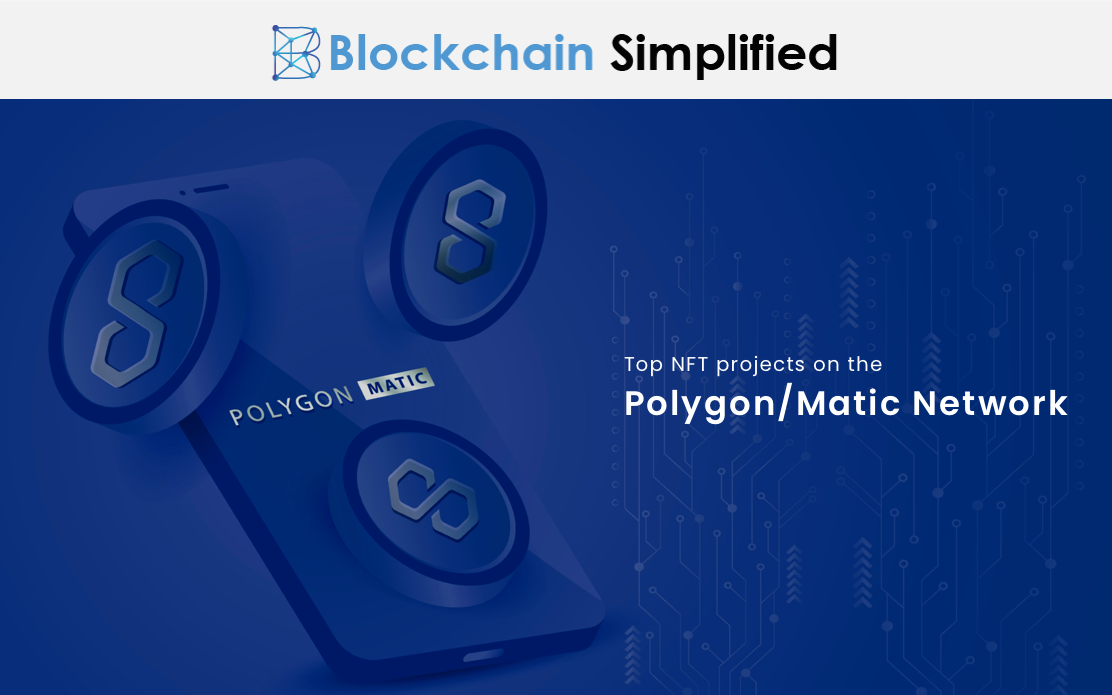 As we know, the NFT phenomenon has captured crypto space like crazy. Investors and companies alike, have jumped onto this NFT bandwagon and have been earning numerous profits and rewards. In our previous blog on Applications of NFT, we saw how NFTs can be created in every field/industry. has always been the first choice when it comes to building dApps for NFT. But Ethereum has high gas fees plus scalability has always been a major challenge with the platform.
We read how Polygon/Matic, an L2 scaling platform on Ethereum, has mitigated these challenges and has brought the much needed scalability and instant throughput to projects. Hence, many existing NFT projects have shifted base to Polygon/Matic and many new ones have started development on the Polygon/Matic network.
Today in this blog, we will see the best and most popular NFT projects built on the Polygon/Matic network.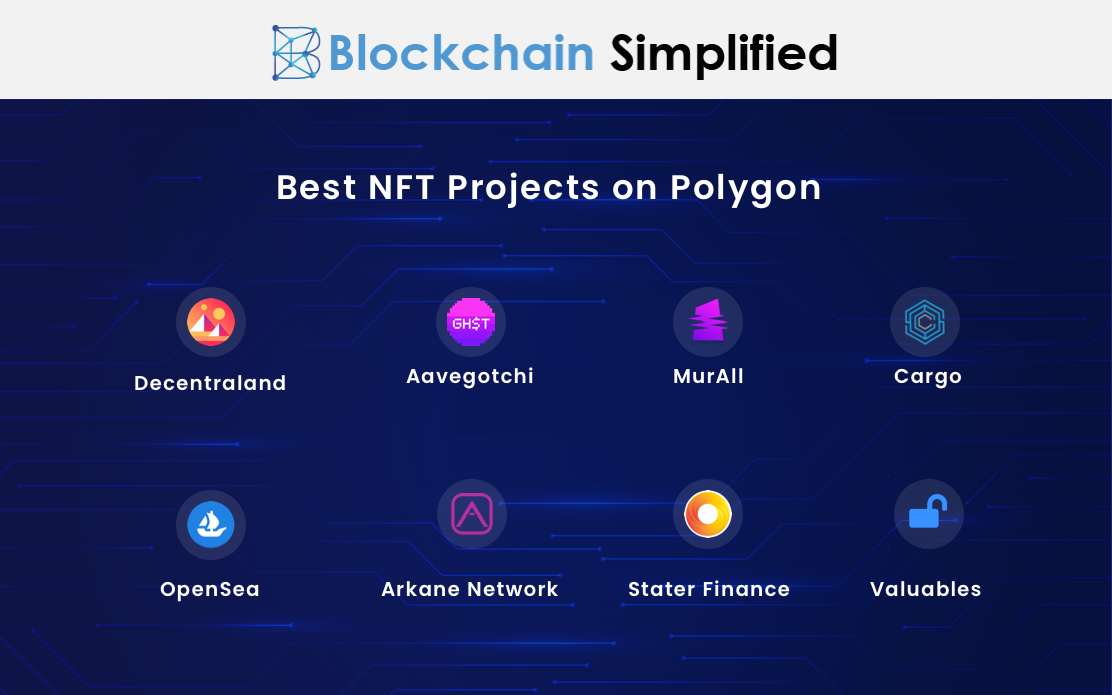 NFT project #1 on Polygon/Matic : Decentraland
Decentraland is a user-owned, Ethereum-based virtual marketplace where users play, explore, and interact with games and activities. Not only that, users can also purchase plots of land, which are represented using Non-Fungible tokens (NFT). On this land, they can build their own environments, marketplaces, and applications. The plots are assigned locations, have an owner, and have proper descriptions. It is a marketplace which stocks the best digital goods in the form of land and estates. Decentraland project has the 'MANA' ERC-20 token and 'LAND' ERC-721 token. Decentraland is available on the Polygon/Matic network.
You can understand more about Decentraland here : Decentraland
NFT project #2 on Polygon/Matic : Aavegotchi
Again built on Ethereum, Aavegotchi is a platform that enables users to farm digital collectibles in lieu of staking their GHST tokens. It runs on the Aave protocol. The tokens are classified based on differentiating features like body color, personality etc. The owner of the GHST token has the authority to liquidate the token at any point of time as he has staked it. But, liquidating the NFT i.e. the GHST token, means the Aavegotchi is also lost. Owners can indulge in yield farming on the platform and earn staking rewards. Polygon/Matic network hosts the Aavegotchi application.
Learn more about the Aavegotchi platform here : Aavegotchi
NFT project #3 on Polygon/Matic : MurAll
True to its name, MurAll is a platform that brings together artists from across the globe to draw and paint. To participate in the initiative, artists have to first collect PAINT tokens and then pay using the same token. Once PAINT tokens are deposited, the artist can draw on the giant canvas. After the painting is completed, the platform creates a NFT of the picture. NFT of the artworks guarantees uniqueness and authenticity that the work is original. MurAll can be found on the Polygon/Matic network.
Want to know more, visit their website : MurAll
(Visit us at https://blockchainsimplified.com to hire Blockchain developers. We are an offshore Blockchain development company based out of Pune, India)
NFT project #4 on Polygon/Matic : Cargo
The Cargo platform is not specific to the trading of a particular NFT token but provides a myriad of services like NFT arts, gaming objects, event tickets, different access tokens and many other items. It is an all-in-one platform and has also introduced a latest mechanism called community curation. Cargo Gems are ERC-20 tokens that can be used for various purposes on the Cargo platform. Due to Ethereum's high gas fees, Cargo is now available on the Polygon/Matic network.
Here's the link to the Cargo NFT platform : Cargo NFT
NFT project #5 on Polygon/Matic : OpenSea
OpenSea has been recognized as the first and largest NFT trading platform. Similar to Cargo, OpenSea is open to the trading of several NFTs including art, collectibles, games, domain names etc. They also claim to have the lowest fees in the NFT space including no service fees to the buyers while other platforms charge so. OpenSea does not possess users' assets but only facilitates peer-to-peer exchanges by providing the required infrastructure. As it is the first and the largest NFT platform, thousands of users have flocked to it and many are making their entry. Hence, OpenSea has migrated to the Polygon/Matic network.
You can visit the project website at OpenSea
Read our here.
NFT project #6 on Polygon/Matic : Arkane network
Arkane is basically a wallet provider that attempts to build an open network between users, dApps and the entire blockchain platform. It helps users connect to multiple blockchains in a safe and transparent way via a set of developer tools such as SDK's and API's. With easily available tools, users can create Fungible and Non-Fungible Tokens and engage in selling, buying and transfer of these tokens. Arkane Network is part of the Polygon/Matic network.
Check more about the project at Arkane network
(To hire Blockchain developers, visit us at https://blockchainsimplified.com)
NFT project #7 on Polygon/Matic : Stater Finance
A P2P lending and borrowing platform, Stater Finance allows users to deposit their NFT assets as collateral and get access to liquidity. In this process, the ownership of the users' NFT is retained by the owner. It provides lenders various risk mitigation options like providing opportunities like pool lending, providing value to latent capital etc thus paving a new source of creating money. Users can now access Stater on Polygon/Matic.
Stater's official website is Stater Finance
NFT project #8 on Polygon/Matic : Valuables
In our blog on use-cases of NFT, we had seen how even tweets are sold as NFTs. Valuables, by Cent, is one such unique project that sells Twitter tweets. Tweets are converted into NFT tokens and are sold on the platform with digitally authorized signatures from the owner of the tweet. The project is widely used by stars/sports persons and their fandom. Fans collect tweets of their favourite stars as autographs. Polygon/Matic network proudly hosts the Valuables app as well.
Do check Valuables project on this link : Valuables
About Blockchain Simplified
Blockchain Simplified is a Top blockchain development company in Pune - India which works on all major Blockchain requirements. We specialise in Blockchain, Web and Mobile development (One Stop Shop for all technology development needs).
Our clientele includes Multiple Funded Start - Ups, SMBs and few MNCs few of which are NASDAQ and NSE listed.
Some of our work includes,
Blockchain based-
hubrisone.com - is a Live app with 100,000+ downloads, All-in-One Cryptocurrency current account. The entire development from scratch carried out by Blockchain Simplified.
All in one Platform - Complete responsibility of entire software development of the platform ,for a $1m funded blockchain start up, led by a team of serial entrepreneurs and tech veterans in Silicon Valley.
Well funded Blockchain startup - Blockchain Simplified helped a $6m funded American Blockchain startup to build the first blockchain protocol to leverage on-chain smart contracts to manage distributed storage of application data off-chain.
Multinational Bank - The company helped one of the top 3 ranking Multinational Banks to integrate various cryptocurrencies into their banking application.
and more…
Non-Blockchain-
SHC - Built entire platform and app from scratch for a $1m funded startup led by a team of Americans including PhD degree holders.
VMW - Developed app for a multi-national company providing mass factory-to-factory shipment services. App is being used by 53 of the Fortune 500 companies such as John Deere, Coca-Cola, Nissan.
and more…
Expertise
Blockchain Development : Bitcoin, Ethereum, Hyperledger, Corda, and more.
Mobile App Development : Android Native, iOS Native, React Native, Flutter, Xamarin.
UI/UX Design : Strategy, Planning, UI/UX Design, Wireframing, Visual Designs.
Web App Development : Node.JS, Angular, React.JS, PHP.
Backend Development : MongoDB, MySQL, AWS, Firebase.
Visit our official website https://blockchainsimplified.com/ for more information