Matic Network - A Layer 2 Blockchain Scaling platform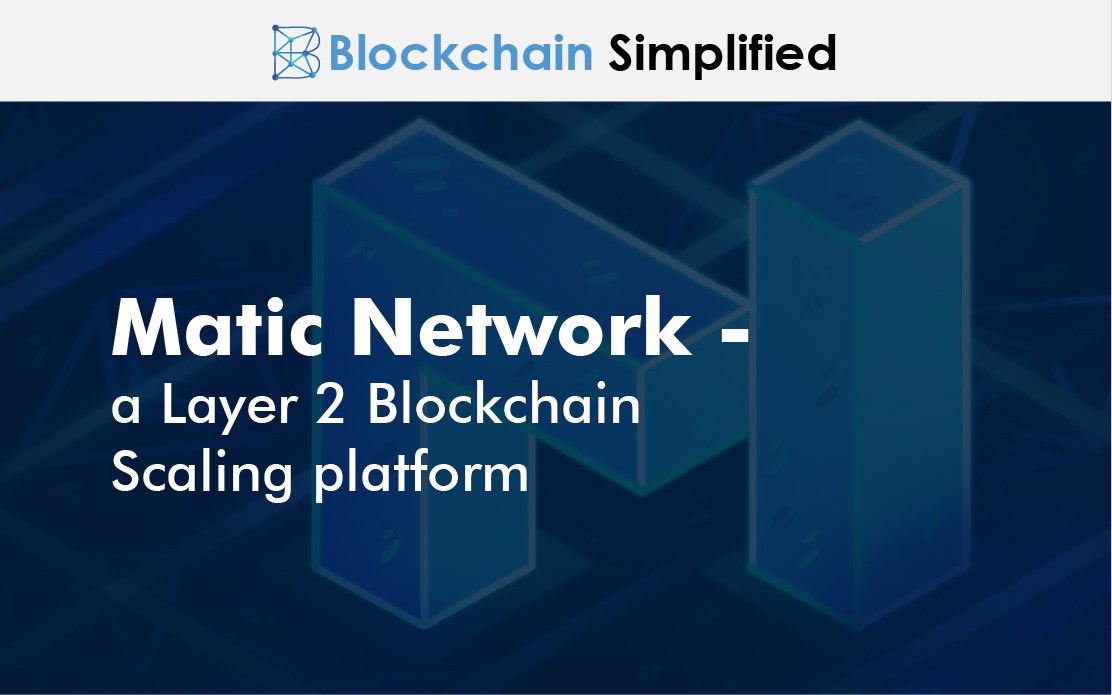 In our previous blogs, we saw how Bitcoin Lightning Network and Ethereum Plasma have managed to solve scalability issues of Blockchain by implementing Layer 2 Scaling.
In this blog let us learn about Matic Network that leverages the Ethereum Plasma chain to build a platform for dApps to achieve scaling by maintaining off-chain transactions while also ensuring decentralization.
What is Matic Network?
-Matic Network, built on Ethereum Plasma Chain, is a fast and low-cost platform that provides high scalability to blockchains, during high load.
-Matic Network is believed to process as much as 10,000 TPS on a single sidechain and is expected to achieve more when additional chains are added for horizontal scaling.
-Built on top of the Ethereum Main Chain, Matic chains are developed with the intent of deploying smart contracts, while the main chain is used to manage the transfer and security of assets and tokens.
-Matic Network has proved to be particularly productive in case of DeFi dApps which have taken over the Ethereum ecosystem today.
-Matic Network aims to provide the best user experience which is very poor for blockchain applications until now. With its high quality web and mobile libraries, it supports the development of amazing apps and gives an enriching experience to the user.
-Matic Network also supports cross-chain transfers, access to​ decentralized exchanges etc.
(Visit us at https://blockchainsimplified.com to hire blockchain developers. We are an offshore blockchain development company based out of Pune, India)
How does Matic Network work?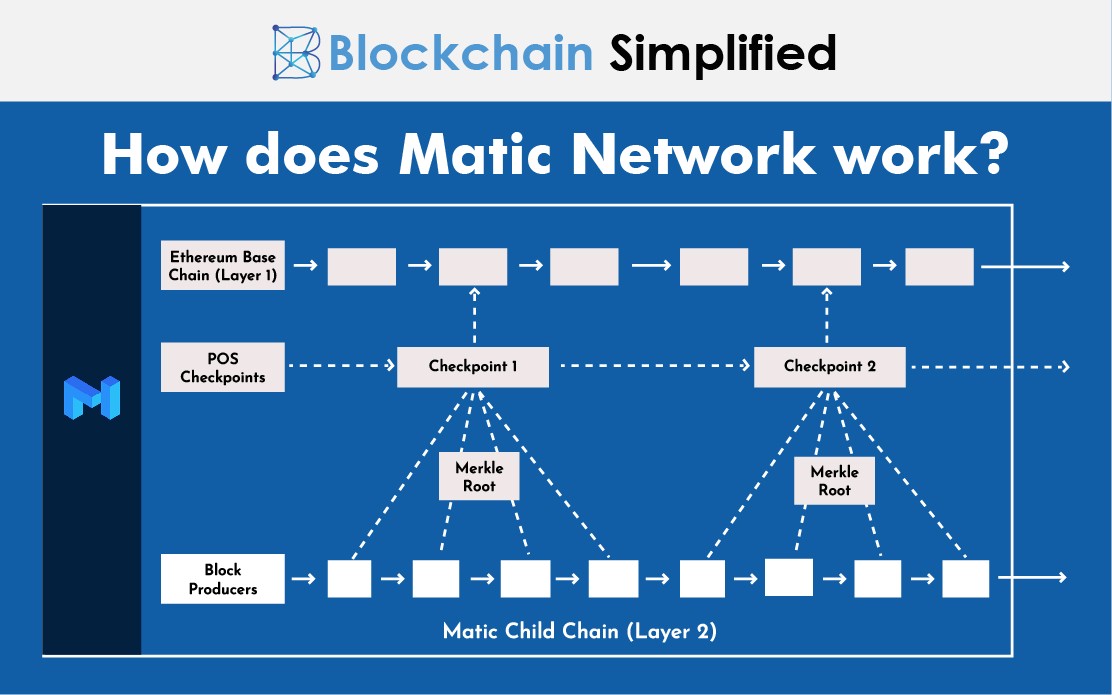 As we discussed in our previous blogs, there are several issues like scalability, slow transaction processing, higher gas fees etc whenever any application is hosted on Ethereum. Let us learn through an example why these issues arise.
Let's say that a user wants to transfer tokens on an Ethereum based app. He/she has to wait until the transaction is verified, affirmed, and the block is added to the chain. Typically, this process consumes a significant amount of time on the network as there are multiple users/validators. When there are plenty of transactions to be processed, the network is jammed and every user will pay more gas fees to get his/her transaction affirmed first. This delays the other transactions, gas prices increase and the system goes for a toss.
However, on the Matic Network, a user can transfer his/ her tokens almost instantaneously thanks to the faster production of blocks. The Matic Network relies on the Block Producer layer to produce blocks at a faster rate. This ensures that transactions are processed fast and blocks are added fast. Block Producers on the network are chosen by stakers.
There are PoS checkpoints to ensure decentralization. Stakers on the Matic Network, who are chosen according to their token stake in the network, are responsible for validating the transactions and propose checkpoints on the mainchain using PoS consensus mechanism. Multiple checkpoints are created on the Network and a Merkle Tree since the latest checkpoint is created. The stakers then verify all the merkle trees and approve/disapprove a block addition.
Thus by using the PoS checkpoints and the Block producers, the Matic Network provides an ecosystem for users to seamlessly carry out crypto transactions.
The Matic Network provides an excellent and efficient Fraud Proof mechanism wherein any user on the network can propose a red flag to the transactions which he/she thinks is fraudulent. If in case it turns out to be true, parties involved in the fraud are shunned off their stakes and those funds are awarded to the user who detected the fraud.
Owing to its multiple checkpointing layer, Matic Network supports the implementation of Horizontal Sharding or multi-chain.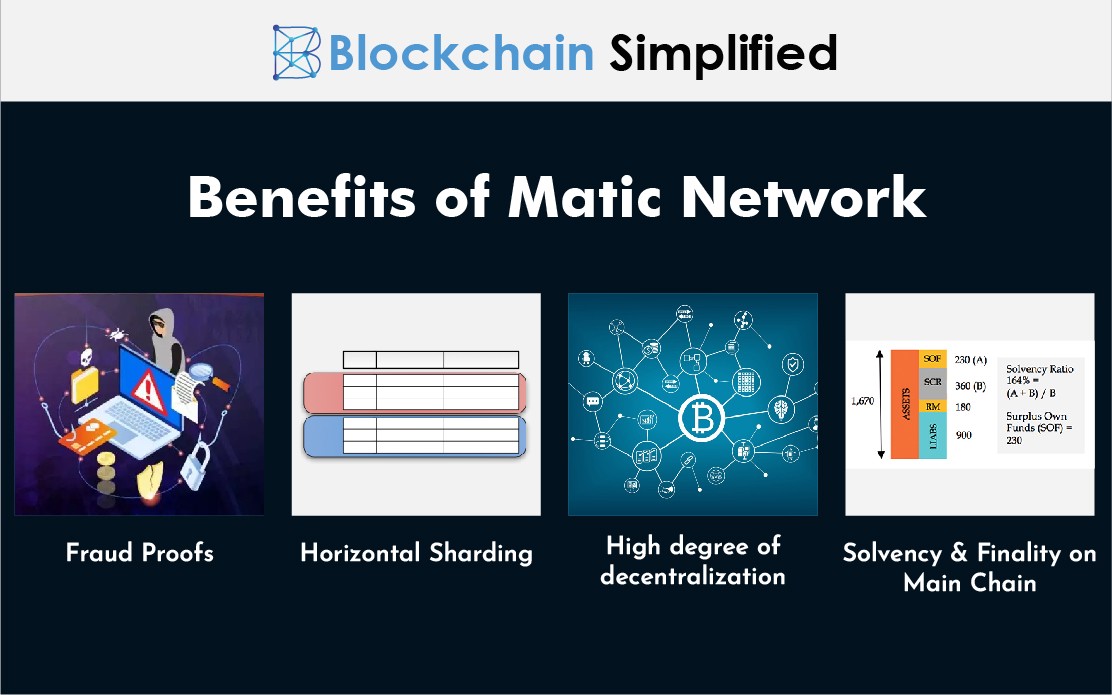 (https://blockchainsimplified.com is a top offshore blockchain development company in Pune, India.)
Applications of Matic Network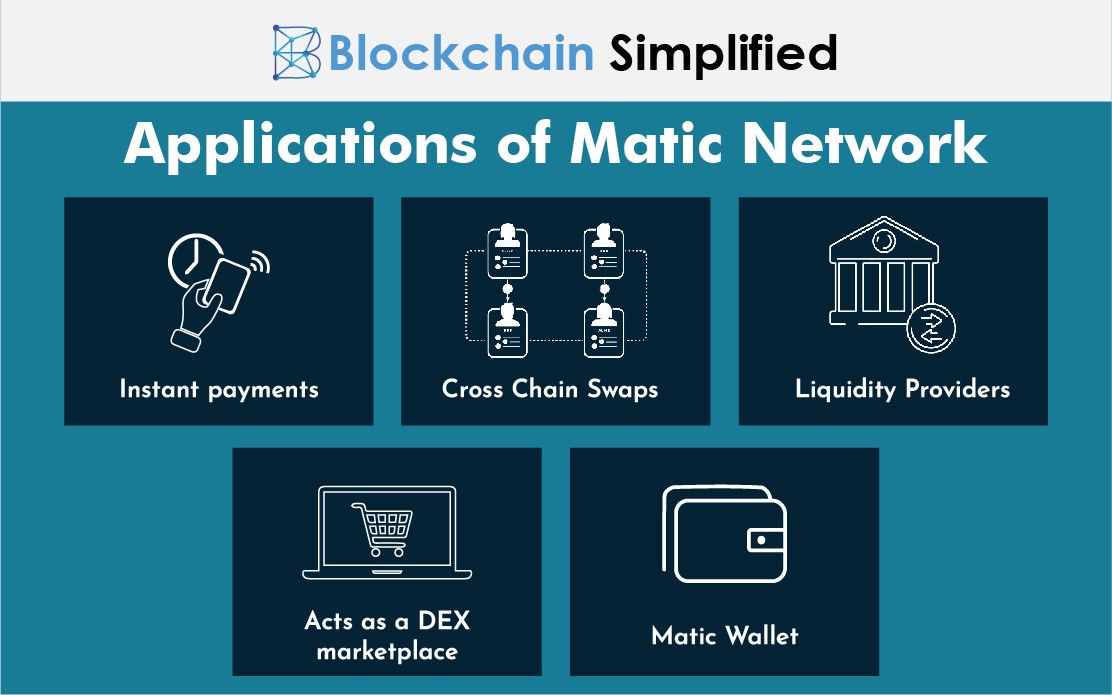 While the use-cases of Matic Network are enormous, here we list down a few of them.
Instant payments
As we saw that Matic Network ensures instant money transfers and payments thanks to its scalable structure. Not only does it support crypto-token payments and transfers, but also aids multi-asset cross chain transfers, atomic swaps etc.
Cross Chain Swaps
One of the most crucial applications, Matic Network allows cross-chain swaps where a sender and receiver can send and receive payments in assets they prefer.
Liquidity providers
Matic Network allows liquidity providers to exchange tokens for other tokens with other liquidity providers. The Matic team is also working towards implementing token exchange with fiat liquidity providers.
Acts as a DEX marketplace
The Matic Network can act as a DEX marketplace with its features like trust-less, reliable, faster and cheaper crypto trades.
Matic Wallet
The Matic network provides an in-built, integrated mobile wallet that stores private keys of the user in the most secure manner. It seamlessly connects with any browser-based dApps as well.
About Blockchain Simplified
Blockchain Simplified is a Top blockchain development company in Pune - India which works on all major Blockchain requirements. We specialise in Blockchain, Web and Mobile development (One Stop Shop for all technology development needs).
Our clientele includes Multiple Funded Start - Ups, SMBs and few MNCs few of which are NASDAQ and NSE listed.
Some of our work includes,
Blockchain based-
hubrisone.com - is a Live app with 100,000+ downloads, All-in-One Cryptocurrency current account. The entire development from scratch carried out by Blockchain Simplified.
All in one Platform - Complete responsibility of entire software development of the platform ,for a $1m funded blockchain start up, led by a team of serial entrepreneurs and tech veterans in Silicon Valley.
Well funded Blockchain startup - Blockchain Simplified helped a $6m funded American Blockchain startup to build the first blockchain protocol to leverage on-chain smart contracts to manage distributed storage of application data off-chain.
Multinational Bank - The company helped one of the top 3 ranking Multinational Banks to integrate various cryptocurrencies into their banking application.
and more…
Non-Blockchain-
SHC - Built entire platform and app from scratch for a $1m funded startup led by a team of Americans including PhD degree holders.
VMW - Developed app for a multi-national company providing mass factory-to-factory shipment services. App is being used by 53 of the Fortune 500 companies such as John Deere, Coca-Cola, Nissan.
and more…
Expertise
Blockchain Development : Bitcoin, Ethereum, Hyperledger, Corda, and more.
Mobile App Development : Android Native, iOS Native, React Native, Flutter, Xamarin.
UI/UX Design : Strategy, Planning, UI/UX Design, Wireframing, Visual Designs.
Web App Development : Node.JS, Angular, React.JS, PHP.
Backend Development : MongoDB, MySQL, AWS, Firebase.
Visit our official website https://blockchainsimplified.com/ for more information.