The Rally(RLY) network to create "Creator Coins"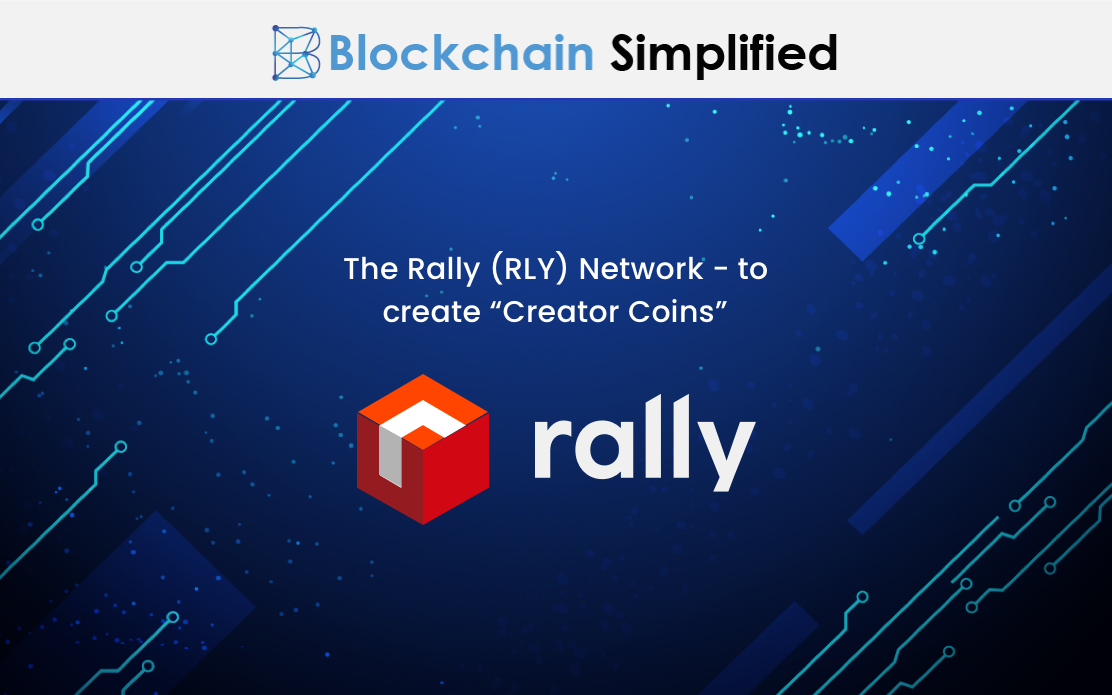 In our previous blog on Rarible, we saw how digital tokens are created for digital assets not only for their secure storage but for facilitating them for sale as well. A genuine and safe platform purely for the trading of Non-Fungible Tokens (NFTs) relevant to the field of art, Rarible focuses more on the benefits of content creators and their viewers/audience, by providing more monetization opportunities for both.
Another platform similar to Rarible that is making waves in the crypto sector for digital tokenization of assets is the Rally Network. A decentralized network protocol for content creators, be it celebrities,musicians, influencers,artists etc, Rally is the best platform for anyone who wishes
to digitize their assets into tokens and earn monetary benefits.
Let us dive deep into understanding the Rally Network, its features and the way it works.
What is Rally (RLY) network?
-The Rally Network, built upon Ethereum mainnet, is an open, decentralized network, powered by the RLY token, an ERC-20 token by nature.
-RLY is Rally's blockchain-based asset (token) that can be sent and received in the Ethereum mainnet network.
-A network specially built for content creators to convert their work into digital, non-fungible tokens, Rally provides them a platform to engage, access and interact with viewers/audience/fans and monetize their work.
(Visit us at https://blockchainsimplified.com to hire Ethereum developers. We are an offshore Ethereum development company based out of Pune, India)
How does Rally (RLY) work and what are Creator Coins?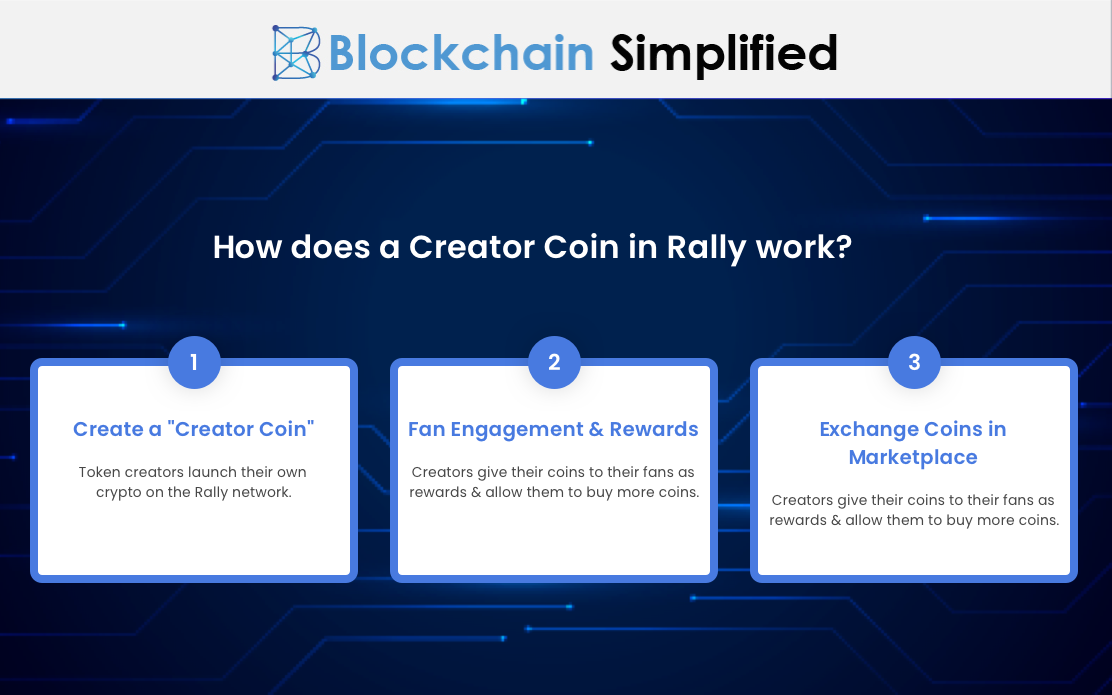 The Rally Network allows the creators to launch their own coins/tokens that are distinct, unique and irrelevant and dissimilar to any other token. These are called Creator Coins.. Creator Coins can be termed as a brand/creator specific cryptocurrency. With coins representing only their asset, creators can unleash different ways of exchange, payments and other modes of earning within their communities. Creators can establish their own set of rules and protocols associated with their coins that is relevant to only their tokens and their community.
So how do these Creator Coins possess real economic value? A fixed amount of RLY is embedded with each coin to make it valid enough to be used as an authentic monetary cryptocurrency. However, the price of a Creator Coin is calculated using many other factors as well, including,
1) The supply and demand of the coin
2) Number of transactions on the coin
3) Current market price of RLY
Another variable factor includes the Network benefit effect - which is calculated based on the performance of other creators on the Rally network.
Creators are free to decide how their specific coins should work within their community. Audiences who want to access content relevant to a particular creator, buy their assets or engage in any sort of events of the creator, have to mint their existing tokens. Creators can reward their regular fans/customers with their coins and also urge them to buy more coins. Creators can introduce timely offers and benefits to their community to encourage more participation and engagement. Fans can use these coins to buy physical/digital merchandise. Fans can also reward one another using their earned coins. The Rally network also distributes weekly rewards, typically the RLY token, to creators and their respective communities. Here is an article on the Rally Community Rewards.
(To hire Blockchain developers, visit us at https://blockchainsimplified.com)
Features of Rally Network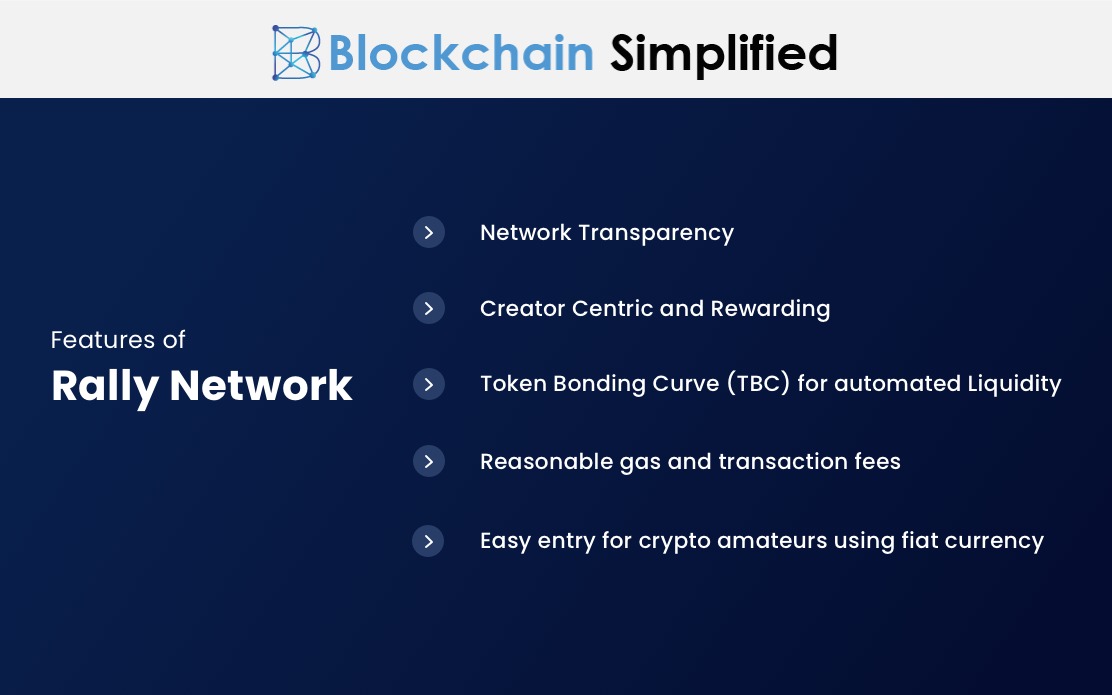 The Rally (RLY) Network has been designed in particular to empower individual and small content creators and build their own micro-economies. The network allows creators to create their own monetary programs and build their loyal communities. Creators can create their coin for free without paying any kind of platform fees. The transaction fees on the Rally (RLY) network is extremely reasonable, making it easy for anybody to join the platform. Not only crypto-enthusiasts, but beginners in the field can also join the Rally platform easily by using their usual debit/credit cards. One of the main features of the Rally (RLY) network is that the price of the Creator Coin, as we read above, is algorithmically calculated by Token Bonding Curves (TBC).. The algorithm is maintained in a smart contract that automatically determines the price of the Creator Coin. Streamlined token distribution and balanced ownership between Creators and fans makes the Rally (RLY) Network completely transparent and fair.
About Blockchain Simplified
Blockchain Simplified is a Top blockchain development company in Pune - India which works on all major Blockchain requirements. We specialise in Blockchain, Web and Mobile development (One Stop Shop for all technology development needs).
Our clientele includes Multiple Funded Start - Ups, SMBs and few MNCs few of which are NASDAQ and NSE listed.
Some of our work includes,
Blockchain based-
hubrisone.com - is a Live app with 100,000+ downloads, All-in-One Cryptocurrency current account. The entire development from scratch carried out by Blockchain Simplified.
All in one Platform - Complete responsibility of entire software development of the platform ,for a $1m funded blockchain start up, led by a team of serial entrepreneurs and tech veterans in Silicon Valley.
Well funded Blockchain startup - Blockchain Simplified helped a $6m funded American Blockchain startup to build the first blockchain protocol to leverage on-chain smart contracts to manage distributed storage of application data off-chain.
Multinational Bank - The company helped one of the top 3 ranking Multinational Banks to integrate various cryptocurrencies into their banking application.
and more…
Non-Blockchain-
SHC - Built entire platform and app from scratch for a $1m funded startup led by a team of Americans including PhD degree holders.
VMW - Developed app for a multi-national company providing mass factory-to-factory shipment services. App is being used by 53 of the Fortune 500 companies such as John Deere, Coca-Cola, Nissan.
and more…
Expertise
Blockchain Development : Bitcoin, Ethereum, Hyperledger, Corda, and more.
Mobile App Development : Android Native, iOS Native, React Native, Flutter, Xamarin.
UI/UX Design : Strategy, Planning, UI/UX Design, Wireframing, Visual Designs.
Web App Development : Node.JS, Angular, React.JS, PHP.
Backend Development : MongoDB, MySQL, AWS, Firebase.
Visit our official website https://blockchainsimplified.com/ for more information