Can Blockchain mediate to resolve conflicts in the Media & Telecom sector?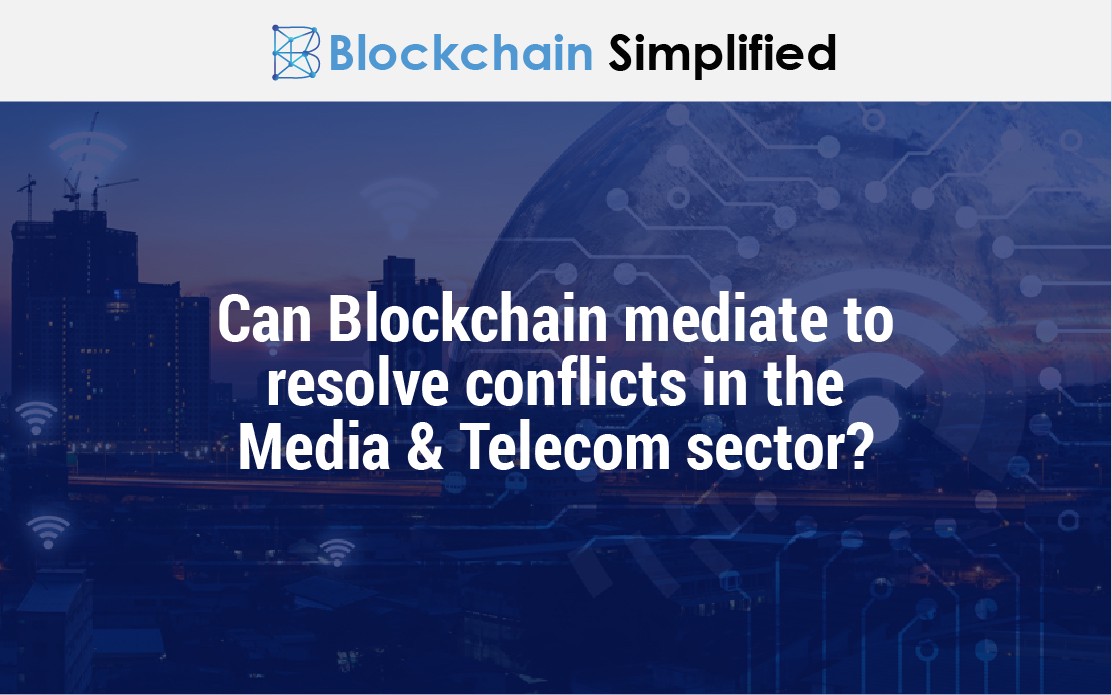 The Telecommunication sector has come a long way from landlines to mobile phones to smartphones. Data or Internet is the highest revenue generator for any network service company in today's date. From 2G,3G,4G to now 5G, data and internet technology is now in its 5th generation. There have been several talks and discussions about the issues with 5G. . To implement 5G network, more towers have to be erected and the distance between them could be as less as a few feet. The frequency of the radio waves in these towers is very high which can cause permanent damage to people, plants and everything that is surrounding as the frequencies are absorbed by them. Read about the dangers of 5G in this article.
But it is believed that Blockchain can solve all these issues and concerns regarding the implementation of 5G. Blockchain not only has the potential to monetize the commercial aspect of the implementation of 5G but also provides the much required privacy, feasibility and security in this much risky field. Apart from 5G there are many other applications of Blockchain in Telecom. Let us understand those one by one.
(https://blockchainsimplified.com is a top offshore blockchain development company in Pune, India.)
Blockchain Use-Cases in Telecom Industry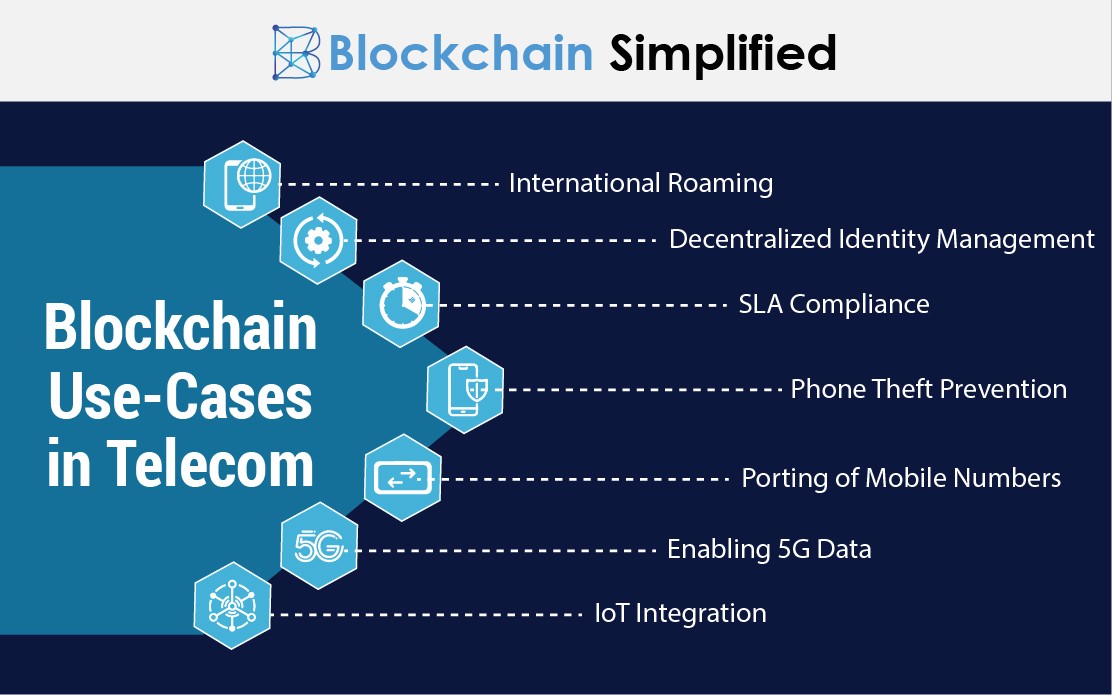 International Roaming
We are much aware about the international roaming charges that network providers levy on the consumer. This has always been a debatable topic for both the customer as well as the service provider. Blockchain promises to solve this problem. Blockchain proposes the development of hybrid blockchains that facilitates the verification of subscribers across borders. The system will provide a roaming network that will not charge any international roaming rates but will allow consumers to retain their existing sim cards with local rates. Smart Contracts to calculate roaming rates according to local charges, attaching the consumer to prepaid or postpaid plans etc can be created. Hybrid blockchains that enable seamless communication between local and global operators will connect consumers to network providers via a marketplace, where consumers can easily become a part of the local company for the time-being, wherever they are travelling. Blockchain is the best when it comes to safely store mobile records and transactions apart from the above applications like subscriber verification, international roaming etc.
Decentralized Identity Management
If you remember, we read about how Hyperledger Indy is developed in a way such that it is perfect when it comes to Decentralized Identity Management. Management of billions of user identities is a herculean task and very cumbersome at that. There are multiple cases of identity thefts where security of confidential user information has been compromised and this data is used for unethical purposes. About 143 million people in the United States of America who were Equifax users were affected.. Blockchain, by implementing decentralized identity management can reduce the probability of such data breaches. Authenticating users securely, unique identification of users, etc can be done using a Blockchain based platform.
SLA Compliance
Of Course majority of the companies nowadays have invested in automation of manual tasks using RPA and other techniques, but still organizations spend a lot of time and money in manual processes. Even if done with a lot of precision and concentration, there is always a lot of room for human errors and mistakes. This causes major disputes and delays in payments and settlements which may or may not comply with SLAs. If implemented, smart contracts are the best to handle such types of manual processes that can be automated. This way, there is complete transparency in the entire process with little chance of errors. Smart contracts can be designed to process payments as well as settlements.
Phone Theft Prevention
Today if mobile phones get stolen, the only way to stop them from being misused is to block the number which can only be done by the service provider. If the mobile phone is lost in other countries, then it becomes extremely difficult to track it as the consumer has to go through a lengthy process from informing the operator in his local country to establishing communication with operators in the country where the device is stolen, so on and so forth. A global blockchain platform connecting operators across the world to save unique mobile IDs, their customer information etc can help block numbers easily. The consumer's local operator can feed the missing device data onto the platform and operators in other countries can take cognizance of the matter and investigations can be started.
Porting of Mobile Numbers
Porting of mobile numbers from one service provider to another is particularly a very time-consuming and tiresome process. There are several delays and mistakes as data from the receiver company to the new company can be unauthentic, mismatched or botched. A single blockchain platform that includes all service providers on board is an excellent solution in this case. Having all the data stored on one network eliminates the possibility of data inadequacies. Blockchain ensures that data is not tampered or manipulated with its immutability feature.
Enabling 5G Data
Currently, talks and discussions are on for 5G data implementation. 5G network provides high-speed internet to people across the world. This means that not only consumers but thousands of devices, telecom operators, service providers need to be integrated and in-sync. The way this process is happening now is by centralized governance in every telecom organization. Blockchain Governance in this case is extremely helpful. A private blockchain, shared between various service providers can be created where only permissioned devices can be connected. Based on the parameters written in the smart contracts, based on consumer data usage, prepaid or postpaid plans and other conditions, users can be charged accordingly. 5G promises to deliver super fast internet with greater capacity and faster response time.
IoT Integration
We have understood the importance of the integration of IoT and Blockchain in one of our previous blogs. Today, every day we are connected with multiple devices be it our homes, office, cars etc. These smart devices have turned homes into smart homes, offices to smart offices, in fact cities to smart cities. Everything in today's age is connected digitally. Management of these devices, managing the transactions, payments, notifications etc can be securely done using Blockchain. Blockchain can handle complex computations, can manage huge volumes of traffic, eliminate data attacks on the systems.
(Visit us at https://blockchainsimplified.com to hire blockchain developers. We are an offshore blockchain development company based out of Pune, India)
Blockchain in Telecom and Media is a boon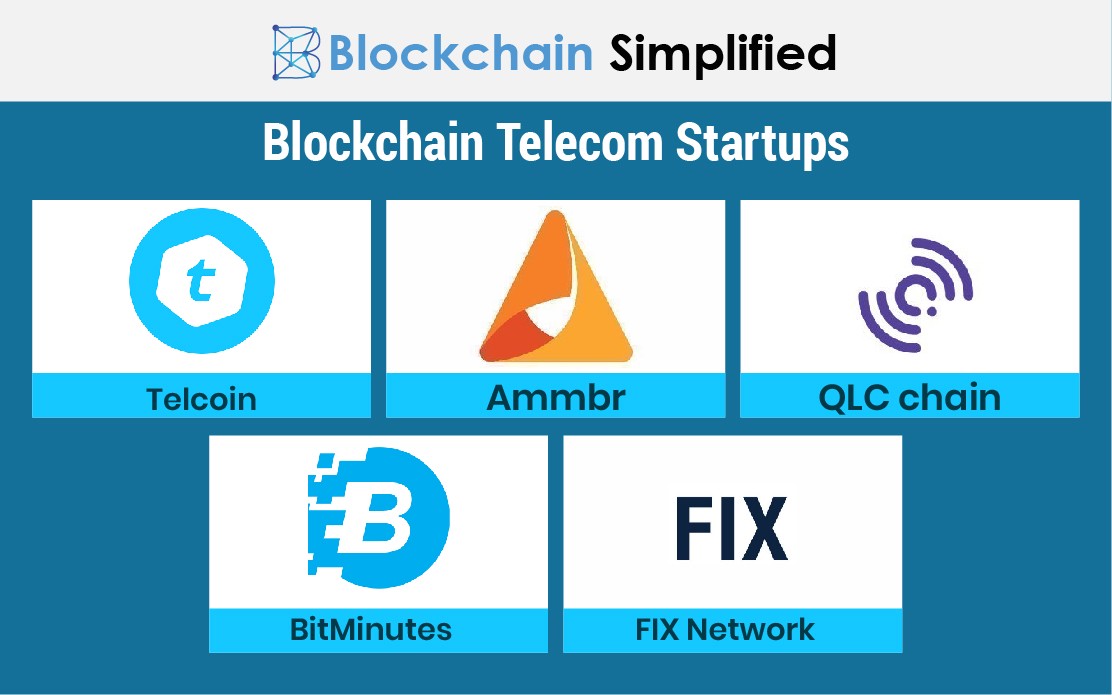 Biggies like Huawei, Telstra have already started their journey with Blockchain with Huawei implementing Blockchain for insurance and Telstra increasing its security of intimate consumer data by leveraging Blockchain in all their services. The Telecom and Media sector is a continuously growing field where everyday there are new innovations. With Blockchain in tow, it can make the impossible, possible!
About Blockchain Simplified
Blockchain Simplified is a Top blockchain development company in Pune - India which works on all major Blockchain requirements. We specialise in Blockchain, Web and Mobile development (One Stop Shop for all technology development needs).
Our clientele includes Multiple Funded Start - Ups, SMBs and few MNCs few of which are NASDAQ and NSE listed.
Some of our work includes,
Blockchain based-
hubrisone.com - is a Live app with 100,000+ downloads, All-in-One Cryptocurrency current account. The entire development from scratch carried out by Blockchain Simplified.
All in one Platform - Complete responsibility of entire software development of the platform ,for a $1m funded blockchain start up, led by a team of serial entrepreneurs and tech veterans in Silicon Valley.
Well funded Blockchain startup - Blockchain Simplified helped a $6m funded American Blockchain startup to build the first blockchain protocol to leverage on-chain smart contracts to manage distributed storage of application data off-chain.
Multinational Bank - The company helped one of the top 3 ranking Multinational Banks to integrate various cryptocurrencies into their banking application.
and more…
Non-Blockchain-
SHC - Built entire platform and app from scratch for a $1m funded startup led by a team of Americans including PhD degree holders.
VMW - Developed app for a multi-national company providing mass factory-to-factory shipment services. App is being used by 53 of the Fortune 500 companies such as John Deere, Coca-Cola, Nissan.
and more…
Expertise
Blockchain Development : Bitcoin, Ethereum, Hyperledger, Corda, and more.
Mobile App Development : Android Native, iOS Native, React Native, Flutter, Xamarin.
UI/UX Design : Strategy, Planning, UI/UX Design, Wireframing, Visual Designs.
Web App Development : Node.JS, Angular, React.JS, PHP.
Backend Development : MongoDB, MySQL, AWS, Firebase.
Visit our official website https://blockchainsimplified.com/ for more information.