How is RPA (Robotic Process Automation) reforming business processes?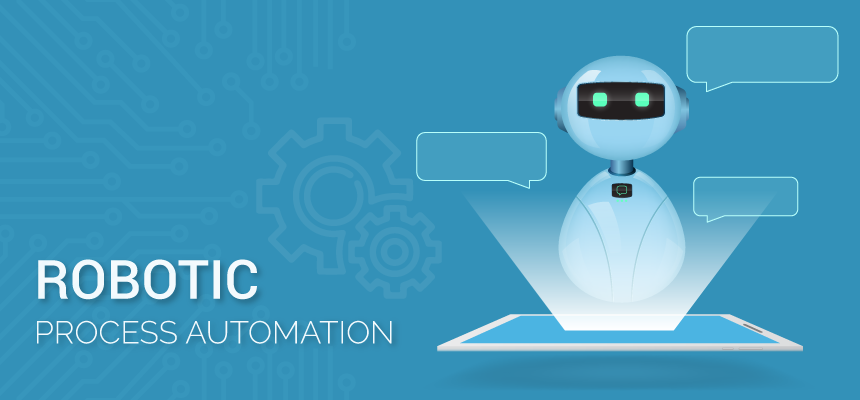 Image source : infobizzs.com
If there are any technologies that are ruling the roost in today's times, they have to be Artificial Intelligence (AI),Machine Learning (ML) and Blockchain. While AI deals with the development of programs that mimic human actions by rationalizing behavioural surroundings, ML - an application of AI - is a scientific study that involves the development of systems through self-learning and improving, based on recurring patterns and experiences. Blockchain, on the other edge, is a decentralized, distributed ledger technology that stores data in the most secure manner.
Another technology that has consistently outperformed and refined the fundamental functioning of mundane business process is the RPA - Robotic Process Automation. In this article, let us go through the crux of RPA, understand what it is and how has it significantly contributed to the drastic transformation of businesses.
What is an RPA?
-Robotic process automation or RPA is the process of automating a system or software to perform repetitive, monotonous tasks that exist in a daily business environment.
-In RPA, a "robot" is configured to imitate a human and interact with the existing system interface to carry out any business process. They are programmed to interpret, integrate and communicate with multiple systems to execute different day-to-day functions.
-The RPA technology is controlled by a set of pre-written business rules, and is designed to follow them in order to automate the existing manual process. An RPA program isn't expected to understand patterns or analyze surrounding context, unlike ML and AI, but only perform intended tasks efficiently according to the rules.
-Simply put, RPA is a rule-based, structured mechanism to eliminate redundant, boring manual tasks by automating them by means of a programming software.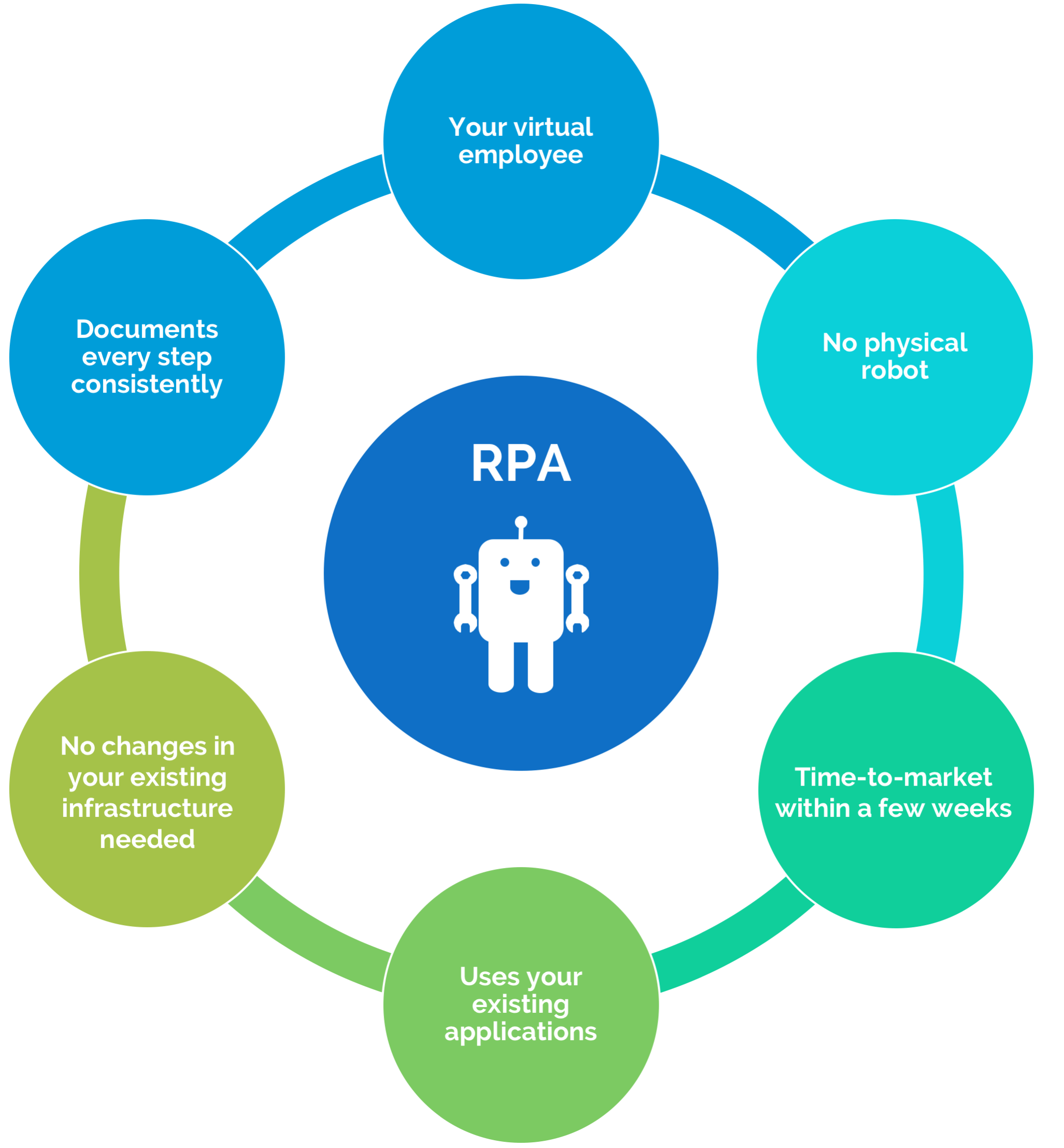 Image source : roboyo.de
A robotic process automation or RPA doesn't need to be integrated with the current infrastructure. Rather, the "bots" or "robots" interact with the existing system via the application interface to automate tedious, low-value tasks.
Below are few routine tasks that can be effectively automated using an RPA.
-Back office data-entry
-Copy-paste data
-Moving files and folders
-Opening emails and generating automated email responses
-Logging in and out of apps
-Browser scraping
However, the scope of an RPA is not limited only to these, but can be implemented anywhere where there is room for process improvement. Probots, chatbots, knowbots are different sorts of RPA that are defined and have been put to use. An RPA has its applications spread across different arenas ranging from Healthcare, Customer Service, Financial services to Retail, Banking, Human Resources and so on and so forth.
(To hire the best RPA developers, please contact https://blockchainsimplified.com)
Benefits of RPA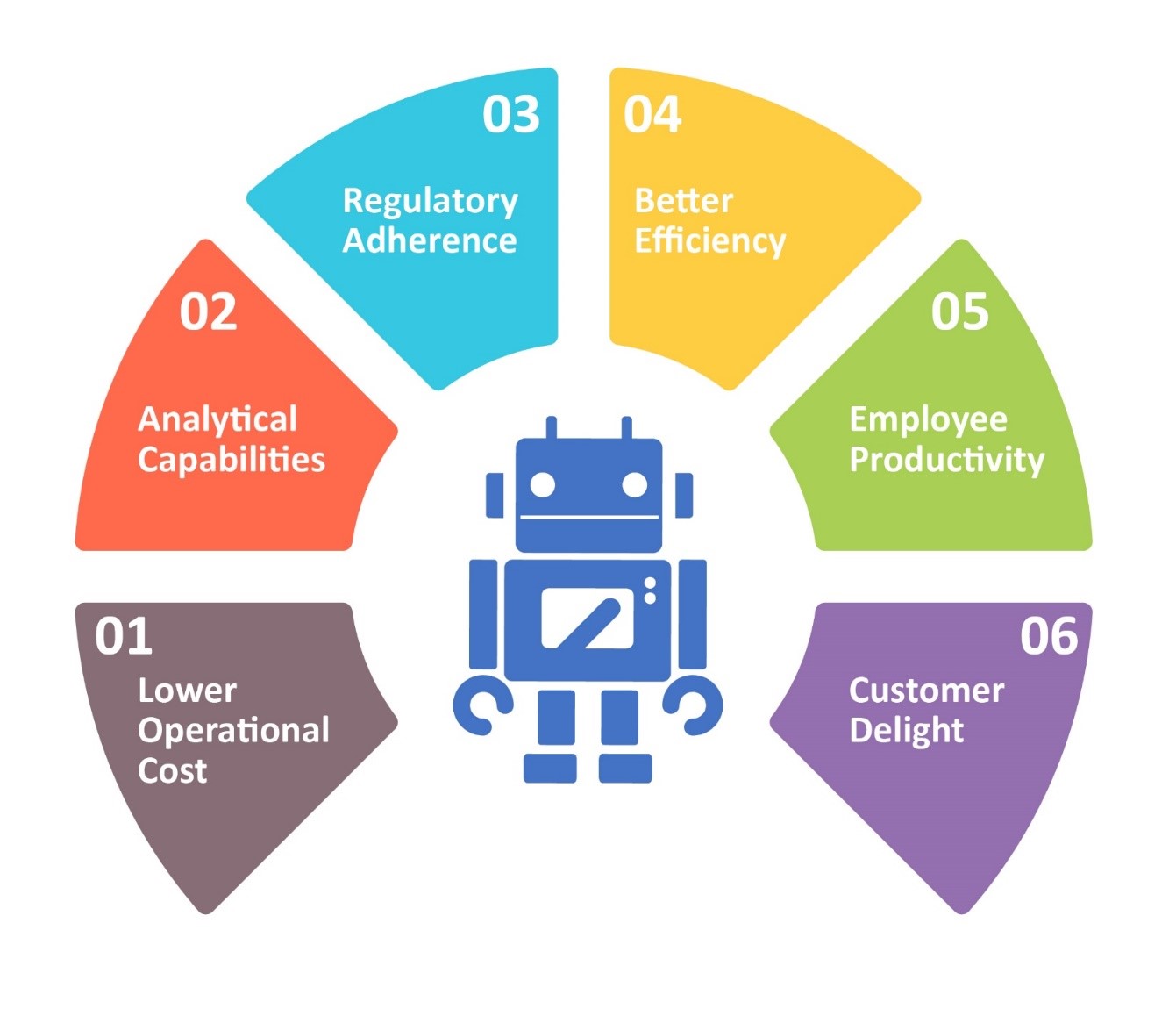 Image source : cloverinfotech.com
The main purpose with which a robotic process automation or RPA is developed is to simplify "zero-value add" everyday tasks by automating them to eliminate human intervention. RPAs make sure the tasks contain no mistakes (as they are completely programmed) and are error-free, thereby increasing efficiency and streamlining business processes. Elimination of human force automatically reduces the cost overhead of the company. Implementation of RPA significantly lowes the processing time of any task.
Also as mentioned before, an RPA doesn't replace the already existing system software. It in fact, easily integrates itself with the system and communicates with other systems to perform the automation process. Hence, it is a low-cost implementation and is a beneficial deal to the company. RPAs require less or no technical skills and are very easy to use and apply even for a person with a non-technical background. As opposed to a human, an RPA can be programmed to function 24/7 for various tasks and various time zones.
All these factors make RPA the best and only solution when it comes to improving old-age redundant manual tasks.
(Blockchain Simplified is a top Blockchain, web and mobile development company in Pune,India. Please visit our official website https://blockchainsimplified.com to know more)
RPA - A Boon
Companies have realized that RPA can have multiple benefits and can help overcome severe technical challenges with their advanced and efficient automating techniques. Robotic process automation has extreme potential and its high time we tap this potential to reap exemplary benefits. It's one of the greatest technology boons the digital world has seen!
About Blockchain Simplified
Blockchain Simplified is a Top blockchain development company in Pune - India which works on all major Blockchain requirements. We specialise in Blockchain, Web and Mobile development (One Stop Shop for all technology development needs).
Our clientele includes Multiple Funded Start - Ups, SMBs and few MNCs few of which are NASDAQ and NSE listed.
Some of our work includes,
Blockchain based-
hubrisone.com - is a Live app with 100,000+ downloads, All-in-One Cryptocurrency current account. The entire development from scratch carried out by Blockchain Simplified.
All in one Platform - Complete responsibility of entire software development of the platform ,for a $1m funded blockchain start up, led by a team of serial entrepreneurs and tech veterans in Silicon Valley.
Well funded Blockchain startup - Blockchain Simplified helped a $6m funded American Blockchain startup to build the first blockchain protocol to leverage on-chain smart contracts to manage distributed storage of application data off-chain.
Multinational Bank - The company helped one of the top 3 ranking Multinational Banks to integrate various cryptocurrencies into their banking application.
and more…
Non-Blockchain-
SHC - Built entire platform and app from scratch for a $1m funded startup led by a team of Americans including PhD degree holders.
VMW - Developed app for a multi-national company providing mass factory-to-factory shipment services. App is being used by 53 of the Fortune 500 companies such as John Deere, Coca-Cola, Nissan.
and more…
Expertise
Blockchain Development : Bitcoin, Ethereum, Hyperledger, Corda, and more.
Mobile App Development : Android Native, iOS Native, React Native, Flutter, Xamarin.
UI/UX Design : Strategy, Planning, UI/UX Design, Wireframing, Visual Designs.
Web App Development : Node.JS, Angular, React.JS, PHP.
Backend Development : MongoDB, MySQL, AWS, Firebase.
Visit our official website https://blockchainsimplified.com/ for more information.