The Path Less Travelled - Blockchain in Agriculture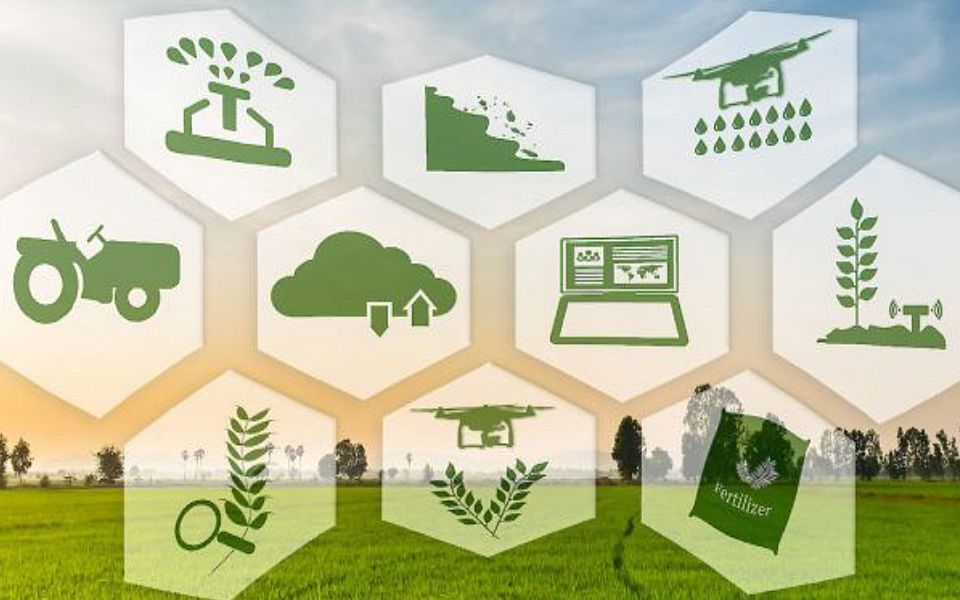 Image source : askrypto.com
By now, you may be familiar with the concept of Blockchain and how aptly it has been termed as the disruptive technology causing humongous effects in the functioning of industries. Not limiting itself only to cryptocurrency trading, Blockchain has its wings widespread across different industries, be it Healthcare or Supply Chain,Online Video Streaming or something as new and advanced like Digital Objects.
However, one road less taken and which has tremendous potential to grow leaps and bounds, with the help of Blockchain, is Agriculture. The agriculture sector is one of the major contributors towards any country's GDP, be it in a developing country like India or even in one of the first developed countries like the US. Infact, agriculture sector jobs in the US account for a majority of its revenue. An industry that is always categorically given the royal ignore, it in fact needs immediate attention to resolve a host of issues, that Blockchain can suffice.
Challenges in Agriculture and the Role of Blockchain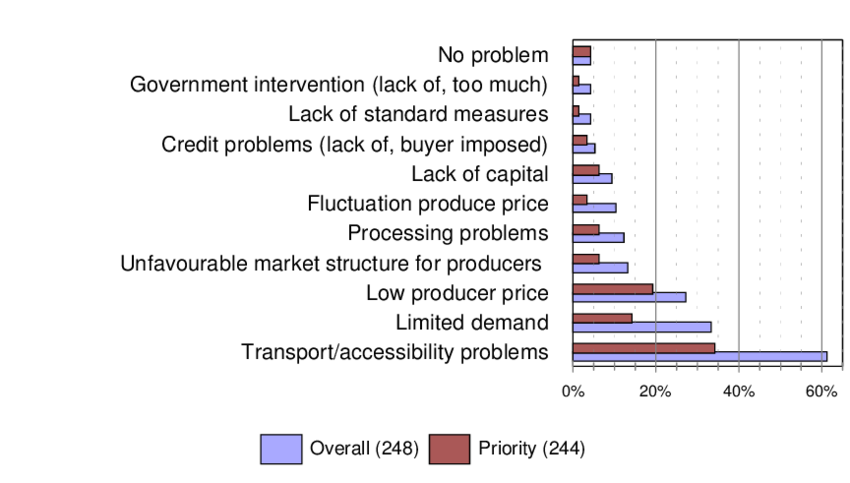 Image source : researchgate.net
The agriculture sector is always in a financially unstable position due to several risks and factors like poor crop production due to uncertain change in climatic conditions, unfavourable fertilizers, poor irrigation methods etc. Moving on, there are issues like less cultivation area for crops due to illegal land proceedings, no storage facilities post cultivation, extreme intervention of middle agents for the supply chain management and delivery of foods so on and so forth.
To add to these woes, farmers are forced to buy necessary agricultural inputs at fashionably higher prices, for which they have to heavily depend on private money lenders since there is very little Government support for any credit money lending system. This is why farmers have their neck deep in debt, as they have to repay these loans at insanely higher rates of interest, plus they are offered very low prices for the produce they sell, with middlemen enjoying all the profits.
Read about various challenges in agriculture in detail here.
All these factors have led to deep farmer crisis, hence, prompt attention and swift measures have to be laid in place to tackle these issues. Blockchain has the capability of providing a trusted, secure and transparent system to deal with and eliminate risks associated with agriculture, eventually benefiting the farmers.
(Please visit https://blockchainsimplified.com to hire the best Blockchain developers)
How Blockchain can transform the Agriculture sector?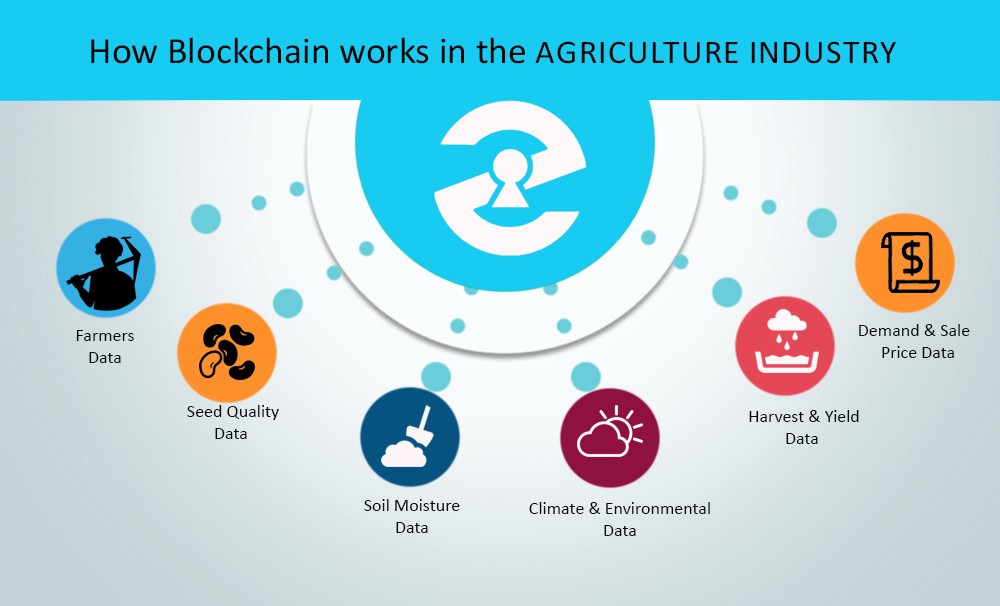 Image source : medium.com
A Blockchain based agriculture system for farmers is the answer to all the above challenges - a detailed analysis of how is expressed below.
Data generated by IoT devices (read : sensors) that provide information of soil temperature, moisture, pH level etc, can be stored safely on Blockchain, which can be captured by farmers to make informed decisions before crop reaping and harvesting. Also,these sensors generate details about the quality of seeds, water levels, fertilizer data and much more,that are helpful to the farmers, which consequently prevents post-harvest losses.
Blockchain can also be used to save information related to demographics, types of crops, crop quality etc. Farmers can be able to communicate to each other as well as end consumers directly using the blockchain. Smart contracts can be put in place to perform specific actions based on particular trigger factors which not only reduces the manual efforts of the farmer, but also generates a better produce and enhances the farming process.
All this data can act as a source of information to be fed to Machine Learning (ML) systems, which with their unique pattern reading and predictive modeling techniques can generate useful and important insights like weather forecasts etc for farmers. They can be well prepared in advance by getting themselves acquainted with these systems, to avert undesirable consequences.
The biggest loss farmers face is that they get paid peanuts against the supplies they produce and sell, where in fact they should get paid the highest. The Supply Chain network of the food industry involves lot of illegal middle agents who eat majority of the profit generated by the supply. Farmers have to bid their crops to food processing companies which later sell them to wholesalers and retailers. Blockchain gets rid of this entire chain by directly linking the farmer to the consumer and makes the entire process transparent and easy. This way, the farmer enjoys complete profits and the consumer also pays lesser price for the product. All these transactions are safely stored and monitored on the Blockchain.
Every person associated with the agriculture, supply chain and food industry process can be part of the system which will help in speedy communication and quicker, better results.
These are just a few, but not all, relevant uses of Blockchain in Agriculture. To know more, go through below articles.
-Blockchain in Agriculture
-Blockchain use cases in Agriculture
( Blockchain Simplified is a top Blockchain,web and mobile app development company in Pune,India. Please visit https://blockchainsimplified.com for more details )
The Final Words for Blockchain in Agriculture
Blockchain as a technology, can be a turning point in the field of Agriculture, if implemented. Because it is secure and tamperproof, it can promise a fair system that will ensure quality crop production, efficient food supply chain and a trustworthy pricing system. The only challenge is to enable farmers access such systems, which for sure will be made available sooner. Blockchain is the perfect solution for challenges faced by the agriculture sector.
About Blockchain Simplified
Blockchain Simplified is a Top blockchain development company in Pune - India which works on all major Blockchain requirements. We specialise in Blockchain, Web and Mobile development (One Stop Shop for all technology development needs).
Our clientele includes Multiple Funded Start - Ups, SMBs and few MNCs few of which are NASDAQ and NSE listed.
Some of our work includes,
Blockchain based-
hubrisone.com - is a Live app with 100,000+ downloads, All-in-One Cryptocurrency current account. The entire development from scratch carried out by Blockchain Simplified.
All in one Platform - Complete responsibility of entire software development of the platform ,for a $1m funded blockchain start up, led by a team of serial entrepreneurs and tech veterans in Silicon Valley.
Well funded Blockchain startup - Blockchain Simplified helped a $6m funded American Blockchain startup to build the first blockchain protocol to leverage on-chain smart contracts to manage distributed storage of application data off-chain.
Multinational Bank - The company helped one of the top 3 ranking Multinational Banks to integrate various cryptocurrencies into their banking application.
and more…
Non-Blockchain-
SHC - Built entire platform and app from scratch for a $1m funded startup led by a team of Americans including PhD degree holders.
VMW - Developed app for a multi-national company providing mass factory-to-factory shipment services. App is being used by 53 of the Fortune 500 companies such as John Deere, Coca-Cola, Nissan.
and more…
Expertise
Blockchain Development : Bitcoin, Ethereum, Hyperledger, Corda, and more.
Mobile App Development : Android Native, iOS Native, React Native, Flutter, Xamarin.
UI/UX Design : Strategy, Planning, UI/UX Design, Wireframing, Visual Designs.
Web App Development : Node.JS, Angular, React.JS, PHP.
Backend Development : MongoDB, MySQL, AWS, Firebase.
Visit our official website https://blockchainsimplified.com/ for more information.