Top 5 Applications of Blockchain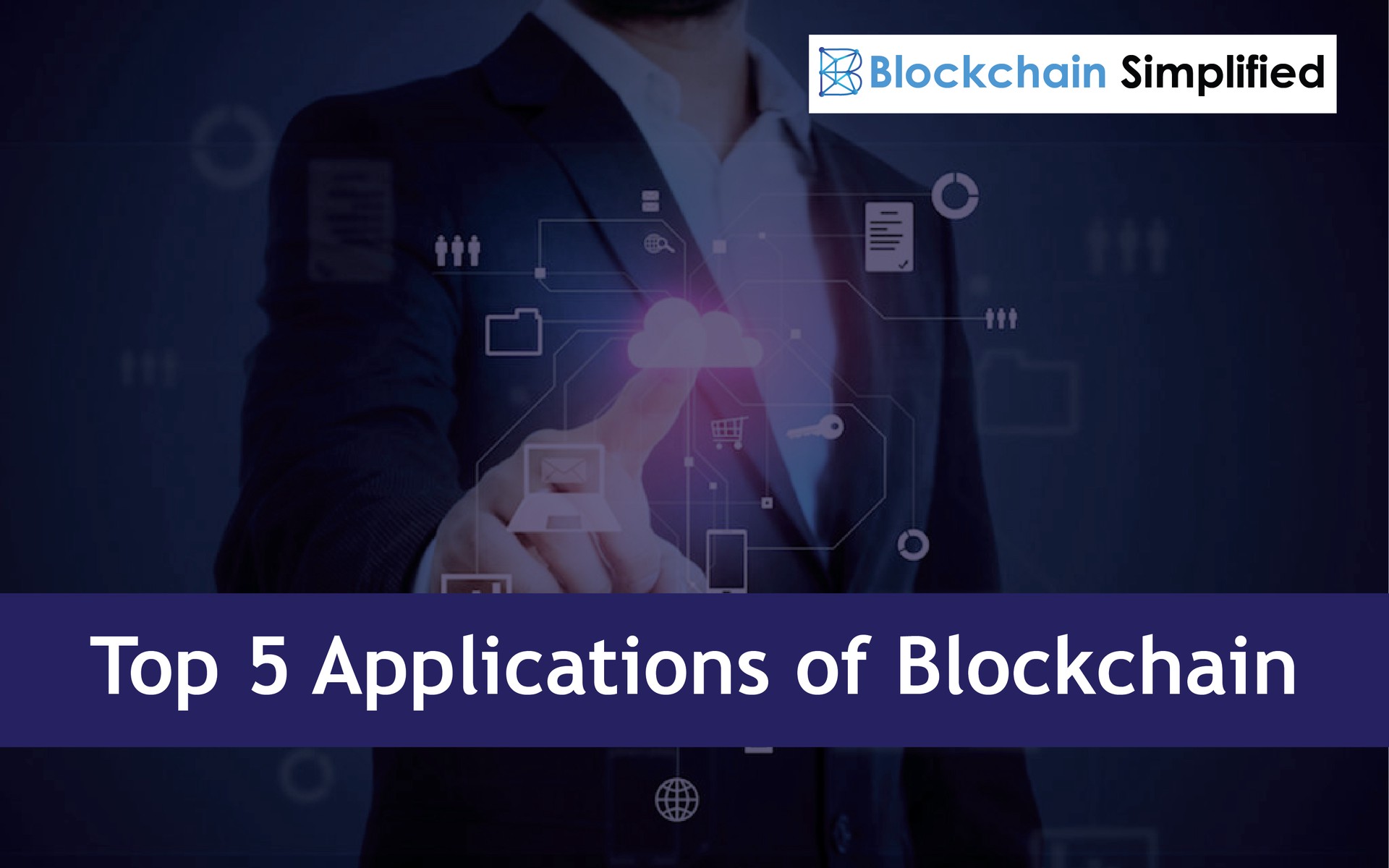 We saw how Blockchain technology has revolutionized the cryptocurrency trading process. In any case, the utilization of Blockchain isn't simply constrained to cryptocurrency.
Blockchain, if integrated with any other sector, has the potential to transform the functioning of these industries. Let us take a look at how.
1. Application of Blockchain in Financial Services and Banking
One of the most significant industrial applications of Blockchain is Banking. Because of its tamper-proof and immutable structure, blockchain is capable of processing safe and instant transfer of funds and other transactions to different accounts in different parts of the world.
By establishing the essential framework and foundation required for Blockchain, an all inclusive worldwide payment processing system can be built up, that will facilitate the protection of sensitive account holder data, execution of transactions, maintenance of accounts, fund transfer, merging of accounts etc. Transaction processing costs can be significantly reduced and payments can be swiftly processed with Blockchain.
Challenges like wrong account information, physical checks, cash move delays etc will never again exist as Blockchain helps in instantly processing the secure transfer of money, and there is no authority owning or controlling it.
Read about how Decentralized Finance (DeFi) and Bitcoin Futures have changed the face of Finance.
2. Application of Blockchain in Digital Identity Management
In today's times, we share a great deal of individual data with banks, government, mobile service companies or even on social networking websites like Facebook etc, based on trust. This sensitive data always lies with some central authority or server and can be easily manipulated or tampered with.
Blockchain can be utilized to decentralize this data and handover the control and access of it to the individuals themselves. For e.g:- as opposed to having different IDs and passwords for multiple systems like banks or government, we can have a solitary one of a kind Digital Identity Management framework based on blockchain. Users secure their information in the system via the public and private keys and receive a system-generated UID.
Like how cryptocurrency trade is executed, any other system which needs to process a transaction with you, needs to collaborate with you by means of your Digital Identity Management system using your public key. The DIM system will approve any transaction simply after it gets an approval from you by means of your private keys, and just if a match is created, the transaction will be handled. This way, your personal information is sheltered on a decentralized server and not put away on any centralized store.
Read how Hyperledger Indy is tailor-made for creating digital identities.
(Visit our official website https://blockchainsimplified.com for blockchain development services)
3. Application of Blockchain in Health Care
Healthcare is the best case of real life applications of Blockchain. Right from patient registration, medical history, doctor prescriptions, blood record reports to patient insurance scheme, payment details etc, there are several transactions that occur in a typical health care set-up namely hospitals.
Duplication of records, data redundancy, misplaced documents, lost reports, repetition of health tests and check-ups etc are common issues that can bring about misinterpretation of information or something critical like a health risk. Imagine a patient having a history of being seriously susceptible to a specific medication like an allergy to a drug and the doctor recommends a prescription containing that drug unconsciously, it can prompt something serious and hazardous.
Different hospitals can speak with one another through a Blockchain based decentralized system, that will store all the events of a person's medical journey without any intermediate tampering or manipulation. Specific doctors and health practitioners can approach the patient's information with the assistance of cryptographic key strategies.
4. Application of Blockchain in Supply Chain Management
Another prime industrial application of blockchain can be the Supply Chain Management sector.
Picture this model. You have ordered an item, say an outfit from Amazon. There is a whole chain of transactions namely tracking the order, securing raw material from provider, movement of material to the manufacturer, manufacturing of the product, allocating the item to quality checks, supplying it to vendors, moving it to shipment agencies and lastly delivering the item to purchasers. Likewise, returning the item back to the seller because of reasons like damage in the product or item not delivered on time etc are part of the cycle.This complete logistics of a particular transaction is called Supply Chain Management.
The records of all the above transactions can be permanently documented and stored securely on a Blockchain based system. Frequently occurring time delays, sporadic movement of the product etc issues can be easily tracked via the network since there is complete transparency in the process.
Supply Chain Management is one of the greatest industrial markets and the capability of Blockchain can be all around tapped to decentralize the procedure.
5. Application of Blockchain in the Public Sector (Government)
A blockchain based Government model is the need of the hour. Numerous nations have identified the challenges in their existing system and have adapted to this new technology to beat those issues though a few others are realizing the significance of Blockchain as a solution to modernize their systems.
Blockchain can help in storage and maintenance of sensitive and confidential citizen information, can accelerate Government processes, eliminate corruption and illegal third party agencies, expel manual intercession thereby cutting expenses and overheads.
Digitalization has caught the fancy of many countries and world leaders, who are currently focussing on implementing trend setting innovations to streamline stringent, age-old procedures by overhauling them to newer,efficient methods. Blockchain can demonstrate to be the most suitable answer to safeguard and process important public data.
(Visit our official website https://blockchainsimplified.com for blockchain development services)
Application of Blockchain and Internet of Things (IoT)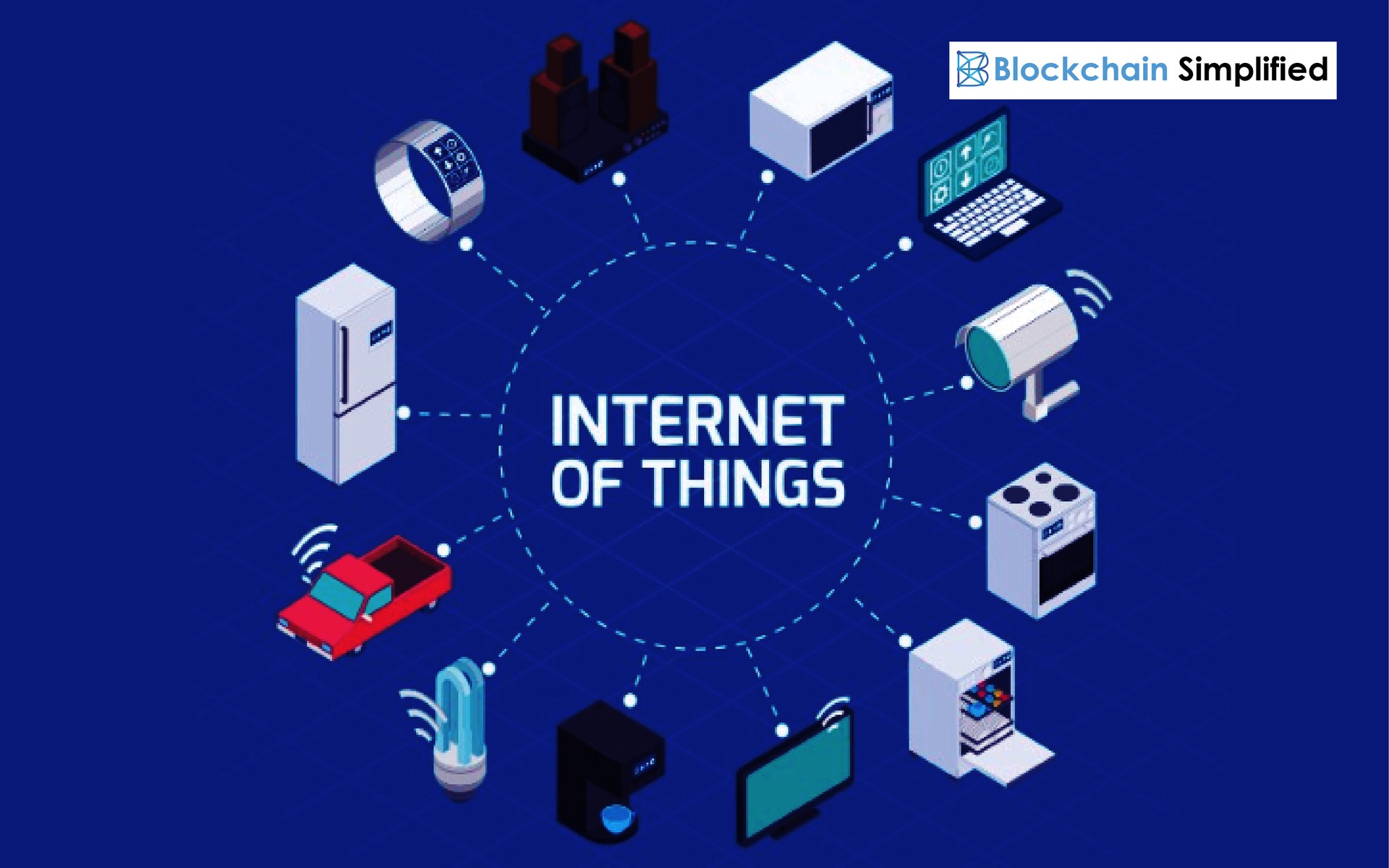 Internet of Things (IoT) is a word that is everywhere in the business and corporate circles. Simply put, it is the enabling of correspondence and connection of multiple objects in the world via the Internet.
Today, we are subject to the Internet for each and every need of ours, be it a taxi service, food delivery, weather updates, booking tickets and so on, and we have it, thanks to the Internet. This is possible because we are connected to these services, via the Internet, which enables us to communicate with the centralised servers of these applications. Now, consider the possibility that this server crashes out of the blue, because of any unexpected circumstance. The entire process will come to a stand still.
By application of Blockchain, with its decentralized and distributed functionality, will eradicate the very existence of storing the data on a central repository. Data will be stored across the network on each peer, therefore, is secure and safe. Distributed collaboration is simple and handling transactions is easy. Due to its tamper-proof structure, any manipulation on the network is impossible and subsequently any probability of hacking is equivalent to zero. Tracking even a small event will no longer be a difficult task as history of all records safely reside on the Blockchain.
The amalgamation of Blockchain and Internet of Things (IoT) can help make a trusted and secure structure to improve the capability of the Internet of Things (IoT). Decreased cost overheads, zero human inclusion, no single controlling authority, shared correspondence and a sans hack system is all that the IoT needs and Blockchain offers all of that. Both of them put together, the digital space is up for a facelift.
Depending on your requirements, you can use Hyperledger,Ethereum or any of the blockchains to implement the above.
About Blockchain Simplified
Blockchain Simplified is a Top blockchain development company in Pune - India which works on all major Blockchain requirements. We specialise in Blockchain, Web and Mobile development (One Stop Shop for all technology development needs).
Our clientele includes Multiple Funded Start - Ups, SMBs and few MNCs few of which are NASDAQ and NSE listed.
Some of our work includes,
Blockchain based-
hubrisone.com - is a Live app with 100,000+ downloads, All-in-One Cryptocurrency current account. The entire development from scratch carried out by Blockchain Simplified.
All in one Platform - Complete responsibility of entire software development of the platform ,for a $1m funded blockchain start up, led by a team of serial entrepreneurs and tech veterans in Silicon Valley.
Well funded Blockchain startup - Blockchain Simplified helped a $6m funded American Blockchain startup to build the first blockchain protocol to leverage on-chain smart contracts to manage distributed storage of application data off-chain.
Multinational Bank - The company helped one of the top 3 ranking Multinational Banks to integrate various cryptocurrencies into their banking application.
and more…
Non-Blockchain-
SHC - Built entire platform and app from scratch for a $1m funded startup led by a team of Americans including PhD degree holders.
VMW - Developed app for a multi-national company providing mass factory-to-factory shipment services. App is being used by 53 of the Fortune 500 companies such as John Deere, Coca-Cola, Nissan.
and more…
Expertise
Blockchain Development : Bitcoin, Ethereum, Hyperledger, Corda, and more.
Mobile App Development : Android Native, iOS Native, React Native, Flutter, Xamarin.
UI/UX Design : Strategy, Planning, UI/UX Design, Wireframing, Visual Designs.
Web App Development : Node.JS, Angular, React.JS, PHP.
Backend Development : MongoDB, MySQL, AWS, Firebase.
Visit our official website https://blockchainsimplified.com/ for more information.