Everything You Need to Know About a Blockchain Wallet (Cryptocurrency Wallet)
In this era of advanced technologies and digital data, the concept of physical cash is before long becoming obsolete.Traditional currency is slowly losing its charm and has been replaced by Cryptocurrency. Cryptocurrency, in simple words, is a virtual, digital currency used as a mode of exchange to do monetary exchanges anyplace all over the world. Bitcoin was the first and most prevalent digital cryptocurrency made, based on blockchain technology.
For more details on blockchain technology and its types, refer our below blogs:
A cryptocurrency wallet, also called a blockchain wallet, is basically a digital wallet used to store the cryptocurrencies and/or send/receive digital currency. Like a wallet is to physical money, a crypto wallet is to cryptocurrency.
It contains data of the wallet address, sent and received transactions, history of previous transactions etc. Let us have a detailed look at how the wallet works.
How does a Blockchain wallet work?
Since cryptocurrency is not present in any physical form, the cryptocurrency wallet doesn't actually store the currency but maintains the records of transactions carried out. Transactions are usually stored on a blockchain network.
Crypto wallets are software programs which use a pair of public and private keys, to process the information. They directly interact with the blockchain to enable users to send/receive currency. Users can also check their wallet balance and execute other transactions. Cryptocurrency wallets and blockchain work simultaneously in order to carry out transactions, therefore they are also called blockchain wallet.
Every crypto wallet has a specific address assigned to it and a private key linked to the address. When a user wants to send currency to your wallet, he also issues a public key (that contains information about your wallet address). All together for the exchange to effectively happen, the private key of your wallet and the public key issued by the other user has to match. Once there is a match, the transaction is recorded. The same method is used to send currencies to other users.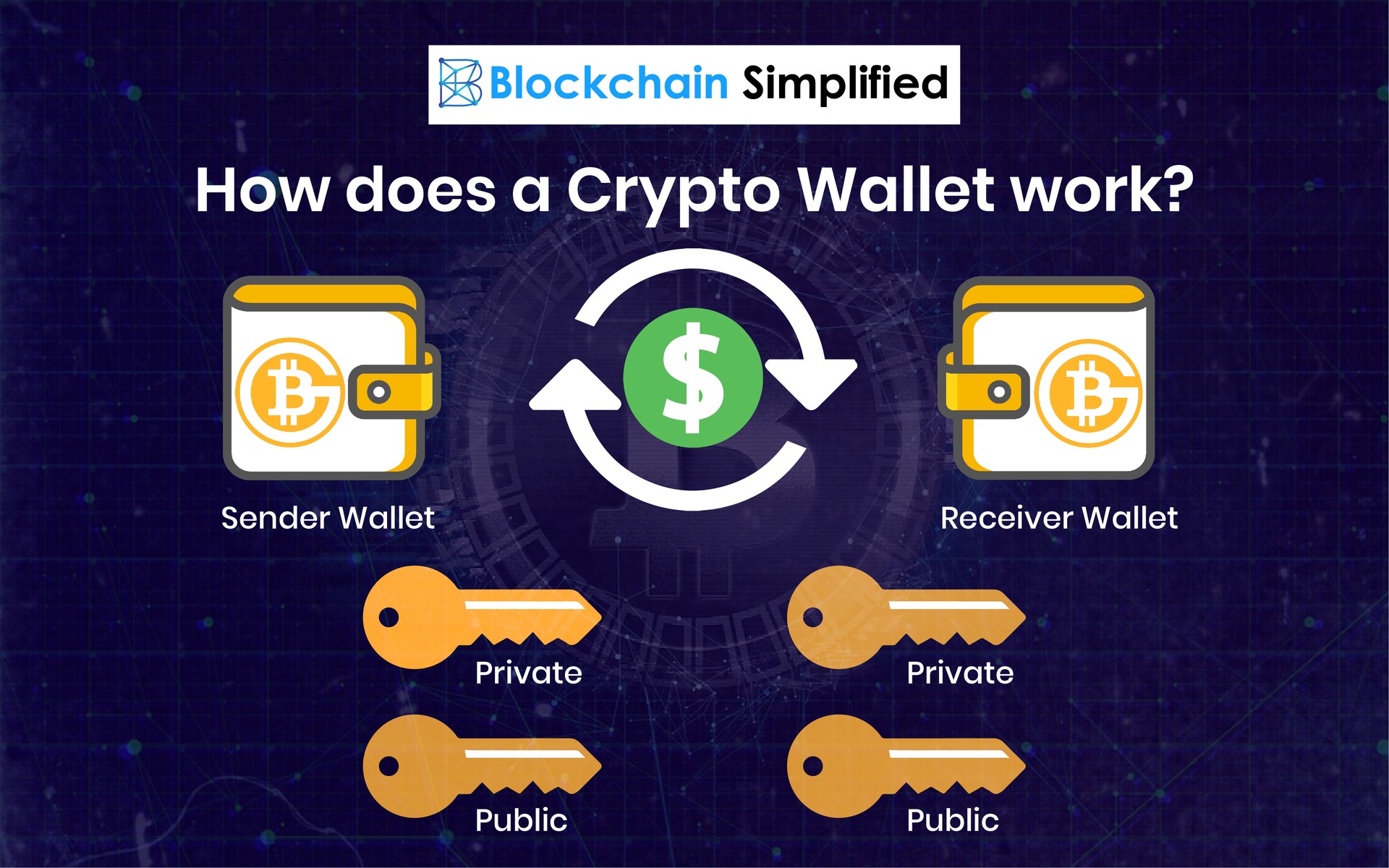 The cryptography method of hashing is used to encrypt the public and private keys to a machine understandable form, thereby adding another layer of security, to the already existing robust and tamper-proof blockchain structure.
(For assistance in creating and maintaining cryptocurrency wallets, please visit our website https://blockchainsimplified.com)
Types of Blockchain wallets
The following are various kinds of wallets which can be used depending upon your prerequisites.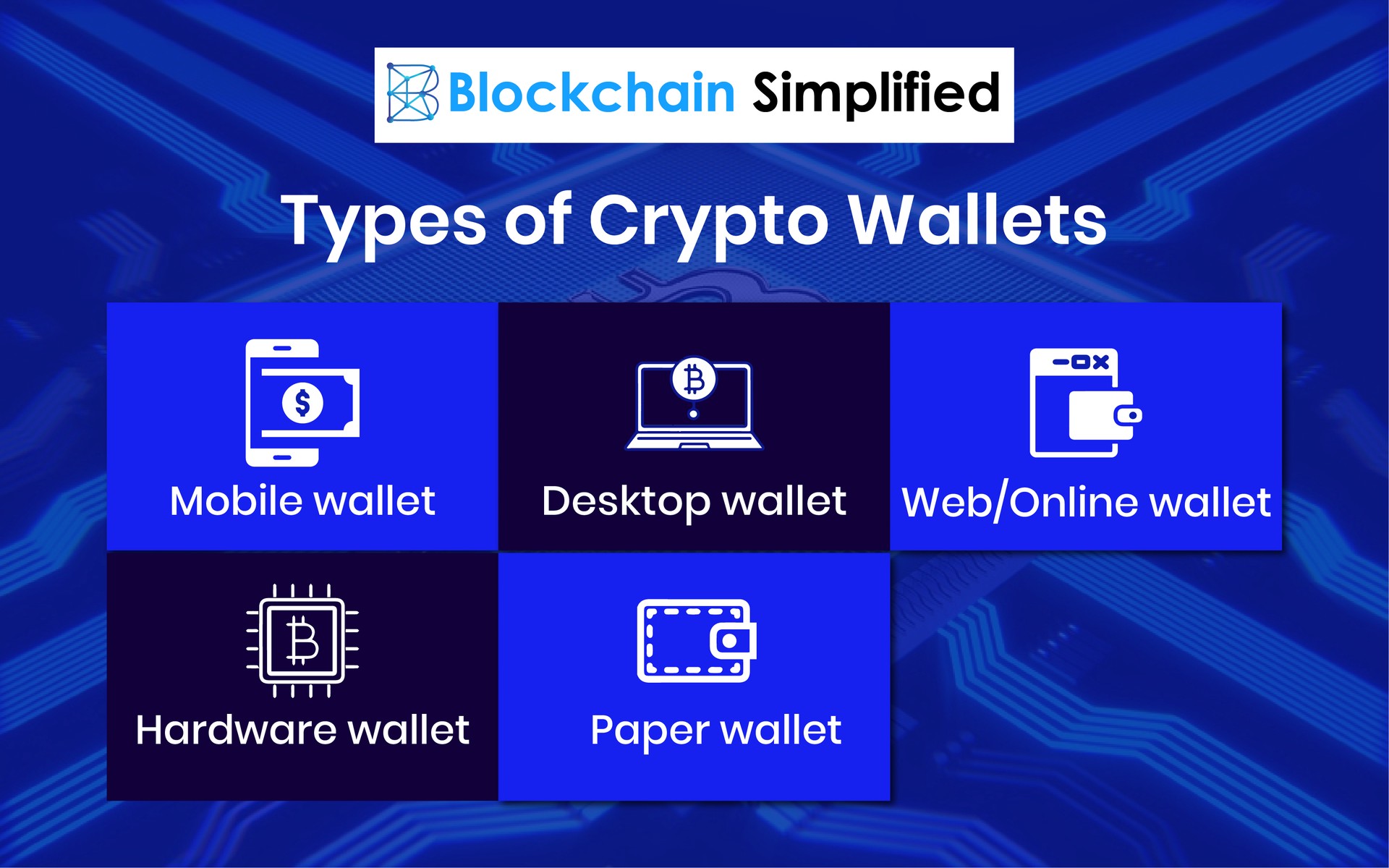 1. Mobile wallet :
This is the most broadly used blockchain wallet. By downloading an application on your mobile device, the app can be accessed anywhere, even in physical stores. They spare a great deal of time and are a lot smaller and less difficult compared to desktop wallets. But they are also prone to mobile viruses or malware damage. Also, data is lost if mobile is lost or damaged.
E.g.:- Jaxx is a multi-chain wallet which is compatible with several cryptocurrencies like Ethereum, Dash, Litecoin, Bitcoin Cash and some more. Available in the form of Android app as well as iPhone app.
2. Desktop wallet :
As the name proposes, this crypto wallet is installed on a PC or workstation and can be accessed only from the device. While they do give an assurance regarding security, they also are vulnerable to hacking or a virus attack..
E.g.:- Exodus is a cryptocurrency wallet that can be downloaded on the desktop and supports various cryptocurrencies like Litecoin, Dash, Zcash, Ethereum etc.
3. Web/Online wallet :
This is basically a web service run online but is operated by a third party. This is the least secure crypto wallet since they have all your information of public and private keys.
E.g:- Guarda is one of the best online wallets that is considered to be safe and reliable.
4. Hardware wallet :
This is the most secure blockchain wallet. Your private and public keys are stored on a USB device.The only time it has to be connected to an online interface is to transfer currencies, but all the records of the transactions are stored offline.
E.g.:- Trezor is a USB device hardware wallet. It is one of the best multiple cryptocurrency wallets available.
5. Paper wallet :
A software creates your private and public keys and are then printed on a piece of paper. Whenever you need to make any transaction, just enter the key into any software wallet or scan the QR code and transfer funds.
E.g:- Verge is one of the best paper cryptocurrency wallet available.
(For assistance in creating and maintaining different cryptocurrency wallets, please visit our website https://blockchainsimplified.com)
Blockchain Wallet - Conclusion
Blockchain wallet is a safe and dependable mode for exchanging of cryptocurrencies and gaining massive popularity in the digital world. With regards to security, there is no match for hardware and paper wallets. However, software wallets do require periodic backups and latest software updations to prevent them from malware, virus attacks and hacking. Software wallets have now started providing two-factor authentication and multi-signature methods which creates an additional layer of security against potential threats.
Various kinds of digital currency wallets take into account various sorts of necessities, thus picking the right wallet appropriate for your prerequisites is the key to a safe and secure exchange of cryptocurrency.
About Blockchain Simplified
Blockchain Simplified is a Top blockchain development company in Pune - India which works on all major Blockchain requirements. We specialise in Blockchain, Web and Mobile development (One Stop Shop for all technology development needs).
Our clientele includes Multiple Funded Start - Ups, SMBs and few MNCs few of which are NASDAQ and NSE listed.
Some of our work includes,
Blockchain based-
hubrisone.com - is a Live app with 100,000+ downloads, All-in-One Cryptocurrency current account. The entire development from scratch carried out by Blockchain Simplified.
All in one Platform - Complete responsibility of entire software development of the platform ,for a $1m funded blockchain start up, led by a team of serial entrepreneurs and tech veterans in Silicon Valley.
Well funded Blockchain startup - Blockchain Simplified helped a $6m funded American Blockchain startup to build the first blockchain protocol to leverage on-chain smart contracts to manage distributed storage of application data off-chain.
Multinational Bank - The company helped one of the top 3 ranking Multinational Banks to integrate various cryptocurrencies into their banking application.
and more…
Non-Blockchain-
SHC - Built entire platform and app from scratch for a $1m funded startup led by a team of Americans including PhD degree holders.
VMW - Developed app for a multi-national company providing mass factory-to-factory shipment services. App is being used by 53 of the Fortune 500 companies such as John Deere, Coca-Cola, Nissan.
and more…
Expertise
Blockchain Development : Bitcoin, Ethereum, Hyperledger, Corda, and more.
Mobile App Development : Android Native, iOS Native, React Native, Flutter, Xamarin.
UI/UX Design : Strategy, Planning, UI/UX Design, Wireframing, Visual Designs.
Web App Development : Node.JS, Angular, React.JS, PHP.
Backend Development : MongoDB, MySQL, AWS, Firebase.
Visit our official website https://blockchainsimplified.com/ for more information.