A kickstart to Hyperledger Indy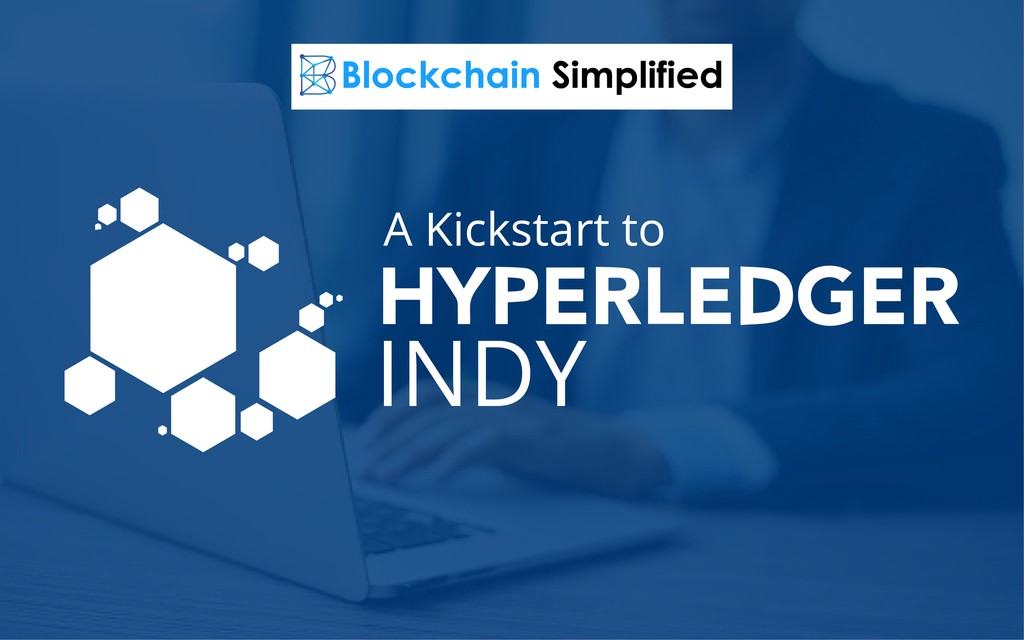 Back in our previous blogs on Blockchain based Social Media or Blockchain in Cybersecurity, we read how data breach and theft have become causes of grave concern in the online digital world. Whether you shop online from an e-commerce portal or just create an account for registering yourself on an online forum for any purpose, you may have to disclose personal information. Many-a-times you may also provide bank details or credit card details for making a purchase. As we know, this data is open for misuse and manipulation by hackers. Although most of the online platforms claim to be secure and maintain integrity in preserving confidential customer data, there still exist a lot of loopholes in these systems that have resulted in serious identity thefts over the years. According to statistics, 4 in 10 Indians have experienced identity thefts - a staggering 39%.
Centralized data storage systems, a central authority controlling the management of personal data and third party intermediaries are the prime reasons for such kind of digital identity thefts. Blockchain, a decentralized, distributed ledger technology, has immense potential to mitigate these issues and provide the much needed support.
Hyperledger Indy, one of the most exciting projects under the Hyperledger Umbrella project by the Linux Foundation, is proving to be the perfect solution for digital identity management on the web. In this blog, let us find out what exactly Hyperledger Indy is, its architecture and how it helps build a secure and safe environment for online digital identities.
What is Hyperledger Indy?
Hyperledger Indy is a Blockchain specially built for decentralized identity management. The platform stores multiple tools & libraries consisting of several reusable components that can be used to create unique digital identities. Hyperledger Indy itself is the storehouse of these identities which can be used across any other domain or application online. Let us understand in depth the architecture, the working and the various components that are part of Hyperledger Indy which are the backbone of building a single, unique, self-sovereign digital identity.
Below is the list of components of Hyperledger Indy,
1) Cryptography - Hyperledger Indy implements a zero-knowledge cryptography wherein one user verifies and certifies the genuineness and integrity of another user.
2) Nodes - The master node, which maintains the full copy of the ledger, is responsible for decentralized governance. Indy follows the Redundant Byzantine Fault Tolerance (RBFT) algorithm for verified consensus.
3) Ledger - The Merkle tree carries out the process of backing up the ledger in Hyperledger Indy. But as a matter of fact, every node holds a replica of the ledger.
4) State - The current state of the Blockchain network is managed by the combination of Merkle and radix Tree.
5) Storage - Data is stored in the form of value/key in the database. Hyperledger Indy also provides ordered mapping.
Hyperledger Indy implements an easy method of working wherein initially a user provides his name as an identifier. This identifier is then converted into a unique key known as decentralized Identifiers (DID). The key has an associated value with it that is called the DID descriptor object (DDO). Together they form a complete DID record. Users interact with each other using the public and private keys of the DID record, similar to the public key cryptographic method of Blockchain.
To verify and authenticate a user on the network, Hyperledger Indy implements the below,
a) Holder - for controlling the credentials of users
b) Issuer - for issuing & granting credentials to a requestor after verification.
c) Verifier - for checking and verifying the credibility of the requestor
d) Registry - Repository that holds records of all digital identity users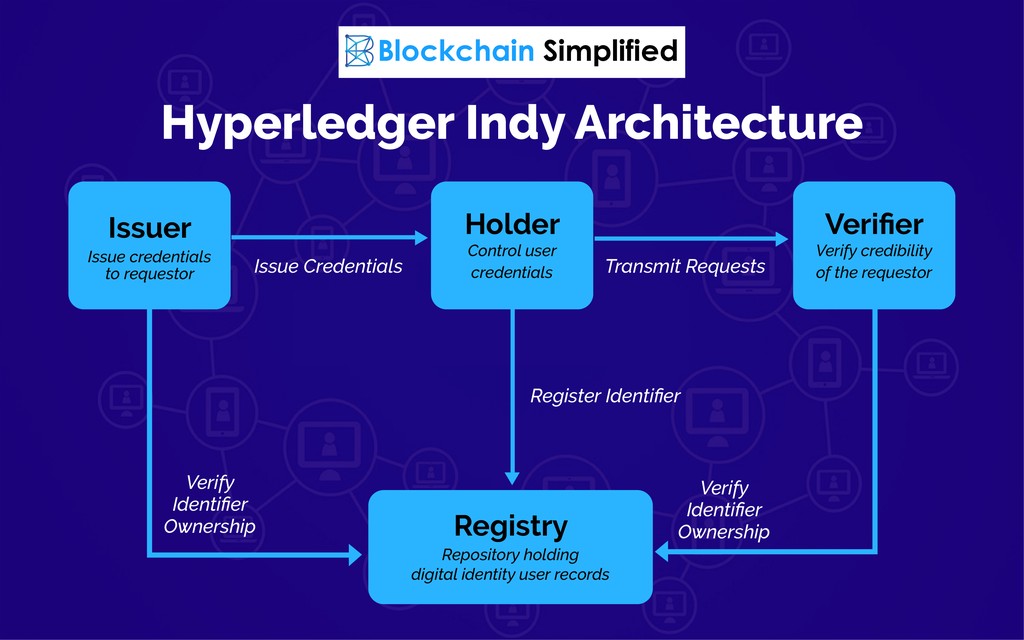 ( Hire the best Hyperledger Indy developers at https://blockchainsimplified.com )
Benefits of Hyperledger Indy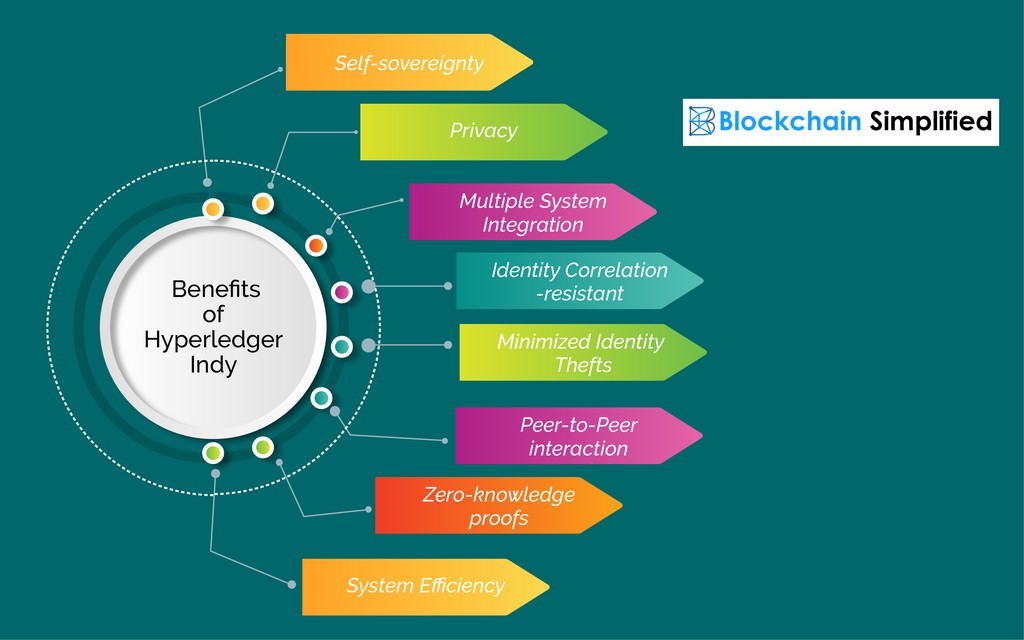 1) Hyperledger Indy uses special cryptographic accumulators to enable nobody but the user itself to change/remove/delete the identity from it, thus enabling Self-sovereignty.
2) Being decentralized in nature, Indy assures complete privacy to the user.
The digital identity created by Hyperledger Indy can be used across multiple applications and domains, thus making it super compatible.
3) Indy is Identity Correlation-resistant, which means the platform will never connect two IDs or have two similar identifications in the ledger.
4) Due to DIDs, the issue of identity thefts will reduce significantly since they are unique and owned by a single user.
5) The platform involves peer-to-peer interaction rather than depending on a centralized intermediary.
6) Zero-knowledge proofs allow you to disclose only needed information without having to release any other information.
7) The RBFT consensus protocol makes Hyperledger Indy very efficient.
( Please visit https://blockchainsimplified.com for Hyperledger Indy related development. )
Applications of Hyperledger Indy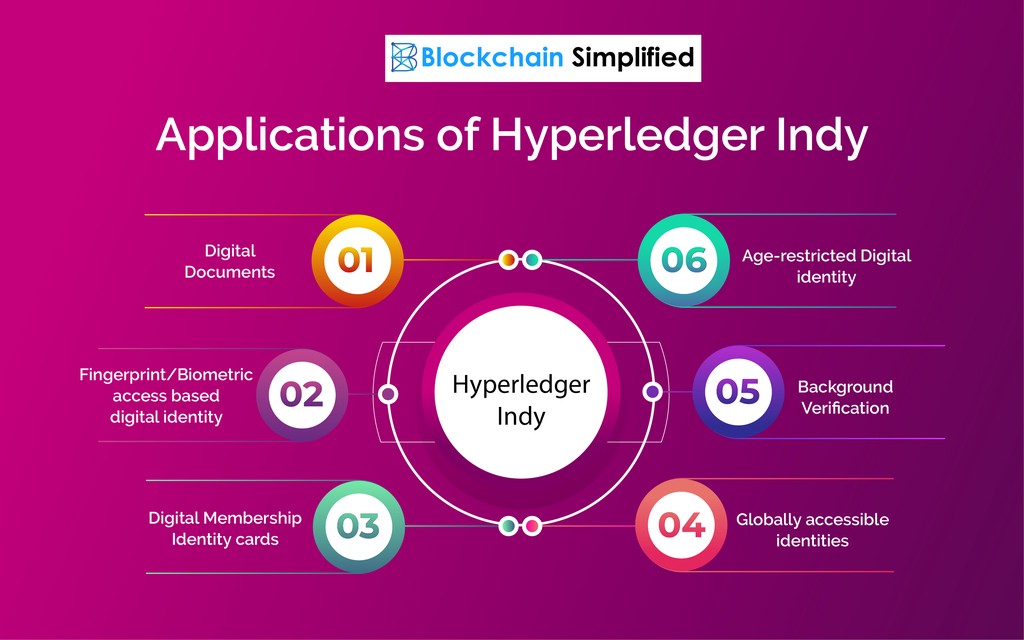 There are various use-cases of Hyperledger Indy as listed below,
1) Creating Digital Documents like passport or birth certificate
2) Eliminating password based authentication by creating fingerprint/biometric access based digital identity.
3) Creating Digital Membership identity cards
4) Creating age-restricted Digital identity
5) Background Verification using decentralized Digital ID
6) Creating Globally accessible identities
While the above are just a few examples, the possibilities of applications of Hyperledger Indy are infinite. Hyperledger Indy is the perfect answer to problems associated with digital identities. It is a purpose driven, well architectured platform that is easily compatible with other systems and silos.
About Blockchain Simplified
Blockchain Simplified is a Top blockchain development company in Pune - India which works on all major Blockchain requirements. We specialise in Blockchain, Web and Mobile development (One Stop Shop for all technology development needs).
Our clientele includes Multiple Funded Start - Ups, SMBs and few MNCs few of which are NASDAQ and NSE listed.
Some of our work includes,
Blockchain based-
hubrisone.com - is a Live app with 100,000+ downloads, All-in-One Cryptocurrency current account. The entire development from scratch carried out by Blockchain Simplified.
All in one Platform - Complete responsibility of entire software development of the platform ,for a $1m funded blockchain start up, led by a team of serial entrepreneurs and tech veterans in Silicon Valley.
Well funded Blockchain startup - Blockchain Simplified helped a $6m funded American Blockchain startup to build the first blockchain protocol to leverage on-chain smart contracts to manage distributed storage of application data off-chain.
Multinational Bank - The company helped one of the top 3 ranking Multinational Banks to integrate various cryptocurrencies into their banking application.
and more…
Non-Blockchain-
SHC - Built entire platform and app from scratch for a $1m funded startup led by a team of Americans including PhD degree holders.
VMW - Developed app for a multi-national company providing mass factory-to-factory shipment services. App is being used by 53 of the Fortune 500 companies such as John Deere, Coca-Cola, Nissan.
and more…
Expertise
Blockchain Development : Bitcoin, Ethereum, Hyperledger, Corda, and more.
Mobile App Development : Android Native, iOS Native, React Native, Flutter, Xamarin.
UI/UX Design : Strategy, Planning, UI/UX Design, Wireframing, Visual Designs.
Web App Development : Node.JS, Angular, React.JS, PHP.
Backend Development : MongoDB, MySQL, AWS, Firebase.
Visit our official website https://blockchainsimplified.com/ for more information.