Why should you build a blockchain based e-Commerce platform?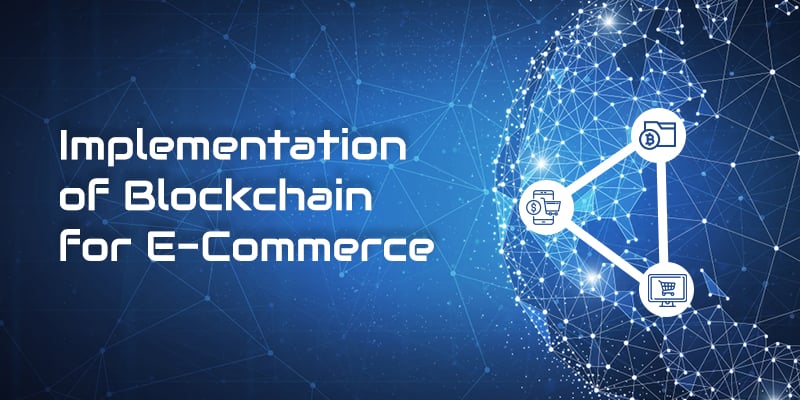 Image source : futurismtechnologies.com
Gone are the days of brick and mortar grocery stores or a retail clothing outlet. Welcome to the world of e-Commerce where you can shop everything from vegetables to jewellery to clothes or do banking transactions and much more. Amazon, Flipkart, Shopify are some big names competing in the e-Commerce marketplace zone, where practically you find anything and everything you want to buy. What's more comforting than sitting on your couch,while shopping for something you love, online!
However, have you ever wondered what goes behind the scenes of these websites? Although the user-experience on these platforms is seamless and fruitful, there are a host of technical as well as operational loopholes e-Commerce platforms face that need immediate attention and need resolution at the earliest.
In this blog, we will go through the challenges e-Commerce sites face and what a Blockchain based e-Commerce platform can offer, as a solution to resolve these challenges?
Is a Blockchain based e-Commerce platform required?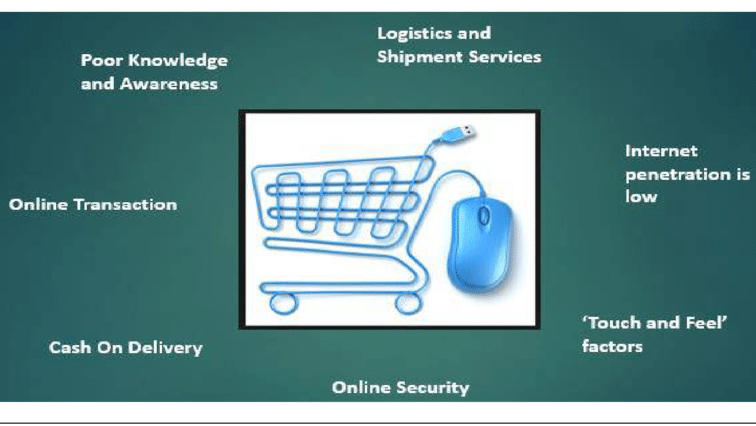 Image source : researchgate.net
First things first, let us understand the basic functionality of an e-Commerce website. An e-Commerce platform comprises of a giant inventory of commodities, an even bigger consumer base, an enormous amount of transactional data related to the customer order, supplier-customer communication, logistics, payment affairs etc. While storing and managing such a huge volume of data is extremely essential; it is also quite an overwhelming and herculean task.
To start with, ensuring security of millions of e-Commerce platform users' private and intimate data is of top concern. We are not new to reports of cyber-security issues of confidential customer data getting hacked or leaked to third parties, consequently being misused for illegal purposes. There are tons of cases where data security and integrity have been compromised that have lead to catastrophic consequences. Hence, it is imperative for e-Commerce websites to be in complete control of securing user-sensitive information like personal data as well as related financial data. A reliable e-Commerce platform is one where consumers can freely share their confidential bank account information and details without the fear of losing this sensitive data to hackers. Hence, these sites have to integrate robust data-encryption softwares to keep consumers' personal data safe and resistant from cyber criminals.
Another fundamental but very crucial aspect of an e-Commerce site is the management of logistics or Supply Chain Management (SCM). SCM is an integral part of any business be it Agriculture, online food delivery or for that matter an e-Commerce platform we are talking about. A product/commodity has to complete a vast journey right from the manufacturer to the wholesaler to the retail seller to the end consumer. There are N number of hurdles in this entire chain that the product has to overcome, like faulty raw material, manufacturing delays, inefficient vendor communication, payment processing issues and many many more to finally reach its destination i.e. the customer. Additionally, the involvement of illegal agents and middlemen in the process to mint exorbitant money to smoothly facilitate the process, cannot be ignored. Perhaps, SCM is the most difficult and eventful phase of the e-Commerce business.
Managing an effective payment transaction ledger is of supreme importance in any e-Commerce affair. Registering orders from consumers, payment details, tracking the order through the logistics journey, delivering the item to the consumer, return/refund of product, etc are some of the many transactions that have to be securely recorded in ledgers or account books to maintain a history of every small or big event throughout the process.
With its unique and distinct features of decentralization, immutability and transparency, Blockchain can provide the best solution to e-Commerce businesses to overcome these technical and operational barriers. Let us see what a Blockchain based e-Commerce platform can do to increase operational and technical effectiveness.
(To build a Blockchain based e-Commerce platform for your business, please contact https://blockchainsimplified.com)
Advantages of a Blockchain based E-Commerce platform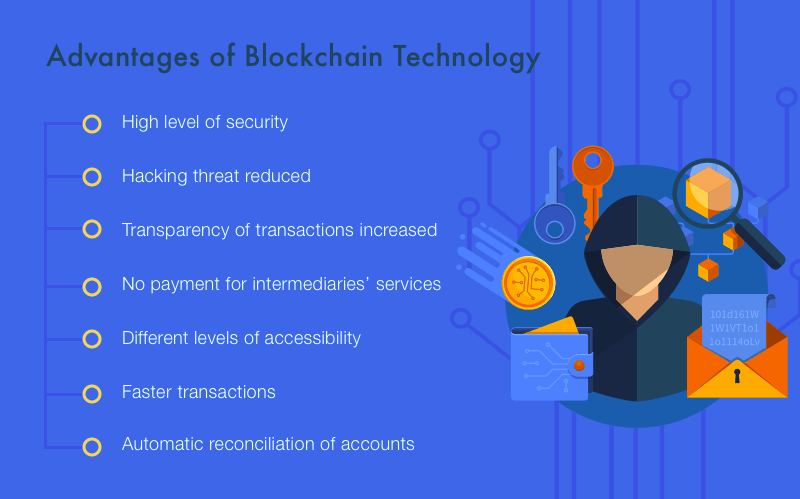 Image source : cleveroad.com
Blockchain is a decentralized, distributed ledger technology, that gives the users on the platform the right and responsibility to own and protect their data, rather than depending on a central authority, thereby abstaining from data integrity and security thefts.
A Blockchain based e-Commerce platform assures Data Security!!
Blockchain,by nature,enforces complex cryptographic methods to carry out data encryption. Data on a blockchain is always secured in an encrypted format which is impossible for a human or a software hacker to decrypt, decode and understand. Also, by implementing the hashing algorithm to achieve immutability - where data can neither be erased nor modified, Blockchain provides a sturdy network that is practically inconceivable to be attacked by malicious users for manipulation. This way, Blockchain ensures that consumer sensitive data on an e-Commerce site is always protected and guarded from potential cyber threats.
A Blockchain based e-Commerce platform assures Payment Transparency!!
Due to its immutable and transparent character, Blockchain presents a clear picture of the history of transactions that take place on an e-Commerce platform. Every small entry from placing an order, to processing payments, to the delivery of an item can be lodged and preserved on the Blockchain network, that can help track the complete journey of an order, can help identify defects/gaps in the process etc. Again, due to Blockchain, issues like money laundering or payment thefts can be completely eliminated. Thus, Blockchain enables to maintain a transparent and error-free payment ledger book.
A Blockchain based e-Commerce platform assures Operational Efficiency!!
How to address the challenges posed by the Big Fish - the Supply Chain? Well, Blockchain is the answer! As Blockchain records each and every event happening in the process on the network, tracking any process is a breeze. Sellers, buyers, vendors can fetch the exact information and calculate delays, initiate easy communication and know what exactly is going on in the process. This helps establish trust and honesty between all the participants namely - the sellers, buyers, vendors. Furthermore, Blockchain completely gets rid of intermediaries and illegal activities since there is no centralized authority governing the process. (read our blog Applications of Blockchain to know in more detail).
A Blockchain based e-Commerce platform for Digital Payment !!
Apart from the above, Blockchain can also help implement alternative payment methods like cryptocurrencies for transactions, instead of relying on fiat and traditional currency payment options. Multiple reward systems, discounts and offers can be introduced using smart contracts and digital payment options to lure customers to make the e-Commerce platform an attractive marketplace!
Read about some of the Blockchain based e-Commerce startups.
( Blockchain Simplified is a top Blockchain, web and mobile app development company in Pune,India. Please visit https://blockchainsimplified.com for more details )
A Blockchain based e-Commerce platform is the need of the hour
The e-Commerce business, although a lucrative one, has always faced technical and operational hurdles since its initiation. Blockchain can play a key role in destroying these obstacles and streamline the process. Therefore, it is but obvious that a Blockchain based e-Commerce platform is the need of the hour to encourage enhanced and reliable online shopping experiences.
About Blockchain Simplified
Blockchain Simplified is a Top blockchain development company in Pune - India which works on all major Blockchain requirements. We specialise in Blockchain, Web and Mobile development (One Stop Shop for all technology development needs).
Our clientele includes Multiple Funded Start - Ups, SMBs and few MNCs few of which are NASDAQ and NSE listed.
Some of our work includes,
Blockchain based-
hubrisone.com - is a Live app with 100,000+ downloads, All-in-One Cryptocurrency current account. The entire development from scratch carried out by Blockchain Simplified.
All in one Platform - Complete responsibility of entire software development of the platform ,for a $1m funded blockchain start up, led by a team of serial entrepreneurs and tech veterans in Silicon Valley.
Well funded Blockchain startup - Blockchain Simplified helped a $6m funded American Blockchain startup to build the first blockchain protocol to leverage on-chain smart contracts to manage distributed storage of application data off-chain.
Multinational Bank - The company helped one of the top 3 ranking Multinational Banks to integrate various cryptocurrencies into their banking application.
and more…
Non-Blockchain-
SHC - Built entire platform and app from scratch for a $1m funded startup led by a team of Americans including PhD degree holders.
VMW - Developed app for a multi-national company providing mass factory-to-factory shipment services. App is being used by 53 of the Fortune 500 companies such as John Deere, Coca-Cola, Nissan.
and more…
Expertise
Blockchain Development : Bitcoin, Ethereum, Hyperledger, Corda, and more.
Mobile App Development : Android Native, iOS Native, React Native, Flutter, Xamarin.
UI/UX Design : Strategy, Planning, UI/UX Design, Wireframing, Visual Designs.
Web App Development : Node.JS, Angular, React.JS, PHP.
Backend Development : MongoDB, MySQL, AWS, Firebase.
Visit our official website https://blockchainsimplified.com/ for more information.