The Effects of Blockchain on Big Data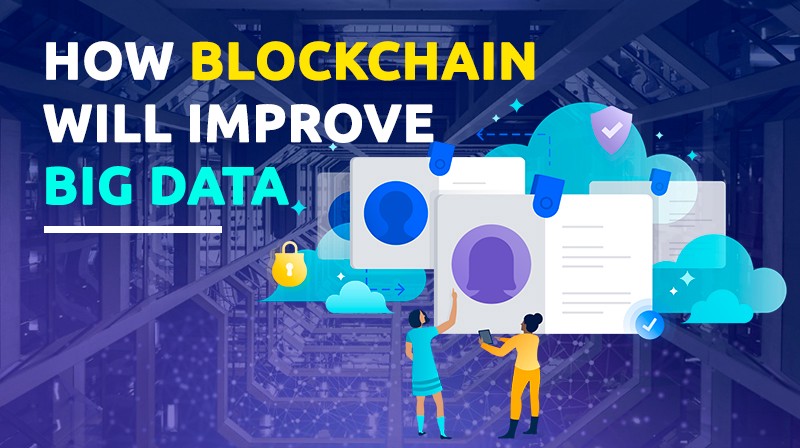 Image source : medium.com
Thus far, we are well versed about Blockchain and its functionality. Blockchain is a decentralized, distributed ledger where data is stored across all nodes/participants on the network, as opposed to a centralized storage structure. It is touted to be a disruptive technology that is capable of transforming the age-old functioning of a multitude of different industries. (Read Real life applications of Blockchain)
Big Data is another trending technology which has gained immense traction in the last couple of years. According to Wikipedia,
Big data is a field that treats ways to analyze, systematically extract information from, or otherwise deal with data sets that are too large or complex to be dealt with by traditional data-processing application software.
While technical experts have acknowledged and accepted Blockchain as a major technical breakthrough technology in other arenas apart from cryptocurrency markets, its integration with Big Data and the effect it can cause on it is an area that is creating increased interest in the technical field. Let us delve into this subject of Blockchain and Big Data briefly, and see how their coexistence can do wonders.
Why does Big Data need Blockchain?
With applications becoming more and more mainstream, transactional data keeps increasing by leaps and bounds. This enormous amount of data is practically impossible to be handled by conventional data processing systems in place. Industries have now shifted their attention to cloud based storage providers like Amazon Web Services (AWS) or Microsoft Azure etc for managing such large databases. Although, AWS provides an ad-hoc pricing model, it still is quite expensive for small start-up companies or institutions. True to its name, Big Data is used to deal with such gigantic and huge sets of data for doing data analysis, collect actionable insights etc.
Big Data deals with three important Vs - Volume, Variety and Velocity. Data is something which keeps increasing in number day by day, which is a difficult task to deal with. We already know Big Data is specialized to deal with huge volumes of transactional data. Also, there are different varieties of data types that Big Data has to integrate itself with, which is the primary reason why it is mostly unstructured. With all these in tow, it is also expected that data should be accessible and fetched at maximum speed in real-time systems. Apart from this, owing to its unstructuredness, Big Data is always challenged with issues like duplicate data, erroneous records and irrelevant or unused information - basically dirty data. This can lead to wrong data analysis, untrue information, incorrect predictions etc which can cause catastrophic effects on the business.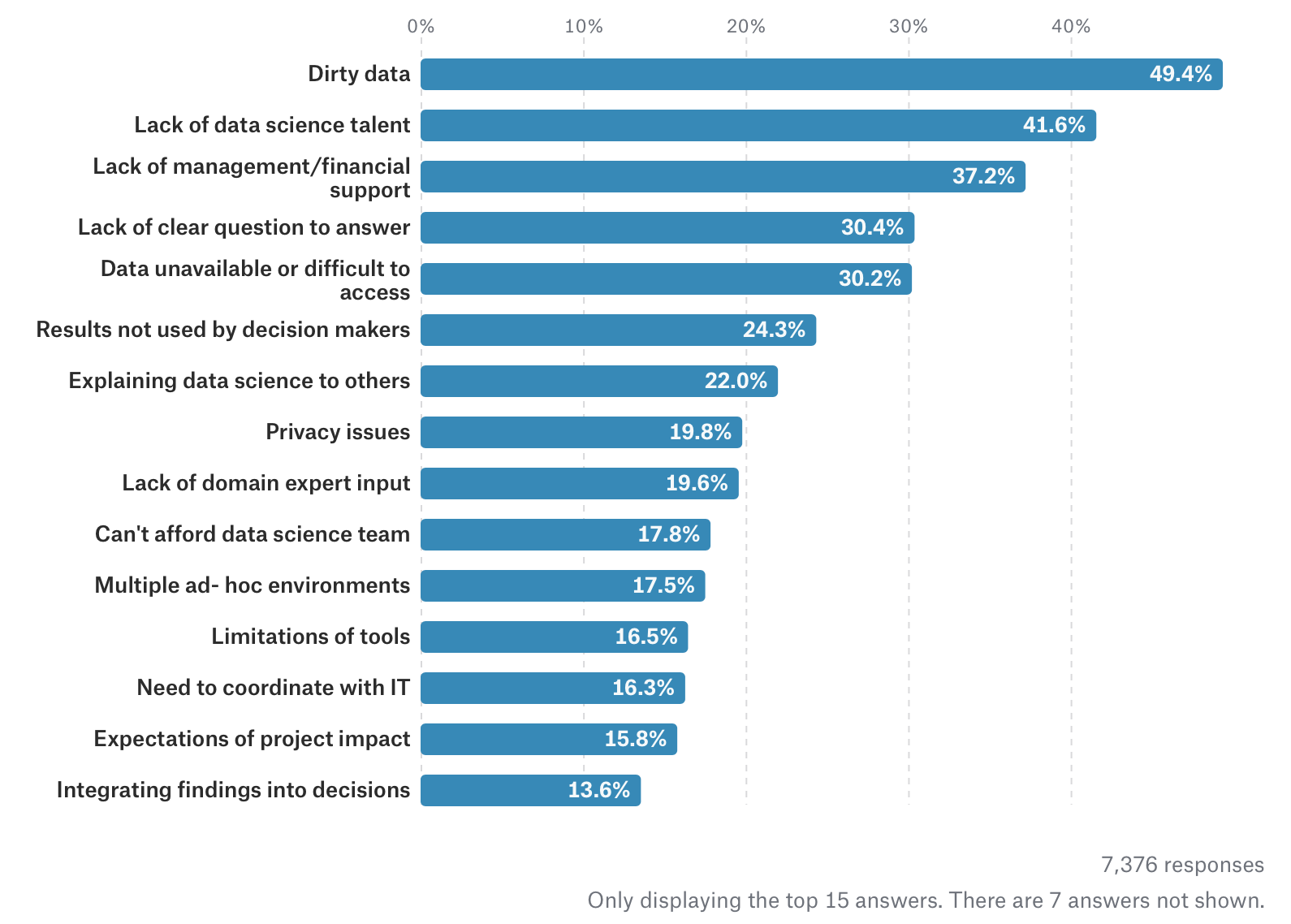 Image source : medium.com
Above graph shows how dirty data, unavailability of data, data privacy issues are accountable of being some of the major risk factors for Big Data.
Let us see how Blockchain can be useful in eliminating these challenges and how it can bring a positive impact in the usage of Big Data.
(Please visit https://blockchainsimplified.com to hire the best Blockchain developers)
How Blockchain can affect Big Data?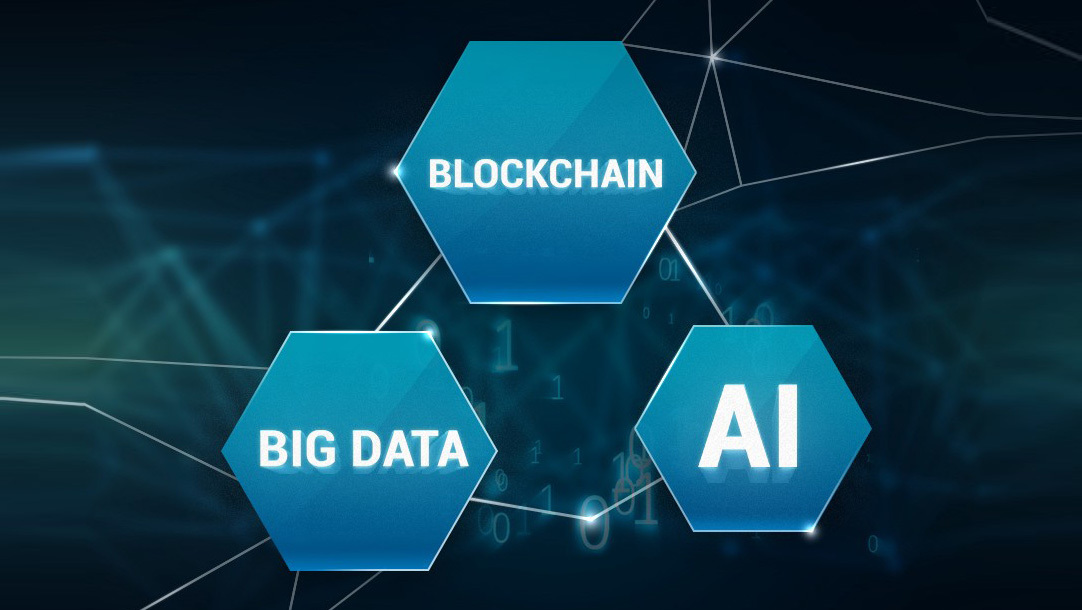 Image source : techinsight.com.vn
The amalgamation of the current hot trending technologies Blockchain, Big Data, Artificial Intelligence, Machine Learning etc make for an interesting case study.
First and foremost, Blockchain is the most efficient means for data storage. By implementing a Blockchain network instead of storing data on centralized cloud servers, a big chunk of transactional costs can be reduced. Blockchain acts as a secure,effective platform for not only storing data, but also by maintaining data security and integrity throughout. Due to its immutable characteristic, it is practically impossible to manipulate or hack data on the Blockchain network, thus ensuring clean data with the highest availability. Thanks to its decentralized nature, Blockchain guarantees maximum security of data, as transactions are affirmed using consensus mechanism. This completely abolishes the need of a single point of controlling authority, which means no data manipulation risk.
With the usage of Blockchain, smart contracts to extract and process data, can be laid in place that can significantly contribute to the reduction of transactional costs as well. Blockchain helps Big Data by presenting data in a structured format which can be fed as an input to Machine Learning systems for identifying significant patterns, execute predictive models etc. This is a very important factor for big companies which can prepare themselves well in advance based on the predictions. (Blockchain and Big Data use-cases and challenges)
Data science for prediction; blockchain for data integrity.
If Big is the quantity, Blockchain is the quality.
( Blockchain Simplified is a top Blockchain,web and mobile app development company in Pune,India. Please visit https://blockchainsimplified.com for more details )
Big Data and Blockchain - an ideal match
Big Data in itself is creating huge waves in the technological space; Blockchain is not far behind. As understood, Blockchain can get rid of some of the biggest hurdles faced by Big data like data integrity, data privacy and the likes. Together, they can help eliminate the most difficult technical threats related to data management and maintenance.
About Blockchain Simplified
Blockchain Simplified is a Top blockchain development company in Pune - India which works on all major Blockchain requirements. We specialise in Blockchain, Web and Mobile development (One Stop Shop for all technology development needs).
Our clientele includes Multiple Funded Start - Ups, SMBs and few MNCs few of which are NASDAQ and NSE listed.
Some of our work includes,
Blockchain based-
hubrisone.com - is a Live app with 100,000+ downloads, All-in-One Cryptocurrency current account. The entire development from scratch carried out by Blockchain Simplified.
All in one Platform - Complete responsibility of entire software development of the platform ,for a $1m funded blockchain start up, led by a team of serial entrepreneurs and tech veterans in Silicon Valley.
Well funded Blockchain startup - Blockchain Simplified helped a $6m funded American Blockchain startup to build the first blockchain protocol to leverage on-chain smart contracts to manage distributed storage of application data off-chain.
Multinational Bank - The company helped one of the top 3 ranking Multinational Banks to integrate various cryptocurrencies into their banking application.
and more…
Non-Blockchain-
SHC - Built entire platform and app from scratch for a $1m funded startup led by a team of Americans including PhD degree holders.
VMW - Developed app for a multi-national company providing mass factory-to-factory shipment services. App is being used by 53 of the Fortune 500 companies such as John Deere, Coca-Cola, Nissan.
and more…
Expertise
Blockchain Development : Bitcoin, Ethereum, Hyperledger, Corda, and more.
Mobile App Development : Android Native, iOS Native, React Native, Flutter, Xamarin.
UI/UX Design : Strategy, Planning, UI/UX Design, Wireframing, Visual Designs.
Web App Development : Node.JS, Angular, React.JS, PHP.
Backend Development : MongoDB, MySQL, AWS, Firebase.
Visit our official website https://blockchainsimplified.com/ for more information.