Blockchain and Internet of Things (IoT) - The Dynamic duo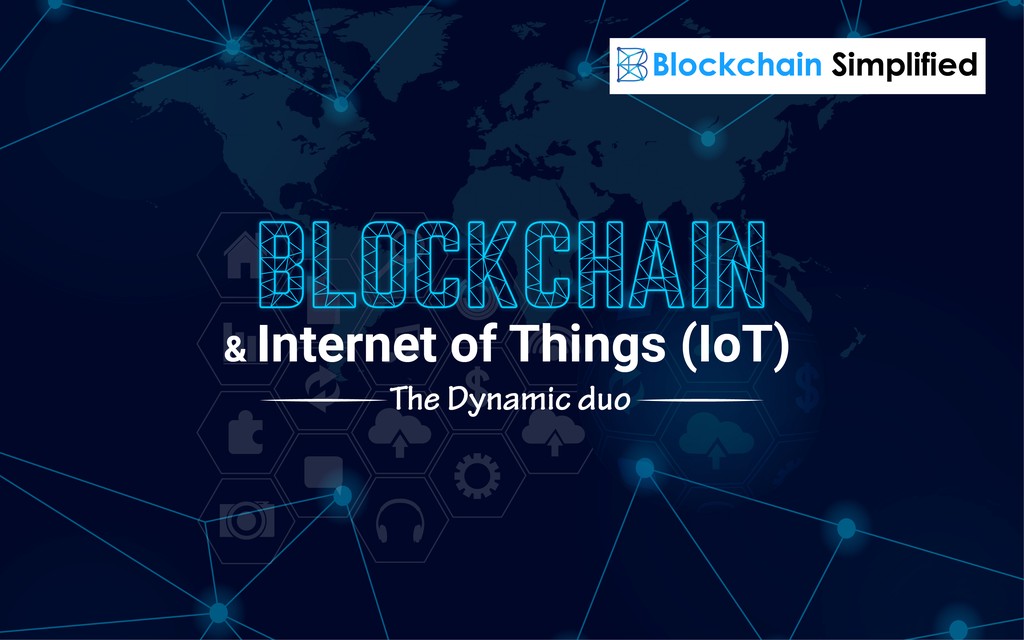 Today, we are subject to the Internet for each and every need of ours, be it a taxi service, food delivery, weather updates, booking tickets and so on and we have it thanks to the Internet. This is possible because we are connected to these services via the Internet which enables us to communicate with the centralised servers of these applications. The Internet of Things (IoT) allows the communication and connection of multiple objects spread across the world to easily interact with each other to create a smarter ecosystem.
"The Internet of things (IoT) is a system of interrelated computing devices, mechanical and digital machines, objects, animals or people that are provided with unique identifiers (UIDs) and the ability to transfer data over a network without requiring human-to-human or human-to-computer interaction."
The Internet of things or IoT is basically an amalgamation of multiple devices and appliances like sensors, chips, controllers, meters and several technologies like embedded systems, machine learning (ML), sensor networks, automation systems, analytics etc. Internet of Things (IoT) is the integration of all these - to send, receive and process data - to produce "smart" systems or "smart" machines.
From smartphones to smart TVs, from smart watches to smart cars to as big as smart farming to smart healthcare - the scope of IoT is massive. The rapid growth in IoT devices over the years and the steady growth in IoT revenue has opened an entirely new avenue for the future with numerous possibilities which mankind can hardly think of.
Blockchain, on the other side, is a distributed ledger network that stores data in a secure, transparent and decentralized manner, devoid of any central authority. Typically created to facilitate cryptocurrency trading transactions, Blockchain has managed to extend its application beyond cryptocurrency and has established itself as a go-to database structure to store secure data.
But where does Blockchain fit into this realm of IoT? Can Blockchain and Internet of Things (IoT) be merged together to create a system more secure and safe? Can the combination of Blockchain and Internet of Things (IoT) bring a transformation in the way smart systems operate? The answer is "yes", let us see how.
The need for uniting Blockchain and Internet of Things (IoT)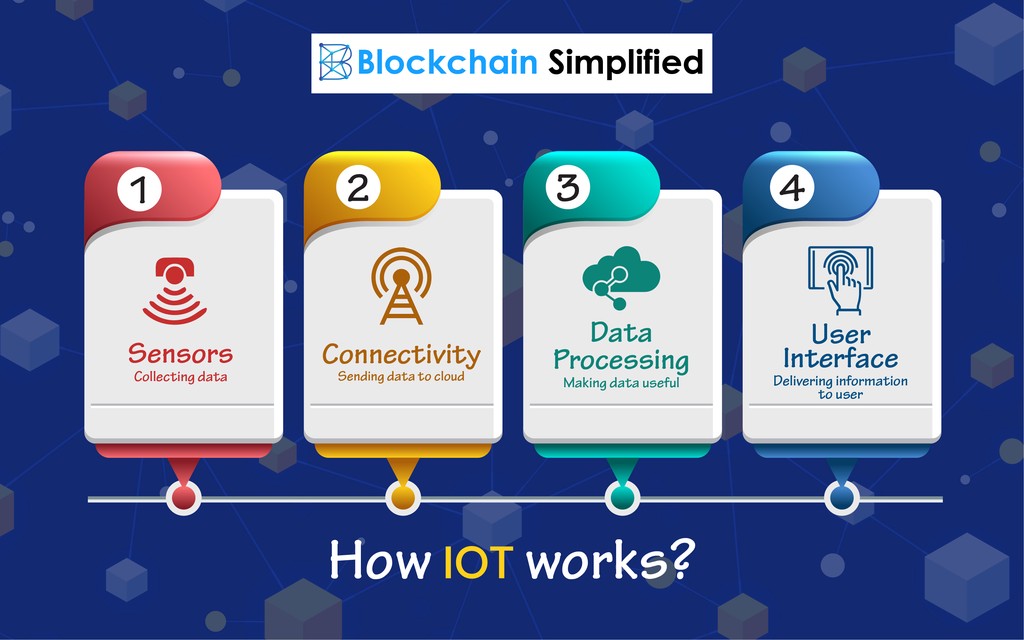 The use-cases of IoT are plenty. Whether it is smartphones or smart TVs or electrical appliances like air-conditioners or refrigerators, homes are becoming "smarter" day by day. The sensors embedded within these physical devices ensure smooth and secure data transmission to the centralized cloud devices. IoT has established itself as an excellent method for enhanced user experience by bringing together humans and machines in an efficient way.
In the field of Agriculture, sensors detecting soil health or crop quality or predicting weather forecasts have brought significant changes to the way Agriculture business operates. Although IoT is a groundbreaking technology on its own, it still has a host of issues to be dealt with. Can the integration of Blockchain and Internet of Things (IoT) solves these problems? Can Blockchain and Internet of Things (IoT) transform and enhance the complex processes involved in farming.
Implementation of smart microgrids consisting of smart meters to measure the amount of energy consumption for sharing energy resources is one of the most celebrated IoT applications undertaken by the Energy sector. But again, can combining Blockchain and Internet of Things (IoT) for providing energy services increase the efficiency of the process?
Automatic smart sensors to detect water pollutants in water resources, identifying water leaks etc are few tasks undertaken by water preservation authorities for a better Water Management system. But here too, there are multiple obstacles which need attention. Can the merger of Blockchain and Internet of Things (IoT) help implement various practices to solve water crisis and conserve water for the future?
These are just a few instances where IoT rigorously is trying to create an impact for improvement of systems. There are plenty of other IoT applications which are under process and but are plagued with multiple problems.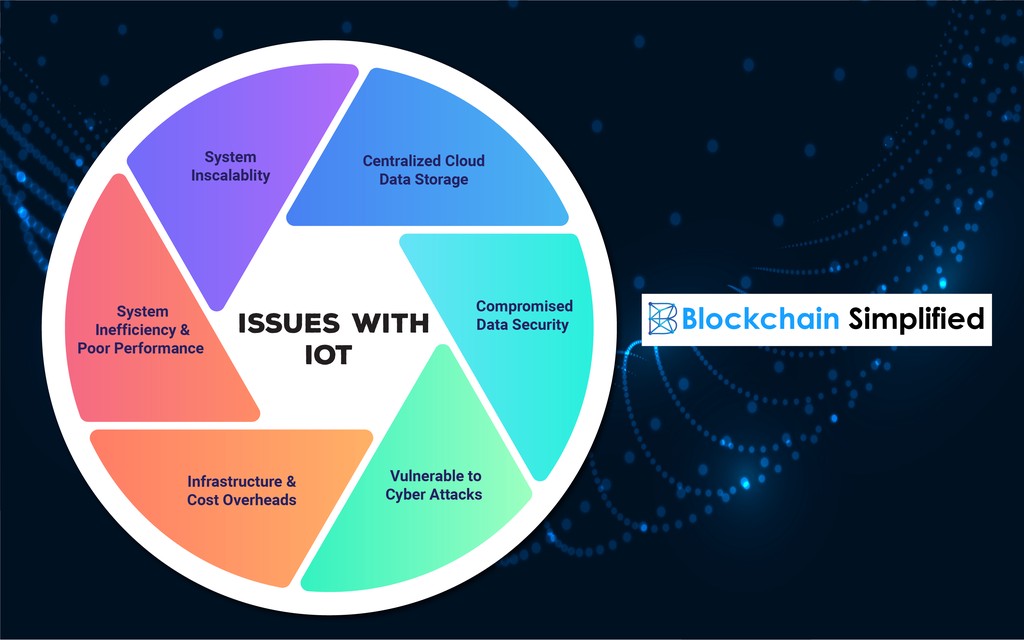 IoT is heavily dependent on centralized servers for the storage of data. Now, consider the possibility that this server crashes out of the blue because of any unexpected circumstance. The entire process will come to a stand still. Also, as discussed previously numerous times, data on a central server is very vulnerable to cyber attacks and thefts, therefore data security is always compromised. With hundreds and thousands of IoT devices being developed everyday, a central server will have little scalability to incorporate all these devices, thus resulting in a slow and inefficient system in terms of performance. Dependence on internal servers or cloud servers will unnecessarily increase infrastructure and cost overheads.The union of Blockchain and Internet of Things can resolve all of the existing issues with IoT. Let us see how.
(Blockchain Simplified, a top Blockchain development company in Pune, India, provides end-to-end Blockchain development services and assistance. Please visit https://blockchainsimplified.com for more information.)
How Blockchain and Internet of Things (IoT) can build a smarter ecosystem?
By application of Blockchain, with its decentralized and distributed functionality, will eradicate the very existence of storing the data on a central repository. Data will be stored across the network on each peer, therefore, is secure and safe. Distributed collaboration is simple and handling transactions is easy. Due to its tamper-proof structure, any manipulation on the network is impossible and subsequently any probability of hacking is equivalent to zero. Tracking even a small event will no longer be a difficult task as history of all records safely reside on the Blockchain.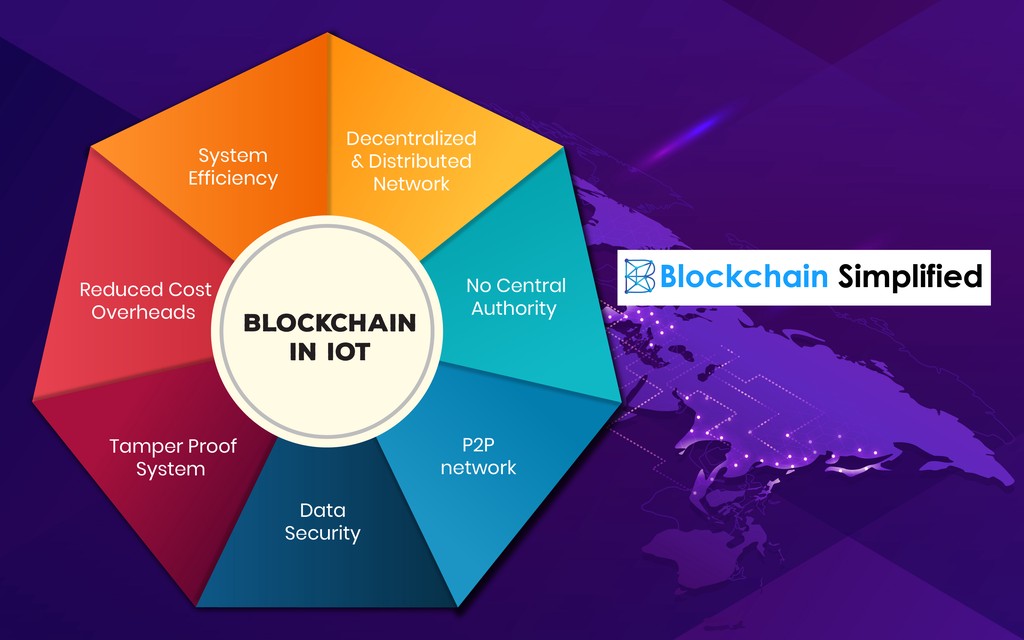 Read how the above problems we discussed can be solved by integrating Blockchain and Internet of Things (IoT).
-Blockchain in Agriculture
-Blockchain in Energy
-Blockchain in Water Management
(Hire Blockchain developers at Blockchain Simplified, a top Blockchain development company in Pune, India. Visit our official website https://blockchainsimplified.com/ for more information.)
Blockchain and Internet of Things (IoT) - a match made in heaven
The amalgamation of Blockchain and Internet of Things (IoT) can help make a trusted and secure structure to improve the capability of IoT. Decreased cost overheads, zero human inclusion, no single controlling authority, shared correspondence and a sans hack system is all that the IoT needs and Blockchain offers all of that. Both of them put together, the digital space is up for a facelift.
Here are a few use-cases of Blockchain and Internet of Things (IoT) which are a good read.
-Blockchain and Internet of Things(IoT) adoption
-Blockchain and Internet of Things(IoT) merger
About Blockchain Simplified
Blockchain Simplified is a Top blockchain development company in Pune - India which works on all major Blockchain requirements. We specialise in Blockchain, Web and Mobile development (One Stop Shop for all technology development needs).
Our clientele includes Multiple Funded Start - Ups, SMBs and few MNCs few of which are NASDAQ and NSE listed.
Some of our work includes,
Blockchain based-
hubrisone.com - is a Live app with 100,000+ downloads, All-in-One Cryptocurrency current account. The entire development from scratch carried out by Blockchain Simplified.
All in one Platform - Complete responsibility of entire software development of the platform ,for a $1m funded blockchain start up, led by a team of serial entrepreneurs and tech veterans in Silicon Valley.
Well funded Blockchain startup - Blockchain Simplified helped a $6m funded American Blockchain startup to build the first blockchain protocol to leverage on-chain smart contracts to manage distributed storage of application data off-chain.
Multinational Bank - The company helped one of the top 3 ranking Multinational Banks to integrate various cryptocurrencies into their banking application.
and more…
Non-Blockchain-
SHC - Built entire platform and app from scratch for a $1m funded startup led by a team of Americans including PhD degree holders.
VMW - Developed app for a multi-national company providing mass factory-to-factory shipment services. App is being used by 53 of the Fortune 500 companies such as John Deere, Coca-Cola, Nissan.
and more…
Expertise
Blockchain Development : Bitcoin, Ethereum, Hyperledger, Corda, and more.
Mobile App Development : Android Native, iOS Native, React Native, Flutter, Xamarin.
UI/UX Design : Strategy, Planning, UI/UX Design, Wireframing, Visual Designs.
Web App Development : Node.JS, Angular, React.JS, PHP.
Backend Development : MongoDB, MySQL, AWS, Firebase.
Visit our official website https://blockchainsimplified.com/ for more information.