Blockchain use case for KYC(Know Your Customer) & AML(Anti Money Laundering)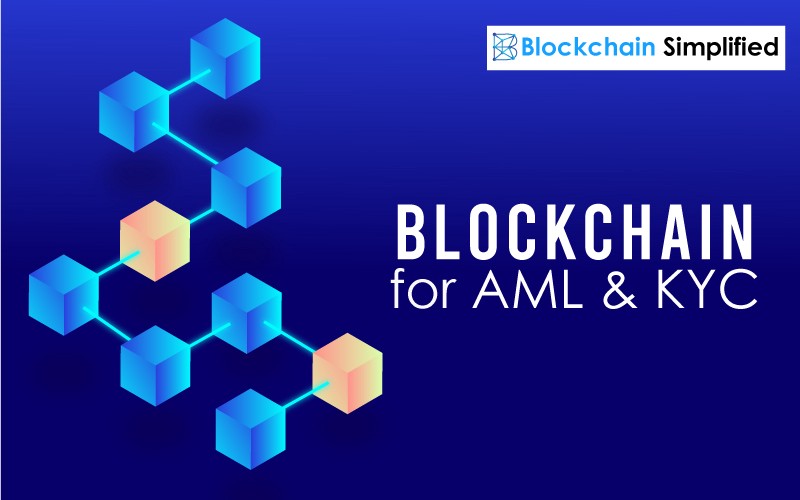 While Blockchain is believed to strengthen cyber-security and has positive implications on the same, another area which Blockchain has the potential to disrupt and improve greatly is KYC (Know Your Customer) and AML (Anti-Money Laundering). On one side, if technology is a boon, on the flip side, it has also paved the way for cyber criminals to introduce sophisticated ways of money laundering techniques. Money laundering scams have been prevalent since time immemorial.
Money laundering happens in every field, be it insurance or e-commerce sites or financial fields. Although, banks and financial institutions strictly adhere to stringent and robust AML processes to prevent money laundering, there still exist several issues and challenges that they face with the current systems. This blog focuses on how Blockchain can provide a solution to the problems existing in the current AML and KYC systems.
Why is Blockchain needed for AML and KYC?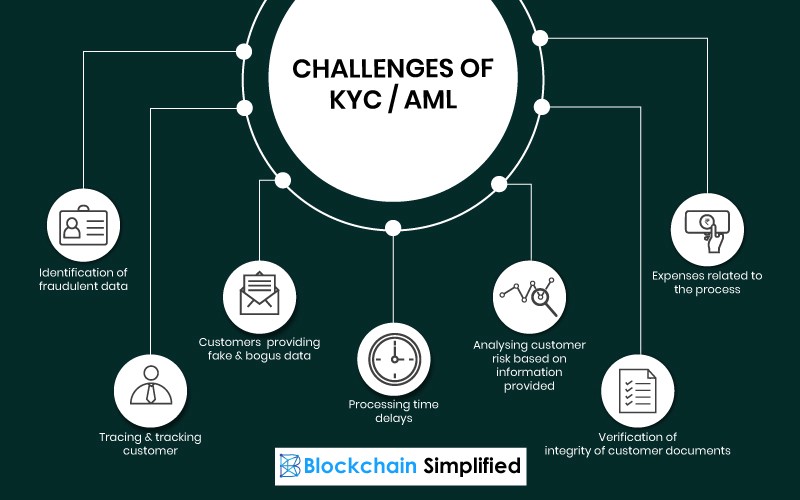 Money laundering is simply the way of procuring money via illegal sources while making it look like a legitimate way of earning. There are several ways how money laundering is done like smuggling, fraudulent ledger accounting, round tripping across shared borders etc. Read about different ways of money laundering here.
While Bitcoin and other digital currency exchange is big business worldwide, there have been many instances of utilizing them for illegal activities like money laundering. Investing in cryptocurrency trading can be a quick and easy way to evade tax payments. Huge amounts of Bitcoin transactions can be carried out without any controller or sovereign authority which can be used for malicious purposes. In fact, owing to frequent money laundering scams, countries like India have issued an outright ban on cryptocurrency trading. Such cases are rampant and on the rise every passing day, hence a full-proof AML mechanism based on Blockchain technology to counter attack these criminal activities needs to be developed to prevent money laundering. In our next section, we will see how Blockchain tackles the above issue and helps build a strong AML system.
Banks & financial institutions under the guidance of their respective regulatory authorities have introduced plenty of AML mechanisms to curb illicit money laundering cases, one of which is the KYC. KYC is the process of businesses obtaining thorough customer information and do a complete background verification via issuance of necessary documents, providing true monetary information and other related transactions to evaluate the genuineness and credibility of the customer. Almost all banks and financial institutions across the world have implemented the KYC process and made it mandatory for every customer to complete the KYC in order to avail services from them.
The KYC AML process is loaded with multiple challenges that hamper the seamless functioning of it. Below listed are few issues that occur in everyday KYC.
-Customers providing fake and bogus data
-Identification of fraudulent data
-Analyzing customer risk based on information provided
-Verification of integrity of customer documents
-Processing time delays
-Tracing and tracking customer transaction behaviour
-Expenses related to the process
Technical advancements have enabled to develop a rigid AML and KYC process that definitely reduces the complexity of transactions. But issues like the above require a more secure, transparent and trusted technology like Blockchain to build a powerful KYC & AML system.
(Please visit https://blockchainsimplified.com to hire the best Blockchain developers)
Using Blockchain for KYC and AML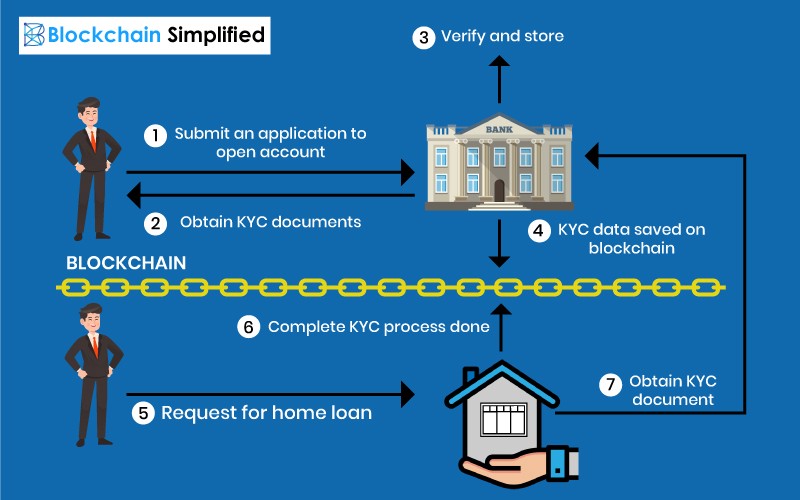 By harnessing the power of Blockchain - decentralization,transparency & immutability, here is how KYC and AML can mitigate the risks and challenges associated with the process.
Immutable AML system using Blockchain
Blockchain is decentralized, Blockchain is immutable. Building an AML platform using Blockchain ensures that no data can be modified, altered or deleted. Any modification made will be logged and recorded on the ledger. Hence, any malicious activity for manipulating the data is impossible on the Blockchain. Any hacker trying to attack the network has to defeat more than half of the nodes to get hold of data which is not feasible. Data can therefore be regulated and monitored thoroughly by regulators likes banks to ensure security and reliability.
Transparent AML system using Blockchain
Blockchain maintains the history of all transactions in its network. In the above example, in the case of Bitcoin laundering, it will be easier to track the hack (which is highly inconceivable) on Blockchain as every single event is saved on the platform enabling transparency. Any dubious practice like transferring huge amounts to and fro from accounts can trigger suspicion and can be immediately reported. Blockchain has the proof of every single activity and the user performing the activity for future references.
Efficient AML system using Blockchain for Data Analysis
Smart Contracts can be put into place to extract data and generate reports for data analysis and predictions. Automatic processes can streamline complex reporting process and fasten the process thereby enabling swift transactions and lesser expenses.
Read a detailed article on how Blockchain can help with AML.
( Blockchain Simplified is a top Blockchain, web and mobile app development company in Pune,India. Please visit https://blockchainsimplified.com for more details )
Blockchain to aid KYC and AML
Blockchain has the reputation of being a secure, trusted and transparent system that can transform the very existence of any business. The AML-KYC process will surely benefit from the applications of Blockchain if implemented in the correct manner.
About Blockchain Simplified
Blockchain Simplified is a Top blockchain development company in Pune - India which works on all major Blockchain requirements. We specialise in Blockchain, Web and Mobile development (One Stop Shop for all technology development needs).
Our clientele includes Multiple Funded Start - Ups, SMBs and few MNCs few of which are NASDAQ and NSE listed.
Some of our work includes,
Blockchain based-
hubrisone.com - is a Live app with 100,000+ downloads, All-in-One Cryptocurrency current account. The entire development from scratch carried out by Blockchain Simplified.
All in one Platform - Complete responsibility of entire software development of the platform ,for a $1m funded blockchain start up, led by a team of serial entrepreneurs and tech veterans in Silicon Valley.
Well funded Blockchain startup - Blockchain Simplified helped a $6m funded American Blockchain startup to build the first blockchain protocol to leverage on-chain smart contracts to manage distributed storage of application data off-chain.
Multinational Bank - The company helped one of the top 3 ranking Multinational Banks to integrate various cryptocurrencies into their banking application.
and more…
Non-Blockchain-
SHC - Built entire platform and app from scratch for a $1m funded startup led by a team of Americans including PhD degree holders.
VMW - Developed app for a multi-national company providing mass factory-to-factory shipment services. App is being used by 53 of the Fortune 500 companies such as John Deere, Coca-Cola, Nissan.
and more…
Expertise
Blockchain Development : Bitcoin, Ethereum, Hyperledger, Corda, and more.
Mobile App Development : Android Native, iOS Native, React Native, Flutter, Xamarin.
UI/UX Design : Strategy, Planning, UI/UX Design, Wireframing, Visual Designs.
Web App Development : Node.JS, Angular, React.JS, PHP.
Backend Development : MongoDB, MySQL, AWS, Firebase.
Visit our official website https://blockchainsimplified.com/ for more information.