Blockchain for Social Cause - Solving the NGO crisis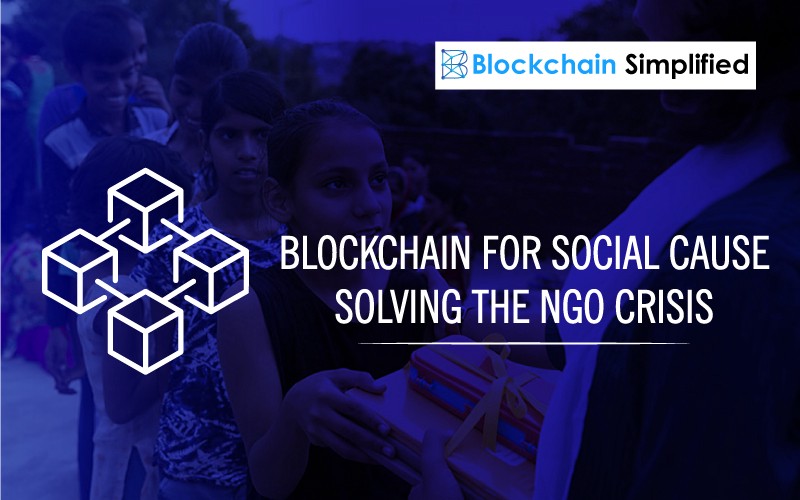 NGOs (non-governmental organizations) or non-profit organizations are essentially bodies independent of any government, that are involved in social and humanitarian causes. Organizations for raising funds for the poor and needy, looking after the aged, orphans or the disabled, taking care of public sanitation issues, preservation of environment, working for the upliftment of the deserving people by providing education & literacy, women empowerment etc are few types of NGOs that are available in our society.
In India, there are thousands of NGOs involved in such generous causes. And there are millions working, the world over.
It is important to understand the mammoth tasks NGOs have to go through for doing such a noble cause. From creating awareness and educating people about the need for welfare and the purpose of the organization, to identifying genuine donors, managing and segregating funds to the right channels, ensuring transparency in the process etc, NGOs face tons of issues on an everyday basis but still await a permanent solution in terms of seamless functioning of these operations.
Do you think Blockchain can be the answer to all the above challenges the NGOs face? Let us try to understand if it can.
NGO issues - Is Blockchain the answer?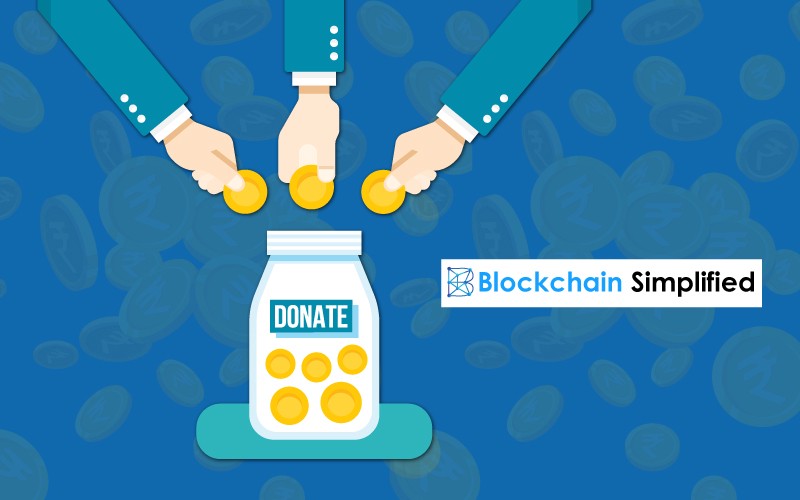 There are approximately 10 million NGOs that are estimated to be operating worldwide. NGOs receive huge amounts of money as donations through various channels like governmental donors, private donors, businesses, crowdfunding, individuals etc who wish to aid them for the cause they support. But, Corruption and money-laundering that happen in every strata of society, here too, top the list of threats that NGOs face. The Greenpeace financial scandal is a classic example for the same. While middlemen gobbling up the money seems to be the main reason, there have also been cases of licit NGOs and internal authorities also involved in the misappropriation and mis accounting of funds. Plenty of instances of bogus NGOs raising funds for fake causes have also been accounted, leading to mistrust and loss of integrity and reliability from the general public.
In order to achieve their honest and moral goals, NGOs strive to bring smiles and happiness amongst people by helping them in their dire conditions, but end up being accused of lack of transparency in the donation process. The NGO sector is deficient of a system that traces the source of the donation, manages funds appropriately, tracks whether the donation reaches the intended recipient or not, basically an open and see-through system, the information within which can be accessed publicly. Therefore, there is an increased level of disbelief and suspicion among the donors who are unaware of the usage of their money and have doubts whether the donation is being for righteous and genuine purposes.
All these reasons have collectively caused NGOs to lose their reputation and respect, with more and more people becoming increasingly hesitant to donate money even for the sake of humanity. To accomplish their vision of helping out the needy and also gain back donor and public confidence, NGOs require a transparent and trusted platform like Blockchain to bring back openness and reliability in the process.
(Please visit https://blockchainsimplified.com to hire the best Blockchain developers)
Blockchain to aid NGOs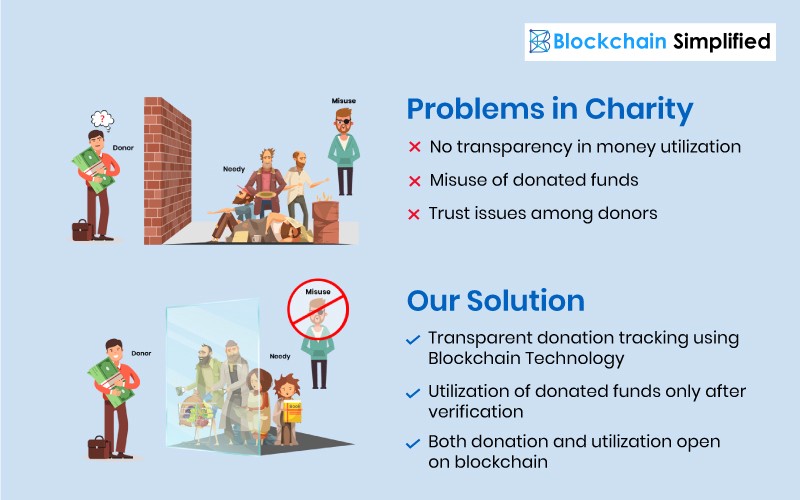 We have spoken enough about Blockchain's application in diverse arenas like Agriculture & Farming, Water Management, Energy efficiency and many more. Blockchain has consistently proven its potential to disrupt and bring about a positive change in streamlining complex processes. Ofcourse, Blockchain is the optimal solution to win back public faith by ensuring complete transparency in the NGO operations.
Blockchain to help NGOs maintain transparency
A secure, transparent, public Blockchain system to trace and track each and every transaction of the donation process is all that the NGOs need. Donors, NGOs, recipients, all can be the participants on the network that enforces peer-to-peer communication, enabling direct interaction between the parties. Every transaction right from the donor making a donation to an NGO receiving it and forwarding it to the correct recipient can be easily tracked on the Blockchain. Fast and easy donations, proper navigation channels and history of all the transactions can help establish complete transparency in the process.
Blockchain to help NGOs maintain immutability
Blockchain's immutable feature assures that there will not exist any corruption of data by mismanagement or miscalculation of funds. The fact that Blockchain does not allow data to be modified, altered or tampered with helps create an added level of trust among people, that money donated will be processed through the right way to the right beneficiary for the right purpose.
Apart from the above, Blockchain guarantees faster processing and execution of transactions consequently reducing transaction costs. Blockchain can also help in cryptocurrency donations as an alternative to fiat currency, for people who wish to donate using crypto funding.
Read about TrackMyCharity - a Blockchain based platform to track donations in the NGO sector.
TrackMyCharity is developed by Blockchain Simplified, a top blockchain development company in Pune, India. Please visit https://blockchainsimplified.com for more details.
Blockchain - Rebuilding NGOs Confidence
The possibilities are endless for Blockchain's potential to be tapped and used. Its high time we explore the opportunities Blockchain can provide to us in improving organizational efficiency and execution. Blockchain can thus help NGOs operate better with increased transparency, trust and credibility.
About Blockchain Simplified
Blockchain Simplified is a Top blockchain development company in Pune - India which works on all major Blockchain requirements. We specialise in Blockchain, Web and Mobile development (One Stop Shop for all technology development needs).
Our clientele includes Multiple Funded Start - Ups, SMBs and few MNCs few of which are NASDAQ and NSE listed.
Some of our work includes,
Blockchain based-
hubrisone.com - is a Live app with 100,000+ downloads, All-in-One Cryptocurrency current account. The entire development from scratch carried out by Blockchain Simplified.
All in one Platform - Complete responsibility of entire software development of the platform ,for a $1m funded blockchain start up, led by a team of serial entrepreneurs and tech veterans in Silicon Valley.
Well funded Blockchain startup - Blockchain Simplified helped a $6m funded American Blockchain startup to build the first blockchain protocol to leverage on-chain smart contracts to manage distributed storage of application data off-chain.
Multinational Bank - The company helped one of the top 3 ranking Multinational Banks to integrate various cryptocurrencies into their banking application.
and more…
Non-Blockchain-
SHC - Built entire platform and app from scratch for a $1m funded startup led by a team of Americans including PhD degree holders.
VMW - Developed app for a multi-national company providing mass factory-to-factory shipment services. App is being used by 53 of the Fortune 500 companies such as John Deere, Coca-Cola, Nissan.
and more…
Expertise
Blockchain Development : Bitcoin, Ethereum, Hyperledger, Corda, and more.
Mobile App Development : Android Native, iOS Native, React Native, Flutter, Xamarin.
UI/UX Design : Strategy, Planning, UI/UX Design, Wireframing, Visual Designs.
Web App Development : Node.JS, Angular, React.JS, PHP.
Backend Development : MongoDB, MySQL, AWS, Firebase.
Visit our official website https://blockchainsimplified.com/ for more information.