DeFi based Crypto Loans, Explained !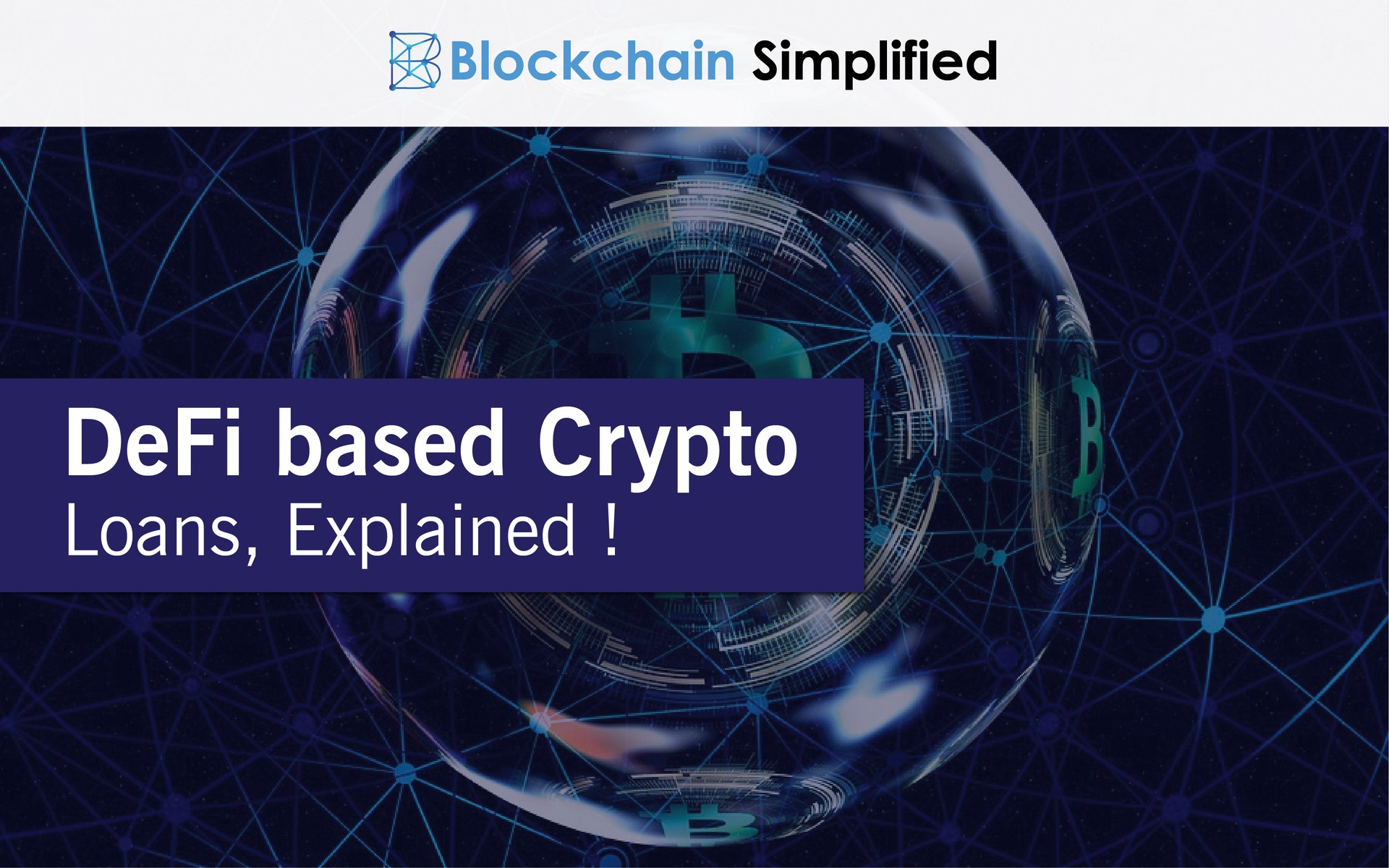 Today, everybody is talking about how Decentralized Finance (DeFi) has revolutionized the Finance sector. DeFi envisions and aims to transform the current financial sector by providing decentralized financial services by leveraging the Blockchain technology.
The need to decentralize the largely centralized financial market was genuine as central authorities controlled the entire functioning of this booming sector. While one may argue that Bitcoin & Blockchain were invented with the sole purpose of eliminating third party institutions by directly authorizing users to participate in the trading of cryptos, the application of this was limited to only payments, money transfers etc. There were still plenty of areas where decentralization was necessary; thus paving the path for the origin of Decentralized Finance (DeFi).
One such use-case of DeFi is automated lending and borrowing of crypto loans. This area has gained extreme popularity in the cryptosphere in a very short span of time, hence there is a great deal of mystery and interest involved amongst the users as well as investors.
What are Crypto Loans?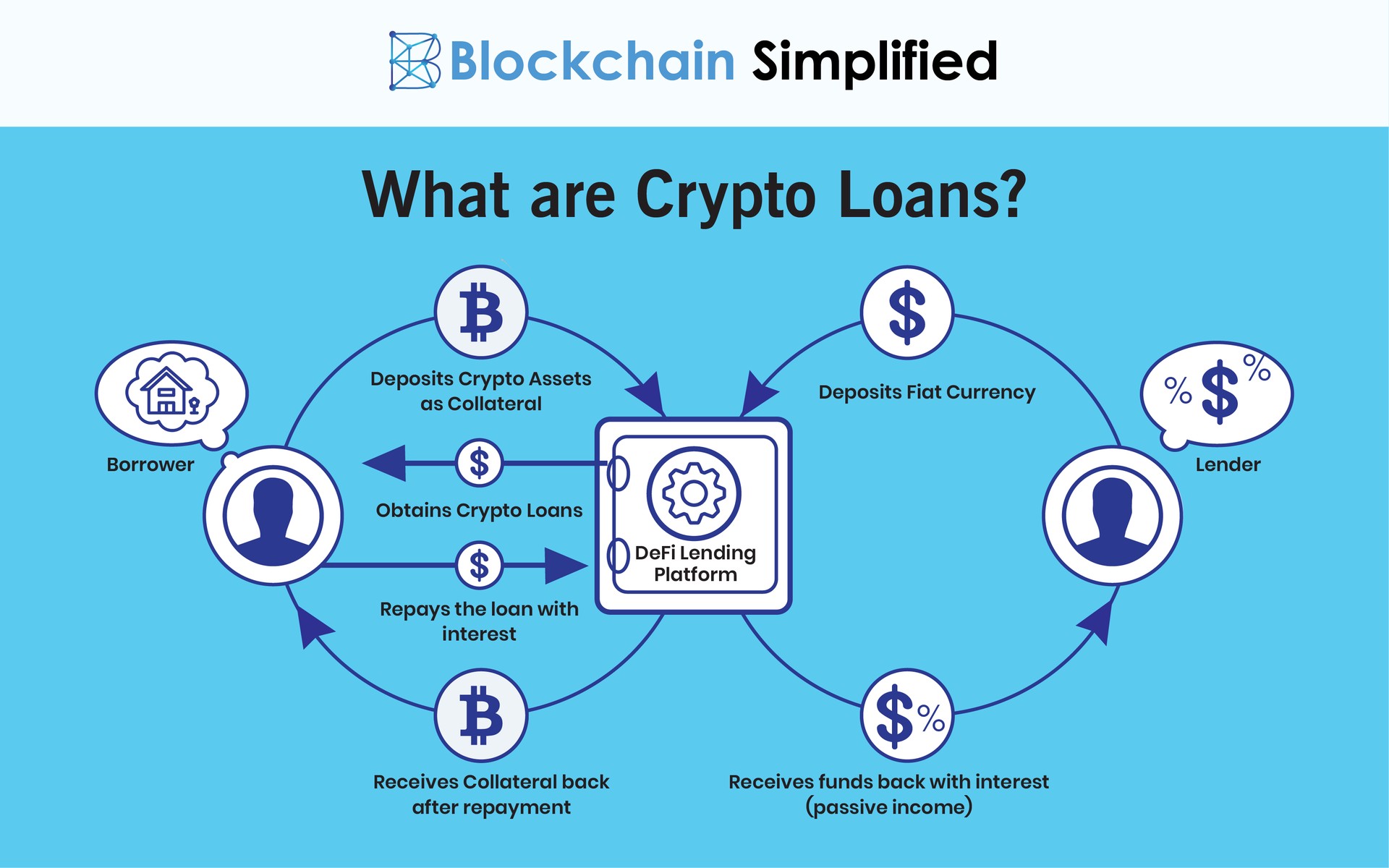 1) As simple as it can get, Crypto loans are collateralized loans given to a borrower in exchange of his crypto assets as collateral.
2) A borrower obtains fiat loans from lenders in lieu of his crypto assets like Bitcoin (BTC), Ether (ETH) or Litecoin (LTC), which act as securities in absence of repayment of the loan.
3) The exchange of crypto loans happens between the lender and the borrower once both parties accept a specific interest rate on the loan. Similar to a traditional loan, the crypto loan amount is deposited in the borrower's bank account and then the borrower pays EMIs to the lender. Once the amount is paid back in full, the lender releases the collateral that acted as security.
4) Crypto loans can also be the reverse of the above, where the borrower uses his fiat currencies as collateral to obtain crypto assets.
5) Crypto loans are typically carried out on DeFi lending platforms where lenders and borrowers can interact directly without the presence of any intermediary.
(Blockchain Simplified is a top Blockchain development company in Pune, India. Visit us at https://blockchainsimplified.com)
The need for Crypto loans & their advantages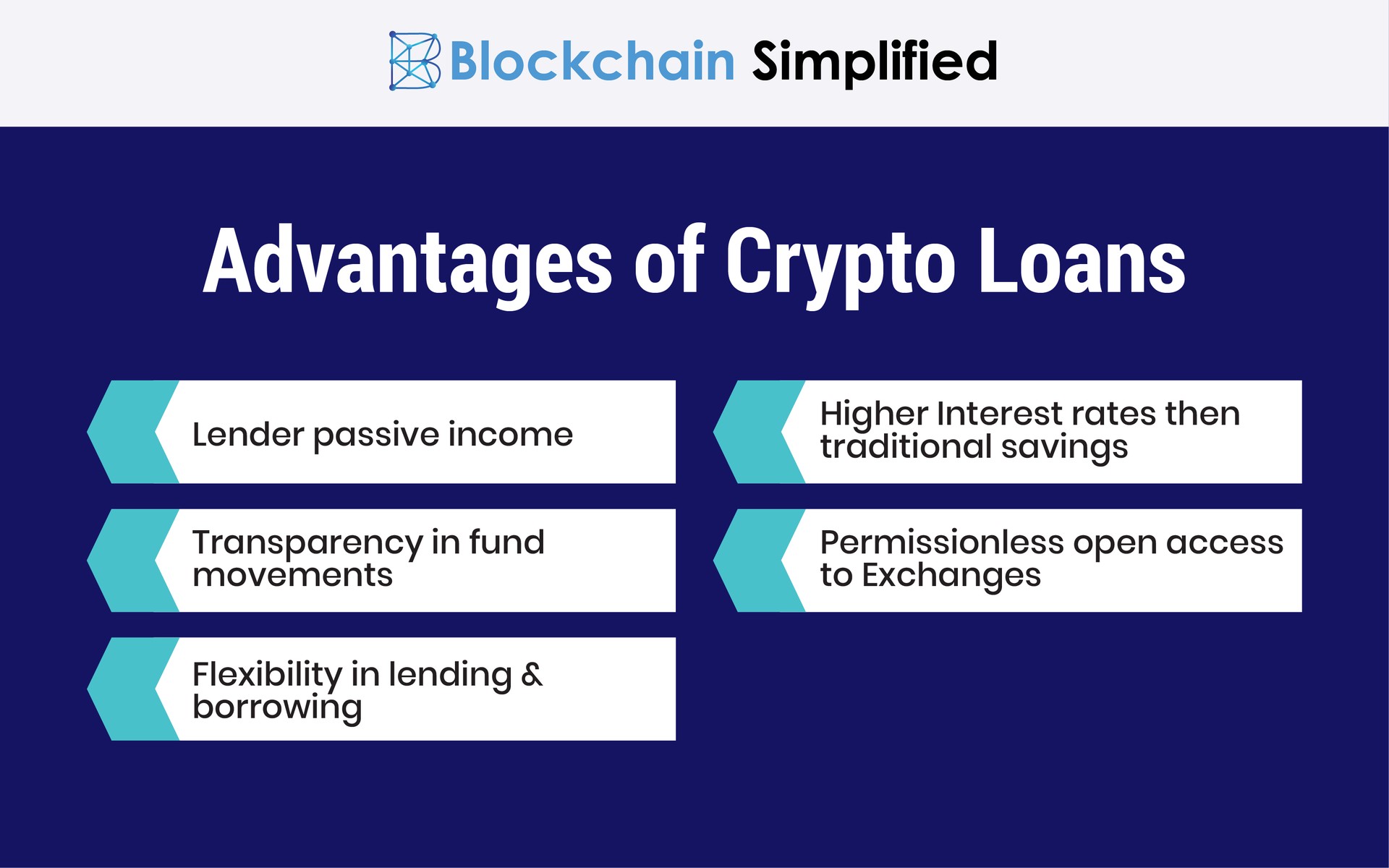 Owners of cryptocurrencies invest in them with some futuristic goal. As much as they wish to securely hold their assets in their wallets, it is not only a very non-productive way of using the asset but it also limits market supply. Hence, it is wise for investors to sell off their crypto assets. But instead of selling, they can also choose to use them as collateral to obtain crypto loans which can be used for their own personal benefits.
Also, a research states that the interest rate for lending crypto loans is always high as much as 8% in comparison with the 1% interest return on fiat currencies. It is not only a passive income for lenders but is also very beneficial for borrowers like the ability to short an asset by buying it on one exchange and selling it on another thus benefiting by margin trading.
Crypto loans also open the arbitrage trading window for both lenders and borrowers. Arbitrage trading can be carried out by users between a Decentralized Exchange and Centralized Exchange by borrowing dollars at a rate lower than the DEX, trade it on a CEX for a crypto coin and lend it on the DEX to earn an arbitrage fee.
Besides these, there is always transparency in fund movements and every process due to the underpinned Blockchain technology. Decentralized Exchanges are easier for users to access since they do not require any permissions from any authority to join. Typically these lending platforms, that enable the exchange of crypto loans, are built as dApps on a public blockchain platform like Ethereum. They provide great speed and flexibility in the lending and borrowing services. MakerDAO, Dharma and Compound are some of the well-known DeFi lending platforms that provide crypto loans.
(To hire the best Blockchain developers, visit us at https://blockchainsimplified.com)
Use-Cases of Crypto Loans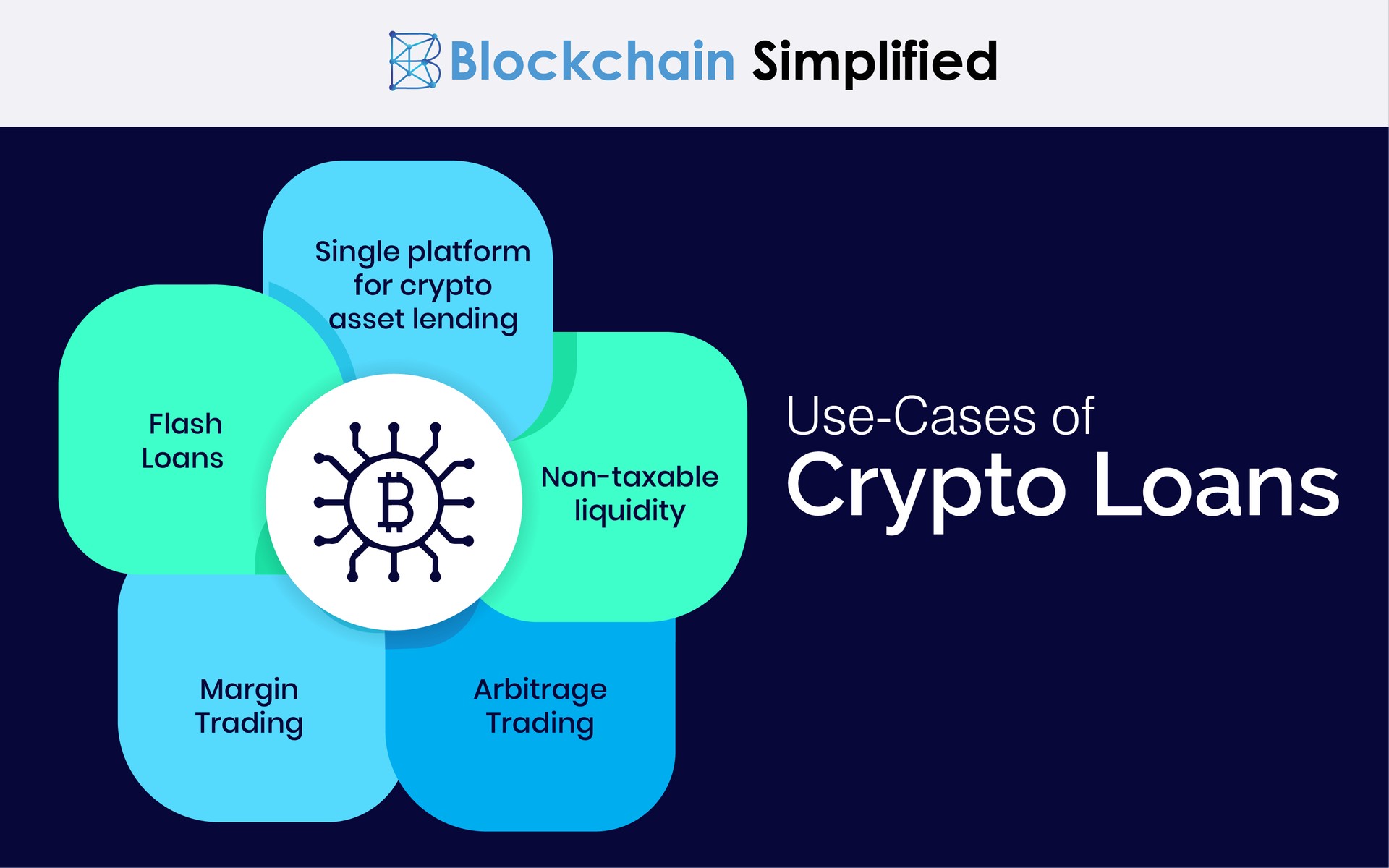 Single platform for crypto asset lending - Crypto loans are the most effective way and the most used aspect of crypto-lending markets.
Non-taxable liquidity - For investors or hodlers who like to hold the crypto assets in their account, obtaining crypto loans against their collateral to receive fiat currency is the best way to avoid taxes on gains.
Arbitrage Trading - Crypto loans offer you the opportunity of Arbitrage Trading in which you borrow an asset from one platform and lend the asset on another.
Margin trading - A user can gain leverage by obtaining a crypto loan, buying additional collateral etc without the need of a centralized exchange.
Flash loans - User can borrow crypto loans to execute other operations, and then pay back the loan at the end of the full transaction.
Future of Crypto loans
Cryptocurrencies act as a fantastic collateral because they are easily saleable and liquidated, crypto liquidations take place in seconds. Looking at the rate at which the crypto industry is growing, crypto loans will remain an integral part of its success and glory.
About Blockchain Simplified
Blockchain Simplified is a Top blockchain development company in Pune - India which works on all major Blockchain requirements. We specialise in Blockchain, Web and Mobile development (One Stop Shop for all technology development needs).
Our clientele includes Multiple Funded Start - Ups, SMBs and few MNCs few of which are NASDAQ and NSE listed.
Some of our work includes,
Blockchain based-
hubrisone.com - is a Live app with 100,000+ downloads, All-in-One Cryptocurrency current account. The entire development from scratch carried out by Blockchain Simplified.
All in one Platform - Complete responsibility of entire software development of the platform ,for a $1m funded blockchain start up, led by a team of serial entrepreneurs and tech veterans in Silicon Valley.
Well funded Blockchain startup - Blockchain Simplified helped a $6m funded American Blockchain startup to build the first blockchain protocol to leverage on-chain smart contracts to manage distributed storage of application data off-chain.
Multinational Bank - The company helped one of the top 3 ranking Multinational Banks to integrate various cryptocurrencies into their banking application.
and more…
Non-Blockchain-
SHC - Built entire platform and app from scratch for a $1m funded startup led by a team of Americans including PhD degree holders.
VMW - Developed app for a multi-national company providing mass factory-to-factory shipment services. App is being used by 53 of the Fortune 500 companies such as John Deere, Coca-Cola, Nissan.
and more…
Expertise
Blockchain Development : Bitcoin, Ethereum, Hyperledger, Corda, and more.
Mobile App Development : Android Native, iOS Native, React Native, Flutter, Xamarin.
UI/UX Design : Strategy, Planning, UI/UX Design, Wireframing, Visual Designs.
Web App Development : Node.JS, Angular, React.JS, PHP.
Backend Development : MongoDB, MySQL, AWS, Firebase.
Visit our official website https://blockchainsimplified.com/ for more information.