The Advantages of building a Blockchain based Cryptocurrency Trading platform
We saw how almost any physical object can be represented in its digital form in one of our previous blogs. Digital assets can be anything - crypto-currency i.e. digital currency, e-books, images, databases, software, website templates, so on and so forth. Once the objects are converted to digital format, they become digital assets that can be sold and bought, in simple words, they are open to trading.
One of the very first digital asset trading platforms that was introduced to the world was cryptocurrency trading. Cryptocurrency trading platforms facilitate the trading of digital currencies such as Bitcoin (BTC), Ethereum (ETH), Litecoin (LTC) etc, across the world. Binance, Huobi , Coinbase are some of the well-known cryptocurrency trading exchanges that exist in today's times. While all of the above have implemented Blockchain technology at their core, there are many other cryptocurrency trading platforms that have not yet leveraged Blockchain due to which there are plenty of problems associated while trading. For instance, until recently Huobi did not have a Blockchain based cryptocurrency trading exchange, but a little while back they made an announcement of releasing a DeFi based Blockchain in public beta.
But, why is Blockchain being touted as the best solution for cryptocurrency trading? How exactly does it help in cryptocurrency trading? Do decentralized trading exchanges have an edge over centralized ones? If yes, then how? Let us delve a little deeper and understand. Before that, read about the difference between CeFi vs DeFi to gain some basic knowledge of how both of them work.
How does Cryptocurrency Trading work?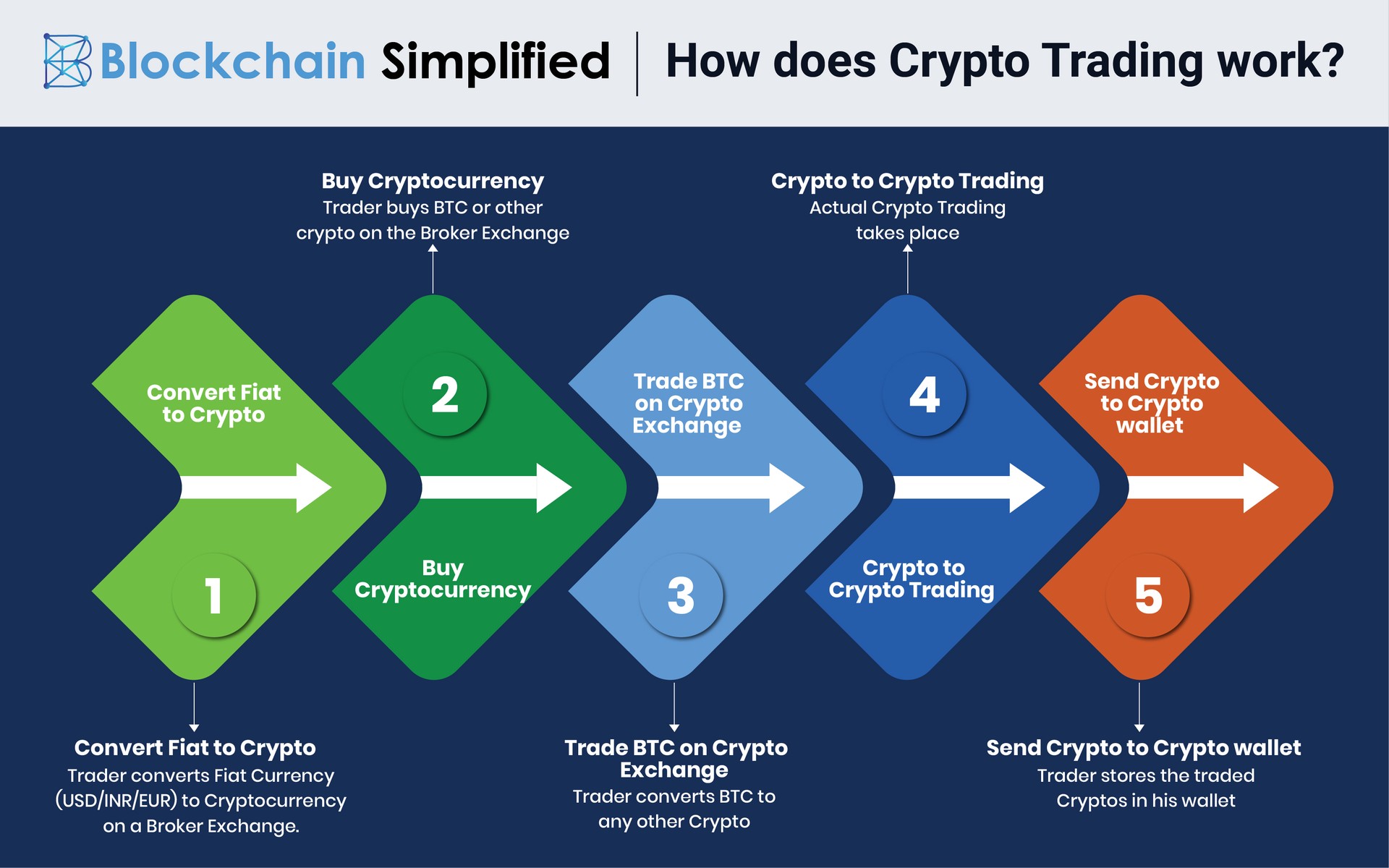 Typically in the process of cryptocurrency trading, an investor or user has to foresee the price movements of the currency and predict the rise or fall of it. While on the brink of it, it may sound like an easy task, however in reality it is a complex task, especially with cryptocurrencies like Bitcoin. The volatile nature of Bitcoin makes it difficult for even seasoned trade analysts to accurately predict its dynamics.
Fortunately, decentralized trading services with the help of Blockchain, provide some relief in this complicated process of cryptocurrency trading by helping trade experts analyse and come up with a proper strategy to forecast the price movements. There are quite a few applications of Blockchain in this particular process, which we will read below.
Also read about Bitcoin Futures trading and their advantages.
(Blockchain Simplified is a top Blockchain development company in Pune, India. Visit us at https://blockchainsimplified.com)
Blockchain to aid Cryptocurrency Trading
Owing to Blockchain's distributed ledger technology (DLT) and decentralized approach, the cryptocurrency trading market can leverage it into its system to simplify and accelerate the trading process. Blockchain can be integrated to build a system that not only automatizes the cryptocurrency trading process but also helps in analyzing and managing user portfolios. Let us see some Blockchain solutions that can positively disrupt the entire cryptocurrency trading process.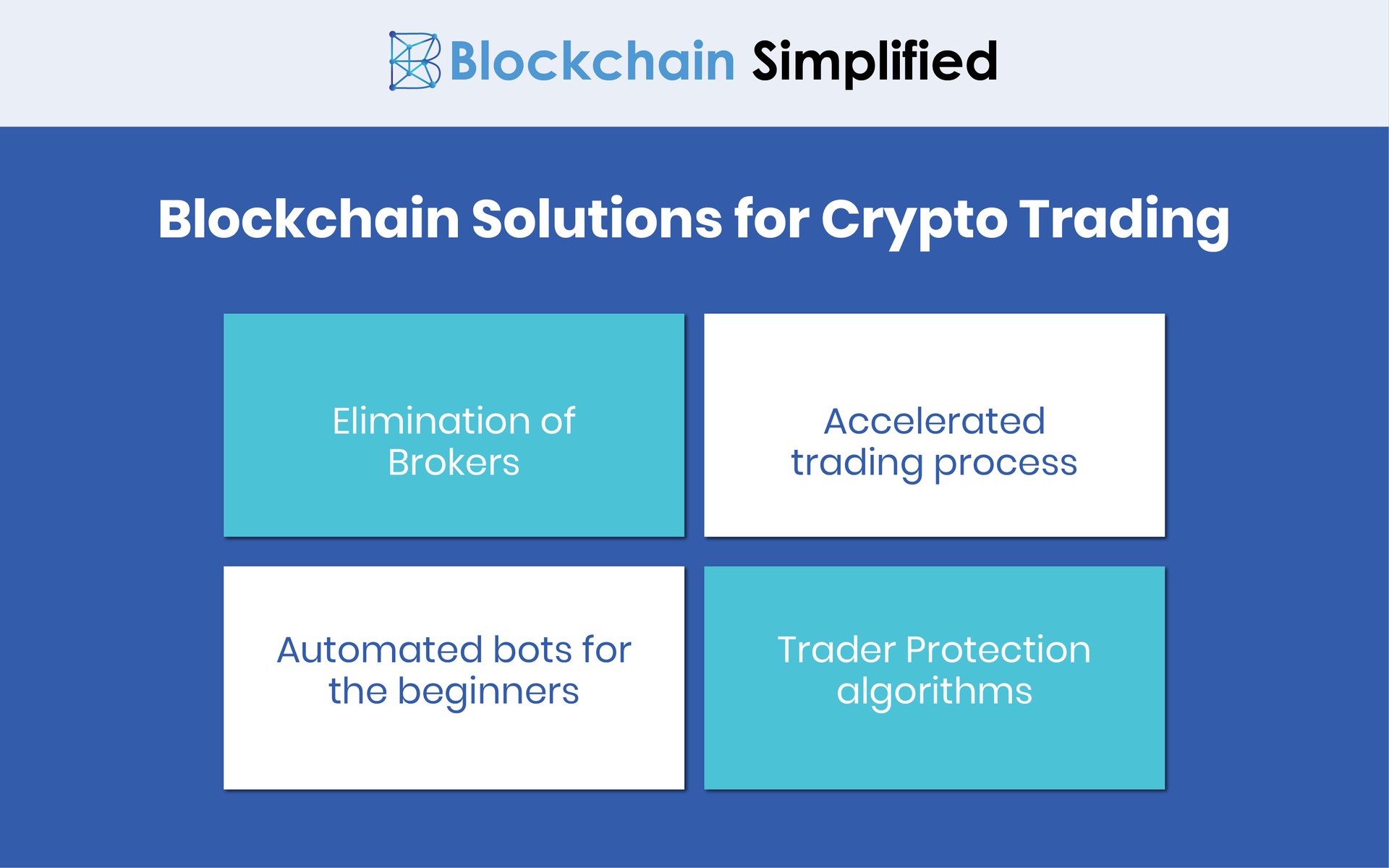 Elimination of Brokers
Where initial trading processes required the presence of brokers or middlemen, newer technologies like Blockchain can automate these intermediate processes so that users can carry out their cryptocurrency trading without the need of any intermediary agent. Thus, the elimination of such brokers results in reduced transaction costs for the user as well as the crypto exchange. While it may look like a trivial cost reduction, it in fact holds a lot of weightage as companies have to invest a lot in it while already bearing losses in revenue and commissions. Removal of brokers also encourages P2P exchange where one user can directly interact with another user.
Accelerated trading process
For any financial services platform, it is imperative that it is highly performant in any situation. For cryptocurrency traders or any traders for that matter, even a millisecond delay can lead to huge losses. Appropriate calculation of margins, managing and hedging risks is very essential for any cryptocurrency trading platform. Blockchain and smart contracts can help in this regard where smart contracts can automate the entire process with proper business rules and logic in place. This will help in speeding up the complete process while also maintaining high availability and throughput throughout.
Automated bots for the beginners
Cryptocurrency trading is no longer for the experienced. Users who are new to the world of trading or who have zero knowledge of the process can also participate in the process, thanks to automated trading bots like Gimmer.. This platform helps trading amateurs follow strategies of experienced traders by buying or renting their preconfigured bots. Funds of the users are securely stored on a decentralized Blockchain platform, Ethereum in this case.
Trader Protection algorithms
The cryptocurrency trading market is a highly volatile one. The sudden fluctuations and the drastic fall and rise of crypto prices pressurizes traders to engage in panic buying or selling. Newbies or inexperienced traders fall prey to this situation and make hasty decisions that result in disasters. To solve this purpose, Spectre.ai, a leading cryptocurrency trading platform for the Asian market, developed trader protection algorithms that gauge trader emotions, identify their weaknesses, recommend profitable trading opportunities thus helping traders take appropriate decisions.
(To hire the best Blockchain developers, visit us at https://blockchainsimplified.com)
Blockchain is the answer to Cryptocurrency Trading
Several big banks and financial institutions have expressed their interest and are displaying faith in integrating and investing in Blockchain based, decentralized financial solutions. Certainly, decentralized cryptocurrency trading platforms have tremendous potential to compete with traditional trading exchanges by eliminating the inflexible, stringent set-ups and permissioned access structure of centralized platforms.
About Blockchain Simplified
Blockchain Simplified is a Top blockchain development company in Pune - India which works on all major Blockchain requirements. We specialise in Blockchain, Web and Mobile development (One Stop Shop for all technology development needs).
Our clientele includes Multiple Funded Start - Ups, SMBs and few MNCs few of which are NASDAQ and NSE listed.
Some of our work includes,
Blockchain based-
hubrisone.com - is a Live app with 100,000+ downloads, All-in-One Cryptocurrency current account. The entire development from scratch carried out by Blockchain Simplified.
All in one Platform - Complete responsibility of entire software development of the platform ,for a $1m funded blockchain start up, led by a team of serial entrepreneurs and tech veterans in Silicon Valley.
Well funded Blockchain startup - Blockchain Simplified helped a $6m funded American Blockchain startup to build the first blockchain protocol to leverage on-chain smart contracts to manage distributed storage of application data off-chain.
Multinational Bank - The company helped one of the top 3 ranking Multinational Banks to integrate various cryptocurrencies into their banking application.
and more…
Non-Blockchain-
SHC - Built entire platform and app from scratch for a $1m funded startup led by a team of Americans including PhD degree holders.
VMW - Developed app for a multi-national company providing mass factory-to-factory shipment services. App is being used by 53 of the Fortune 500 companies such as John Deere, Coca-Cola, Nissan.
and more…
Expertise
Blockchain Development : Bitcoin, Ethereum, Hyperledger, Corda, and more.
Mobile App Development : Android Native, iOS Native, React Native, Flutter, Xamarin.
UI/UX Design : Strategy, Planning, UI/UX Design, Wireframing, Visual Designs.
Web App Development : Node.JS, Angular, React.JS, PHP.
Backend Development : MongoDB, MySQL, AWS, Firebase.
Visit our official website https://blockchainsimplified.com/ for more information.