Bridging the gap using Blockchain Bridges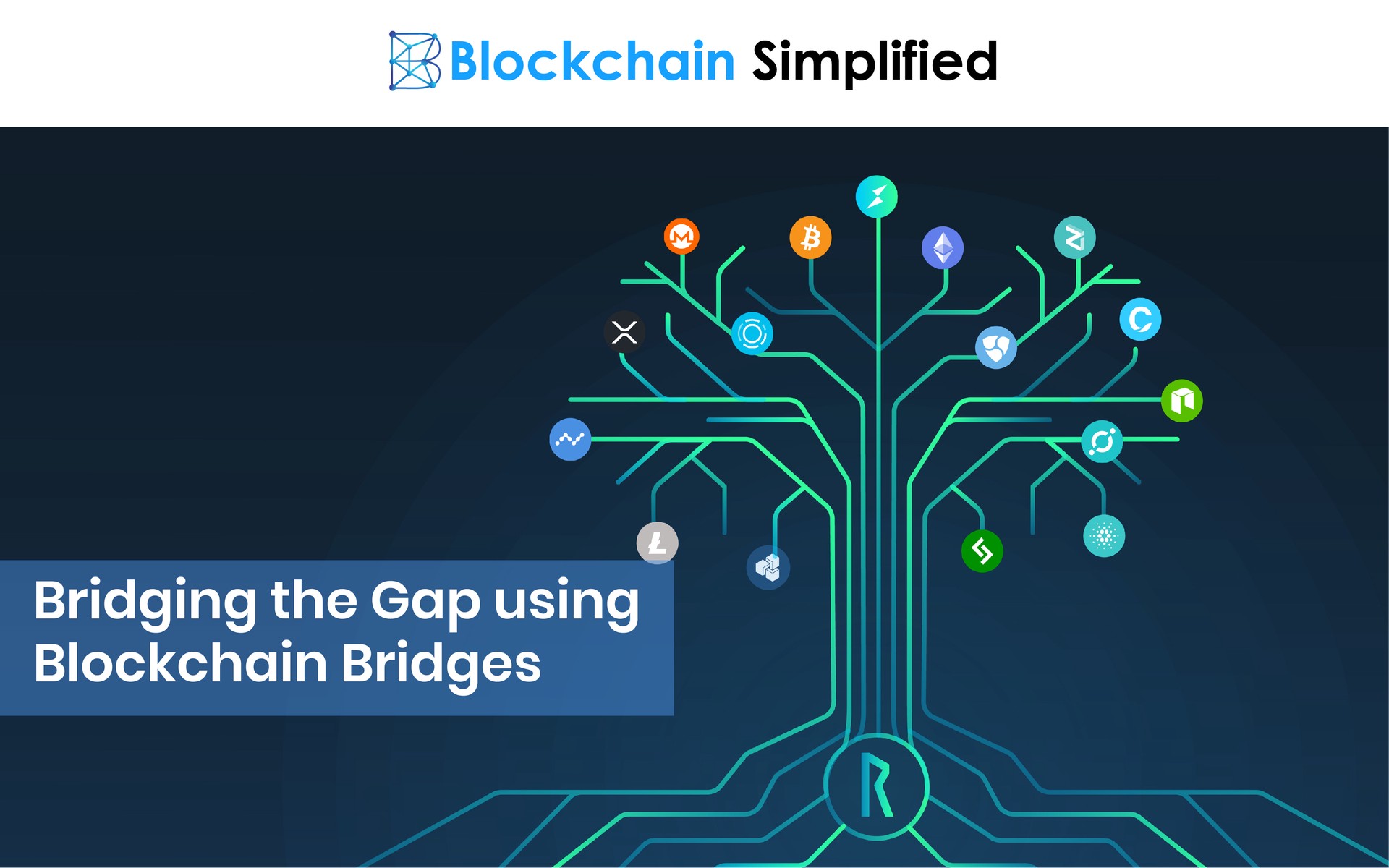 While Blockchain has brought the much needed decentralization and disruption in possibly every field that exists today, there do exist some challenges with Blockchain that require introspection. One of them is the insufficiency of two blockchains operating together. Which means that if a dApp is built on Ethereum, then it can only enjoy the benefits of the Ethereum blockchain and not any other blockchain, which can be a cause of concern, since Ethereum has its own challenges like non-scalability.
To resolve this issue of non-interoperability of two blockchains, Blockchain bridges were brought into existence. Let us understand what exactly are Blockchain bridges and how do they work and what are the benefits that Blockchain bridges bring along with them.
What are Blockchain Bridges?
1) A blockchain bridge is an interconnected link that enables communication and interaction between two blockchain systems.
2) Blockchain bridges, by linking two blockchain networks, aid dApps leverage the benefits of both the systems, instead of only their host platform. For instance, a dApp hosted on Ethereum and bridged with an EOS blockchain, can leverage Ethereum's smart contract functionality as well as EOS' scalability.
3) Thanks to Blockchain bridges, any data, information, tokens etc can be transferred between two blockchain platforms.
4) Blockchain bridges are governed by the mint-and-burn protocol. Token transfer doesn't take place literally; rather when a token is needed to transfer from one blockchain to another, it is burned on the first and an equivalent token is minted on the other. Learn more about mint-and-burn protocol in this article.
(Blockchain Simplified is a top Blockchain development company in Pune, India. Visit us at https://blockchainsimplified.com)
How do Blockchain bridges work?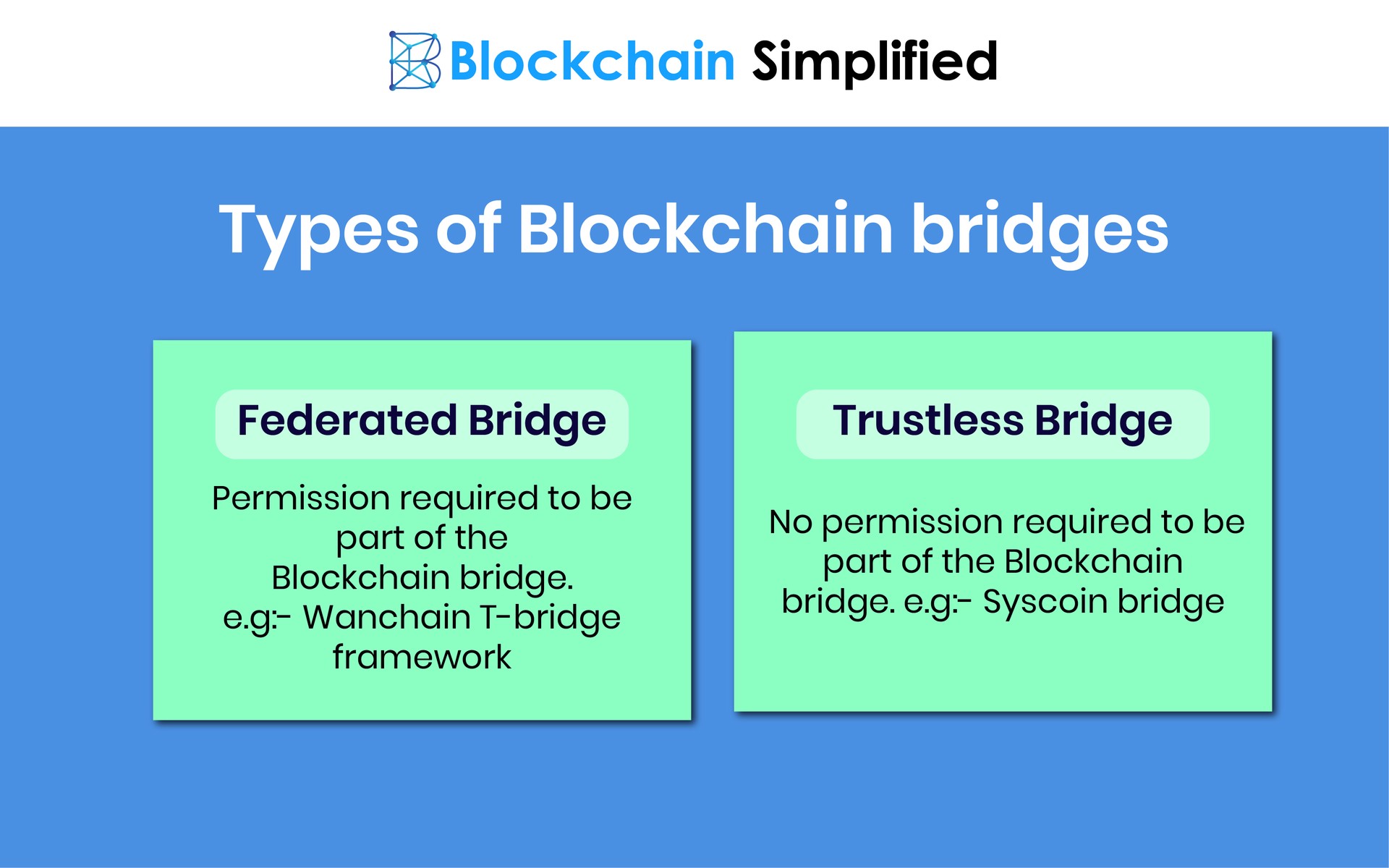 On the lines of Public and Private blockchains, blockchain bridges are also divided into two categories namely Trustless blockchain bridge and Federated blockchain bridge.
A Trustless blockchain bridge works more or less like a public blockchain network, where anybody can join the platform without any permission. Just as the miners on Ethereum are incentivized with gas for validating transactions, users on the Trustless blockchain bridge are incentivized for affirming transactions. The Syscoin-Ethereum blockchain bridge is a famous example of the trustless bridge which enables trustless interoperability between Ethereum and Syscoin's network.
Similar to a private blockchain, a Federated blockchain bridge requires a user to meet certain criteria or demands set by the federation, to be part of the bridge. For example, the Wanchain blockchain bridge connects multiple isolated blockchains to one another to allow flow of the digital assets and data. It is an excellent example of blockchain bridges for decentralized finance.
Another example of a blockchain bridge is the RSK token bridge that enables interoperability between Bitcoin and Ethereum for the transfer of assets.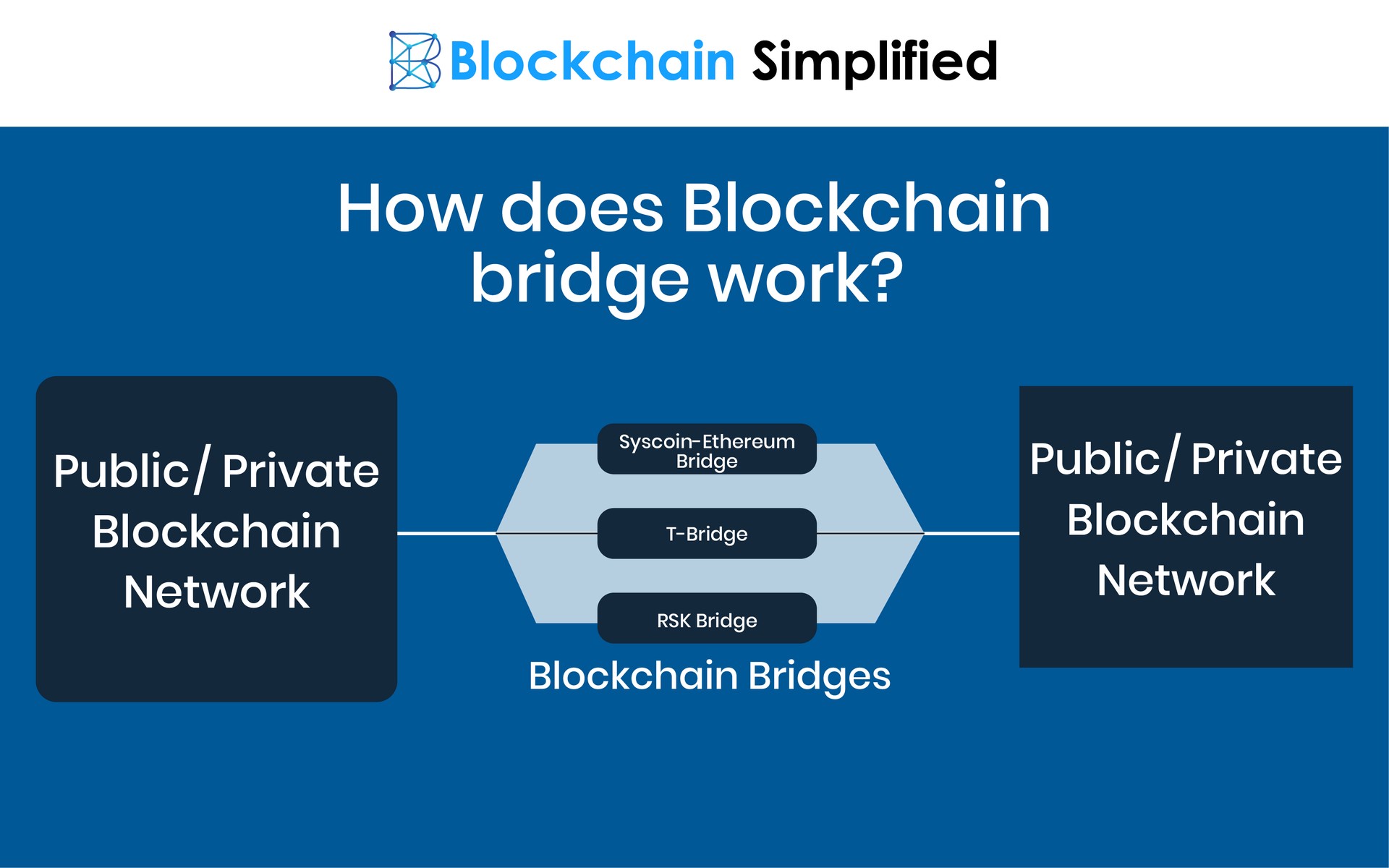 (To hire the best Blockchain developers, visit us at https://blockchainsimplified.com)
Benefits of Blockchain Bridges
As mentioned above, if a dApp on Ethereum leverages its advanced ERC-20 token standards and smart contract functionality, it also faces challenges in terms of lack of scalability, slow processing speed, traffic congestion etc on Ethereum. Additionally, Ethereum also levies high fees on transactions during heavy network traffic. By using a blockchain bridge, a dApp can be executed on Ethereum for smart contract functionality; and transactions can be executed on another blockchain for processing at a higher speed and a lower cost. Thus, the dApp can have the best of both worlds.
Blockchain bridges help reduce network traffic on Ethereum by distributing it to other less congested blockchains, thus resolving Ethereum's scalability challenges. Instant payment processing is also a very useful application of a blockchain bridge.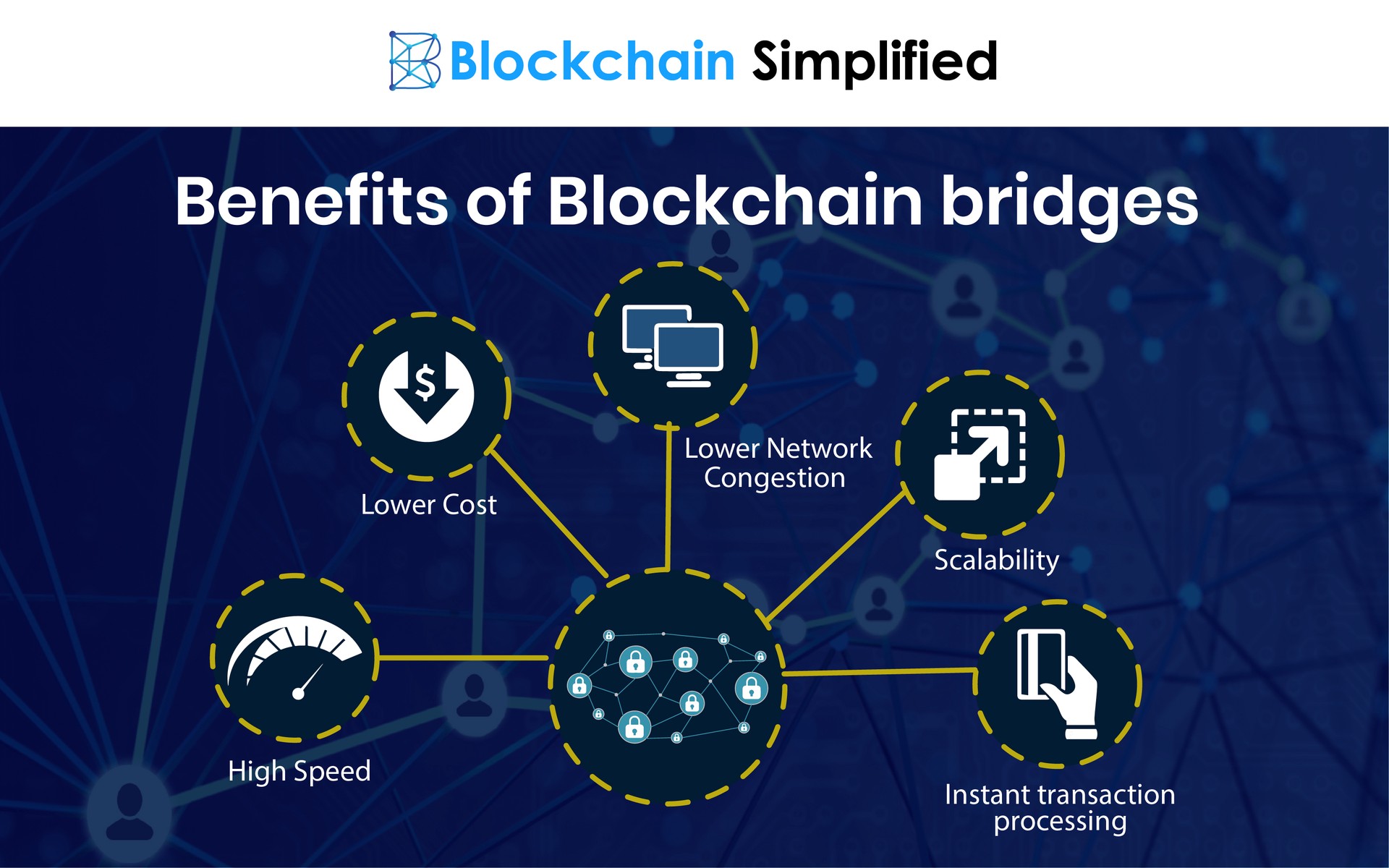 Blockchain Bridges, the Future
The development of Blockchain bridges is still at a premature stage and may take considerable time to grow into a full fledged bankable application. But given its useful, unique aspect of bridging multiple Blockchain ecosystems, it goes without saying that it will play a major role in the Blockchain universe in the future.
About Blockchain Simplified
Blockchain Simplified is a Top blockchain development company in Pune - India which works on all major Blockchain requirements. We specialise in Blockchain, Web and Mobile development (One Stop Shop for all technology development needs).
Our clientele includes Multiple Funded Start - Ups, SMBs and few MNCs few of which are NASDAQ and NSE listed.
Some of our work includes,
Blockchain based-
hubrisone.com - is a Live app with 100,000+ downloads, All-in-One Cryptocurrency current account. The entire development from scratch carried out by Blockchain Simplified.
All in one Platform - Complete responsibility of entire software development of the platform ,for a $1m funded blockchain start up, led by a team of serial entrepreneurs and tech veterans in Silicon Valley.
Well funded Blockchain startup - Blockchain Simplified helped a $6m funded American Blockchain startup to build the first blockchain protocol to leverage on-chain smart contracts to manage distributed storage of application data off-chain.
Multinational Bank - The company helped one of the top 3 ranking Multinational Banks to integrate various cryptocurrencies into their banking application.
and more…
Non-Blockchain-
SHC - Built entire platform and app from scratch for a $1m funded startup led by a team of Americans including PhD degree holders.
VMW - Developed app for a multi-national company providing mass factory-to-factory shipment services. App is being used by 53 of the Fortune 500 companies such as John Deere, Coca-Cola, Nissan.
and more…
Expertise
Blockchain Development : Bitcoin, Ethereum, Hyperledger, Corda, and more.
Mobile App Development : Android Native, iOS Native, React Native, Flutter, Xamarin.
UI/UX Design : Strategy, Planning, UI/UX Design, Wireframing, Visual Designs.
Web App Development : Node.JS, Angular, React.JS, PHP.
Backend Development : MongoDB, MySQL, AWS, Firebase.
Visit our official website https://blockchainsimplified.com/ for more information.