Decentralized Insurance - An emerging sector in DeFi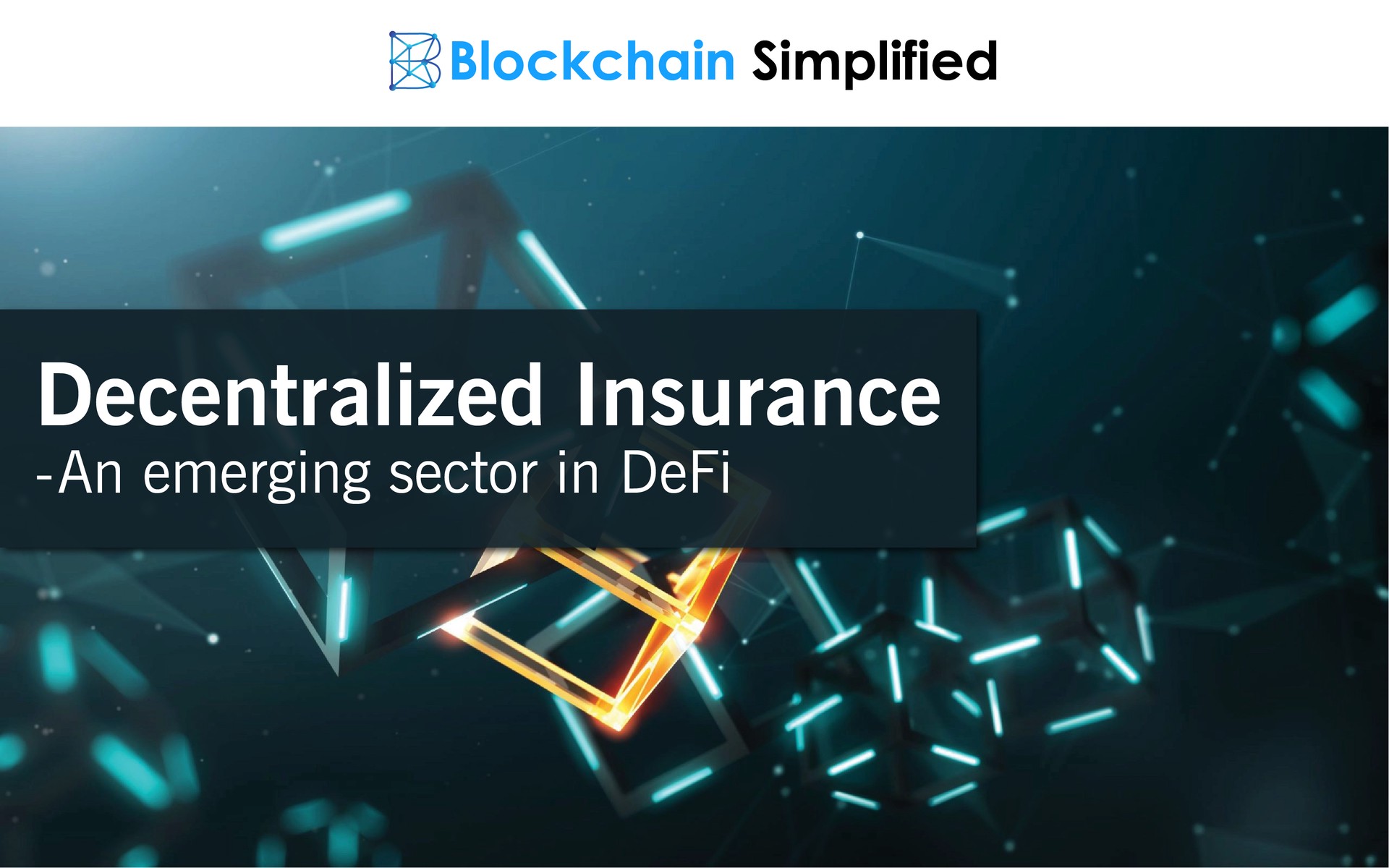 While all the services surrounding the Decentralized Finance sector like Crypto loans, Crypto Derivatives, Futures Trading etc have garnered much appreciation, there is one sector that is not very often discussed but holds as much importance is the Decentralized Insurance. In the generally risky finance sector, it is imperative that there exist a mechanism that protects against risks and threats. Decentralized Insurance is one such concept that can act as a protective gear for the DeFi sector.
The transparency and trustless aspect of Blockchain that forms the foundation of DeFi can disrupt the unethical and illicit functioning of the Decentralized Insurance industry. Like Blockchain in General Insurance operates as the safety net of the industry, similarly decentralized insurance protocols can demonstrate protective measures and act as safeguards to the crypto industry.
Let us, in this blog, understand how Decentralized Insurance can leverage Blockchain technology to protect crypto assets and cover risks.
Use-Cases of Decentralized Insurance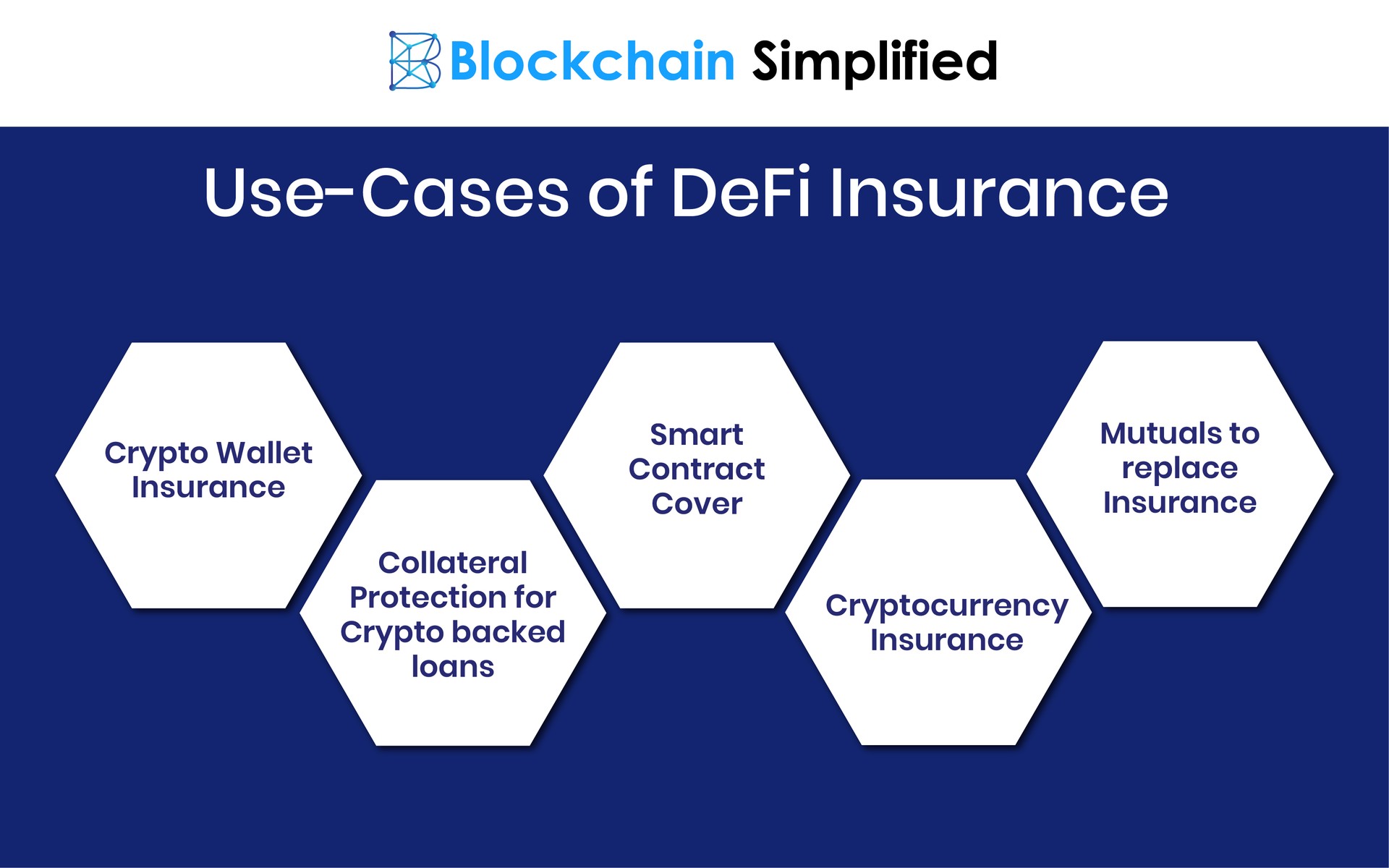 Over a couple of years, there have been innumerable cases of smart-contracts hacking, cyber attacks on exchange platforms etc that have caused huge loss of investor funds. Even the magnanimous DAO could not prevent a malware attack on its platform that resulted in loss of billions. Decentralized Insurance has plenty of use-cases that can help prevent such consequences from occurring.
Crypto Wallet Insurance
Companies like Etherisc have developed solutions to cover the risk of theft of crypto wallets in case of attacks. In the survey that Etherisc conducted to understand the need for decentralized insurance, the majority of users agreed that there was a need for wallets to be insured but there were fewer options available in the market for the same. Thus, by understanding that there indeed was a need for crypto wallet insurance solutions, Etherisc provides crypto wallet insurance covering a large sum. This is a great use-case of decentralized finance.
Collateral Protection for Crypto backed loans
In a typical case of Crypto loans, if the collateral provided by the borrower is destroyed or stolen, then the loan is paid off by the insurance policy. Etherisc, along with several other companies like Sweetbridge, Celsius, Nexo, Libra Credit and a few others established a consortium that safeguard and secure collateralized crypto-backed loans, an amazing application of decentralized insurance. Says Mac McGary, President of the Sweetbridge Alliance,
"In today's volatile market, Collateral Protection Insurance provides borrowers and lenders with a sense of security from crypto lending networks, which is a critical step in advancing blockchain adoption."
Smart Contract Cover
In this amazing decentralized insurance product called the Smart Contract Cover, the insurance covers the loss if the designated smart contract address is hacked and is used for manipulation such as loss of funds from the investor account, or if funds are moved to another address which doesn't belong to the original investor. It also covers loss where the funds are permanently lost and cannot be recovered anymore. Thus, investors and lenders can lend crypto loans on the exchange without worrying much about repayment or losses. Nexus Mutual is one such company that has developed the Smart Contract cover.
(To hire the best Blockchain developers, visit us at https://blockchainsimplified.com)
Benefits of Decentralized Insurance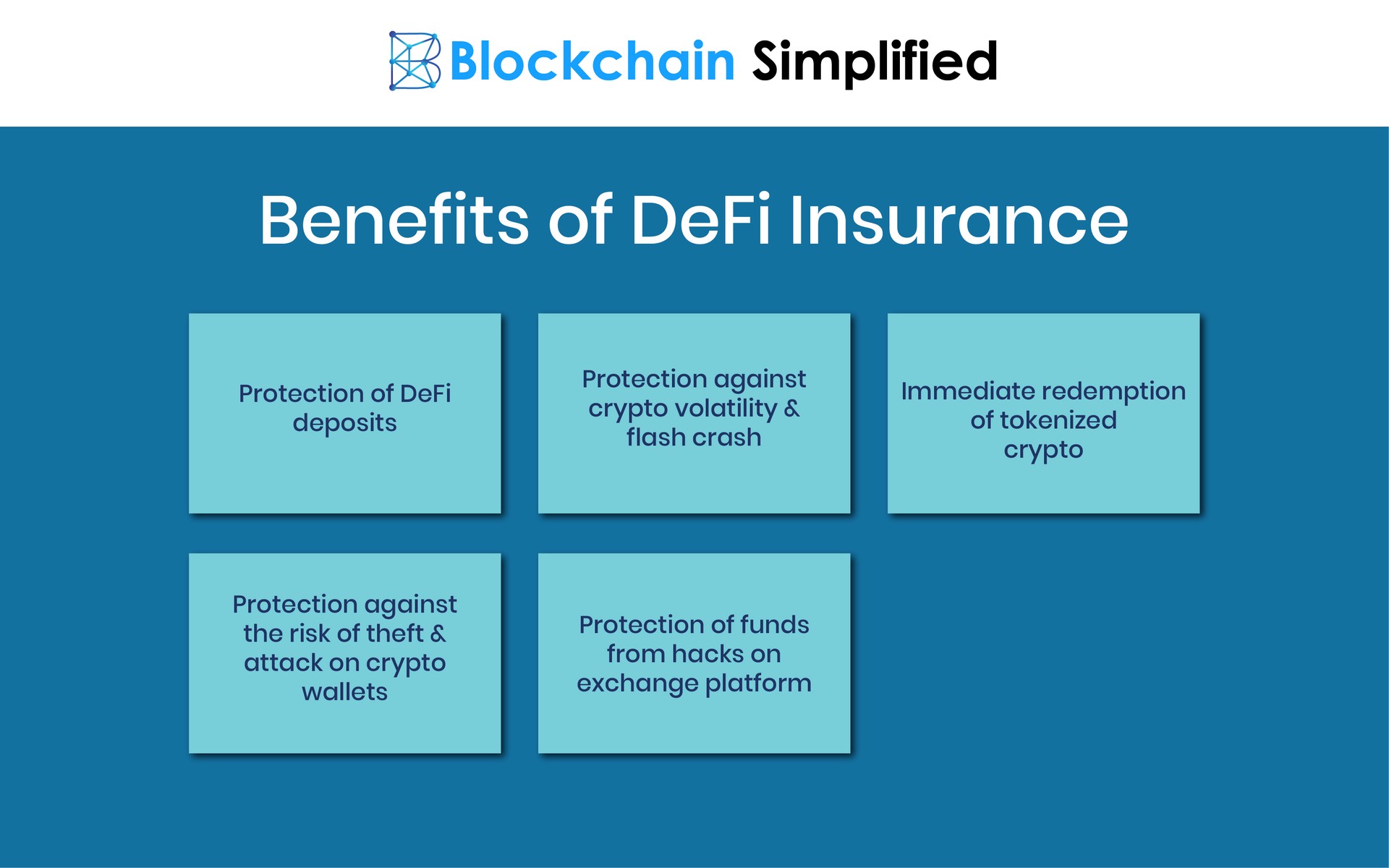 Decentralized Insurance products offer complete protection of DeFi deposits, hedge risk against crypto volatility and flash crash as well as provide security against the risk of theft and attack on crypto wallets. They secure users against any possible DeFi risk, cover technical and financial risks, thus building a sense of safety amongst investors. sNot only that but the platforms also make the entire process of submitting, claiming and processing and payouts extremely safe, reliable and transparent.
1) Protection of DeFi deposits
2) Protection against crypto volatility and flash crash
3) Immediate redemption of tokenized crypto
4) Protection against the risk of theft and attack on crypto wallets
5) Protection of funds from hacks on exchange platforms
6) Covers technical and financial risks
7) Immediate claim payouts
8) Trustless claim and risk assessment
Decentralized Insurance Platforms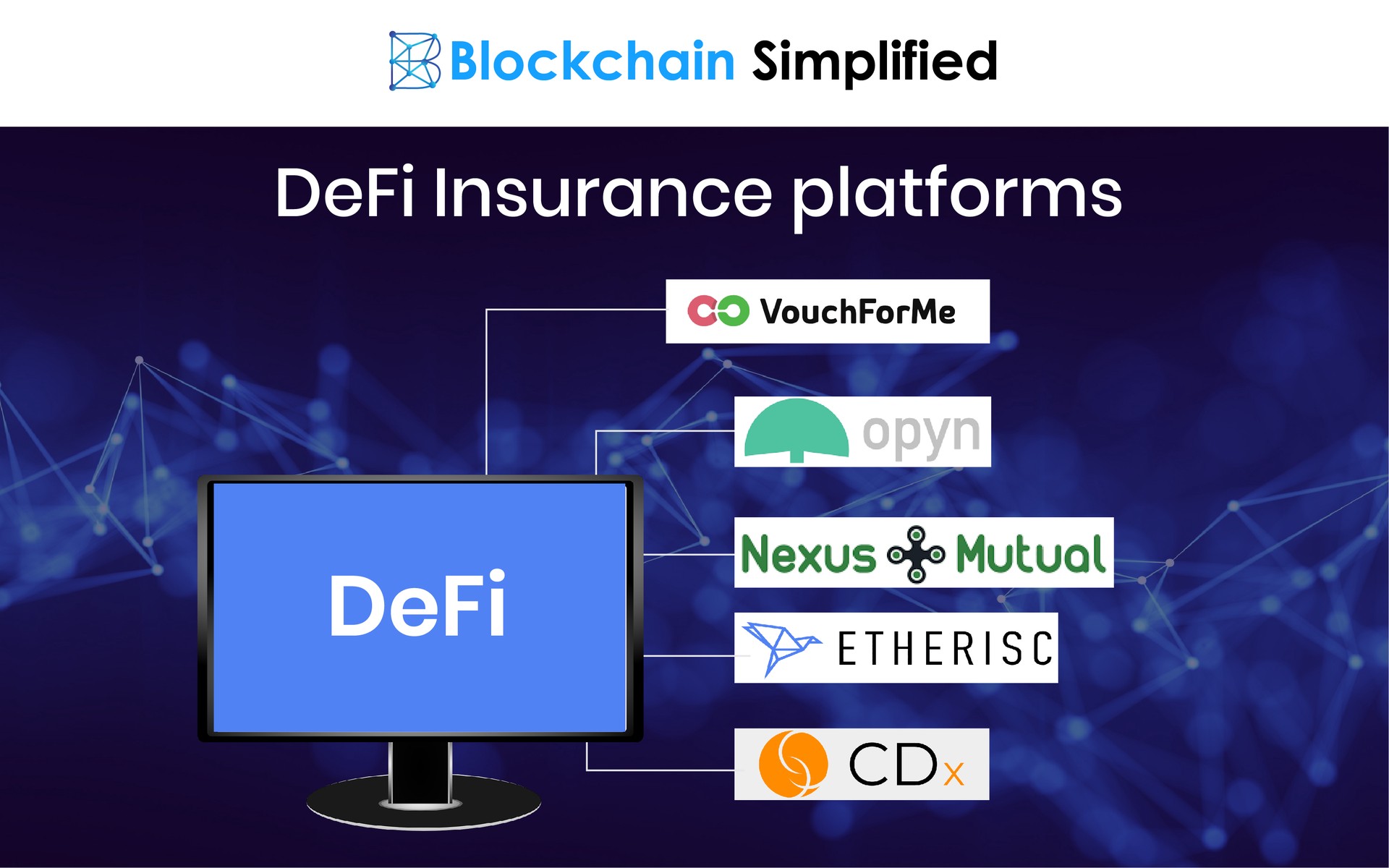 There are some well known decentralized insurance providers in the market in today's date such as Nexus Mutual, Etherisc, CDx, Opyn, VouchForMe etc.
Nexus Mutual, a decentralized insurance platform built on Ethereum is the pioneer of the smart contract cover. Users who have lent money on exchanges like Compound or Dharma can opt for the insurance policy.
Etherisc, as we read above, has built some amazing crypto wallet insurance products as well as cover for collateralized crypto loans. CDx is a platform that offers covers for loss of funds that happen due to exchange hacks.
(Blockchain Simplified is a top Blockchain development company in Pune, India. Visit us at https://blockchainsimplified.com)
Decentralized Insurance - A promising sector for DeFi
Decentralized insurance is a promising sector due to the transparency and security it provides to investors. Currently there are only a couple of products available but it certainly has the potential to grow and expand in the future. DeFi and its applications like Decentralized Finance will continue to rule the market for years to come.
About Blockchain Simplified
Blockchain Simplified is a Top blockchain development company in Pune - India which works on all major Blockchain requirements. We specialise in Blockchain, Web and Mobile development (One Stop Shop for all technology development needs).
Our clientele includes Multiple Funded Start - Ups, SMBs and few MNCs few of which are NASDAQ and NSE listed.
Some of our work includes,
Blockchain based-
hubrisone.com - is a Live app with 100,000+ downloads, All-in-One Cryptocurrency current account. The entire development from scratch carried out by Blockchain Simplified.
All in one Platform - Complete responsibility of entire software development of the platform ,for a $1m funded blockchain start up, led by a team of serial entrepreneurs and tech veterans in Silicon Valley.
Well funded Blockchain startup - Blockchain Simplified helped a $6m funded American Blockchain startup to build the first blockchain protocol to leverage on-chain smart contracts to manage distributed storage of application data off-chain.
Multinational Bank - The company helped one of the top 3 ranking Multinational Banks to integrate various cryptocurrencies into their banking application.
and more…
Non-Blockchain-
SHC - Built entire platform and app from scratch for a $1m funded startup led by a team of Americans including PhD degree holders.
VMW - Developed app for a multi-national company providing mass factory-to-factory shipment services. App is being used by 53 of the Fortune 500 companies such as John Deere, Coca-Cola, Nissan.
and more…
Expertise
Blockchain Development : Bitcoin, Ethereum, Hyperledger, Corda, and more.
Mobile App Development : Android Native, iOS Native, React Native, Flutter, Xamarin.
UI/UX Design : Strategy, Planning, UI/UX Design, Wireframing, Visual Designs.
Web App Development : Node.JS, Angular, React.JS, PHP.
Backend Development : MongoDB, MySQL, AWS, Firebase.
Visit our official website https://blockchainsimplified.com/ for more information.