Tapping Blockchain's potential in the Human Resources sector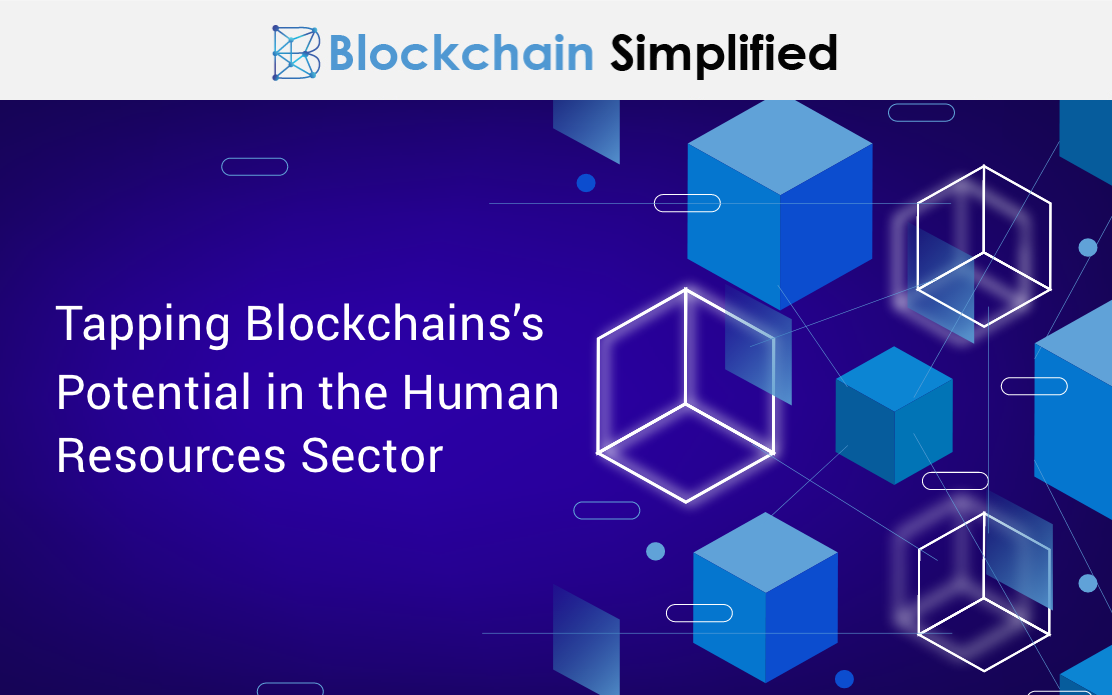 Blockchain is transforming the way organizations are functioning. Not only has it brought remarkable changes in its parent field of Cryptocurrency and Decentralized Finance, but it has penetrated every possible field from Artificial Intelligence, Energy, Agriculture to Media & Telecommunications, Tourism, Social Media etc. The use-cases of Blockchain in all these fields are plenty and the difference it has brought in is phenomenal. Likewise, another field that is warming up to Blockchain is the Human Resources sector.
One of the very important departments of any organization or business, the Human Resources (HR) is not very tech-savvy in its approach but is mostly dependent on manual tasks. The HR team has multiple day to day tasks as well as weekly and monthly activities to be carried out regularly and efficiently. From recruiting employees, organizing interviews, running background verification checks, maintaining employee data, their confidential and personal information, processing employee payroll, managing their taxes, maintaining ledgers for audit purposes etc are some of the many activities that the human resources team has to carry on a regular basis. Most of these tasks are not automated and require maximum human intervention. Thus, processes are time-consuming, error-prone and averse to any upgrades or improvements.
Implementation of Blockchain not only eliminates manual processes but also streamline them to provide a smoother experience to Human Resource as well as employees. Today in this blog, let us see how Blockchain can help solve the challenges associated with the HR field.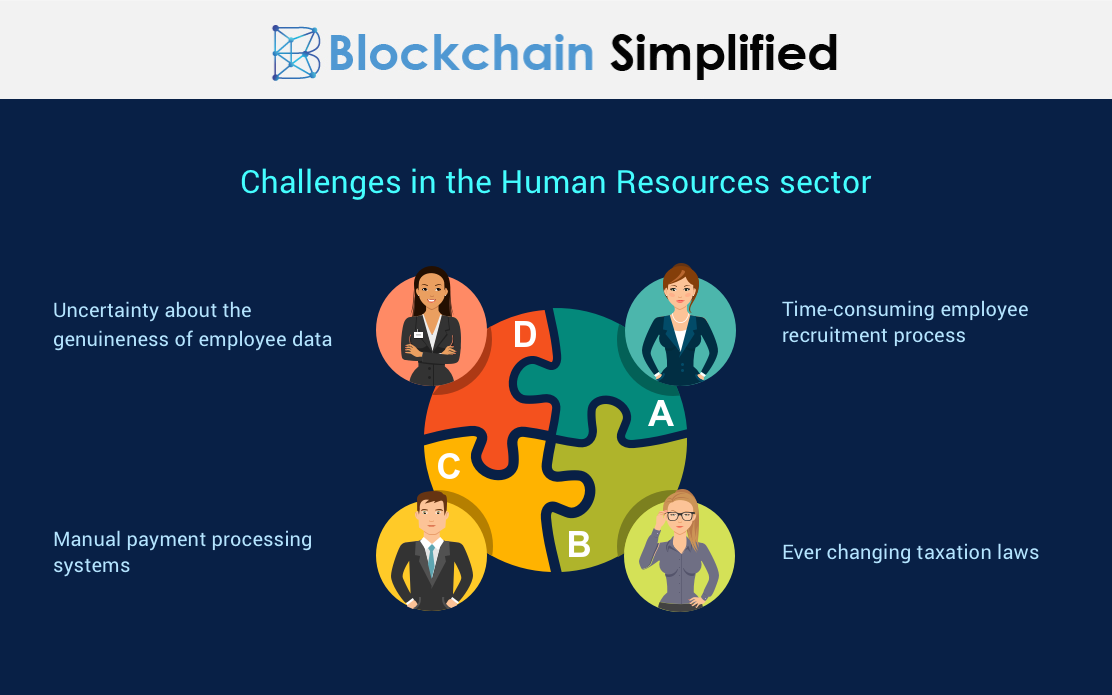 Blockchain for Human Resources Management - Increased security for storage of confidential employee data
It is the responsibility of the Human Resources to maintain sensitive and confidential data of employees related to their background check, their payroll, insurance, taxes, performance etc. Maintaining such huge volumes of data is like inviting fraudsters and hackers unintentionally. It becomes easy for malicious users to attack such a system and steal important and personal data. Blockchain can come to the rescue in such situations thanks to its reliability security feature. Blockchain is the best solution for issues related to cybersecurity. Its immutability feature does not permit making changes to the ledger by any party without maintaining the hash.. Thus, sensitive personal records of employees are safe and secure as it is easy to track down the changes as well as the person who has made the changes, if there is any misappropriation.
(Visit us at https://blockchainsimplified.com to hire Blockchain developers. We are an offshore blockchain development company based out of Pune, India)
Blockchain for Human Resources Management - Authentic background checks of employee & Streamlined employee recruitment processes
Employees submitting inauthentic data regarding education, work experience or any other personal data is a very common phenomenon. Although human resources carry out a thorough verification process to assess any employee's background, the process itself is extremely slow and time-consuming. Plus, these processes also turn out to be expensive therefore increasing the cost overheads of the company. Blockchain can act as a saviour in such situations by providing a single platform to store all genuine information of candidates/employees and this can be used as a single source of extracting data for any firm. By implementing such an application, the number of incidents of producing bogus information can be reduced to a large extent. Blockchain's transparency helps candidates as well as companies to rely on the system for accurate information. A well performed background check also means that the half of the recruitment process is sorted.
Blockchain for Human Resources Management - Automated employee payroll generation & management systems
Payroll generation and management is one of the most critical but a tedious process in any company. Until now, this process involved a lot of manual intervention. And when it comes to humans doing tasks, they are bound to commit mistakes. Blockchain can automate all these manual tasks using smart contracts that can be developed for generating triggers to generate and disburse payments. Blockchain also makes it possible to facilitate cross border transactions and payments without any hassles regarding exchange rate conversion. All this is automatically calculated using smart contracts. Not only employees, blockchain and smart contracts can be used to pay vendors, suppliers and other sources associated with the company. According to a report, more than 40% companies have started applying Blockchain to their internal HR processes.
(https://blockchainsimplified.com is a top offshore Blockchain development company in Pune, India.)
Blockchain for Human Resources Management - Computerized taxation procedures & Mitigation of daunting audit activities
The Human Resources team also has an important job of handling taxes of employees as well as the company. Calculating different taxes for employees, for the company, catching up ever changing taxation laws, etc become complicated tasks for the HR. Blockchain solves this problem by being able to securely maintain ledgers of all the transactions, records of the employees and their taxes, etc. By maintaining authentic data and information regarding employees, taxes, profits, losses all on a Blockchain platform, it also becomes easier for a company when confronted with an audit. It becomes obvious that since records are on Blockchain, they are genuine and real.
Blockchain for Human Resources Management
Looking at the above scenarios, it is pretty evident that Blockchain has the potential to disrupt many Human Resources activities like maintaining security and integrity of personal data, payroll management, background verification, taxation procedures etc. Although many companies have started applying Blockchain in their daily activities, there are still many that yet to recognize its potential. But the day is not far when Blockchain will rule the Human Resources sector as well.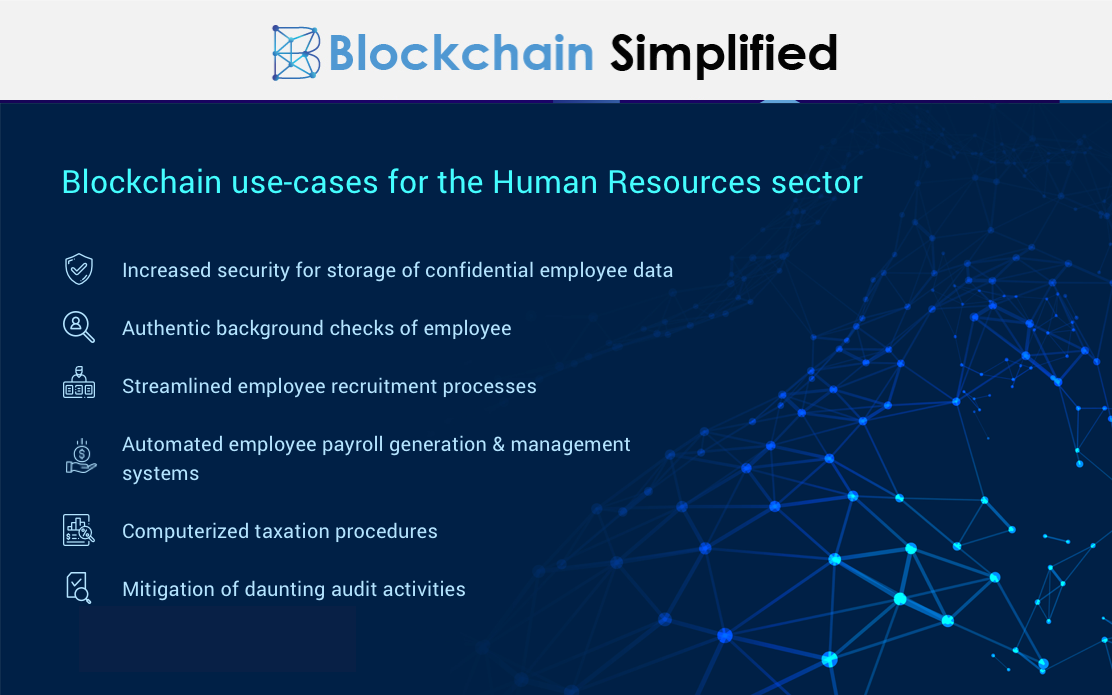 About Blockchain Simplified
Blockchain Simplified is a Top blockchain development company in Pune - India which works on all major Blockchain requirements. We specialise in Blockchain, Web and Mobile development (One Stop Shop for all technology development needs).
Our clientele includes Multiple Funded Start - Ups, SMBs and few MNCs few of which are NASDAQ and NSE listed.
Some of our work includes,
Blockchain based-
hubrisone.com - is a Live app with 100,000+ downloads, All-in-One Cryptocurrency current account. The entire development from scratch carried out by Blockchain Simplified.
All in one Platform - Complete responsibility of entire software development of the platform ,for a $1m funded blockchain start up, led by a team of serial entrepreneurs and tech veterans in Silicon Valley.
Well funded Blockchain startup - Blockchain Simplified helped a $6m funded American Blockchain startup to build the first blockchain protocol to leverage on-chain smart contracts to manage distributed storage of application data off-chain.
Multinational Bank - The company helped one of the top 3 ranking Multinational Banks to integrate various cryptocurrencies into their banking application.
and more…
Non-Blockchain-
SHC - Built entire platform and app from scratch for a $1m funded startup led by a team of Americans including PhD degree holders.
VMW - Developed app for a multi-national company providing mass factory-to-factory shipment services. App is being used by 53 of the Fortune 500 companies such as John Deere, Coca-Cola, Nissan.
and more…
Expertise
Blockchain Development : Bitcoin, Ethereum, Hyperledger, Corda, and more.
Mobile App Development : Android Native, iOS Native, React Native, Flutter, Xamarin.
UI/UX Design : Strategy, Planning, UI/UX Design, Wireframing, Visual Designs.
Web App Development : Node.JS, Angular, React.JS, PHP.
Backend Development : MongoDB, MySQL, AWS, Firebase.
Visit our official website https://blockchainsimplified.com/ for more information