The WalletConnect protocol - a bridge between dApps and mobile wallets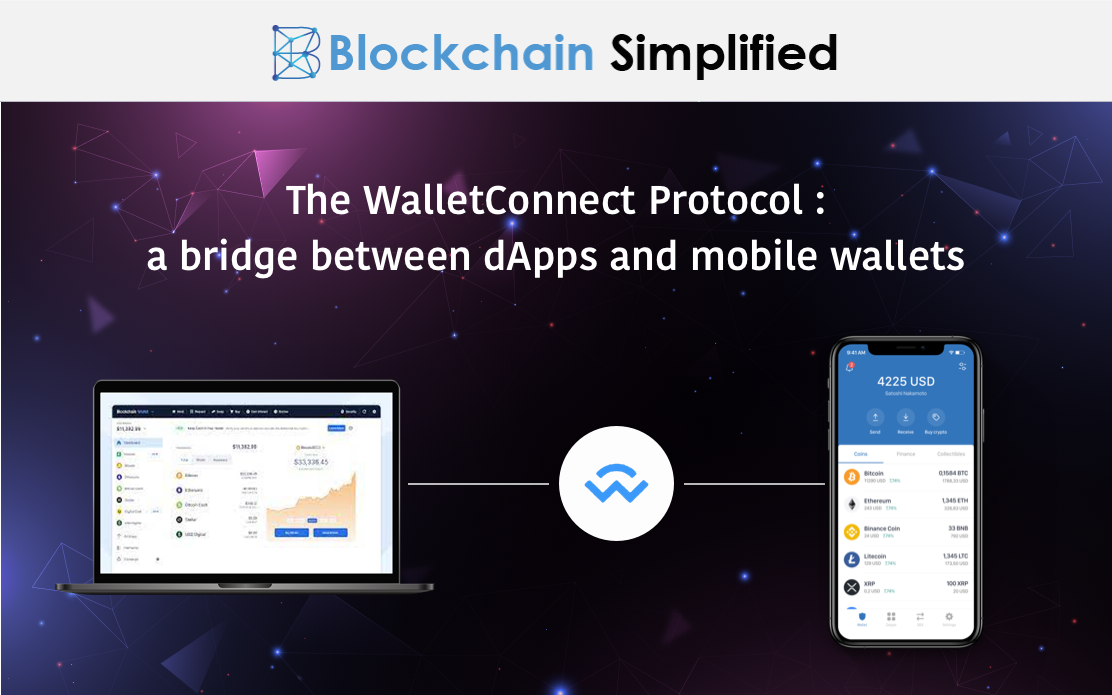 One of the most important requisites to become a crypto user in the blockchain space is to own a crypto wallet. There are plenty of wallets available in the crypto market for users' perusal like the Metamask wallet for Ethereum, Bitcoin Wallet etc. A crypto wallet needs to have certain characteristics that make it easily viable, simple to use and user-friendly. Go through this blog on crypto wallet development to understand more.
Today, in this blog, let us learn about one more very popular crypto wallet that is available in the crypto market today : WalletConnect.
What is the WalletConnect protocol?
1) WalletConnect is more of a bridge between Decentralized Applications (DApps) and mobile wallets, than a wallet itself.
2) It is an open protocol that enables establishing a connection between crypto wallets and desktop apps.
3) Using WalletConnect, users can scan a QR code on their wallet app that allows a seamless integration with the user interface of the web app.
(To hire Blockchain developers, visit us at https://blockchainsimplified.com)
Features of the WalletConnect protocol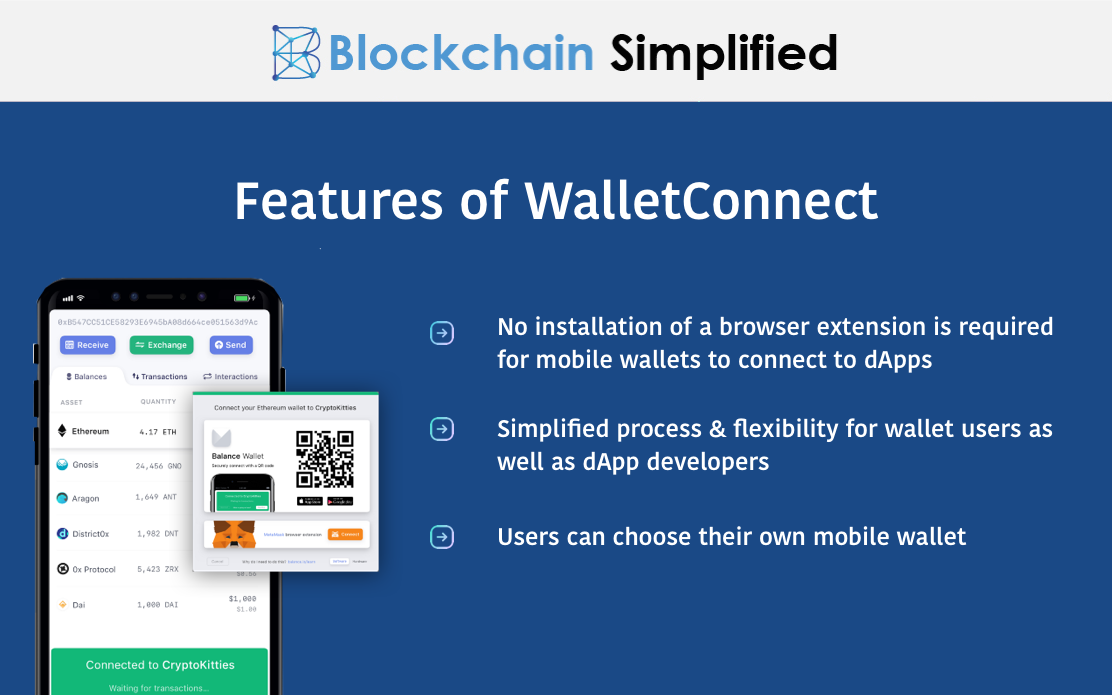 1) Unlike Metamask, WalletConnect does not require installing a browser extension for mobile wallets to connect to dApps.
2) Users can choose their own mobile wallet since WalletConnect facilitates the connection of any wallet with any dApp.
3) WalletConnect has not only simplified the process for wallet users but has also provided much needed flexibility to the dApp developers.
How does WalletConnect work?
To start with, users are first required to scan a QR code (of the respective web dApp) from their wallet app on their mobile device. WalletConnect establishes a secure encrypted connection between the wallet and the application. The dApp is then required to approve the connection request from the wallet post which it sends transaction requests which then the wallet has to approve. Once connection is established, the user can easily access the smart contracts and other aspects of the dApps.
(Visit us at https://blockchainsimplified.com to hire Blockchain developers. We are an offshore Blockchain development company based out of Pune, India)
Benefits of the WalletConnect protocol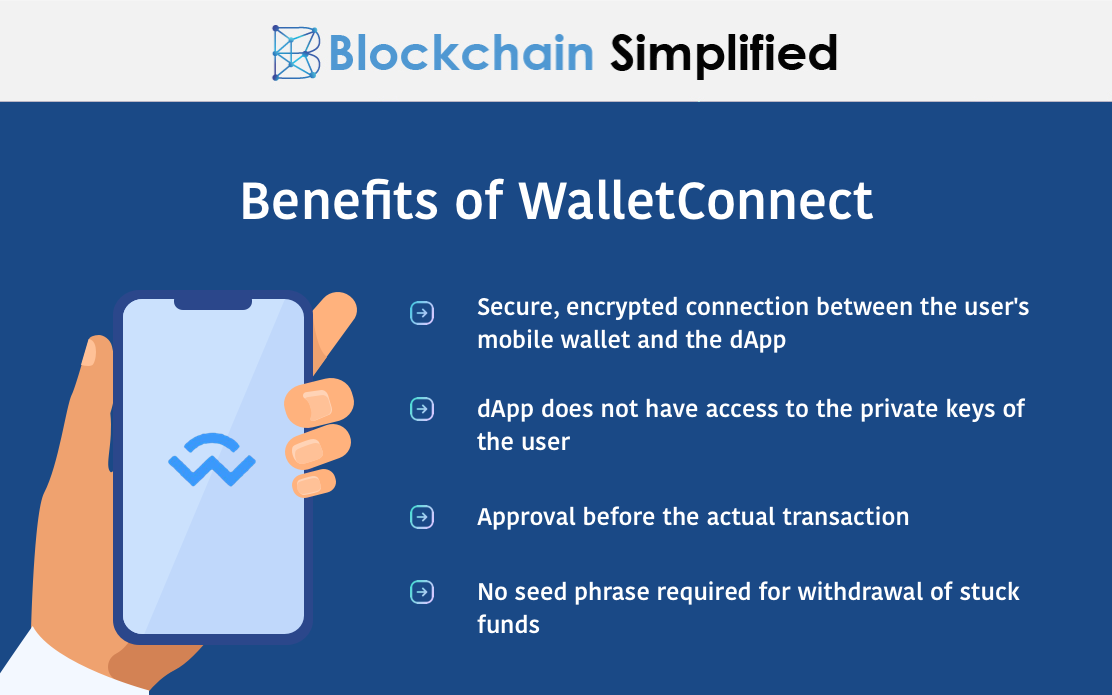 1) WalletConnect establishes an encrypted connection between the user's mobile wallet and the dApp which makes it extremely secure.
2) That being said, even though there is a strong connection, the dApp does not have access to the private keys of the user.
3) Every time there is a transaction, WalletConnect always asks for an approval before the actual transaction takes place which means the user's money is not spent without him/her having the knowledge of it.
4) Unlike popular dApp connecting options like Status, WalletConnect does not require the private key or the seed phrase in case of withdrawal of any stuck funds.
About Blockchain Simplified
Blockchain Simplified is a Top blockchain development company in Pune - India which works on all major Blockchain requirements. We specialise in Blockchain, Web and Mobile development (One Stop Shop for all technology development needs).
Our clientele includes Multiple Funded Start - Ups, SMBs and few MNCs few of which are NASDAQ and NSE listed.
Some of our work includes,
Blockchain based-
hubrisone.com - is a Live app with 100,000+ downloads, All-in-One Cryptocurrency current account. The entire development from scratch carried out by Blockchain Simplified.
All in one Platform - Complete responsibility of entire software development of the platform ,for a $1m funded blockchain start up, led by a team of serial entrepreneurs and tech veterans in Silicon Valley.
Well funded Blockchain startup - Blockchain Simplified helped a $6m funded American Blockchain startup to build the first blockchain protocol to leverage on-chain smart contracts to manage distributed storage of application data off-chain.
Multinational Bank - The company helped one of the top 3 ranking Multinational Banks to integrate various cryptocurrencies into their banking application.
and more…
Non-Blockchain-
SHC - Built entire platform and app from scratch for a $1m funded startup led by a team of Americans including PhD degree holders.
VMW - Developed app for a multi-national company providing mass factory-to-factory shipment services. App is being used by 53 of the Fortune 500 companies such as John Deere, Coca-Cola, Nissan.
and more…
Expertise
Blockchain Development : Bitcoin, Ethereum, Hyperledger, Corda, and more.
Mobile App Development : Android Native, iOS Native, React Native, Flutter, Xamarin.
UI/UX Design : Strategy, Planning, UI/UX Design, Wireframing, Visual Designs.
Web App Development : Node.JS, Angular, React.JS, PHP.
Backend Development : MongoDB, MySQL, AWS, Firebase.
Visit our official website https://blockchainsimplified.com/ for more information