A short guide on Metamask wallet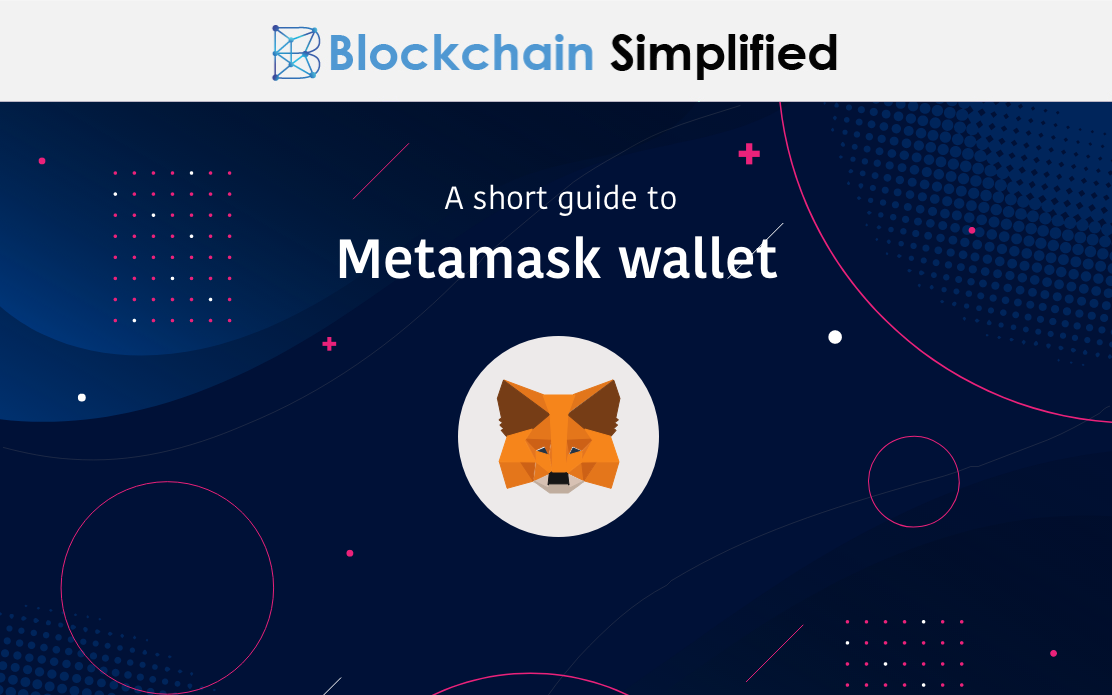 Developers today are more and more inclined towards building decentralized applications (dApps). These applications have to constantly communicate with blockchain platforms which, sometimes, is not a very smooth process and thus there is a need for some solution that makes this communication easier.
This was reason enough to bring into development, Metamask, an extension that eases the communication between dApps and the Ethereum Blockchain. In this blog, we will learn in detail what Metamask is, its functionalities and what are its benefits.
(Visit us at https://blockchainsimplified.com to hire Blockchain developers. We are an offshore Blockchain development company based out of Pune, India)
What is Metamask?
-Metamask is an extension or a plugin that can be installed on many web-browsers like Chrome, Firefox etc. It is an easy way for users to connect to dApps on Ethereum to engage in crypto trading.
-MetaMask also acts as a wallet for Ethereum where users can store Ether/tokens.
-Metamask is not only a wallet but also an entry point to connect to many DeFi apps like Compound Finance and also to Layer 2 Scaling solutions like the Matic Network. (Here is how to configure Metamask to connect to Matic)
-The Metamask interface provides two tabs - one for accessing your assets and one for seeing your transaction history and activities. Other features include "Buy", "Send", and "Swap" options which are self explanatory. If you wish to understand more about the Buy, Send and Swap options on Metamask wallet, go through this article.
-Connecting with dApps like Uniswap is only a matter of clicking a button on the application website. Metamask is available on both iOS and Android mobile phones.
(Learn how to set up a Metamask wallet)
Source : academy.ivanontech.com
(To hire Blockchain developers, visit us at https://blockchainsimplified.com)
Advantages of Metamask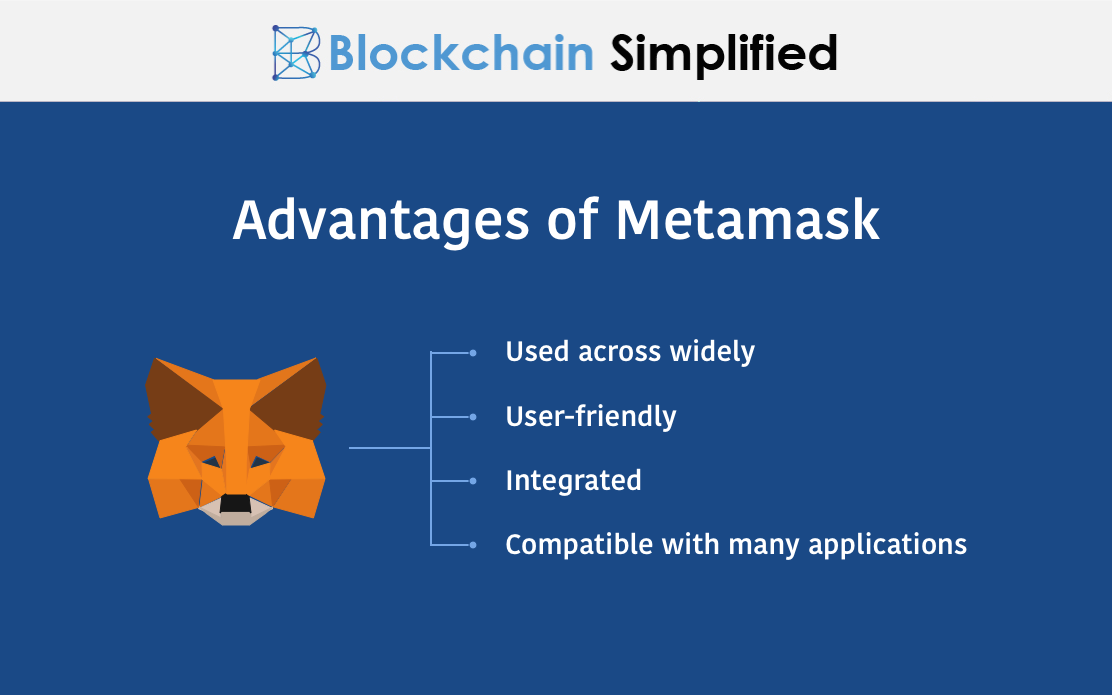 Used across widely - Due to its easy and streamlined process, Metamask wallet is widely used across various dApps. Also, the Metamask plugin is the same for multiple browsers which makes it extremely easy to use.
User-friendly - The user need not remember or manage private keys, instead they can access the Metamask wallet only by using their seed phrase.
Integrated & Compatible with many applications - Communicating with multiple dApps like Uniswap or Compound is very easy since all these are totally compatible with Metamask wallet. Transferring tokens has never been so easy.
About Blockchain Simplified
Blockchain Simplified is a Top blockchain development company in Pune - India which works on all major Blockchain requirements. We specialise in Blockchain, Web and Mobile development (One Stop Shop for all technology development needs).
Our clientele includes Multiple Funded Start - Ups, SMBs and few MNCs few of which are NASDAQ and NSE listed.
Some of our work includes,
Blockchain based-
hubrisone.com - is a Live app with 100,000+ downloads, All-in-One Cryptocurrency current account. The entire development from scratch carried out by Blockchain Simplified.
All in one Platform - Complete responsibility of entire software development of the platform ,for a $1m funded blockchain start up, led by a team of serial entrepreneurs and tech veterans in Silicon Valley.
Well funded Blockchain startup - Blockchain Simplified helped a $6m funded American Blockchain startup to build the first blockchain protocol to leverage on-chain smart contracts to manage distributed storage of application data off-chain.
Multinational Bank - The company helped one of the top 3 ranking Multinational Banks to integrate various cryptocurrencies into their banking application.
and more…
Non-Blockchain-
SHC - Built entire platform and app from scratch for a $1m funded startup led by a team of Americans including PhD degree holders.
VMW - Developed app for a multi-national company providing mass factory-to-factory shipment services. App is being used by 53 of the Fortune 500 companies such as John Deere, Coca-Cola, Nissan.
and more…
Expertise
Blockchain Development : Bitcoin, Ethereum, Hyperledger, Corda, and more.
Mobile App Development : Android Native, iOS Native, React Native, Flutter, Xamarin.
UI/UX Design : Strategy, Planning, UI/UX Design, Wireframing, Visual Designs.
Web App Development : Node.JS, Angular, React.JS, PHP.
Backend Development : MongoDB, MySQL, AWS, Firebase.
Visit our official website https://blockchainsimplified.com/ for more information