Comparing Polkadot vs Kusama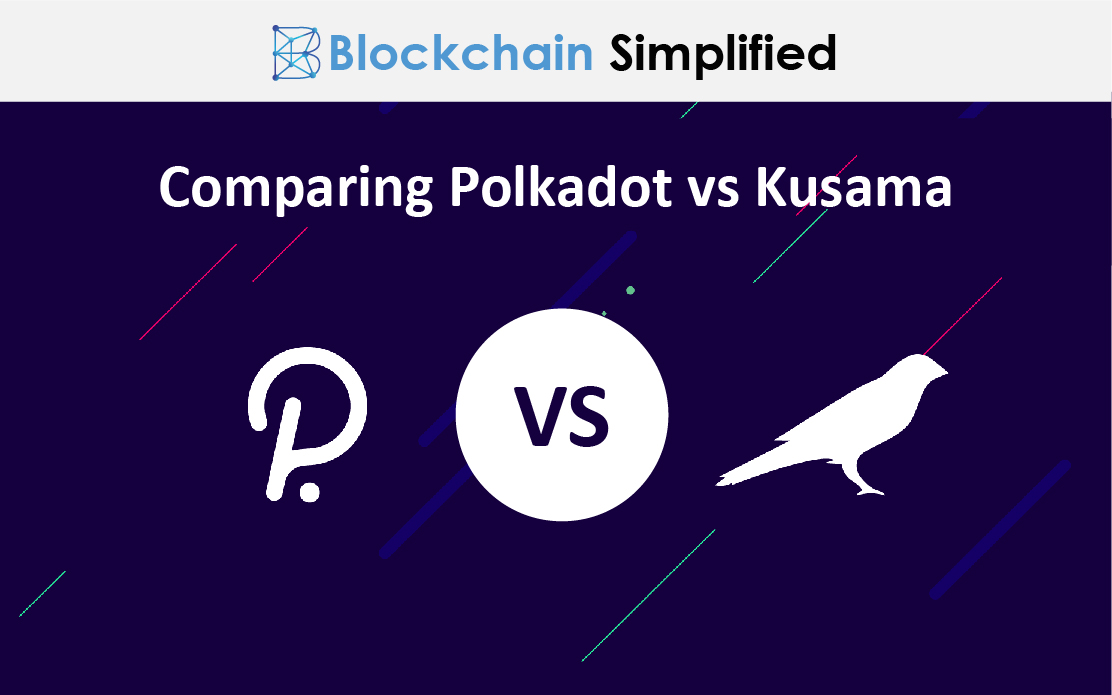 So in our previous blogs, we read about Polkadot and Kusama. Polkadot is a blockchain protocol to enhance interoperability between multiple blockchain platforms whereas Kusama is the Canary testnet for Polkadot to deploy early stage applications.
Polkadot and Kusama are built using the same codebase and the set-up, the architecture is completely identical. Both platforms have multi chains running concurrently but integrated with each other, function on the concept of sharding, submit crosslinks for message communication, support forkless upgrades, execute On-Chain Governance etc. While the similarities are plenty, there are also few but critical differences between both the networks. Polkadot and Kusama, although built using the same tools and codebase, differ in their purpose.
In this blog, let us understand in depth how Kusama and Polkadot are similar yet dissimilar from each other in terms of their use-cases and their features.
(https://blockchainsimplified.com is a top offshore Ethereum development company in Pune, India.)
Polkadot vs Kusama - Benefits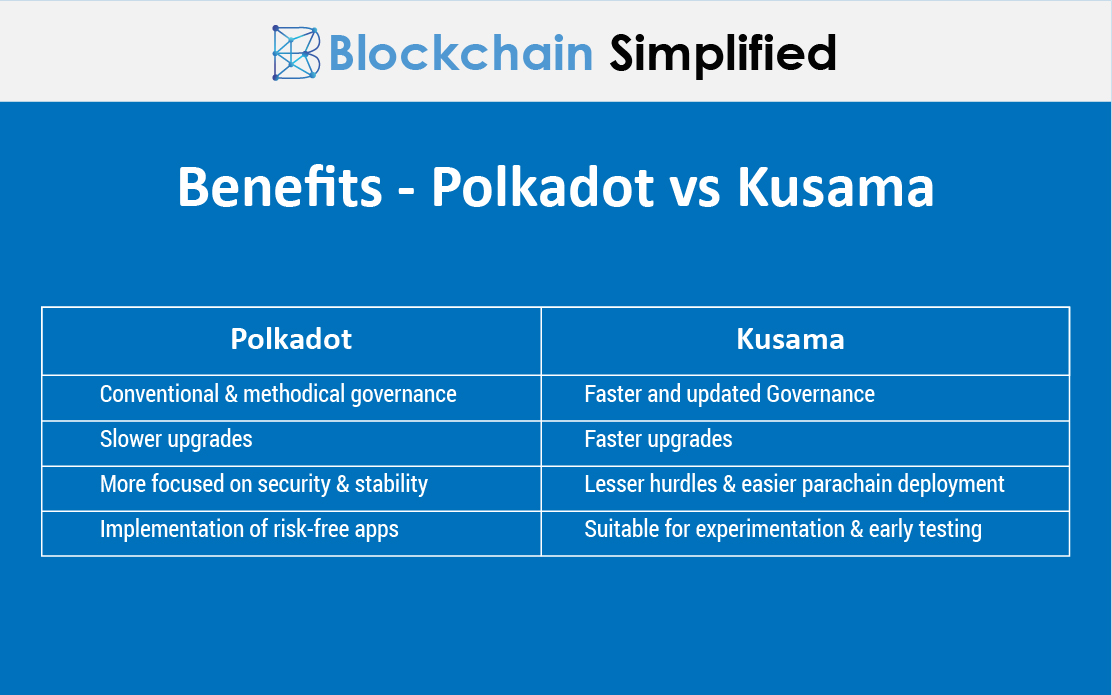 Kusama, unlike its cousin Polkadot, shuns the methodical and conventional governance model, and provides a more updated and faster governance mechanism. Faster governance means faster referendums, faster approvals and faster upgrades. If Polkadot gives 28 days for voters to come to a decision for any upgrade and the next 28 days for realization, Kusama is 4 times faster than Polkadot with only 7 days for voting and the next 8 days for realization. This does not necessarily mean that Kusama as a blockchain is faster than Polkadot, but just that the decisions on governance are taken faster. Thus, Kusama is far better than Polkadot w.r.t easy adaptability and evolution. Voters and validators are expected to always be on their toes on the Kusama network for faster approvals and votes as the network is high on speed. But validators who prefer slower and smoother activities are better off on Polkadot.
While this is the most required aspect for early application deployments, it is the same feature of faster approvals and upgrades that land Kusama in dangerous situations, full of risks and errors. But isn't that what Kusama is built for? To gauge vulnerabilities and warn developers before the application moves to Polkadot. It is this feature of Kusama that saves Polkadot from all hazards in the later stage.
Thanks to Kusama, developers have it easy when it comes to parachain deployments. Although KSM tokens on Kusama are real, staking on the network is lesser compared to Polkadot. It is not an easy and simple process to acquire parachain slots on Polkadot due to the staking costs involved. Hence, developers prefer deploying and testing their apps on Kusama.
Polkadot vs Kusama - Applications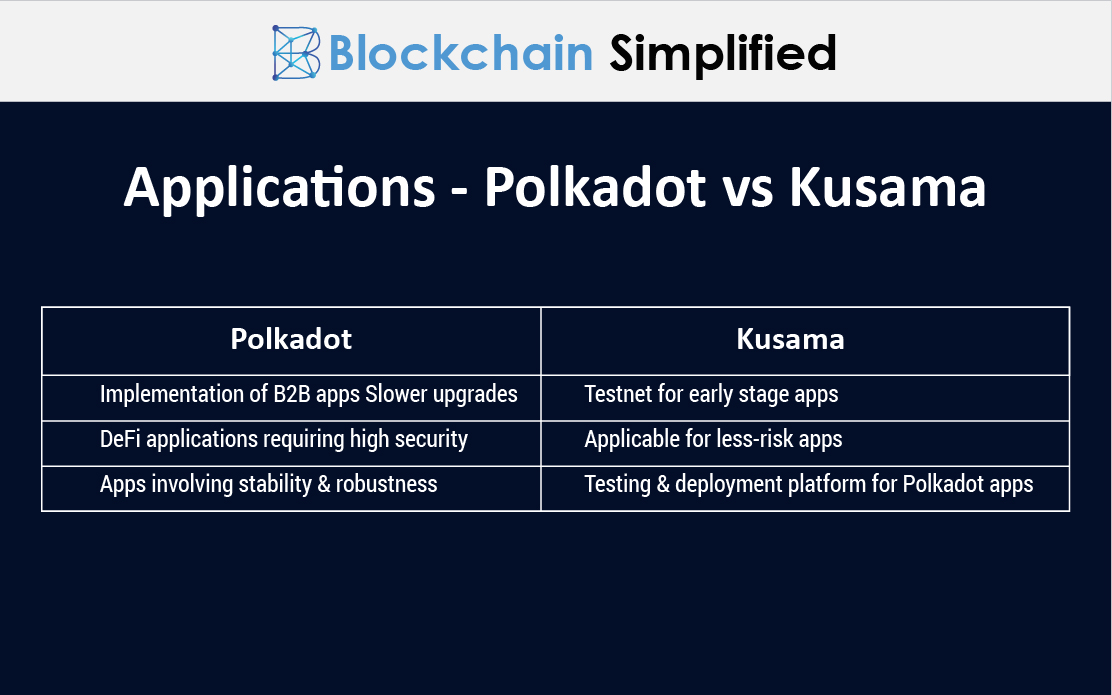 When it comes to building DeFi, risk-free applications requiring high security, stability and robustness, Polkadot is "the" answer. Polkadot is the most safe and reliable platform for building apps related to banking and finance, thanks to its stable and sturdy features. Kusama, on the other hand, is an easily accessible testnet for applications that are open for experimentation and research or those that do not actually require high-level security like social media and gaming. Kusama is the best platform for newer experimentations like building DAOs. Kusama can also be used as a test environment for apps that eventually need to be deployed on Polkadot to check their performance, go through extensive testing, to identify errors and loopholes.
(Visit us at https://blockchainsimplified.com to hire Polkadot developers. We are an offshore blockchain development company based out of Pune, India)
Polkadot vs Kusama
Polkadot is the current favourite and might as well be the future of the decentralized web community. No other network has been able to compete or dethrone it up until now and it continues to rule. Kusama is not Polkadot's competitor in any sense, but is an independent network of its own, acting as a Canary network of Polkadot. Both are meant to serve different purposes and have been doing that quite well. It is now for the world to see the reach and potential both of them have.
About Blockchain Simplified
Blockchain Simplified is a Top blockchain development company in Pune - India which works on all major Blockchain requirements. We specialise in Blockchain, Web and Mobile development (One Stop Shop for all technology development needs).
Our clientele includes Multiple Funded Start - Ups, SMBs and few MNCs few of which are NASDAQ and NSE listed.
Some of our work includes,
Blockchain based-
hubrisone.com - is a Live app with 100,000+ downloads, All-in-One Cryptocurrency current account. The entire development from scratch carried out by Blockchain Simplified.
All in one Platform - Complete responsibility of entire software development of the platform ,for a $1m funded blockchain start up, led by a team of serial entrepreneurs and tech veterans in Silicon Valley.
Well funded Blockchain startup - Blockchain Simplified helped a $6m funded American Blockchain startup to build the first blockchain protocol to leverage on-chain smart contracts to manage distributed storage of application data off-chain.
Multinational Bank - The company helped one of the top 3 ranking Multinational Banks to integrate various cryptocurrencies into their banking application.
and more…
Non-Blockchain-
SHC - Built entire platform and app from scratch for a $1m funded startup led by a team of Americans including PhD degree holders.
VMW - Developed app for a multi-national company providing mass factory-to-factory shipment services. App is being used by 53 of the Fortune 500 companies such as John Deere, Coca-Cola, Nissan.
and more…
Expertise
Blockchain Development : Bitcoin, Ethereum, Hyperledger, Corda, and more.
Mobile App Development : Android Native, iOS Native, React Native, Flutter, Xamarin.
UI/UX Design : Strategy, Planning, UI/UX Design, Wireframing, Visual Designs.
Web App Development : Node.JS, Angular, React.JS, PHP.
Backend Development : MongoDB, MySQL, AWS, Firebase.
Visit our official website https://blockchainsimplified.com/ for more information