A look through Kusama network - Polkadot's Canary testing cousin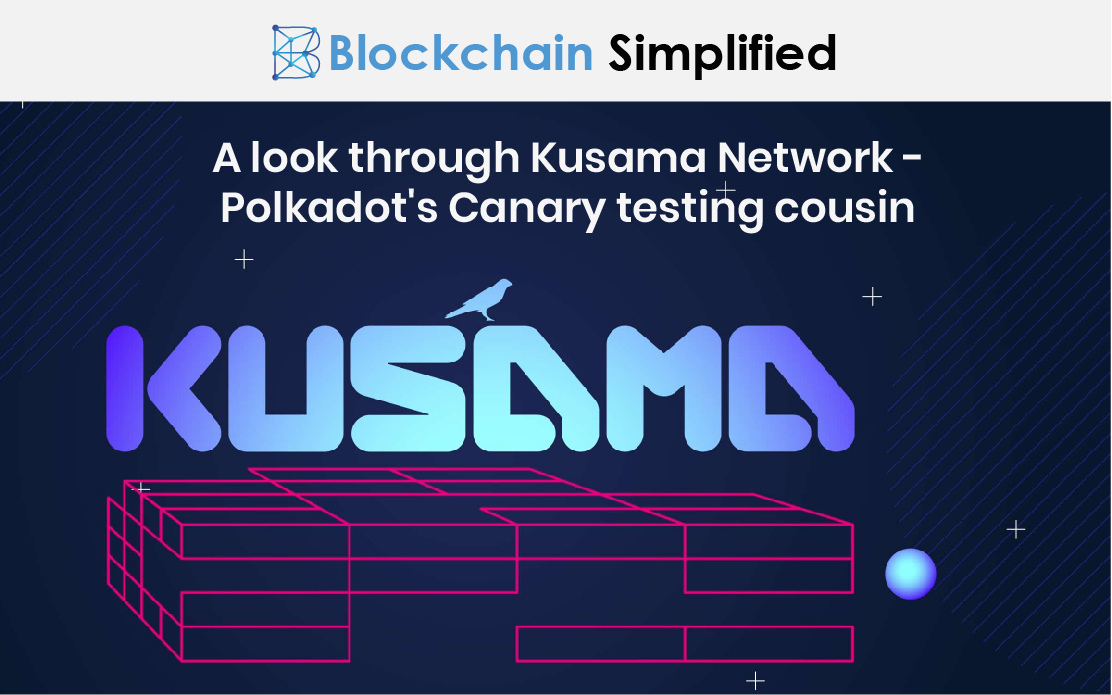 In the world of software, Canary Testing refers to releasing new software or updates to a selected set of users, who can generate early warnings or issues, before releasing it to all users. Canary Testing helps detect vulnerabilities in the code and issues warnings beforehand so that early actions can be taken.
Similarly, Kusama Network is the Canary testnet for Polkadot. Let us learn more about Kusama Network in this blog and how it helps Polkadot test changes and deployments.
What is Kusama Network?
-Kusama network was developed with the objective of solving coding vulnerabilities in the Polkadot system.
-It is a separate platform dedicated to research and development related activities for Polkadot as well as testing new features before actual implementation on the mainnet Polkadot.
-Kusama Network helps developers deploy and test their parachains.
-While Kusama can be called a Polkadot testnet, what differentiates it from other testnets is that testing is not done using demo functions or tokens but with real ones that have actual value.
-This helps developers understand and gauge the risks, if any, that lie in Polkadot's development.
(Visit us at https://blockchainsimplified.com to hire Polkadot developers. We are an offshore blockchain development company based out of Pune, India)
Kusama Network Token and Consensus Protocol
Kusama is built on the same lines of code as Polkadot. The architecture, the working, the functionality everything is exactly similar to Polkadot. The native token of Kusama Network is the KSM. Token holders can use the KSM token for staking to become a validator in the network or participate in the governance of the network. There are many ways to participate in the Kusama network and earn KSM tokens. If any investor has previously earned DOT tokens from the Polkadot sale, then he/she is automatically eligible to get an equivalent amount of KSM tokens. Grants from the web3 foundation, Bug Bounty program are some of the other ways to earn the KSM token.
Like Polkadot, Kusama Network also uses the Proof-of-Stake (PoS) consensus algorithm. In this model, validators are appointed on the basis of their stakes in the network. Validators are selected by their staking amount, the staking amount of the voters who voted for them and the average of the amount staked.
(https://blockchainsimplified.com is a top offshore Ethereum development company in Pune, India.)
Who is responsible for Canary Testing on Kusama Network?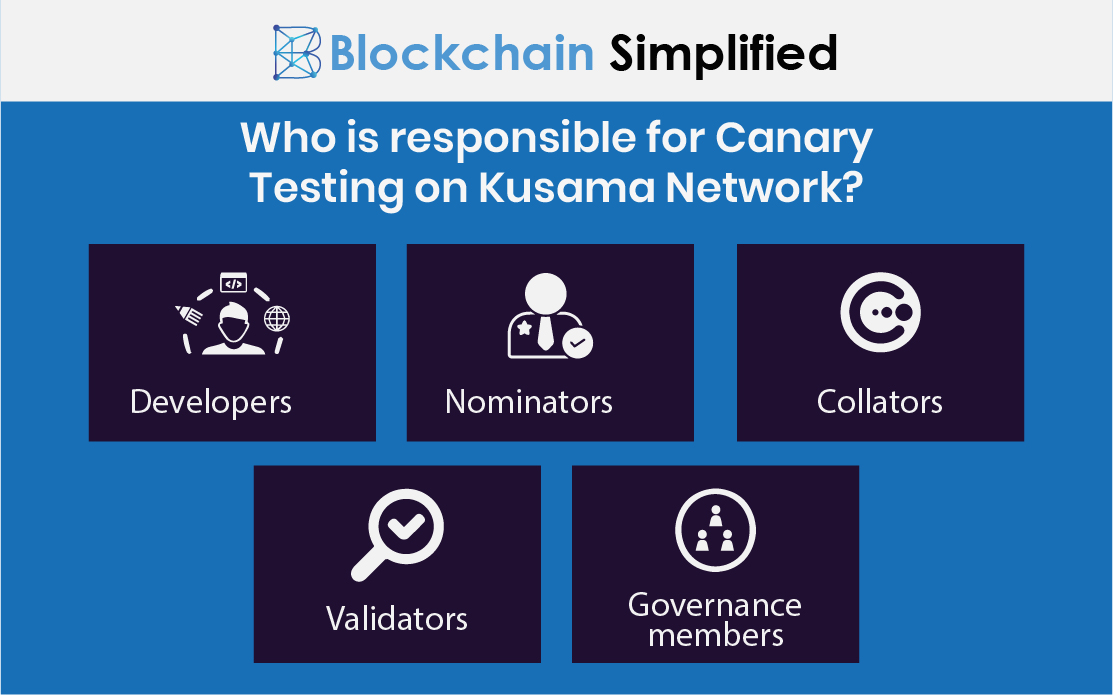 Developers
Developers developing their dApps and smart contracts for Polkadot should first consider building these for the Kusama network. The base of Kusama, the code, the structure and the functionality is the same as Polkadot, hence building applications here first will give the developers a near final picture of how the applications work. Any vulnerability or bug can be easily solved on the Kusama network itself before the application is finally deployed on the Polkadot mainnet. This way the final application or the new feature deployed on Polkadot is error free.
Nominators
As we read above, nominators or voters are responsible for voting and electing the validators on the Kusama. For this purpose, they also have to stake in their KSM tokens and participate in the voting process. Here is a detailed guide on how to nominate a validator on the Kusama network.
Collators
The job of the collators on the Kusama Network is to receive the parachain transaction information and the crosslinks from them and provide the state transition function information to validators. As we saw in the GRANDPA protocol blog, these collators also produce new blocks for verification by validators.
Validators
An important part of the network, validators are elected by nominators and are responsible for verification, validation and addition of new blocks on the network. Validators stake their tokens in the network in order to be eligible for the "validator" role. They also earn rewards for carrying out their validation activities.
Governance members
Governance members on Kusama Network are responsible for taking community development improvement initiatives and decisions on how these techniques are implemented. Any members on the network can submit proposals by depositing a minimum amount of KSM token. The referendum chamber representing all KSM holders has the authority to accept/deny proposals, vote for referendum members, council members etc. Council members select technical members, discuss with them regarding feasibility of proposals, time estimations, fast-tracking decisions etc. Technical members have the job of estimating time frames of projects, gauge and understand the criticality of the project etc.
About Blockchain Simplified
Blockchain Simplified is a Top blockchain development company in Pune - India which works on all major Blockchain requirements. We specialise in Blockchain, Web and Mobile development (One Stop Shop for all technology development needs).
Our clientele includes Multiple Funded Start - Ups, SMBs and few MNCs few of which are NASDAQ and NSE listed.
Some of our work includes,
Blockchain based-
hubrisone.com - is a Live app with 100,000+ downloads, All-in-One Cryptocurrency current account. The entire development from scratch carried out by Blockchain Simplified.
All in one Platform - Complete responsibility of entire software development of the platform ,for a $1m funded blockchain start up, led by a team of serial entrepreneurs and tech veterans in Silicon Valley.
Well funded Blockchain startup - Blockchain Simplified helped a $6m funded American Blockchain startup to build the first blockchain protocol to leverage on-chain smart contracts to manage distributed storage of application data off-chain.
Multinational Bank - The company helped one of the top 3 ranking Multinational Banks to integrate various cryptocurrencies into their banking application.
and more…
Non-Blockchain-
SHC - Built entire platform and app from scratch for a $1m funded startup led by a team of Americans including PhD degree holders.
VMW - Developed app for a multi-national company providing mass factory-to-factory shipment services. App is being used by 53 of the Fortune 500 companies such as John Deere, Coca-Cola, Nissan.
and more…
Expertise
Blockchain Development : Bitcoin, Ethereum, Hyperledger, Corda, and more.
Mobile App Development : Android Native, iOS Native, React Native, Flutter, Xamarin.
UI/UX Design : Strategy, Planning, UI/UX Design, Wireframing, Visual Designs.
Web App Development : Node.JS, Angular, React.JS, PHP.
Backend Development : MongoDB, MySQL, AWS, Firebase.
Visit our official website https://blockchainsimplified.com/ for more information.