All about GRANDPA - the block finality protocol in Polkadot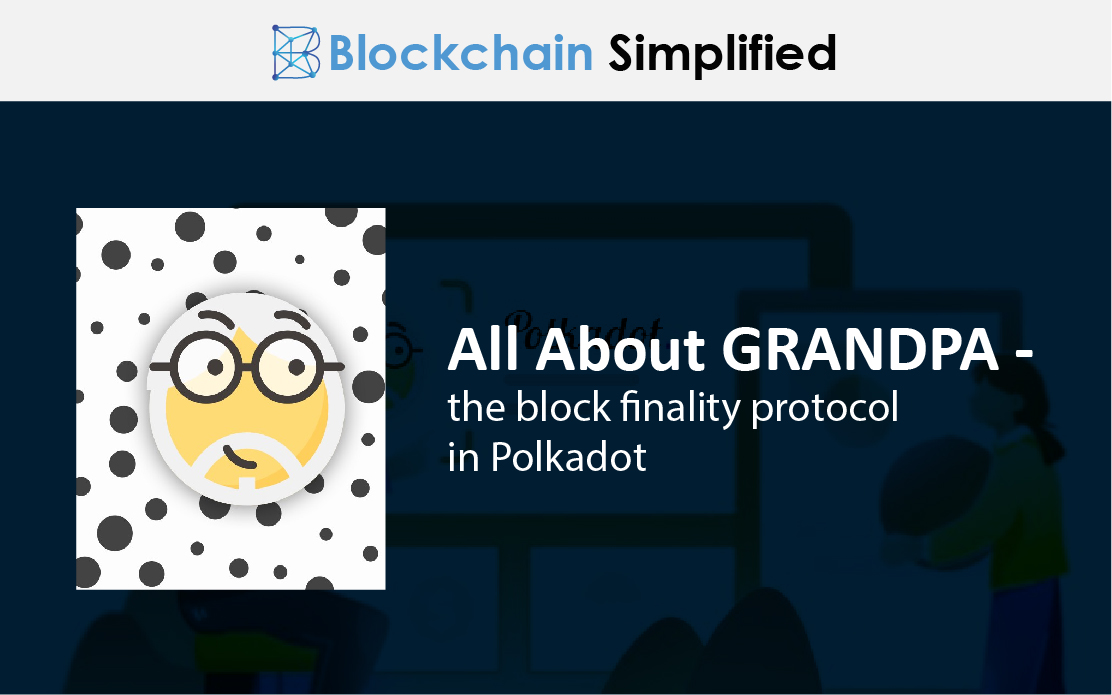 In our previous blog on Ethereum vs Polkadot, we saw how Ethereum and Polkadot both use hybrid Proof of Stake (PoS) consensus algorithm for validation and block finalization. Ethereum uses the Casper FFG whereas Polkadot uses the GRANDPA algorithm.
In this blog, let us learn more about the GRANDPA protocol, how it works and what are its advantages over other consensus algorithms.
What is GRANDPA Protocol?
GRANDPA (GHOST-based Recursive Ancestor Deriving Prefix Agreement) Protocol is used to decide the final block that has to be added on the blockchain. It is called as the finality gadget of Polkadot. It is designed in a manner where it decides which block and which changes are final. It is not responsible for block production but only imports the produced blocks from the validators on the network and finalizes the block to be added.
Unlike other Byzantine fault-tolerant (BFT) algorithms, in GRANDPA protocol, validators vote on chains rather than blocks. The GRANDPA algorithm finds the highest block number with maximum number of votes and considers it to be final. Because of the isolation of block production and block finalization, GRANDPA is able to finalize multiple blocks at once.
Separating block production and block finalization is not only a good engineering practice but also provides a safe, sturdy Blockchain system.
(Visit us at https://blockchainsimplified.com to hire Polkadot developers. We are an offshore blockchain development company based out of Pune, India)
How does GRANDPA Protocol work?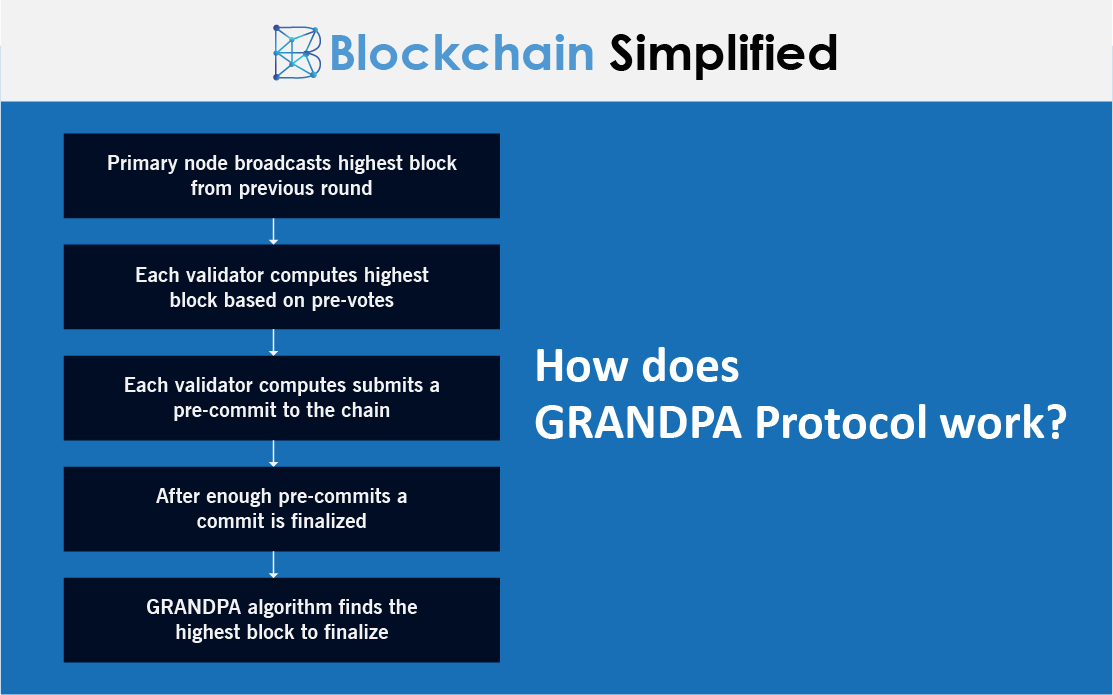 -In the GRANDPA protocol, every node/participant votes on the highest block they consider to be valid from their previous round.
-Every validator then submits a "pre-vote" for that particular block. If that particular block has more than 2/3rd of votes in the network, then the chain is extended further and a proof of finality is produced.
-Based on these pre-votes, every validator calculates the highest block to be finalized. If the new chain is longer than the previous chain, then the validator broadcasts a "pre-commit" to the chain.
-Once each validator obtains sufficient pre-commits, they submit a commit message for that particular block on the chain.
(https://blockchainsimplified.com is a top offshore Ethereum development company in Pune, India.)
Benefits of GRANDPA Protocol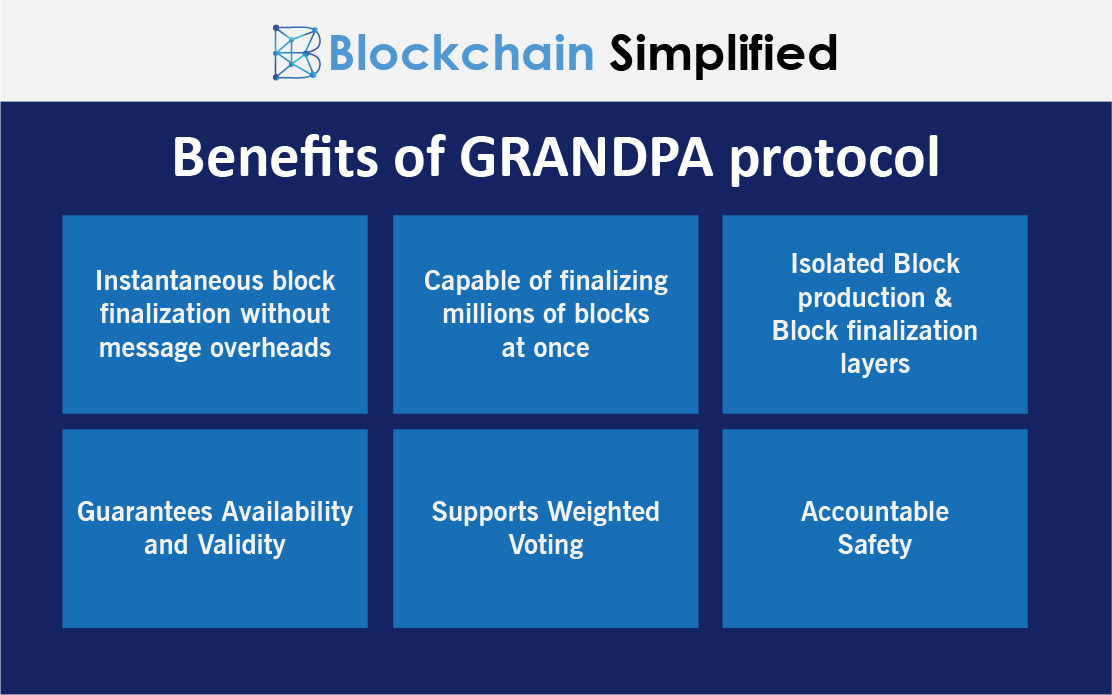 One of the important aspects of the GRANDPA protocol is that block production and block finality are isolated from each other. This strategy makes it possible for GRANDPA to finalize blocks instantly. Not only that, GRANDPA can also finalize millions of blocks in one round. Participants involved in malicious voting or double-voting which is called equivocating that lead to conflicting proofs of finality, are severely punished. Go through this blog of GRANDPA for Polkadot to understand the process of how validators are identified and punished when they violate safety norms. GRANDPA is also responsible for ensuring that data on the chain is available and valid at all points of time. GRANDPA supports weighted voting where validators having more stake get more votes.
About Blockchain Simplified
Blockchain Simplified is a Top blockchain development company in Pune - India which works on all major Blockchain requirements. We specialise in Blockchain, Web and Mobile development (One Stop Shop for all technology development needs).
Our clientele includes Multiple Funded Start - Ups, SMBs and few MNCs few of which are NASDAQ and NSE listed.
Some of our work includes,
Blockchain based-
hubrisone.com - is a Live app with 100,000+ downloads, All-in-One Cryptocurrency current account. The entire development from scratch carried out by Blockchain Simplified.
All in one Platform - Complete responsibility of entire software development of the platform ,for a $1m funded blockchain start up, led by a team of serial entrepreneurs and tech veterans in Silicon Valley.
Well funded Blockchain startup - Blockchain Simplified helped a $6m funded American Blockchain startup to build the first blockchain protocol to leverage on-chain smart contracts to manage distributed storage of application data off-chain.
Multinational Bank - The company helped one of the top 3 ranking Multinational Banks to integrate various cryptocurrencies into their banking application.
and more…
Non-Blockchain-
SHC - Built entire platform and app from scratch for a $1m funded startup led by a team of Americans including PhD degree holders.
VMW - Developed app for a multi-national company providing mass factory-to-factory shipment services. App is being used by 53 of the Fortune 500 companies such as John Deere, Coca-Cola, Nissan.
and more…
Expertise
Blockchain Development : Bitcoin, Ethereum, Hyperledger, Corda, and more.
Mobile App Development : Android Native, iOS Native, React Native, Flutter, Xamarin.
UI/UX Design : Strategy, Planning, UI/UX Design, Wireframing, Visual Designs.
Web App Development : Node.JS, Angular, React.JS, PHP.
Backend Development : MongoDB, MySQL, AWS, Firebase.
Visit our official website https://blockchainsimplified.com/ for more information.