Moonbeam - for building Ethereum compatible smart contracts and beyond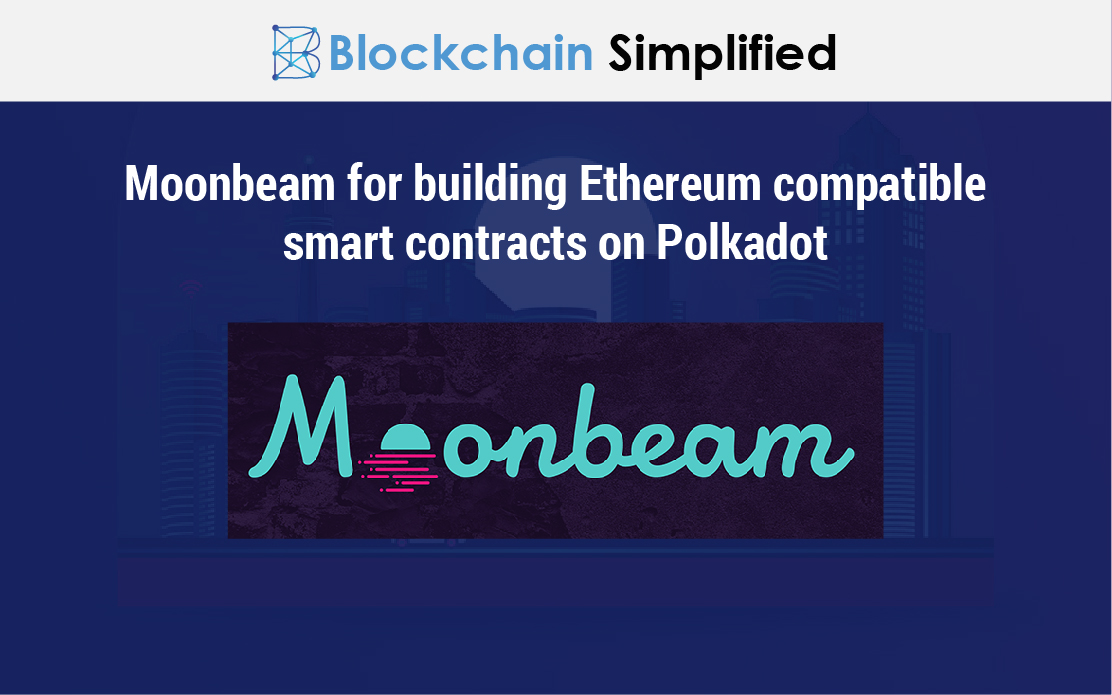 In one of our previous blogs, we learnt how Substrate framework facilitates the design and development of blockchain networks on Polkadot. But dApp developers who have already developed applications on Ethereum find it difficult to deploy their apps directly on Polkadot without building complete blockchains.
Moonbeam is a platform that lets such dApp developers deploy their apps and smart contracts chain on Polkadot without having to build a blockchain in its entirety. Moonbeam enables building applications that are compatible with Polkadot as well as with Ethereum and Bitcoin etc.
Let us, in this blog, learn more in detail about what Moonbeam is and how does it work?
What is Moonbeam?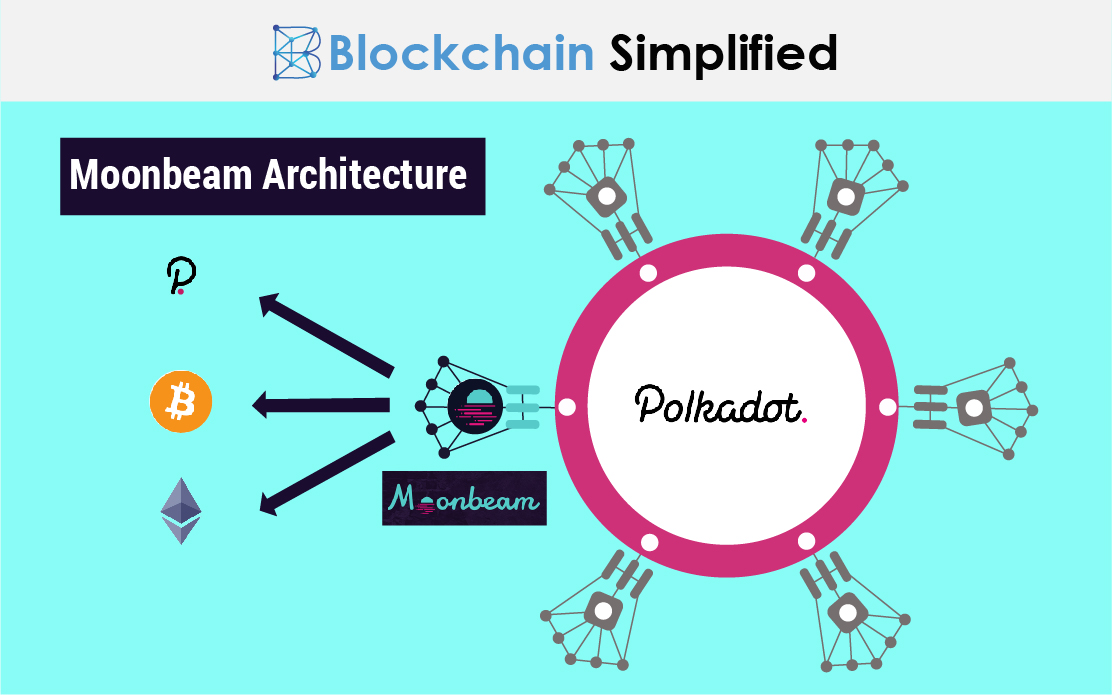 -Moonbeam is a platform that provides developers an easy way of deploying, already developed applications on Ethereum, to Polkadot.
-Moonbeam provides an EVM environment compatible with Solidity generated smart contracts hence these contracts can be directly ported to the Moonbeam platform.
-Moonbeam also provides complete access to Ethereum developers tool set such as Truffle and Metamask via the Web3 API.
-Moonbeam makes it possible for users across multiple chains to easily communicate with each other.
-Moonbeam not only acts as a Blockchain bridge between different parachains on Polkadot, but also between non-Polkadot blockchains like Bitcoin and Ethereum.
-Moonbeam acts as a parachain on the Polkadot network and is built using the Substrate framework. It leverages all the functionalities of the Substrate tool like the P2P networking, consensus protocol, governance etc.
(Visit us at https://blockchainsimplified.com to hire Ethereum developers. We are an offshore blockchain development company based out of Pune, India)
Why is Moonbeam required?
Ethereum scalability issues are not new to anyone, also increased gas fees and cost overheads are forcing developers and organizations to look for a suitable alternative for their blockchain projects. But building an entire new project on Polkadot or other blockchain platforms means that the effort and money put into building the dApps and smart contracts go in vain. This is where Moonbeam comes into picture where already built applications just need to be deployed onto the network with bare minimum changes.
(https://blockchainsimplified.com is a top offshore Ethereum development company in Pune, India.)
Key Features of Moonbeam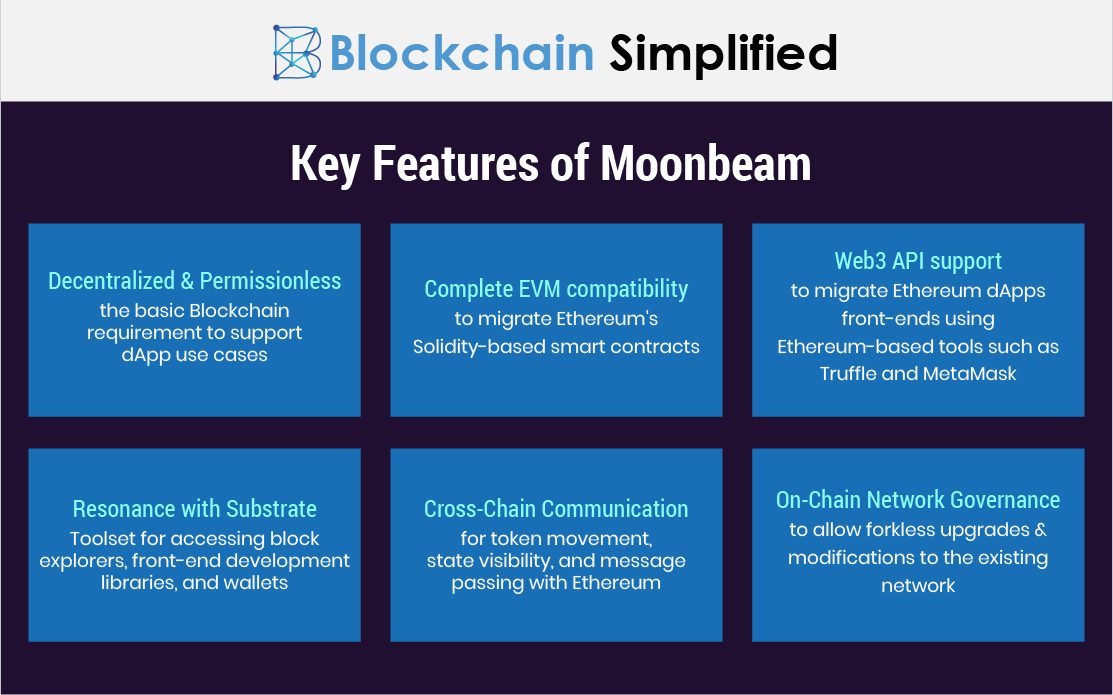 1) Decentralized and Permissionless — Moonbeam platform exhibits the basic Blockchain requirement of being decentralized and permissionless which means that it is the perfect environment to deploy any kind of dApps like DeFi etc.
2) Complete EVM compatibility — Moonbeam provides an EVM environment that is fully compatible with Ethereum's Solidity-based smart contracts and hence these can be easily migrated to Moonbeam and executed on the EVM.
3) Web3 API support — Moonbeam gives easy access to Ethereum developer tools and frameworks like Truffle and MetaMask.
4) Resonance with Substrate Toolset — Moonbeam allows developers to access block explorers, front-end development libraries, and wallets.
5) Cross-Chain Communication — By acting as a bridge between multiple chains, Moonbeam enables the seamless transfer of tokens state transfer functions (STF) and message passing with Ethereum.
6) On-Chain Network Governance - Moonbeam allows forkless upgrades & modifications to the existing network making it easy for the stakeholders to implement community needs and requirements.
About Blockchain Simplified
Blockchain Simplified is a Top blockchain development company in Pune - India which works on all major Blockchain requirements. We specialise in Blockchain, Web and Mobile development (One Stop Shop for all technology development needs).
Our clientele includes Multiple Funded Start - Ups, SMBs and few MNCs few of which are NASDAQ and NSE listed.
Some of our work includes,
Blockchain based-
hubrisone.com - is a Live app with 100,000+ downloads, All-in-One Cryptocurrency current account. The entire development from scratch carried out by Blockchain Simplified.
All in one Platform - Complete responsibility of entire software development of the platform ,for a $1m funded blockchain start up, led by a team of serial entrepreneurs and tech veterans in Silicon Valley.
Well funded Blockchain startup - Blockchain Simplified helped a $6m funded American Blockchain startup to build the first blockchain protocol to leverage on-chain smart contracts to manage distributed storage of application data off-chain.
Multinational Bank - The company helped one of the top 3 ranking Multinational Banks to integrate various cryptocurrencies into their banking application.
and more…
Non-Blockchain-
SHC - Built entire platform and app from scratch for a $1m funded startup led by a team of Americans including PhD degree holders.
VMW - Developed app for a multi-national company providing mass factory-to-factory shipment services. App is being used by 53 of the Fortune 500 companies such as John Deere, Coca-Cola, Nissan.
and more…
Expertise
Blockchain Development : Bitcoin, Ethereum, Hyperledger, Corda, and more.
Mobile App Development : Android Native, iOS Native, React Native, Flutter, Xamarin.
UI/UX Design : Strategy, Planning, UI/UX Design, Wireframing, Visual Designs.
Web App Development : Node.JS, Angular, React.JS, PHP.
Backend Development : MongoDB, MySQL, AWS, Firebase.
Visit our official website https://blockchainsimplified.com/ for more information.