How to use Substrate to create Parachains in Polkadot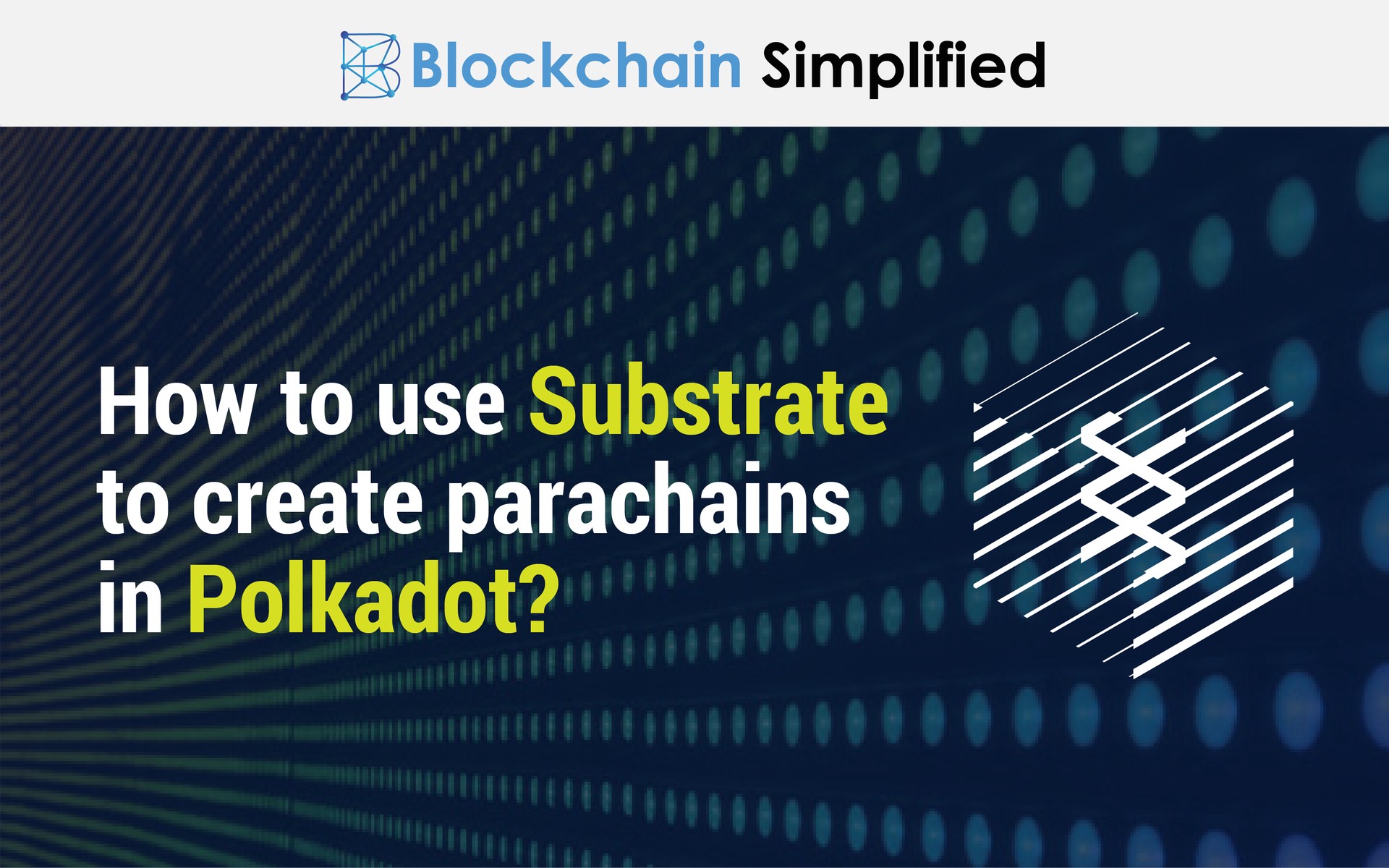 Do you remember in our last blog on Polkadot, we talked about Substrate being used for the creation and development of Parachains? On a very basic level, Substrate can be defined as the framework for creating blockchain networks on Polkadot; rather Polkadot has been built using Substrate. But by no means is Substrate used only for Polkadot; in fact it is not a part of Polkadot at all. Confused?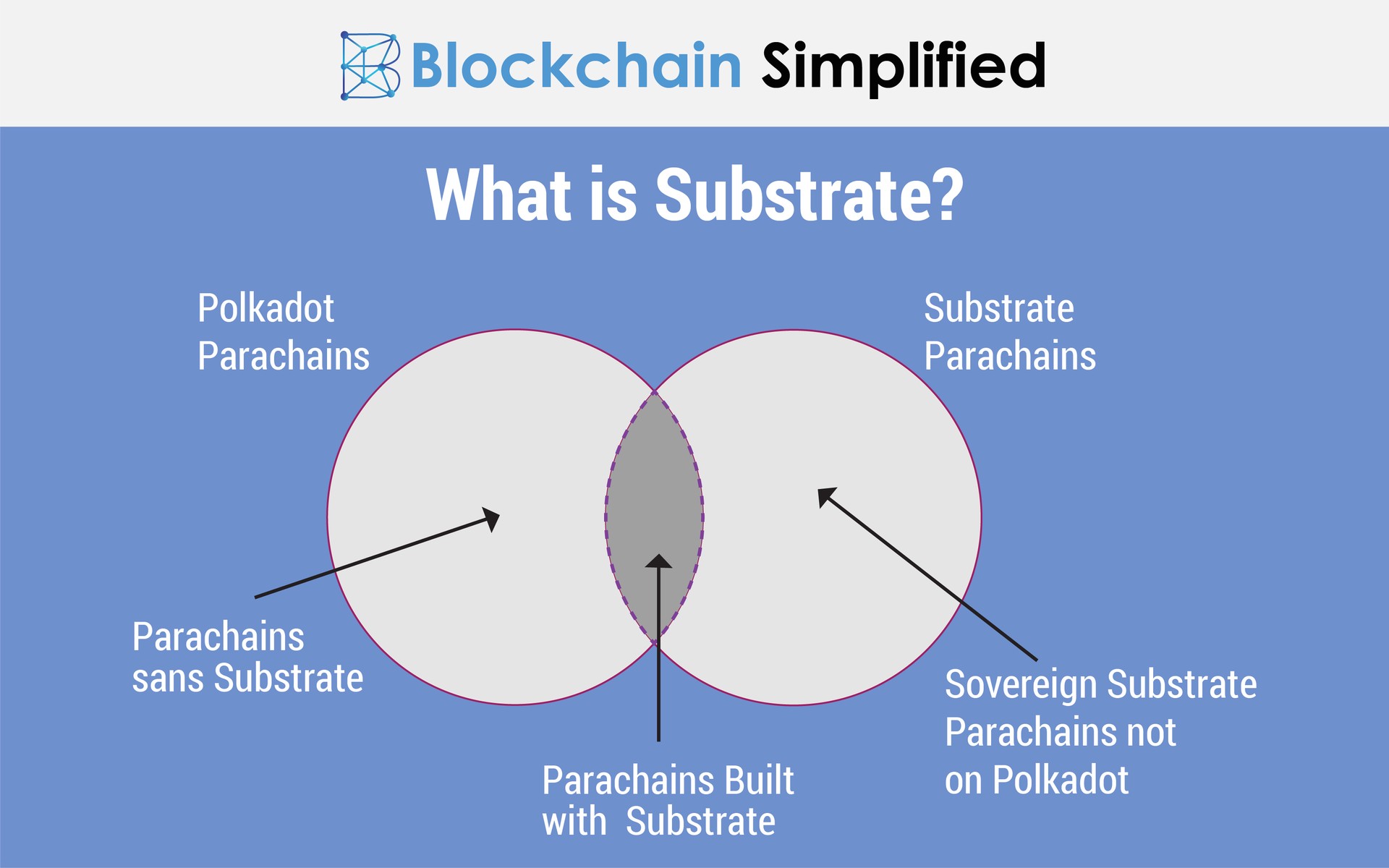 Substrate is a framework that can be utilized to build solo, sovereign Blockchain systems for Decentralized Finance outside Polkadot as well. Let us dive deep and understand the A to Z of Substrate in this blog.
(Visit us at https://blockchainsimplified.com for your Blockchain development requirements.)
What is Substrate?
In some of our previous blogs, we learnt about some mobile app frameworks like React Native & Flutter that simplify the process of developing an app. There are also web app development frameworks like Angular (MEAN) or Express (MERN). Similarly, Substrate framework is used to build blockchain projects. Different parachains in Polkadot represent different functionalities in a project as we saw in our blog on Polkadot. These parachains are built using the Substrate tool. Not that they cannot be built in any other language, it's just that Substrate simplifies and eases the entire process.
Substrate, in its latest 1.2 beta release consists of,
1) WebAssembly (WASM) runtime engine,
3) Byzantine Fault Tolerance consensus algorithm and
4) Libp2p networking protocol.
Due to the usage of WebAssembly, Substrate always guarantees high performance and also promises forkless upgrades. Substrate is built using the Rust programming language. The code is then compiled into a WASM executable that is executed by the WASM runtime engine.
Features of Substrate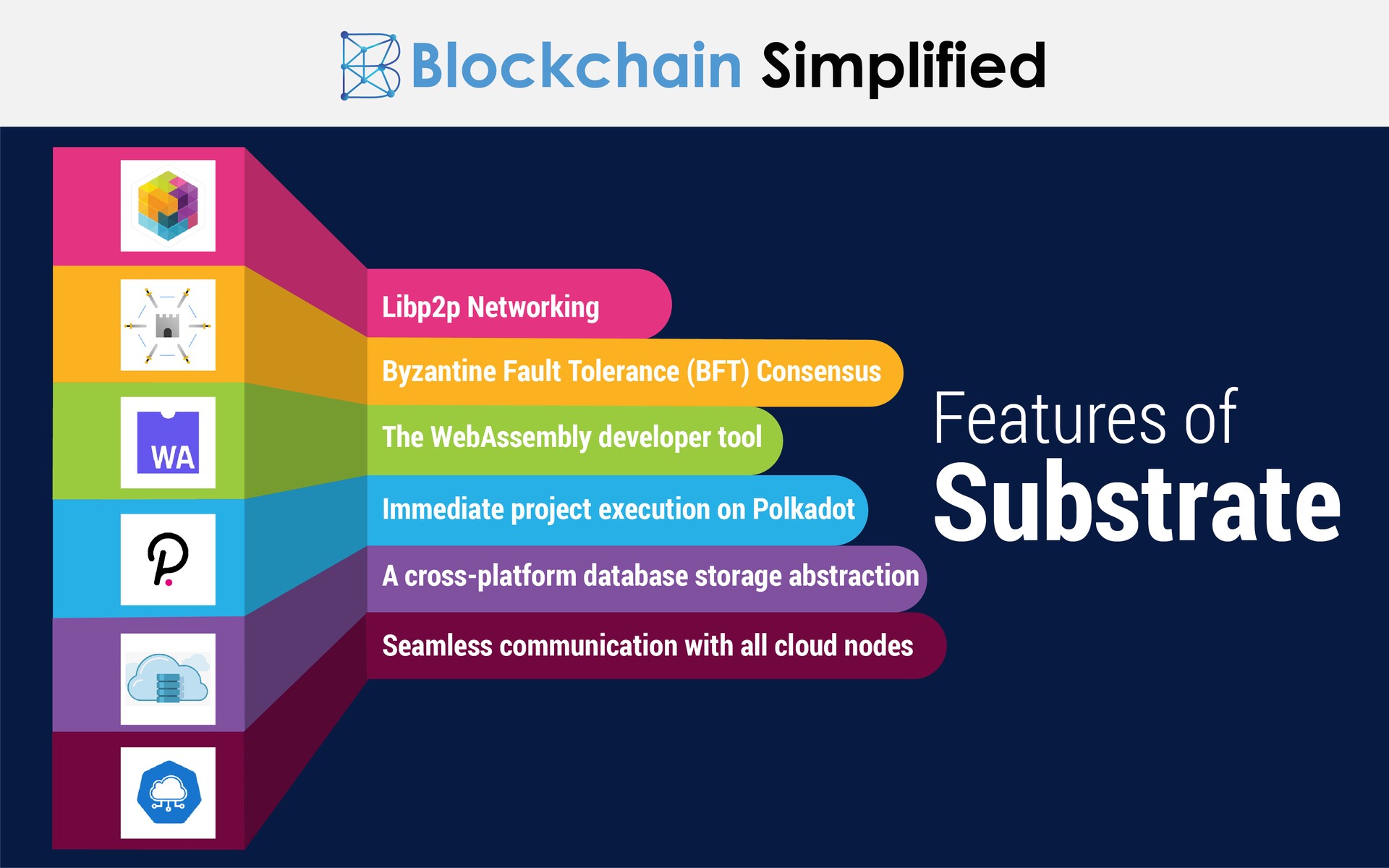 An amazing tool for creating parachains, Substrate has several features to build a Blockchain project. Listed below are some of the prominent ones.
1) Byzantine Fault Tolerance (BFT) Consensus : As mentioned above, Substrate is integrated with the BFT consensus algorithm, which ensures that the Blockchain works even if some nodes are broken or disabled.
2) Peer-to-Peer Networking
3) The WebAssembly developer tool : Compatibility with the WASM community with its efficient tools like the runtime engine ensure highly performant applications.
4) Substrate can seamlessly execute a node in the browser as well as communicate with all cloud nodes.
5) It provides a cross-platform database storage abstraction.
6) With Substrate, you can immediately deploy the created projects on Polkadot and start execution.
(https://blockchainsimplified.com is a top Ethereum development company in Pune, India.)
Why Substrate?
Substrate and Polkadot go hand in hand. If you want to create a blockchain of blockchains on Polkadot, then Substrate is the best tool to start with. It's simple yet supremely useful features help you build a dynamic, efficient and highly performant Blockchain system.
About Blockchain Simplified
Blockchain Simplified is a Top blockchain development company in Pune - India which works on all major Blockchain requirements. We specialise in Blockchain, Web and Mobile development (One Stop Shop for all technology development needs).
Our clientele includes Multiple Funded Start - Ups, SMBs and few MNCs few of which are NASDAQ and NSE listed.
Some of our work includes,
Blockchain based-
hubrisone.com - is a Live app with 100,000+ downloads, All-in-One Cryptocurrency current account. The entire development from scratch carried out by Blockchain Simplified.
All in one Platform - Complete responsibility of entire software development of the platform ,for a $1m funded blockchain start up, led by a team of serial entrepreneurs and tech veterans in Silicon Valley.
Well funded Blockchain startup - Blockchain Simplified helped a $6m funded American Blockchain startup to build the first blockchain protocol to leverage on-chain smart contracts to manage distributed storage of application data off-chain.
Multinational Bank - The company helped one of the top 3 ranking Multinational Banks to integrate various cryptocurrencies into their banking application.
and more…
Non-Blockchain-
SHC - Built entire platform and app from scratch for a $1m funded startup led by a team of Americans including PhD degree holders.
VMW - Developed app for a multi-national company providing mass factory-to-factory shipment services. App is being used by 53 of the Fortune 500 companies such as John Deere, Coca-Cola, Nissan.
and more…
Expertise
Blockchain Development : Bitcoin, Ethereum, Hyperledger, Corda, and more.
Mobile App Development : Android Native, iOS Native, React Native, Flutter, Xamarin.
UI/UX Design : Strategy, Planning, UI/UX Design, Wireframing, Visual Designs.
Web App Development : Node.JS, Angular, React.JS, PHP.
Backend Development : MongoDB, MySQL, AWS, Firebase.
Visit our official website https://blockchainsimplified.com/ for more information.