Binance Smart Chain - the smarter blockchain of smart contracts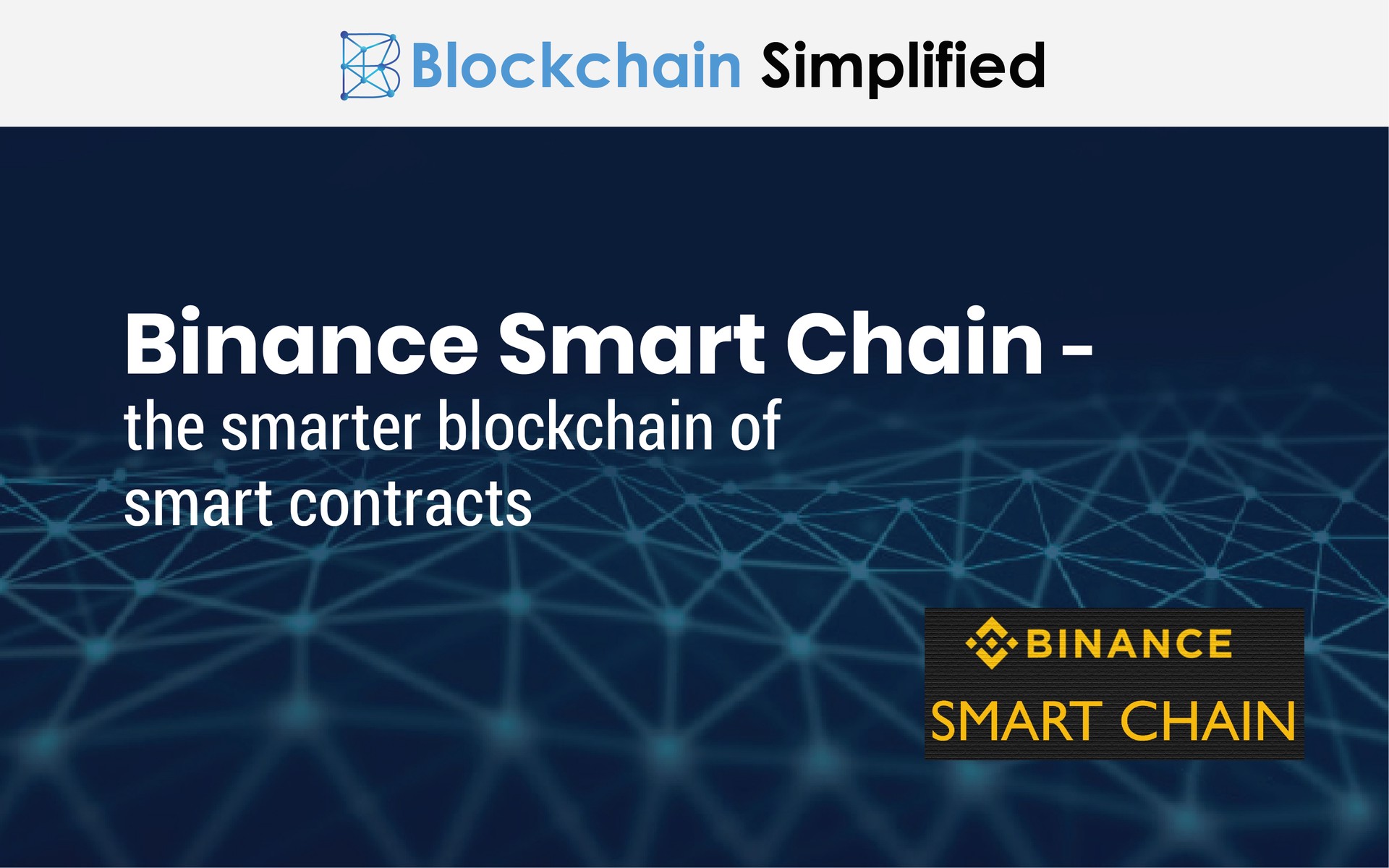 The DeFi world witnessed an interesting event with the launch of the Binance Chain DEX. Binance DEX is well known for its super-fast trading mechanism. But in the process of making this trading a huge success, Binance DEX suffered from inflexibility from a programmability point of view. Blockchain's long pending challenge of scalability made it impossible for Binance Chain to handle the network traffic the systems would experience due to fast trading. A very good example of this would be about how Cryptokitties clogged the Ethereum network and forced it to halt.
With the invent of Binance Smart Chain though, this obstacle was removed. Binance Smart Chain was specifically designed to eliminate this issue with the implementation of the power of smart contracts to build highly performant dApps by enhancing scalability in blockchains.
(Visit us at https://blockchainsimplified.com for your Blockchain development requirements.)
What is Binance Smart Chain?
Binance Smart Chain is an independent blockchain that runs in tandem with the Binance Chain. Built on Ethereum, Binance Smart Chain's compatibility with the Ethereum Virtual Machine (EVM) coupled with the powerful smart contract functionality makes it an extremely scalable blockchain with high throughput.
Typically, the Binance Chain and the Binance Smart Chain run in parallel but that doesnt mean that the Binance Smart Chain is only an off-chain blockchain tailor-made for the Binance Chain. Binance Smart Chain can very well run independently.
The Two C's of Binance Smart Chain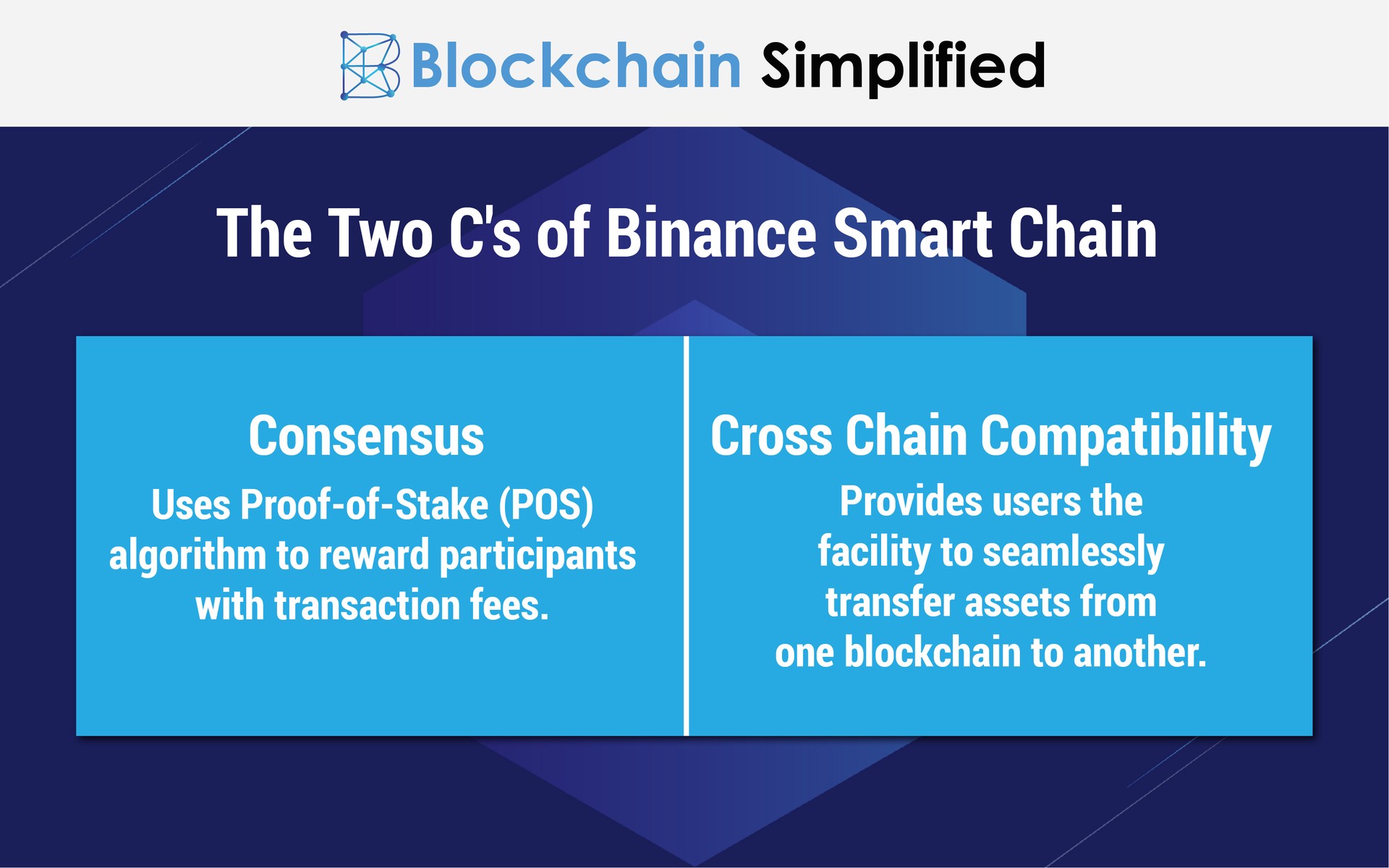 Consensus
The Proof-of-Stake consensus algorithm on the Binance Smart Chain allows the users to stake their BNB, the native currency of Binance Smart Chain, in order to become validators in the network. For every affirmation of a valid block, they earn fees from the network.
Cross-chain compatibility
To allow seamless asset transfer between blockchains, Binance Smart Chain offers cross chain compatibility where users can engage in data transfer between Binance Chain and Binance Smart Chain. For example exchanging tokens between the two using the Binance chain wallet.
Salient Features of Binance Smart Chain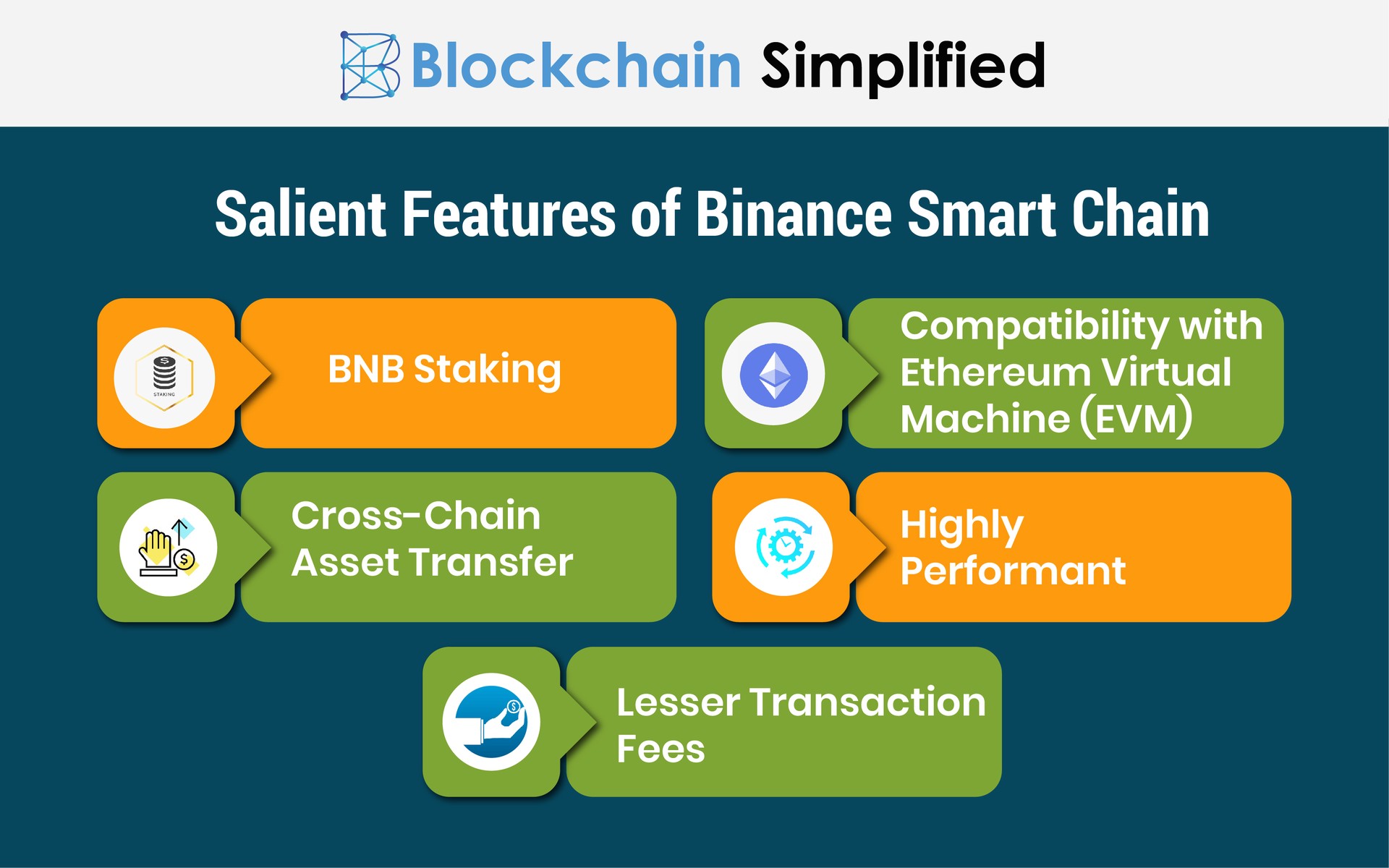 We saw how Binance Smart Chain is not just an extension to the Binance Chain but an independent blockchain in itself which has a myriad features as listed below,
1) BNB Staking
2) Compatibility with Ethereum Virtual Machine (EVM)
3) Cross-Chain Asset Transfer
4) Highly Performant
5) Lesser Transaction Fees
(https://blockchainsimplified.com is a top Ethereum development company in Pune, India.)
Binance Smart Chain - Closing Thoughts
Several DEX protocols like UniSwap, SushiSwap, SashimiSwap have thronged the DeFi space with newer and easier token exchange mechanisms. One such protocol called the PancakeSwap is built on the Binance Smart Chain and has been gaining immense popularity. These protocols provide yield farming opportunities, allow seamless transfer of assets across users and many other facilities. Binance Smart Chain's flexibility and smart contract functionality has helped the DeFi world grow and reach new heights.
About Blockchain Simplified
Blockchain Simplified is a Top blockchain development company in Pune - India which works on all major Blockchain requirements. We specialise in Blockchain, Web and Mobile development (One Stop Shop for all technology development needs).
Our clientele includes Multiple Funded Start - Ups, SMBs and few MNCs few of which are NASDAQ and NSE listed.
Some of our work includes,
Blockchain based-
hubrisone.com - is a Live app with 100,000+ downloads, All-in-One Cryptocurrency current account. The entire development from scratch carried out by Blockchain Simplified.
All in one Platform - Complete responsibility of entire software development of the platform ,for a $1m funded blockchain start up, led by a team of serial entrepreneurs and tech veterans in Silicon Valley.
Well funded Blockchain startup - Blockchain Simplified helped a $6m funded American Blockchain startup to build the first blockchain protocol to leverage on-chain smart contracts to manage distributed storage of application data off-chain.
Multinational Bank - The company helped one of the top 3 ranking Multinational Banks to integrate various cryptocurrencies into their banking application.
and more…
Non-Blockchain-
SHC - Built entire platform and app from scratch for a $1m funded startup led by a team of Americans including PhD degree holders.
VMW - Developed app for a multi-national company providing mass factory-to-factory shipment services. App is being used by 53 of the Fortune 500 companies such as John Deere, Coca-Cola, Nissan.
and more…
Expertise
Blockchain Development : Bitcoin, Ethereum, Hyperledger, Corda, and more.
Mobile App Development : Android Native, iOS Native, React Native, Flutter, Xamarin.
UI/UX Design : Strategy, Planning, UI/UX Design, Wireframing, Visual Designs.
Web App Development : Node.JS, Angular, React.JS, PHP.
Backend Development : MongoDB, MySQL, AWS, Firebase.
Visit our official website https://blockchainsimplified.com/ for more information.