The Yield Farming phenomenon - Lending Crypto to earn interest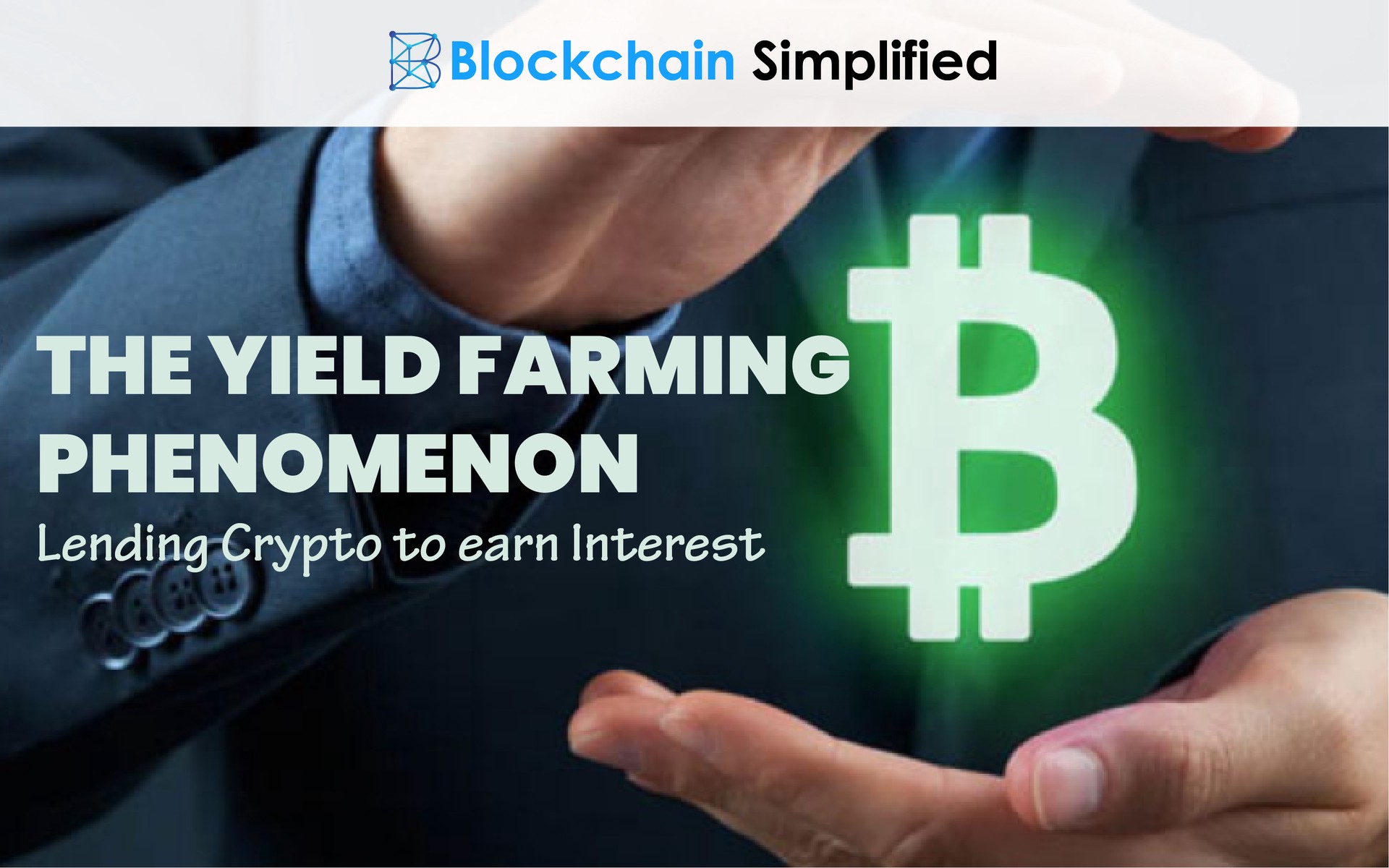 Like Initial Coin Offering (ICO), the graph of Decentralized Finance (DeFi) has also skyrocketed over the years. DeFi's vision and mission to decentralize the financial sector by leveraging Blockchain technology has paved its path to abundant success. Such is the popularity of it that in the past year, only Ethereum DEX platforms amassed a huge figure in terms of crypto assets.
MessariCrypto researcher Wilson Withiam, in his tweet, says, "In the last year, thirteen Ethereum competitors have raked in over $300 million combined,almost all were valued well north of $100 million."
Crypto traders and investors are showing extreme interest in DeFi crypto trading platforms due to its gamut of decentralized financial services like crypto loans, crypto derivatives etc. Also attracting these people is another peculiar phenomenon of the DeFi space called Yield Farming - which provides the facility of lending crypto to gain interest. This concept is relative to the tokenization of assets in the DeFi sector.
Let us take a few minutes and understand what is this concept of Yield Farming that consists of lending crypto to others and how it enables traders to earn interests and profits.
What is Yield Farming and how does it help in lending Crypto?
1) Yield Farming allows people to earn fixed or variable interest for lending Crypto in the DeFi market.
2) A trader who invests his crypto or lends crypto to another user and earns a return on it is basically involved in Yield Farming.
3) Yield Farming, in general, enables a crypto trader to put his crypto assets into use to earn maximum returns on them.
4) It is a simple process of leveraging DeFi protocols such as lending cryptos to generate high rates of return, sometimes even 100% annualized yields.
5) Yield Farming derives its basis from the traditional interest generating deposits in banks; the difference being that it compounds the interest generated by the medium of collateralized assets and stablecoins.
(Blockchain Simplified is a top Blockchain development company in Pune, India. Visit us at https://blockchainsimplified.com)
How does Yield Farming or Crypto Lending work?
Any investor or trader who wishes to indulge in yield farming has to approach DeFi platforms such as Compound, Aave or Tether. These platforms collect the crypto assets from investors and lend them to borrowers and then pay back the interest on the loan to the investors.
As we read above, the interest earned through lending crypto can either be fixed or variable. These interest rates are decided by the respective platforms, hence they vary from platform to platform. For instance, a platform like Compound rewards its participants - both crypto lender and borrower - with "Comp", its native crypto token, alongwith the interest.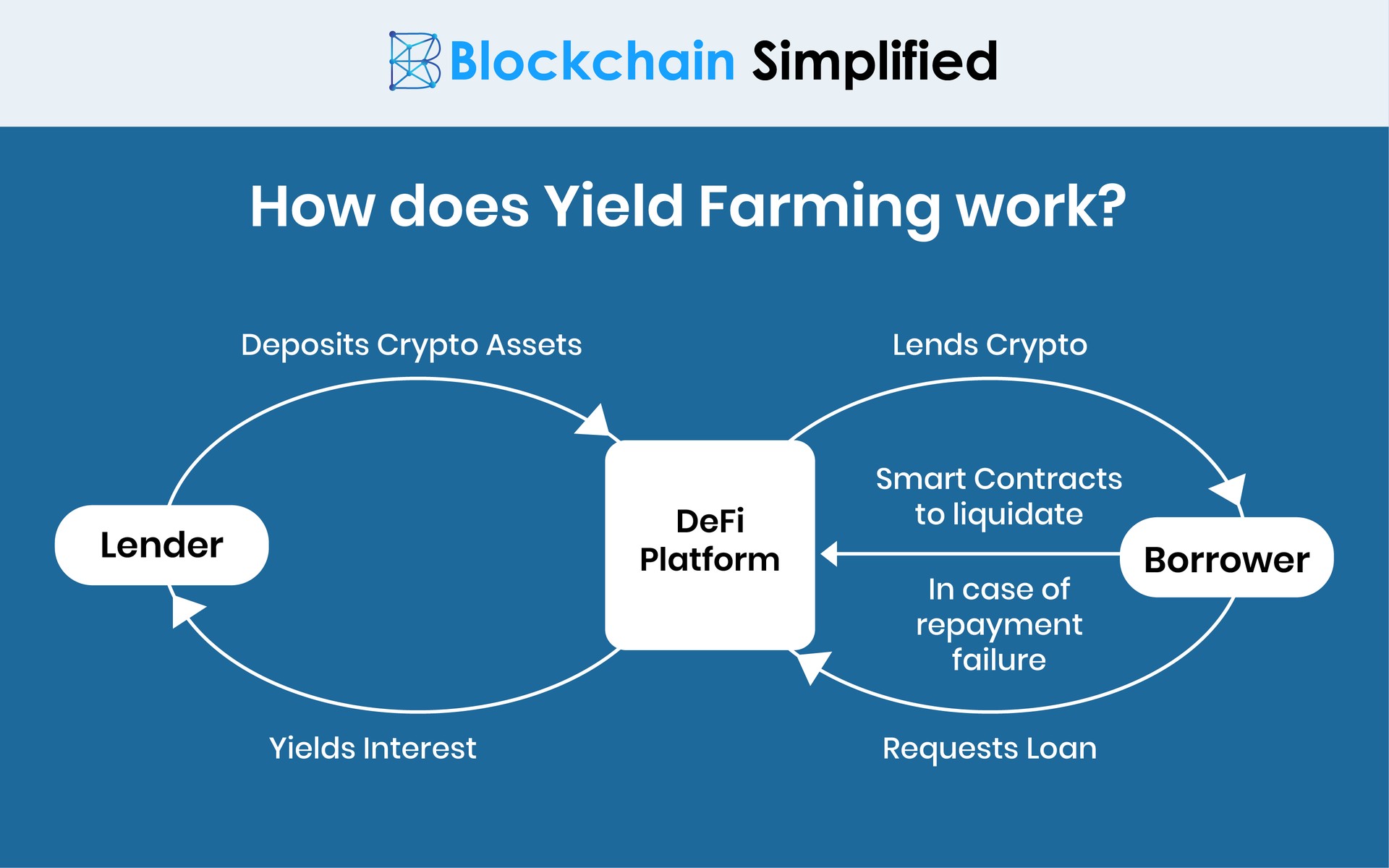 But, like any governing body, these DeFi platforms also have some set of terms and conditions before a crypto lender or borrower engages in the deal. Like we read about the maintenance margin in Perpetual Futures ,that requires a minimum balance to be maintained in the account; in Yield Farming, a borrower in order to borrow some funds from the platform needs to deposit double the borrowal amount (in the form of collateral) to the platform before he proceeds towards the deal.
The system utilizes the smart contracts functionality to keep a check on the value of the collateral and at any given point of time. If it is less than that of the borrowal amount, it automatically liquidates the borrower account and the interest is immediately paid back to the lender. Thus, in case of failure of repayment of funds by the borrower, the lender is not at loss.
(To hire the best Blockchain developers, visit us at https://blockchainsimplified.com)
Yield Farming is the best way for lending Crypto for earning interest
Like any financial service that guarantees high returns and immediate interest on deposits, Yield Farming also comes along with its own level of risk. Technical glitches in software smart contracts, chances of liquidation, regulatory restrictions on crypto trading etc are some of the threats associated with Yield Farming while lending Crypto. Hence, it is important to exercise caution and invest carefully in such money markets. That said, Yield Farming is still the best when it comes to earning reasonable profits or yields on crypto assets, when compared with other alternatives.
About Blockchain Simplified
Blockchain Simplified is a Top blockchain development company in Pune - India which works on all major Blockchain requirements. We specialise in Blockchain, Web and Mobile development (One Stop Shop for all technology development needs).
Our clientele includes Multiple Funded Start - Ups, SMBs and few MNCs few of which are NASDAQ and NSE listed.
Some of our work includes,
Blockchain based-
hubrisone.com - is a Live app with 100,000+ downloads, All-in-One Cryptocurrency current account. The entire development from scratch carried out by Blockchain Simplified.
All in one Platform - Complete responsibility of entire software development of the platform ,for a $1m funded blockchain start up, led by a team of serial entrepreneurs and tech veterans in Silicon Valley.
Well funded Blockchain startup - Blockchain Simplified helped a $6m funded American Blockchain startup to build the first blockchain protocol to leverage on-chain smart contracts to manage distributed storage of application data off-chain.
Multinational Bank - The company helped one of the top 3 ranking Multinational Banks to integrate various cryptocurrencies into their banking application.
and more…
Non-Blockchain-
SHC - Built entire platform and app from scratch for a $1m funded startup led by a team of Americans including PhD degree holders.
VMW - Developed app for a multi-national company providing mass factory-to-factory shipment services. App is being used by 53 of the Fortune 500 companies such as John Deere, Coca-Cola, Nissan.
and more…
Expertise
Blockchain Development : Bitcoin, Ethereum, Hyperledger, Corda, and more.
Mobile App Development : Android Native, iOS Native, React Native, Flutter, Xamarin.
UI/UX Design : Strategy, Planning, UI/UX Design, Wireframing, Visual Designs.
Web App Development : Node.JS, Angular, React.JS, PHP.
Backend Development : MongoDB, MySQL, AWS, Firebase.
Visit our official website https://blockchainsimplified.com/ for more information.