Ethereum vs Polkadot - A comparison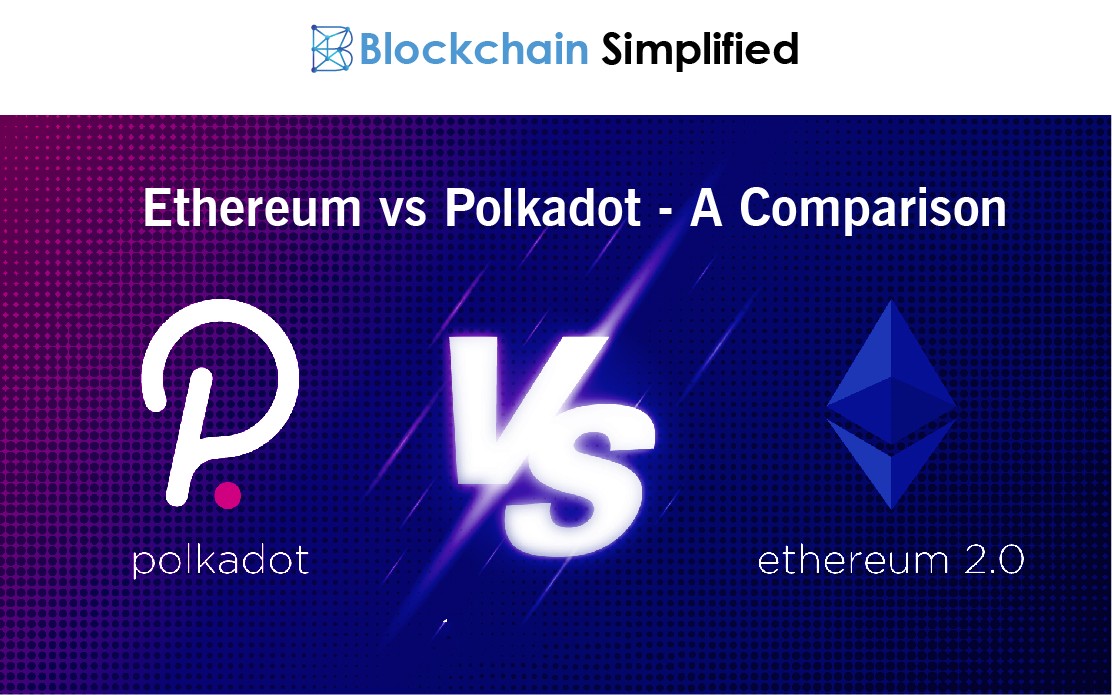 Although Blockchain's advantages are many, its scalability challenges are difficult to handle which is why people are still skeptical about putting it to use in a full-fledged manner for their business organizations. Hence to solve these problems, many solutions were designed and implemented, two of the very interesting ones being Ethereum 2.0 and Polkadot. Both Blockchain protocols are built on the concept of sharding.. Executing transactions on multiple shards helps achieve higher network scalability.
Both are best in their own way, today in this blog we'll compare the two protocols and list down their features and advantages based on a few parameters.
Ethereum vs Polkadot - Architecture
Ethereum 2.0
The base layer of the Ethereum 2.0 chain is called the Beacon Chain.. Smart Contracts and transactions are executed on the Ethereum Wasm (eWasm) interface. Ethereum 2.0 has multiple shards - each shard representing a blockchain and transactions executing on that blockchain. Each shard connects to the Ethereum Wasm (eWasm) interface. After computations and verifications, each shard lodges a crosslink. Crosslink is nothing but an attestation or signature to confirm the data on that particular shard.
Polkadot
Polkadot's main chain is called the Relay Chain, and sub-chains or shards associated with this relay chain are called parachains. Parachains, unlike shards on Ethereum, are not connected to a single interface like eWasm. Parachains have their own logic and interface and their job is to provide the state transition function (STF) to the validators on the Relay Chain, which later execute the logic. Parathreads, similar to parachains, are responsible for the same type of activities that parachains do.
(https://blockchainsimplified.com is a top offshore Ethereum development company in Pune, India.)
Ethereum vs Polkadot - Consensus Algorithm
Ethereum 2.0
Ethereum 2.0 uses the Casper FFG PoS hybrid consensus algorithm which finalizes multiple batches of blocks in one round. Ethereum 2.0 performs batch block confirmation according to "epochs" - epoch is a measured amount of time. It has plenty of validators on the network who are responsible for guaranteeing validity.
Polkadot
Polkadot also uses a PoS consensus protocol called the GRANDPA algorithm, that finalizes batches of blocks based on availability and validity checks. Polkadot, unlike Ethereum, provides more guarantees with lesser validators per shard. This is possible because apart from selected validators, Polkadot assigns random validators to carry out secondary checks to guarantee more validity, thus eliminating any kind of unlawful activity to happen in the network.
Ethereum vs Polkadot - Sharding Methodology
Ethereum 2.0
In Ethereum, as we read above, the Beacon Chain is connected to multiple shards which submit crosslinks after every validation to the main chain. Every shard is connected to the eWasm interface which is needed to execute the transactions. Every shard in Ethereum communicates with other homogeneous shards via their crosslinks and state transition functions. To develop these shards and smart contracts, Ethereum uses the Solidity programming language and frameworks like Truffle.
Polkadot
Every shard in Polkadot just defines the logic and has its own interface and all it does is give the state transition function to the Polkadot validators. These validators then execute the block for validation. The Substrate development framework is used in Polkadot to develop the smart contracts and shards. Polkadot allows multiple heterogeneous sharding.
(Visit us at https://blockchainsimplified.com to hire Polkadot developers. We are an offshore blockchain development company based out of Pune, India)
Ethereum vs Polkadot - Blockchain Governance
Ethereum 2.0
Ethereum 2.0 follows the Off-Chain Blockchain governance where a group of leaders make decisions regarding the development and maintenance of the network. Such type of governance is typically centralized.
Polkadot
On the other hand, Polkadot uses the On-Chain governance where everyone submits proposals which go through voting systems and the one with majority votes is accepted.
Read more about Blockchain Governance in our blog.
Ethereum vs Polkadot - Which is better?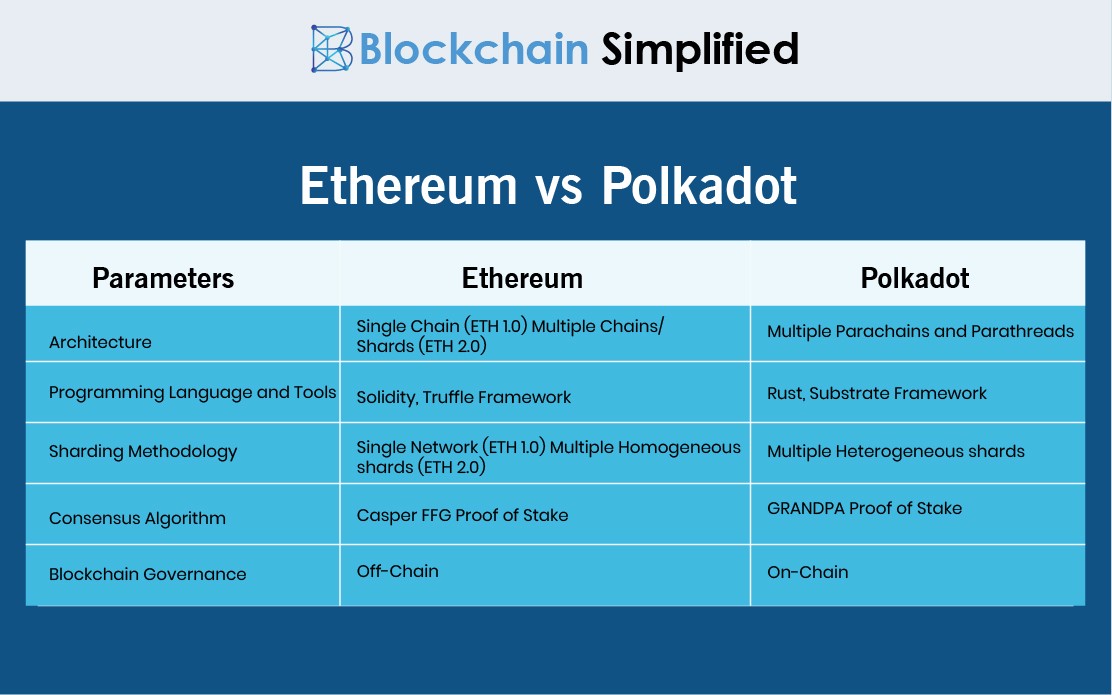 With their own pros and cons, Ethereum and Polkadot both are excellent when it comes to achieving Blockchain network scalability. But Polkadot is gaining a lot of attention these days due to its varied features. It is trending in Blockchain circles and is the current hot topic.
About Blockchain Simplified
Blockchain Simplified is a Top blockchain development company in Pune - India which works on all major Blockchain requirements. We specialise in Blockchain, Web and Mobile development (One Stop Shop for all technology development needs).
Our clientele includes Multiple Funded Start - Ups, SMBs and few MNCs few of which are NASDAQ and NSE listed.
Some of our work includes,
Blockchain based-
hubrisone.com - is a Live app with 100,000+ downloads, All-in-One Cryptocurrency current account. The entire development from scratch carried out by Blockchain Simplified.
All in one Platform - Complete responsibility of entire software development of the platform ,for a $1m funded blockchain start up, led by a team of serial entrepreneurs and tech veterans in Silicon Valley.
Well funded Blockchain startup - Blockchain Simplified helped a $6m funded American Blockchain startup to build the first blockchain protocol to leverage on-chain smart contracts to manage distributed storage of application data off-chain.
Multinational Bank - The company helped one of the top 3 ranking Multinational Banks to integrate various cryptocurrencies into their banking application.
and more…
Non-Blockchain-
SHC - Built entire platform and app from scratch for a $1m funded startup led by a team of Americans including PhD degree holders.
VMW - Developed app for a multi-national company providing mass factory-to-factory shipment services. App is being used by 53 of the Fortune 500 companies such as John Deere, Coca-Cola, Nissan.
and more…
Expertise
Blockchain Development : Bitcoin, Ethereum, Hyperledger, Corda, and more.
Mobile App Development : Android Native, iOS Native, React Native, Flutter, Xamarin.
UI/UX Design : Strategy, Planning, UI/UX Design, Wireframing, Visual Designs.
Web App Development : Node.JS, Angular, React.JS, PHP.
Backend Development : MongoDB, MySQL, AWS, Firebase.
Visit our official website https://blockchainsimplified.com/ for more information.