Getting Up, Close & Near to the NEAR Blockchain protocol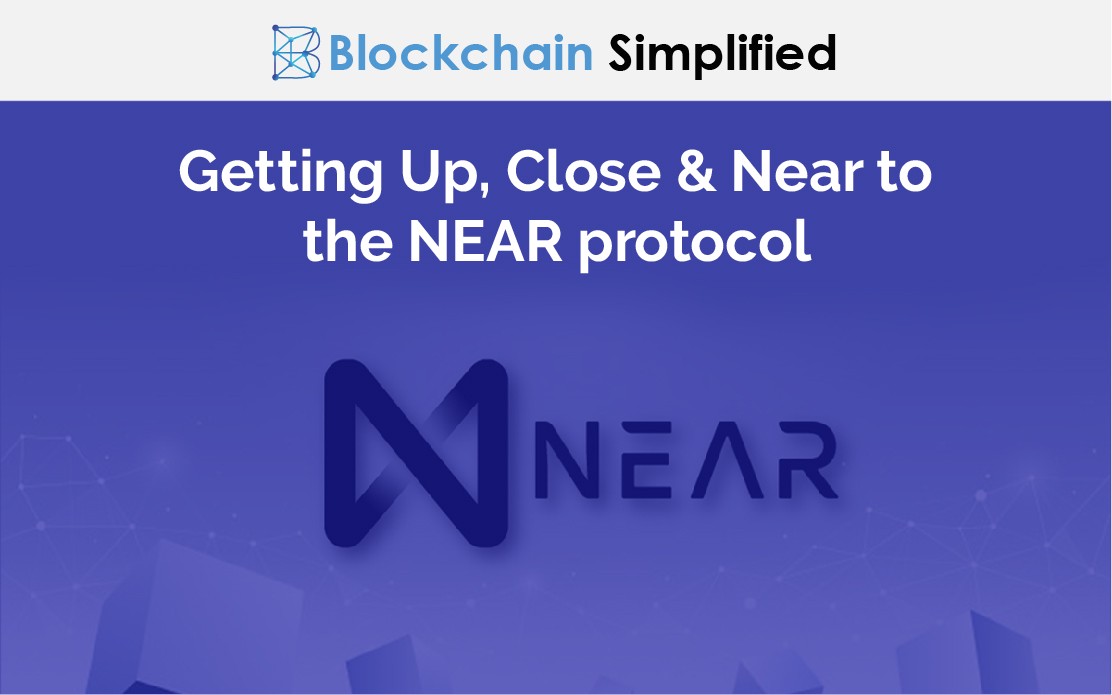 It's true that Ethereum has no competition when it comes to building dynamic dApps. But if there is one platform that can come close to Ethereum for developing highly performant applications, then it is the NEAR Blockchain protocol. While NEAR exhibits every feature that is favorable for dApp development, what differentiates it from others is its Open Web feature. An open web is a web by users and for users, it has open source code, open standards and is not governed by anybody.
Let us, in this blog, understand in depth about the NEAR blockchain protocol.
What is NEAR Blockchain Protocol?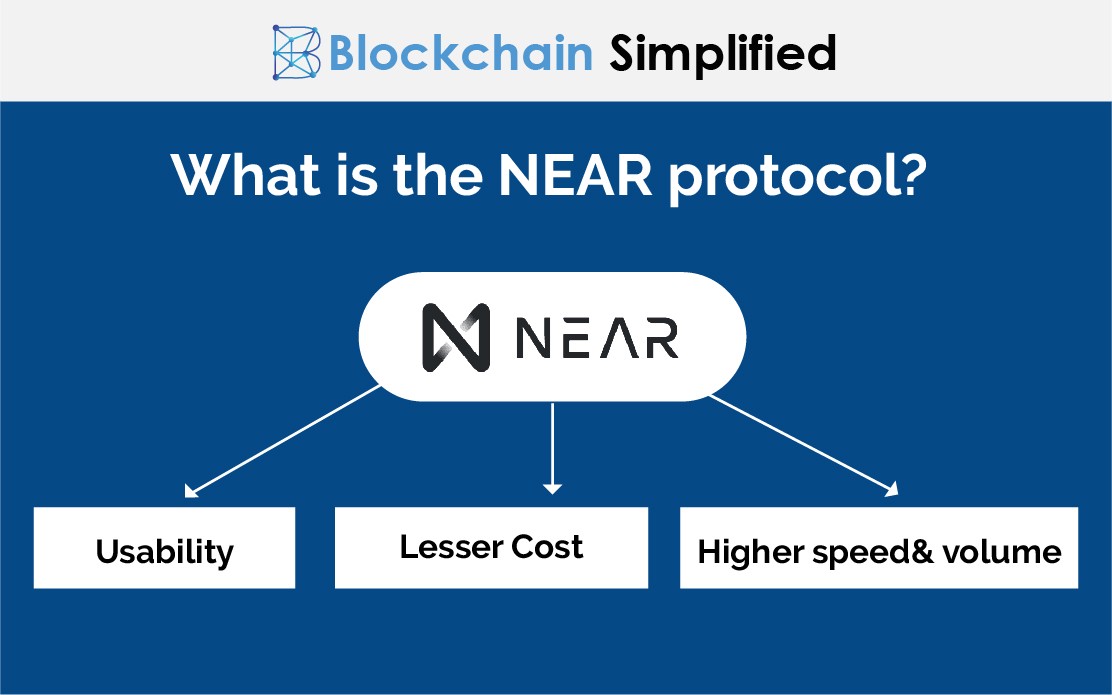 -NEAR is a blockchain platform that facilitates the creation of dApps and smart contracts.
-Powered by the vision of open web, NEAR platform enables developers to develop applications on the platform by easily accessing open web components like explorers, command line tools, wallet apps, interoperable components etc.
-A community driven cloud platform, NEAR is especially beneficial for DeFi apps due to its extended reach for Open Finance.
-NEAR is the first blockchain platform that fulfils all requirements of implementing open web technology like usability, lesser cost, higher speed and volume, scalability etc.
-While most of the other blockchain platforms including Ethereum depend on Layer 2 Scaling solutions to achieve high scalability, NEAR is able to scale around billions of transactions in a linear fashion in its base layer itself.
-It's similar to AWS for that matter that it functions as a cloud for blockchain dApps, the only difference being that it is maintained and managed by the public.
(https://blockchainsimplified.com is a top offshore blockchain development company in Pune, India.)
How does NEAR Blockchain protocol work?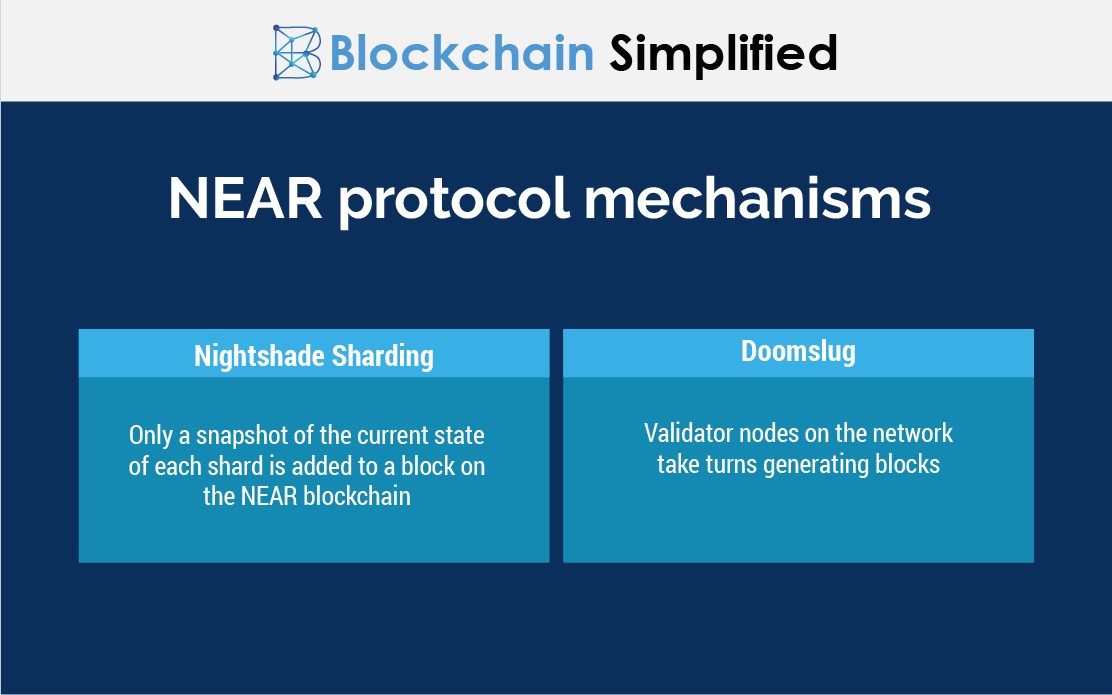 NEAR protocol works on something called the Thresholded Proof of Stake (TPoS) algorithm. Users on the NEAR network are called witnesses who participate in transaction verification and block production. Witnesses have to make decisions during a specific time set in the network. Witnesses are decided based on the stake they have in the network. After every 24 hours witness proposals are gathered and verified.
Witnesses are rewarded and incentivized by block rewards and transaction fees. Block rewards on NEAR are calculated by the inflation which changes every year. Major portion of the block reward is distributed among stakeholders and a small portion is saved for the NEAR treasury. The advantages of having a TPoS are less forking and more security.
NEAR protocol implements sharding to achieve optimum performance and scalability. Unlike Polkadot, where shards execute independently and are connected using Blockchain bridges, shards on NEAR platform are executed on the same blockchain. For this, it uses a mechanism called the Nightshade sharding. In Nightshade, only the current state snapshot is added to the block. This means that witnesses, instead of downloading the full state of the block, maintain only the current state of the shard for which they are validating transactions. Validators of each shard then share the state of the shard every time a block is added. Shards execute and process transactions in parallel mode which increases the overall efficiency. More on Nightshade sharding here.
The Doomslug mechanism allows the validator nodes to take turns in producing blocks. Once a block is received by other participants, they send endorsements to a higher level participant. If after a stipulated time, the higher level participant does not produce a block, that level is skipped and the next level participant receives the message of endorsement. Read more about the Doomslug mechanism.
NEAR is also compatible with Ethereum using NEAR's Rainbow Bridge..
(Visit us at https://blockchainsimplified.com to hire blockchain developers. We are an offshore blockchain development company based out of Pune, India)
NEAR Protocol - Staking, Cryptocurrency, Wallet
The native cryptocurrency of NEAR Blockchain protocol is the NEAR cryptocurrency. NEAR crypto tokens are used for staking on the network and also to pay network fees. NEAR currency can be stored in mobile cryptocurrency wallets.
About Blockchain Simplified
Blockchain Simplified is a Top blockchain development company in Pune - India which works on all major Blockchain requirements. We specialise in Blockchain, Web and Mobile development (One Stop Shop for all technology development needs).
Our clientele includes Multiple Funded Start - Ups, SMBs and few MNCs few of which are NASDAQ and NSE listed.
Some of our work includes,
Blockchain based-
hubrisone.com - is a Live app with 100,000+ downloads, All-in-One Cryptocurrency current account. The entire development from scratch carried out by Blockchain Simplified.
All in one Platform - Complete responsibility of entire software development of the platform ,for a $1m funded blockchain start up, led by a team of serial entrepreneurs and tech veterans in Silicon Valley.
Well funded Blockchain startup - Blockchain Simplified helped a $6m funded American Blockchain startup to build the first blockchain protocol to leverage on-chain smart contracts to manage distributed storage of application data off-chain.
Multinational Bank - The company helped one of the top 3 ranking Multinational Banks to integrate various cryptocurrencies into their banking application.
and more…
Non-Blockchain-
SHC - Built entire platform and app from scratch for a $1m funded startup led by a team of Americans including PhD degree holders.
VMW - Developed app for a multi-national company providing mass factory-to-factory shipment services. App is being used by 53 of the Fortune 500 companies such as John Deere, Coca-Cola, Nissan.
and more…
Expertise
Blockchain Development : Bitcoin, Ethereum, Hyperledger, Corda, and more.
Mobile App Development : Android Native, iOS Native, React Native, Flutter, Xamarin.
UI/UX Design : Strategy, Planning, UI/UX Design, Wireframing, Visual Designs.
Web App Development : Node.JS, Angular, React.JS, PHP.
Backend Development : MongoDB, MySQL, AWS, Firebase.
Visit our official website https://blockchainsimplified.com/ for more information.