Polkadot vs Cardano - the two best building platforms for DeFi dApps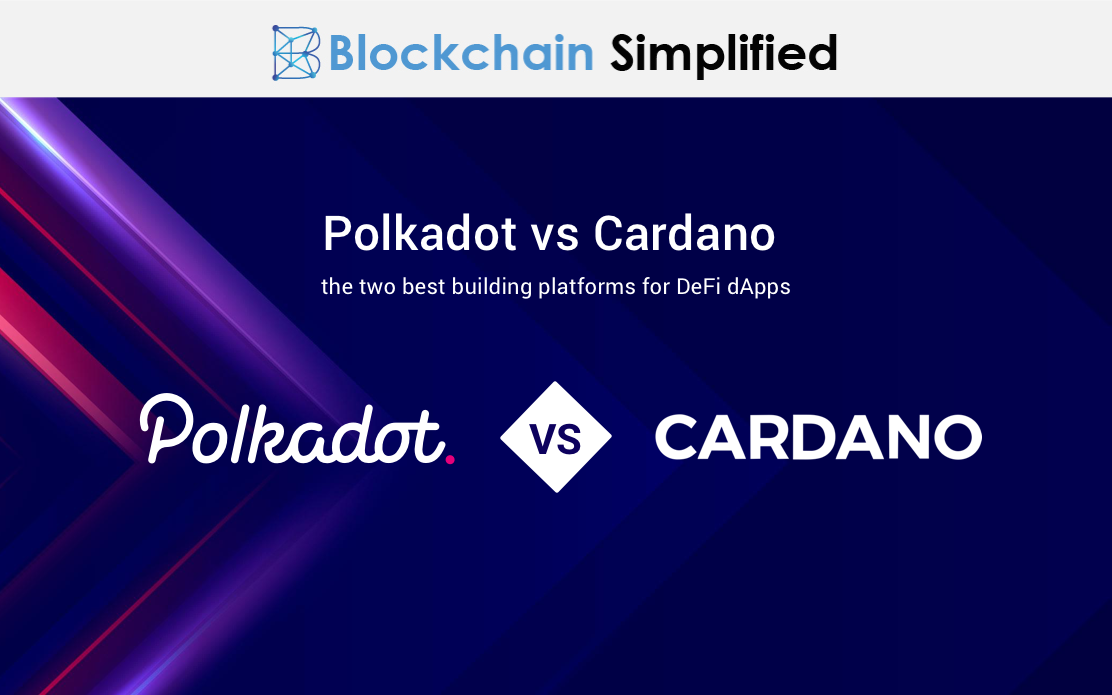 The crypto finance world is witnessing a revolution of sorts currently. DeFi favourites Polkadot and Cardano are taking over conventional payment cryptocurrencies like Bitcoin and Litecoin. Not very long ago, Polkadot beat Bitcoin Cash by exceeding its market cap. Cardano, now, has also overtaken Bitcoin Cash whereas Polkadot is ahead of Bitcoin and Litecoin both.
Looking at these statistics, it is not incorrect to say that both Polkadot and Cardano platforms are the best when it comes to building decentralized DeFi dApps due to their features of scalability, interoperability and throughput. Both have unique attributes which make them extremely suitable for building financial applications.
In this blog, let us compare the two platforms to see how they both fare. We are not looking if one is better than the other or which is superior. We are just comparing the two of them based on certain parameters.
Polkadot vs Cardano - Delegation of Work
Polkadot
Polkadot has nominators and validators to carry out the mining process and validate blocks to be added in the blockchain. Nominators in Polkadot have the authority to vote for a validator who verifies the transactions and adds the block only if the transactions are deemed valid. Every nominator and every validator on Polkadot has to stake their DOT in order to be able to nominate or validate. Both of them earn rewards in the form of DOT for their tasks and responsibilities. Nominators lose their DOT if the validator they nominated for is involved in any ingenuine activity.
Cardano
In Cardano, we have delegators and pools. Unlike Polkadot, Cardano only lets you earn rewards without any penalties for misbehaviour. If there is any misbehaviour or there is no block addition in a stipulated epoch, you simply do not earn any rewards or earn less rewards, but you never lose any ADA, the currency of Cardano.
(Visit us at https://blockchainsimplified.com to hire Blockchain developers. We are an offshore blockchain development company based out of Pune, India)
Polkadot vs Cardano - Native Currency
Polkadot
The native currency of Polkadot, as we know, is DOT. DOT is inflationary which means that unlike Bitcoin, there is no maximum number for DOT. Currently, the inflation rate of DOT is set to be 10% in the first year. More about DOT inflation rates in this article.
Cardano
Cardano follows the Bitcoin Halving principle. Every 4 or 5 years, the supply of ADA is halved. This helps in tackling inflation due to scarcity of supply.
Polkadot vs Cardano - Governance
Polkadot
Polkadot follows the On chain governance model where a board or committee is formed that takes decisions on proposals submitted. Anyone on the network can submit a proposal for change, for which a nominal stake is to be deposited. The proposal then goes through a referendum cycle. When all the board and council members agree to the proposal, it is passed. The members also have the authority to reject a proposal on the basis of its nature, objective and intentions.
Cardano
Cardano is governed by decentralized autonomous organizations (DAO) like the Catalyst. There are also CIP (Cardano Improvement Proposal) to propose improvements on the Cardano Blockchain. More on governance on Cardano in this article.
Polkadot vs Cardano - Consensus Method
Polkadot
Polkadot is known for its separated mechanism for consensus and block production thanks to the GRANDPA (GHOST-based Recursive Ancestor Deriving Prefix Agreement) Proof of Stake nominated. This automatically reduces the load on the base layer.
Cardano
Cardano blockchain uses the Ouroboros PoS algorithm in order to be able to process a large number of transactions.
(https://blockchainsimplified.com is a top offshore Blockchain development company in Pune, India.)
Polkadot vs Cardano - Scalability
Polkadot
Due to its multi chain architecture complete with parachains and parathreads plus implementation of sharding, Polkadot is able to process 1 million TPS (transactions per second).
Cardano
Cardano with the help of Ouroboros consensus and the RINA partitioning, processes a maximum of 1 million TPS.
Polkadot vs Cardano - Interoperability
Polkadot
Polkadot achieves interoperability by building a blockchain of blockchains. The main blockchain is connected to the parachains as well as other blockchains via blockchain bridges.
Cardano
Cardano uses side chains to establish communication and interoperability with other blockchains to facilitate transfers.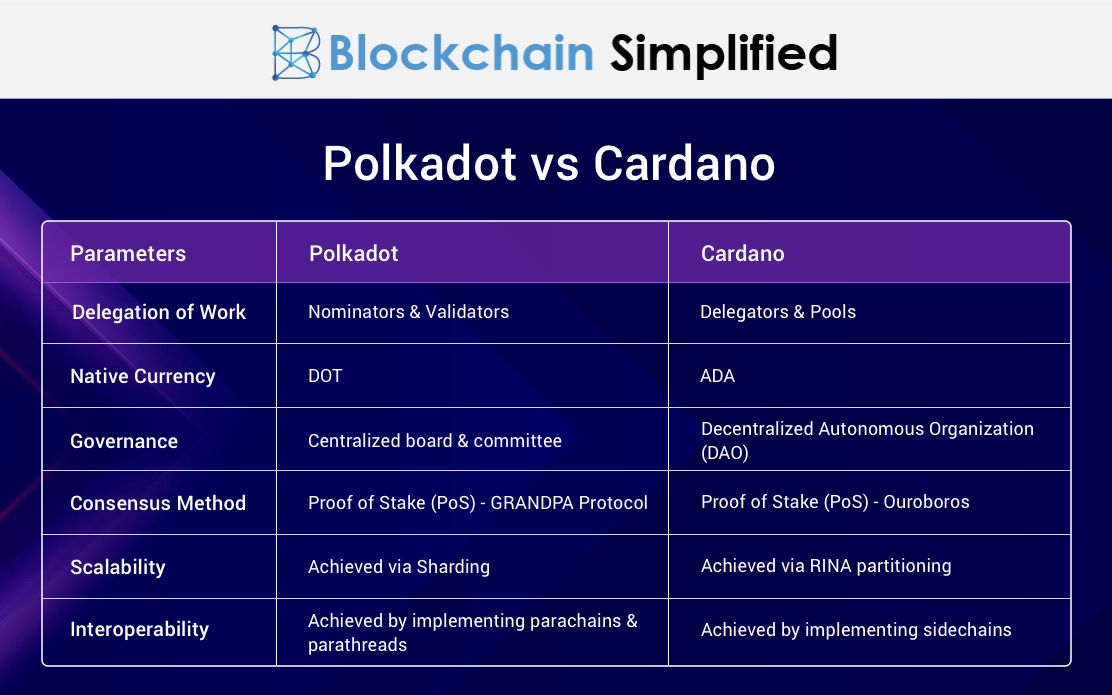 About Blockchain Simplified
Blockchain Simplified is a Top blockchain development company in Pune - India which works on all major Blockchain requirements. We specialise in Blockchain, Web and Mobile development (One Stop Shop for all technology development needs).
Our clientele includes Multiple Funded Start - Ups, SMBs and few MNCs few of which are NASDAQ and NSE listed.
Some of our work includes,
Blockchain based-
hubrisone.com - is a Live app with 100,000+ downloads, All-in-One Cryptocurrency current account. The entire development from scratch carried out by Blockchain Simplified.
All in one Platform - Complete responsibility of entire software development of the platform ,for a $1m funded blockchain start up, led by a team of serial entrepreneurs and tech veterans in Silicon Valley.
Well funded Blockchain startup - Blockchain Simplified helped a $6m funded American Blockchain startup to build the first blockchain protocol to leverage on-chain smart contracts to manage distributed storage of application data off-chain.
Multinational Bank - The company helped one of the top 3 ranking Multinational Banks to integrate various cryptocurrencies into their banking application.
and more…
Non-Blockchain-
SHC - Built entire platform and app from scratch for a $1m funded startup led by a team of Americans including PhD degree holders.
VMW - Developed app for a multi-national company providing mass factory-to-factory shipment services. App is being used by 53 of the Fortune 500 companies such as John Deere, Coca-Cola, Nissan.
and more…
Expertise
Blockchain Development : Bitcoin, Ethereum, Hyperledger, Corda, and more.
Mobile App Development : Android Native, iOS Native, React Native, Flutter, Xamarin.
UI/UX Design : Strategy, Planning, UI/UX Design, Wireframing, Visual Designs.
Web App Development : Node.JS, Angular, React.JS, PHP.
Backend Development : MongoDB, MySQL, AWS, Firebase.
Visit our official website https://blockchainsimplified.com/ for more information