Best Yield Farms on the Polygon (Matic) network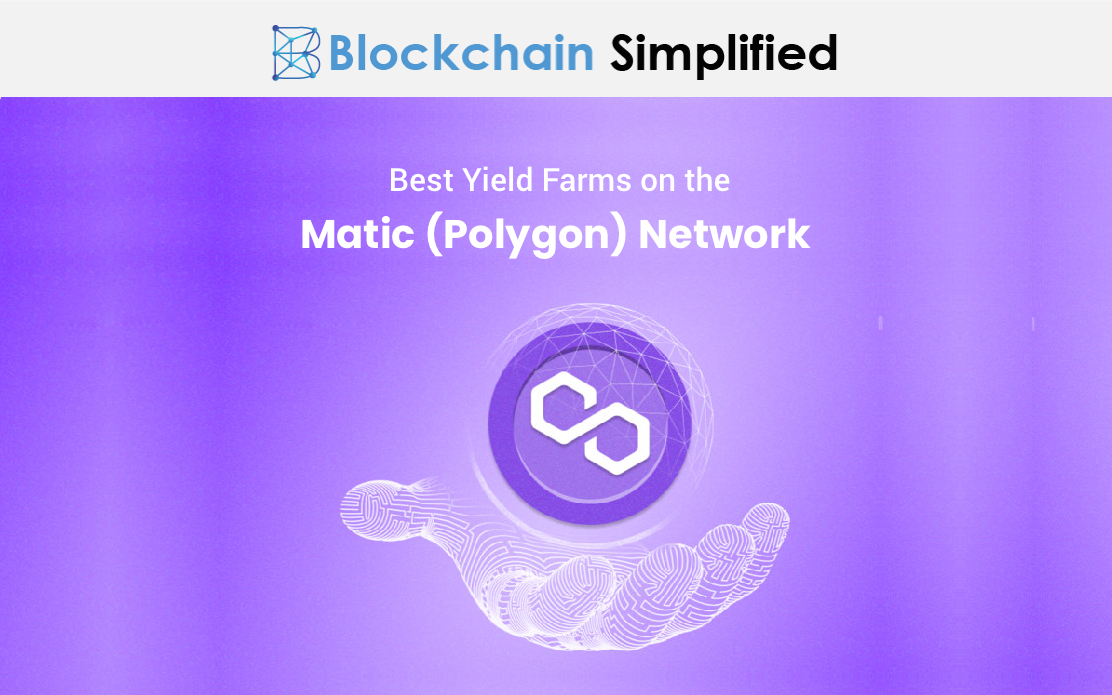 The DeFi field is witnessing exponential growth and popularity in the crypto space with more and more investors showing faith and interest in it. One of the many reasons for it could be the yield farming opportunities where investors can maximise their yields and earn additional benefits.
Many of the popular DeFi dApps are built on the Ethereum blockchain platform like the Metamask wallet, Uniswap, Compound Finance, Coinbase, MakerDAO etc. Although it is the best platform for building dApps, Ethereum's high gas fees and network congestion issues are real and hence developers are still skeptical about the implementation of apps on it.
The Matic/Polygon network - an L2 scaling platform - built on Ethereum plasma chain is a perfect alternative for this solution. Built on the concept of parent-child chains, Matic network eliminates issues related to Ethereum and provides many benefits like reasonable gas fees, scalability, instant completion of transactions etc. Thus, Matic/Polygon is getting all the attention and popularity it deserves in a very short period of time. The Matic/Polygon network is also host to several DeFi protocols. And just like other protocols, it also has many yield farms for investors.
In this blog today, we will cover the top 5 yield farms on the Matic/Polygon network. While everybody knows what Yield Farming is, let's quickly in brief understand what yield farming is and then proceed to understand the yield farms on Matic/Polygon.
(Visit us at https://blockchainsimplified.com to hire Blockchain developers. We are an offshore Blockchain development company based out of Pune, India)
Top 5 Yield Farms on Polygon (Matic) network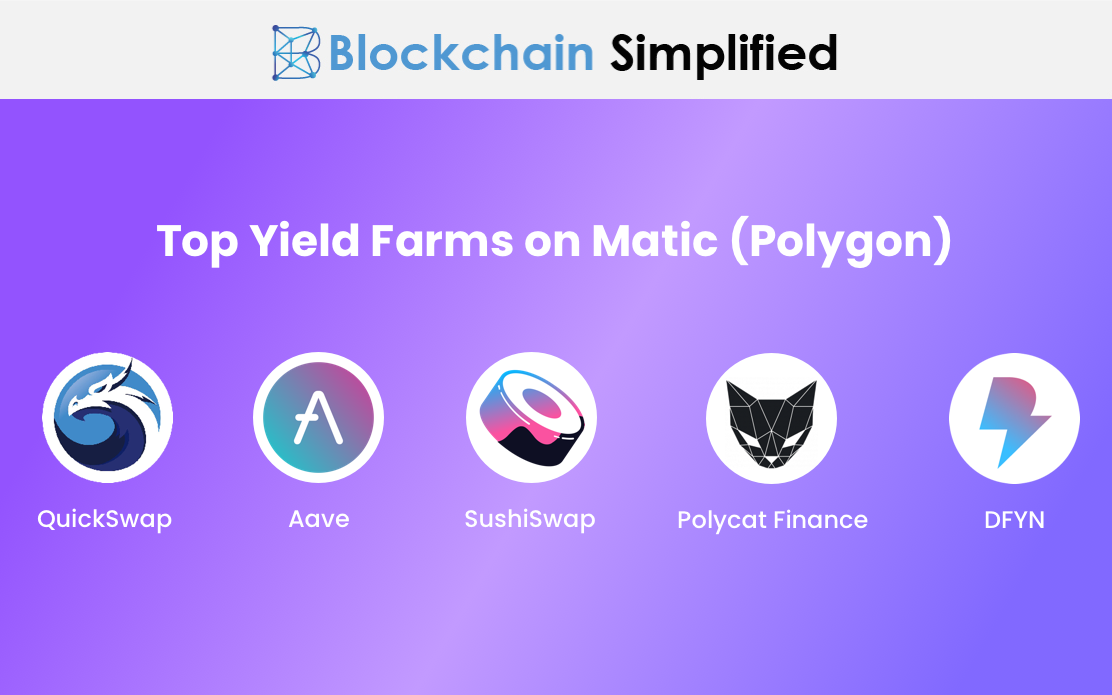 Yield Farms allow users to stake their assets using smart contracts to provide liquidity to the network. In lieu of their assets, they are rewarded with yields in the form of tokens or other ways. And most of these Yield Farms work on the principle of Automated market makers (AMM) model.
Yield Farm #1 on Polygon (Matic) - QuickSwap
First up is QuickSwap, a fork of Uniswap. Quickswap is one of the most popular yield farms on the Matic/Polygon network. Investors who deposit or stake their tokens on QuickSwap earn the QUICK native token. Due to its high yield returns and easy-to-navigate UI, QuickSwap sure is the most favourite yield farm for investors on the Matic/Polygon network. It has around $500 million in TVL.
Yield Farm #2 on Polygon (Matic) - SushiSwap
Yes yes, SushiSwap is a DEX we know, but off late they have expanded the scope of the platform for yield farming as well. It is not long back that Sushiswap has collaborated with the Matic/Polygon network but it is already touching the $1 billion mark. Not only assets like Bitcoin and Ethereum, but SushiSwap also provides rewards for Stablecoin assets.
(To hire Blockchain developers, visit us at https://blockchainsimplified.com)
Yield Farm #3 on Polygon (Matic) - Aave
Aave is, without doubt, the most popular Yield Farm on the Matic/Polygon network with its assets crossing $8 billion. Investors can engage in the trading of as many as 20 cryptocurrencies on the Aave network. They can do Yield Farming on these assets and earn additional returns. Aave provides fixed as well as variable interest rates to borrowers.
Yield Farm #4 on Polygon (Matic) - Polycat Finance
Polycat Finance yield farm has around $240 million in TVL on the Matic/Polygon network. It allows the integration of external liquidity pools like Aave, SushiSwap and QuickSwap, but provides rewards in the native token, FISH. Polycat Finance is the most economically viable yield farm on the Matic/Polygon network.
Yield Farm #5 on Polygon (Matic) - DFYN
One of the top yield farms on the Matic/Polygon network, DFYN is managed and governed by the community. The best part of the DFYN yield farm is that it has very low fees for transactions which is why investors are attracted to it. DFYN offers lucrative yields on many assets; these yields are paid in the native token, DFYN. It has almost $200 million liquidity in TVL currently.
About Blockchain Simplified
Blockchain Simplified is a Top blockchain development company in Pune - India which works on all major Blockchain requirements. We specialise in Blockchain, Web and Mobile development (One Stop Shop for all technology development needs).
Our clientele includes Multiple Funded Start - Ups, SMBs and few MNCs few of which are NASDAQ and NSE listed.
Some of our work includes,
Blockchain based-
hubrisone.com - is a Live app with 100,000+ downloads, All-in-One Cryptocurrency current account. The entire development from scratch carried out by Blockchain Simplified.
All in one Platform - Complete responsibility of entire software development of the platform ,for a $1m funded blockchain start up, led by a team of serial entrepreneurs and tech veterans in Silicon Valley.
Well funded Blockchain startup - Blockchain Simplified helped a $6m funded American Blockchain startup to build the first blockchain protocol to leverage on-chain smart contracts to manage distributed storage of application data off-chain.
Multinational Bank - The company helped one of the top 3 ranking Multinational Banks to integrate various cryptocurrencies into their banking application.
and more…
Non-Blockchain-
SHC - Built entire platform and app from scratch for a $1m funded startup led by a team of Americans including PhD degree holders.
VMW - Developed app for a multi-national company providing mass factory-to-factory shipment services. App is being used by 53 of the Fortune 500 companies such as John Deere, Coca-Cola, Nissan.
and more…
Expertise
Blockchain Development : Bitcoin, Ethereum, Hyperledger, Corda, and more.
Mobile App Development : Android Native, iOS Native, React Native, Flutter, Xamarin.
UI/UX Design : Strategy, Planning, UI/UX Design, Wireframing, Visual Designs.
Web App Development : Node.JS, Angular, React.JS, PHP.
Backend Development : MongoDB, MySQL, AWS, Firebase.
Visit our official website https://blockchainsimplified.com/ for more information