What are Stablecoins in the world of Cryptocurrency?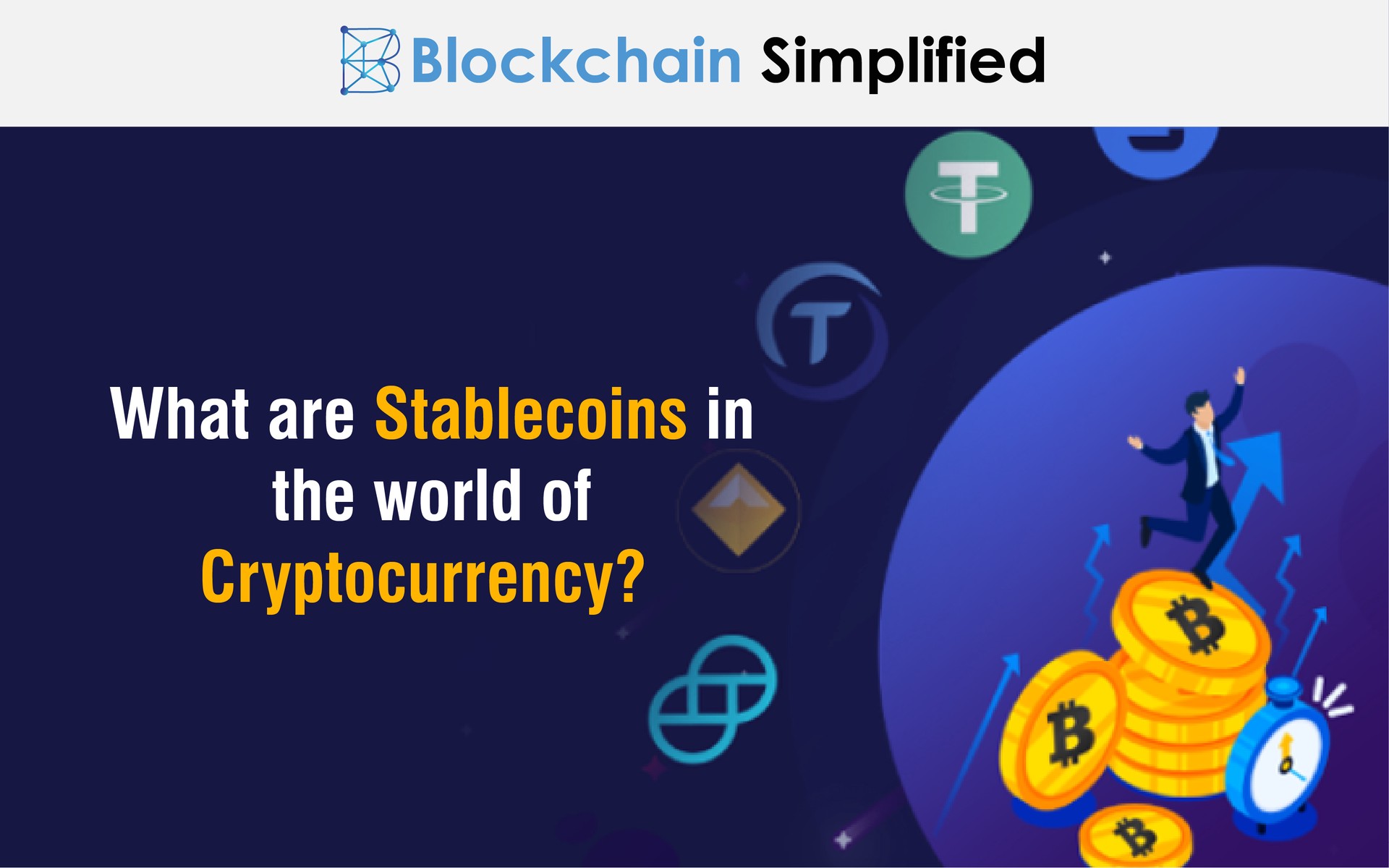 In some of our previous blogs like Bitcoin Futures and Perpetual Futures, we saw how cryptocurrencies like Bitcoin are highly volatile in nature and always witness fluctuations in their price. Infact, couple of days ago, Bitcoin suffered a massive fall. Investors and crypto traders investing in Bitcoin always have to bear the consequences of its extreme volatility in the form of losses.
Stablecoins were thus introduced in the world of crypto finance to hedge this risk and maintain stability while also holding on to the other aspects of cryptocurrencies. Let us, in this article, understand what are stablecoins, how do they work and what are the many benefits of stablecoins?
What are Stablecoins?
Although Blockchain Technology, Bitcoin and Ethereum have changed the face of digital and decentralized finance, the usage of cryptocurrencies and their trading is a complex process, given the unpredictable and ever fluctuating prices of the cryptos. While crypto trading and crypto exchanges provide an easy way of payment processing across the world, their constant price variations have earned them the reputation of being risky investments.
Stable coins are cryptocurrencies, whose value is pegged to a fiat currency to mitigate this risk of the crypto's volatility. By associating the crypto with a standard currency, the risk of the cryptocurrency's volatile nature is reduced with the stable nature of the standard currency. Since they are created to imitate the fiat currency they are pegged to, Stablecoins witness lesser fluctuations and hence are safer investments when compared to cryptocurrencies.
(https://blockchainsimplified.com is a top blockchain development company in Pune, India)
Types of Stablecoins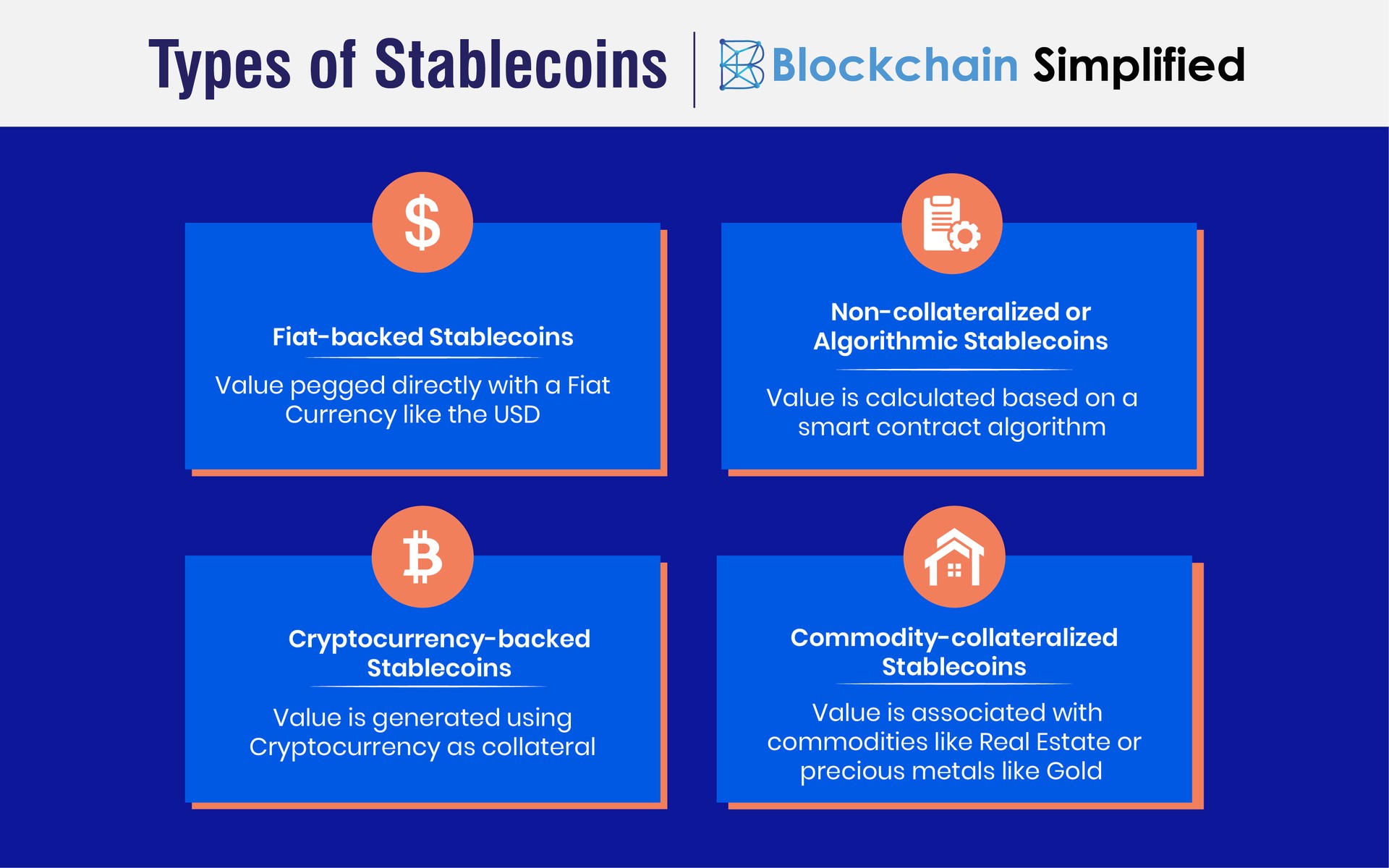 There are 4 different types of stablecoins available in the market. Let us discuss all these stablecoins in detail.
Fiat-backed Stablecoins
In Fiat backed stablecoins, the value of the cryptocurrency is pegged directly with a Fiat Currency like the USD at 1:1 ratio. These are also called Fiat-Collateralized stablecoins as the investor submits fiat currency as collateral to a bank or central authority, which in turn provides the same amount of stablecoins. A very popular fiat-backed stablecoin is the Tether stablecoin that is pegged to the USD. Some others include the Binance USD-BUSD that is associated with the USD as well and Binance GBP-BGBP that is pegged with the British pound. TrueUSD is another example.
Non-collateralized or Algorithmic Stablecoins
Non collateralized stablecoins derive their value from a smart contract algorithm. The process of issuance of these stablecoins is somewhat similar to the issuance of national fiat currencies by central banks. In an algorithmic stablecoin generation process, the smart contract is programmed to reduce the supply of the stablecoins if its price falls below the price of the fiat currency it is pegged to, and if the price exceeds the value of the fiat, then new stablecoins are brought into the market.
Cryptocurrency-backed Stablecoins
True to its name, the value for these stablecoins is generated using Cryptocurrency as collateral. Investors submit cryptocurrency like Ethereum or Bitcoin as collateral. But due to the volatile nature of cryptocurrencies, their submission as a collateral is risky. Therefore, to combat this risk, a cryptocurrency-backed stablecoin is not pegged at a 1:1 ratio with a standard currency but can be pegged at a 2:1 ratio, 2 for the fiat, 1 for the stablecoin.
Commodity-collateralized Stablecoins
A little different from the above 3 stablecoins, the value of Commodity-collateralized stablecoins is associated with commodities like Real Estate or precious metals like Gold. Since these stablecoins are tagged to real assets holding tangible value which generally only appreciate with time, they are widely popular and preferred by investors.
Benefits of Stablecoins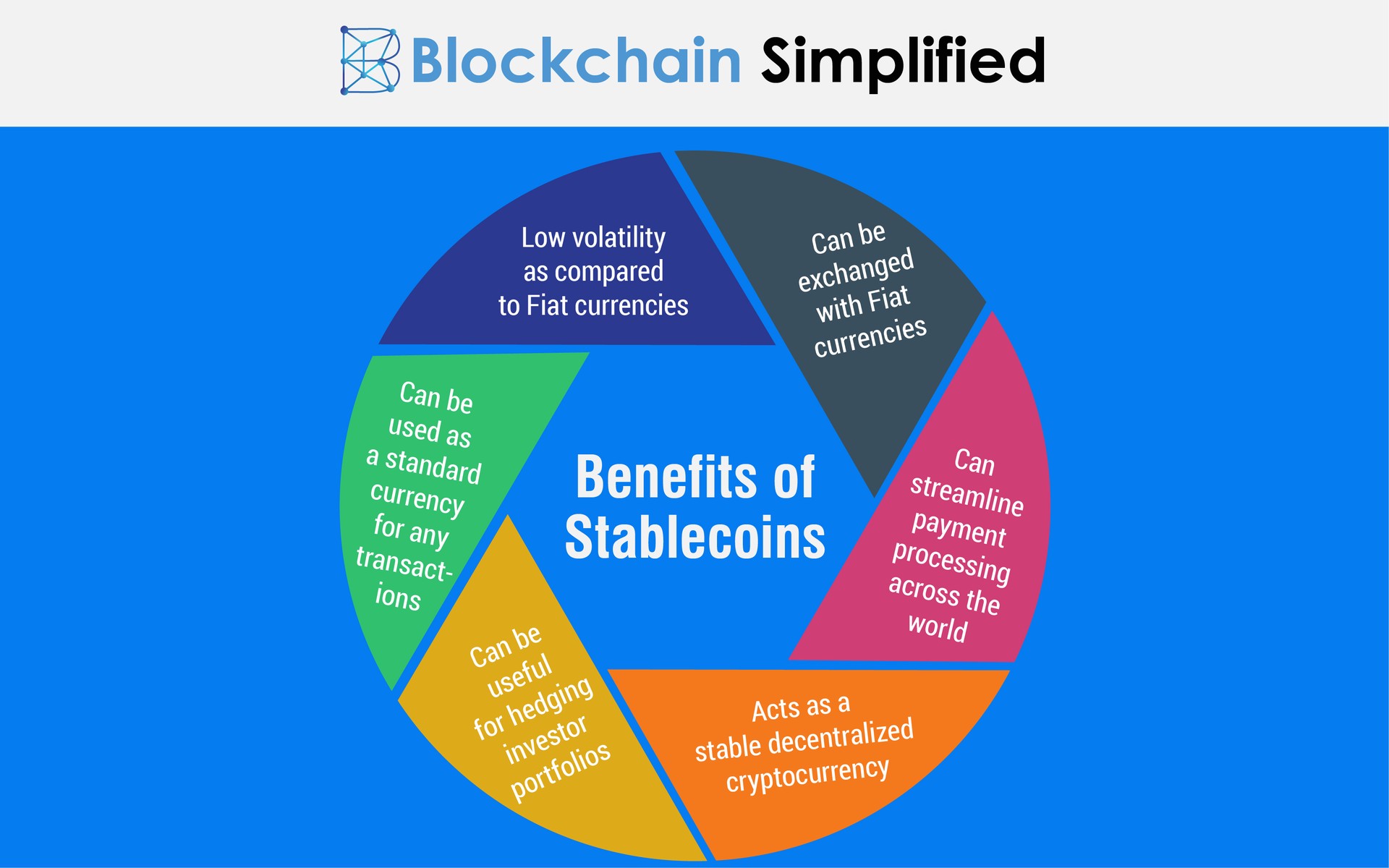 As discussed above, the most beneficial aspect of stablecoins is that they experience less volatility than fiat currencies; rather the price fluctuations are almost negligible. Termed as cryptocurrencies that have fixed prices, stablecoins are stable decentralized cryptos that can not only be used as a standard currency for faster day-to-day financial transactions but can also be used in crypto loans, yield farming and crypto derivatives trading.
Stablecoins can also be used as a global currency for processing transactions across the world and streamline the entire process with easier access and faster execution. Stablecoins effectively eliminate the challenges that cryptocurrencies face by stabilizing the market price.
Stablecoins are excellent means of hedging portfolios that can be used by traders and investors. A portfolio containing a portion of stablecoins, keeping a value store to buy cryptos in future etc are good options to hedge the risks against portfolios.
(To hire Blockchain developers, visit us at https://blockchainsimplified.com)
Stablecoins - the Future
Due to their various advantages, stablecoins are the perfect answers to the ever fluctuating cryptocurrency market. They are fixed cryptocurrencies that provide transparency and stability to the shaky crypto space.
About Blockchain Simplified
Blockchain Simplified is a Top blockchain development company in Pune - India which works on all major Blockchain requirements. We specialise in Blockchain, Web and Mobile development (One Stop Shop for all technology development needs).
Our clientele includes Multiple Funded Start - Ups, SMBs and few MNCs few of which are NASDAQ and NSE listed.
Some of our work includes,
Blockchain based-
hubrisone.com - is a Live app with 100,000+ downloads, All-in-One Cryptocurrency current account. The entire development from scratch carried out by Blockchain Simplified.
All in one Platform - Complete responsibility of entire software development of the platform ,for a $1m funded blockchain start up, led by a team of serial entrepreneurs and tech veterans in Silicon Valley.
Well funded Blockchain startup - Blockchain Simplified helped a $6m funded American Blockchain startup to build the first blockchain protocol to leverage on-chain smart contracts to manage distributed storage of application data off-chain.
Multinational Bank - The company helped one of the top 3 ranking Multinational Banks to integrate various cryptocurrencies into their banking application.
and more…
Non-Blockchain-
SHC - Built entire platform and app from scratch for a $1m funded startup led by a team of Americans including PhD degree holders.
VMW - Developed app for a multi-national company providing mass factory-to-factory shipment services. App is being used by 53 of the Fortune 500 companies such as John Deere, Coca-Cola, Nissan.
and more…
Expertise
Blockchain Development : Bitcoin, Ethereum, Hyperledger, Corda, and more.
Mobile App Development : Android Native, iOS Native, React Native, Flutter, Xamarin.
UI/UX Design : Strategy, Planning, UI/UX Design, Wireframing, Visual Designs.
Web App Development : Node.JS, Angular, React.JS, PHP.
Backend Development : MongoDB, MySQL, AWS, Firebase.
Visit our official website https://blockchainsimplified.com/ for more information.