Top trending Decentralized Finance (DeFi) innovations in 2020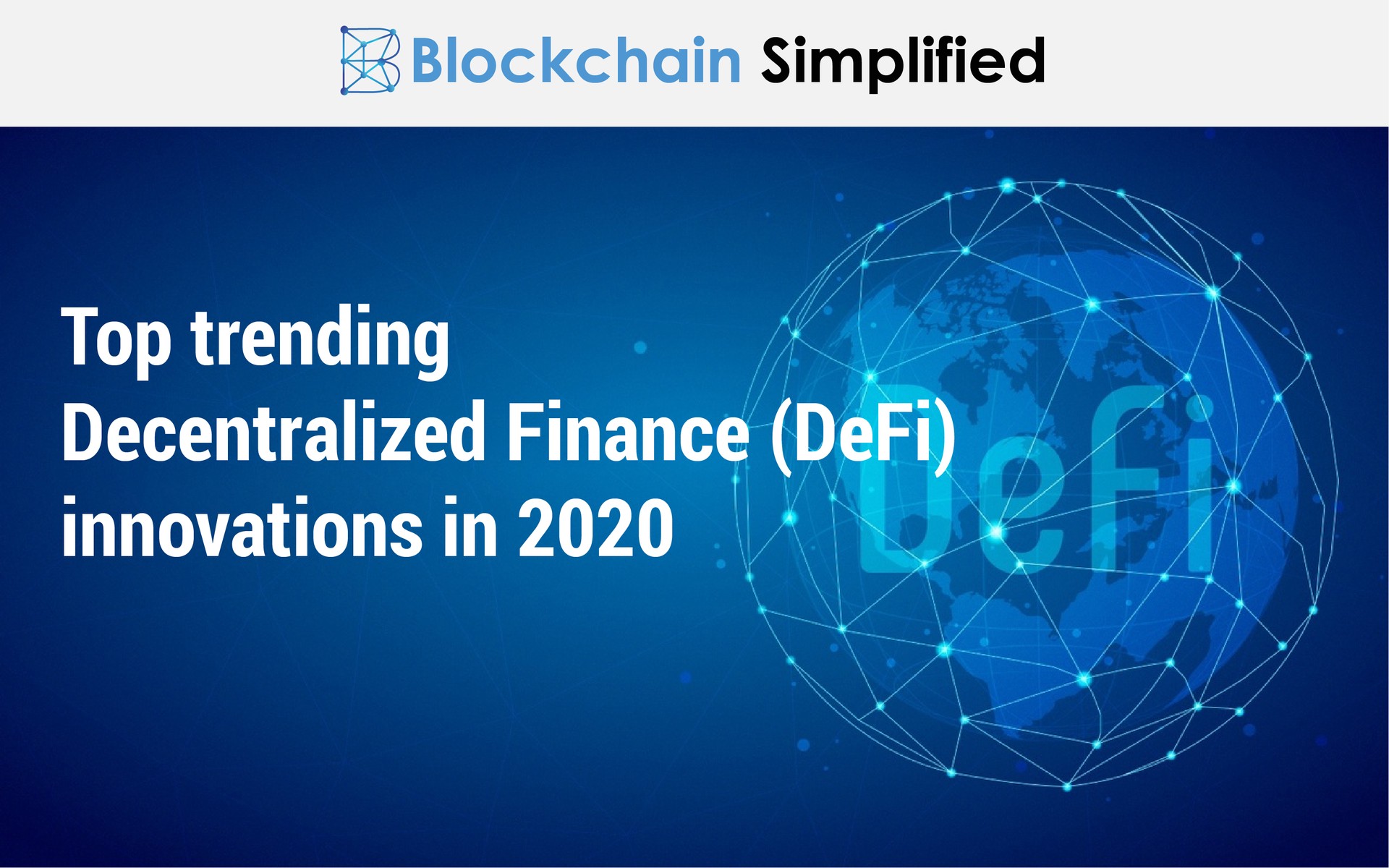 Off lately, Decentralized Finance (DeFi) has gained immense traction and appreciation in the Finance and Blockchain arena. DeFi not only provides a decentralized platform for crypto trading but goes a bit further to provide several other financial services like loans, insurance etc on a decentralized blockchain platform that can be accessed by people world over. Such has the popularity of DeFi seen a rise in these couple of years that the total volume of assets the Decentralized Finance DEX crossed $11b in August 2020.. Below is a graph representing monthly Decentralized Finance volume from its inception up until June 2020.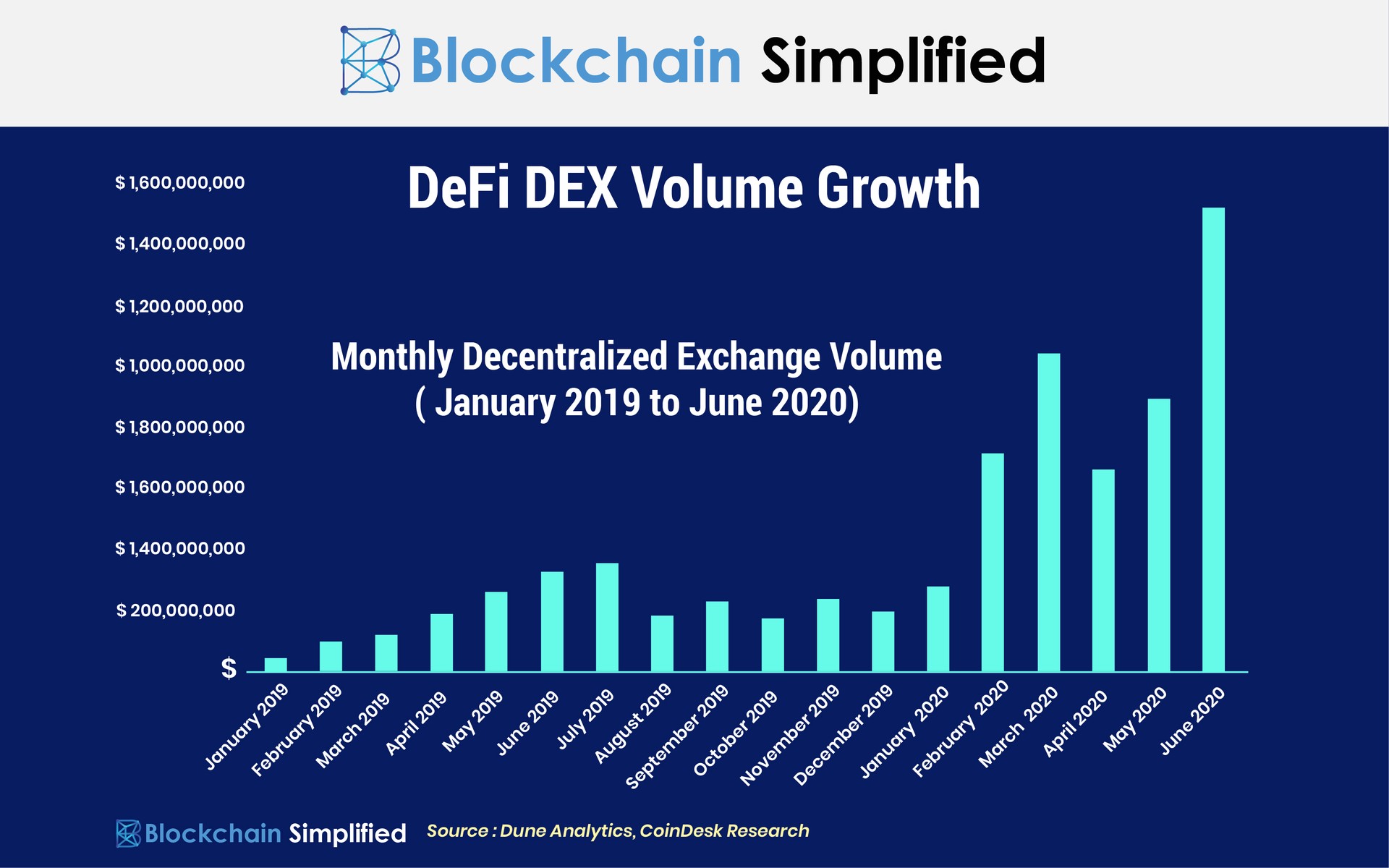 With regular innovations and varied products and services to offer, Decentralized Finance (DeFi) has immense potential to disrupt the Fintech industry. Let us take a look at some of these path-breaking DeFi trends that are ruling the DeFi space in 2020 and show enormous promise to shine bright in future as well.
Decentralized Finance Trends : The "Ethereum" Wave
Due to its amazing dApp and smart contract use-cases, Ethereum is almost always the preferred choice when it comes to build apps for decentralized finance. All major DeFi platforms are built on the Ethereum blockchain and new projects continue to opt Ethereum. Infact, the TVL in DeFi in Ethereum is around 80% as of today. Ethereum is capable of executing the complicated transactions of Decentralized Finance thanks to its nature of being scalable and adaptable.
Decentralized Finance Trends : Rise in Stablecoin Popularity
The Decentralized Finance industry may be decentralized in nature, in their infrastructure, but there is a major part of it that is still centralized. For eg:- Compound Finance is a DeFi platform that allows the trading of crypto or tokens, but the storage of their value is still in the hands of the company - Compound. Therefore, traders and investors are always on the lookout for a stablecoin that stores value and hedge risks.
One such stablecoin that is completely decentralized is Dai, by MakerDAO. It is by far the most used stablecoin courtesy its transparency and stability.
(To hire Blockchain developers, visit us at https://blockchainsimplified.com)
Decentralized Finance Trends : DeFi Insurance
Plenty of financial products and services of Decentralized Finance have been created and developed on DeFi platforms that have emerged as major trendsetters. One of them is DeFi Insurance that is an emerging sector designed to protect crypto assets and cover associated risks. Crypto wallet insurance, smart contract covers, collateral protection in case of DeFi based crypto loans etc are some of the amazing use-cases of the DeFi insurance. These applications provide an array of benefits for the investors like protection of their DeFi deposits against crypto volatility and flash crash, protection against the risk of theft and attack on crypto wallets, protection of funds from hacks on exchange platforms and many more.
Decentralized Finance Trends : DeFi Crypto Lending
Another interesting and popular decentralized finance product available on the Defi platforms is the Crypto Lending or the Yield Farming phenomenon. Yield Farming is a process where borrowers deposit their crypto assets as collateral to acquire fiat currency loans on the DeFi platforms. Without having to invest in paperwork and worry about repayment, borrowers can borrow money from lenders who wish to lend crypto loans. In case of repayment failure, the borrowers collateral is liquidated.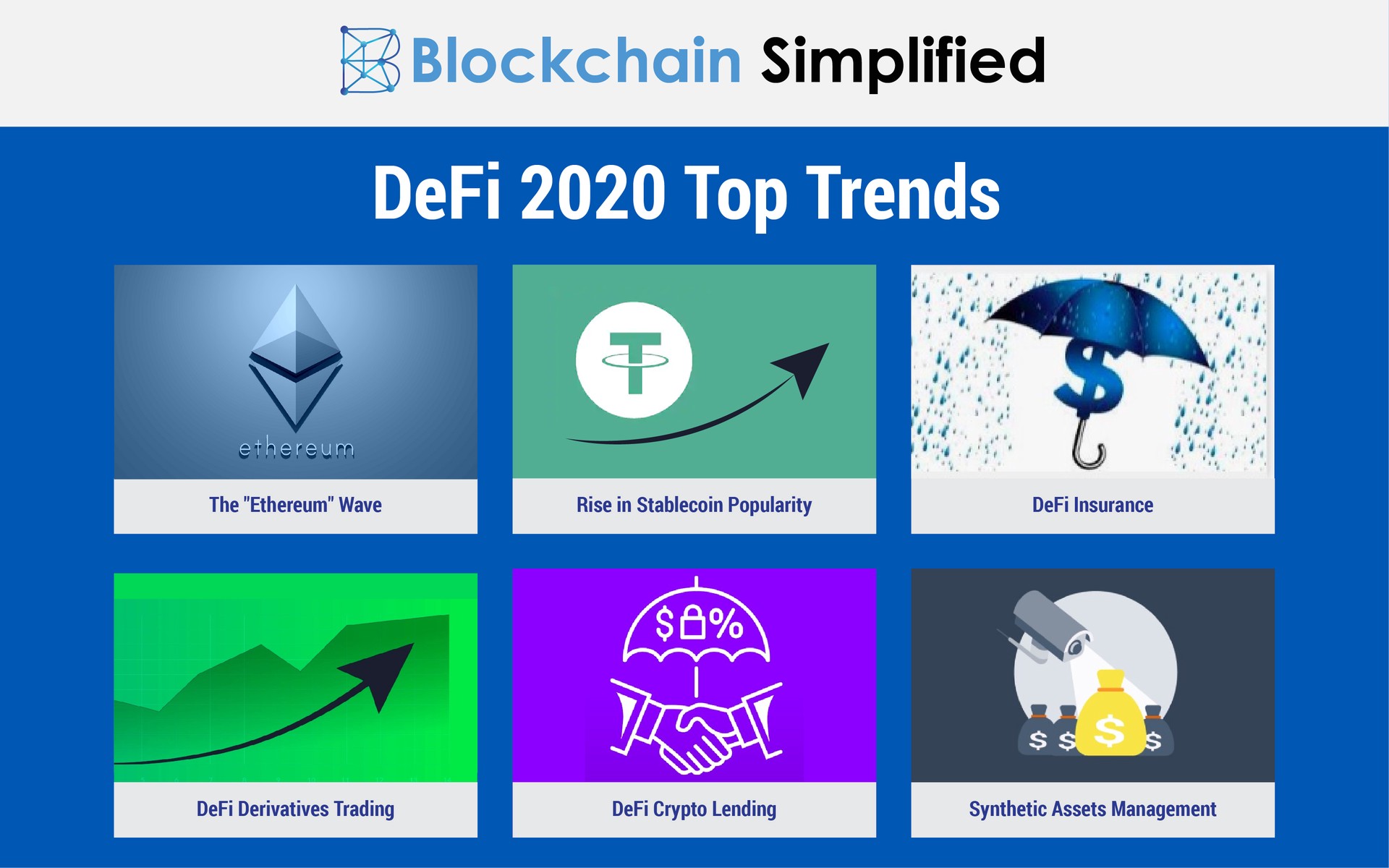 Decentralized Finance Trends : DeFi Derivatives Trading
This is one more useful DeFi service - crypto derivatives trading. DeFi derivatives like Bitcoin Futures trading are generally used to hedge against the risk of volatile assets, particularly those which experience sudden price fluctuations. The purpose of Derivatives trading is not to gain profit but to mitigate risks against a volatile asset.
Decentralized Finance Trends : Synthetic Assets Management
Synthetic assets are basically used to simulate the risks or benefits of any particular financial instrument by using modelling of one financial instrument or a combination of financial instruments. Read more about how DeFi platforms can manage synthetic assets in this article.
(https://blockchainsimplified.com is a top blockchain development company in Pune, India)
Decentralized Finance Trends 2020
Decentralized Finance (DeFi) is held in high value in the blockchain space due to its impressive discoveries and useful financial services. These inventions not only have a strong foothold in the DeFi space and set a whole new trend in this field but show immense scope for future development as well.
About Blockchain Simplified
Blockchain Simplified is a Top blockchain development company in Pune - India which works on all major Blockchain requirements. We specialise in Blockchain, Web and Mobile development (One Stop Shop for all technology development needs).
Our clientele includes Multiple Funded Start - Ups, SMBs and few MNCs few of which are NASDAQ and NSE listed.
Some of our work includes,
Blockchain based-
hubrisone.com - is a Live app with 100,000+ downloads, All-in-One Cryptocurrency current account. The entire development from scratch carried out by Blockchain Simplified.
All in one Platform - Complete responsibility of entire software development of the platform ,for a $1m funded blockchain start up, led by a team of serial entrepreneurs and tech veterans in Silicon Valley.
Well funded Blockchain startup - Blockchain Simplified helped a $6m funded American Blockchain startup to build the first blockchain protocol to leverage on-chain smart contracts to manage distributed storage of application data off-chain.
Multinational Bank - The company helped one of the top 3 ranking Multinational Banks to integrate various cryptocurrencies into their banking application.
and more…
Non-Blockchain-
SHC - Built entire platform and app from scratch for a $1m funded startup led by a team of Americans including PhD degree holders.
VMW - Developed app for a multi-national company providing mass factory-to-factory shipment services. App is being used by 53 of the Fortune 500 companies such as John Deere, Coca-Cola, Nissan.
and more…
Expertise
Blockchain Development : Bitcoin, Ethereum, Hyperledger, Corda, and more.
Mobile App Development : Android Native, iOS Native, React Native, Flutter, Xamarin.
UI/UX Design : Strategy, Planning, UI/UX Design, Wireframing, Visual Designs.
Web App Development : Node.JS, Angular, React.JS, PHP.
Backend Development : MongoDB, MySQL, AWS, Firebase.
Visit our official website https://blockchainsimplified.com/ for more information.