The implementation of Blockchain as a Service(BaaS)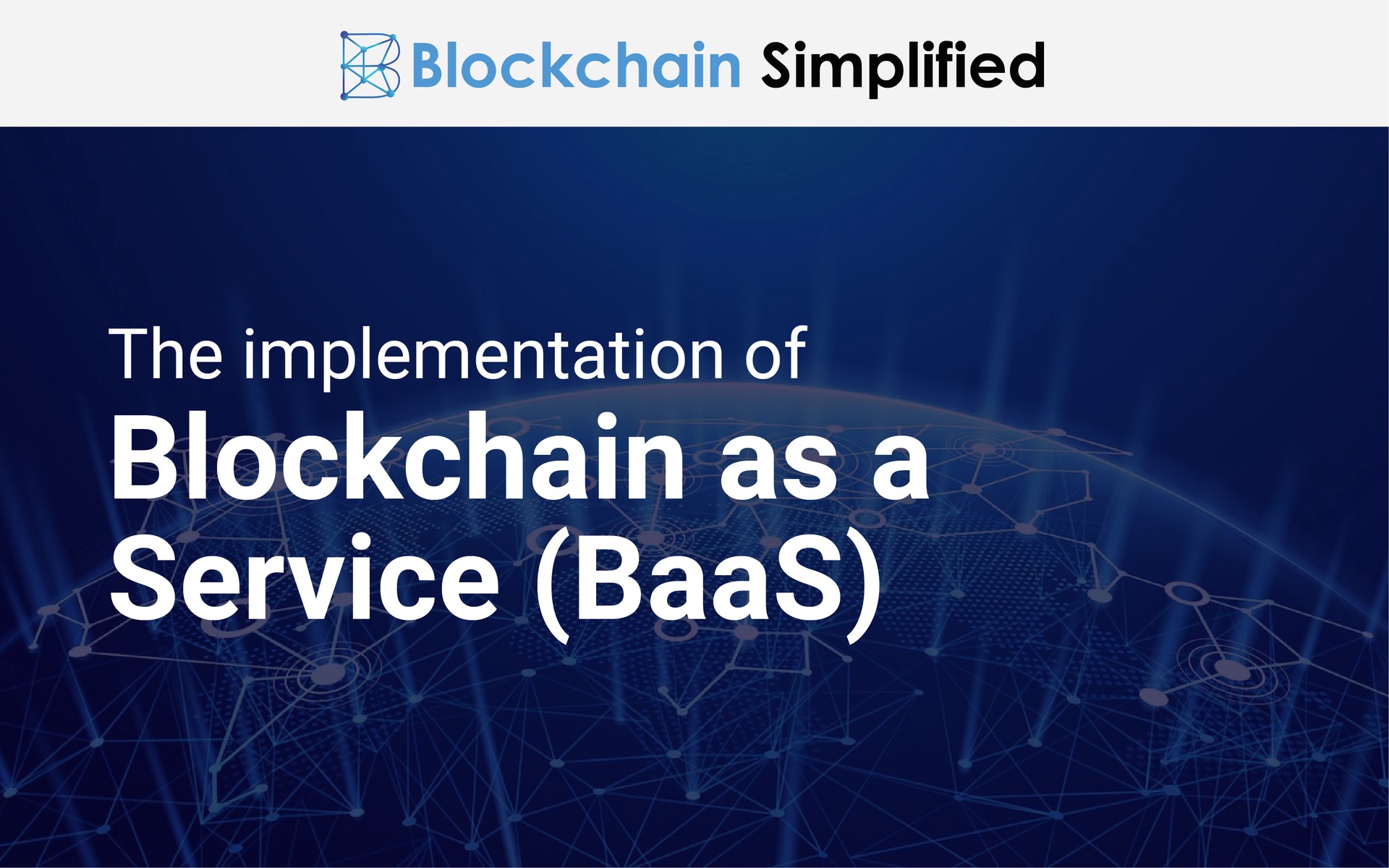 By now, we have seen how Blockchain technology has become the talk of the town. Be it any industry like Energy, Agriculture, Finance etc, Blockchain is making waves across all sectors. While IT industries can successfully implement Blockchain projects since it is their core; for other sectors whose core competency lies in fields like mentioned above, it is a herculean task to develop full-fledged Blockchain solutions in their space.
To overcome this challenge, Blockchain as a Service model has made its grand entry to simplify the development process for such field industries. By using Blockchain as a Service, these industries can concentrate on their core areas and rely upon this service for the implementation of Blockchain in their projects.
What is Blockchain as a Service (BaaS)?
In the Blockchain as a Service (BaaS) model, businesses and organizations can access the Blockchain service that is created and developed on a cloud. A blockchain as a service application is developed, hosted and deployed on the cloud. This application is like any other natively hosted blockchain application that has smart contracts and other relevant Blockchain functions. The advantage of a blockchain as a service (BaaS) model application is that the business need not worry about the management and installation of any kind of infrastructure like the server and instead depend on the cloud-based service provider to do all these IT-related jobs.
Based on the lines of Software as a Service (SaaS), Blockchain as a Service will encourage more and more industries to adopt Blockchain technology in their businesses, which, even though knew about Blockchain's significance, but were skeptical about its adoption due to huge dependency on IT. The technical intricacies of developing and maintaining Blockchain and its related infrastructure had restricted many industries to adopt mainstream Blockchain technology in their areas, but thanks to the Blockchain as a service (BaaS) model, organizations have been willing to accept & implement Blockchain in their respective spaces.
(https://blockchainsimplified.com is a top blockchain development company in Pune, India. We offer Blockchain as a Service model for your business requirements.)
How Does Blockchain as a Service (BaaS) Work?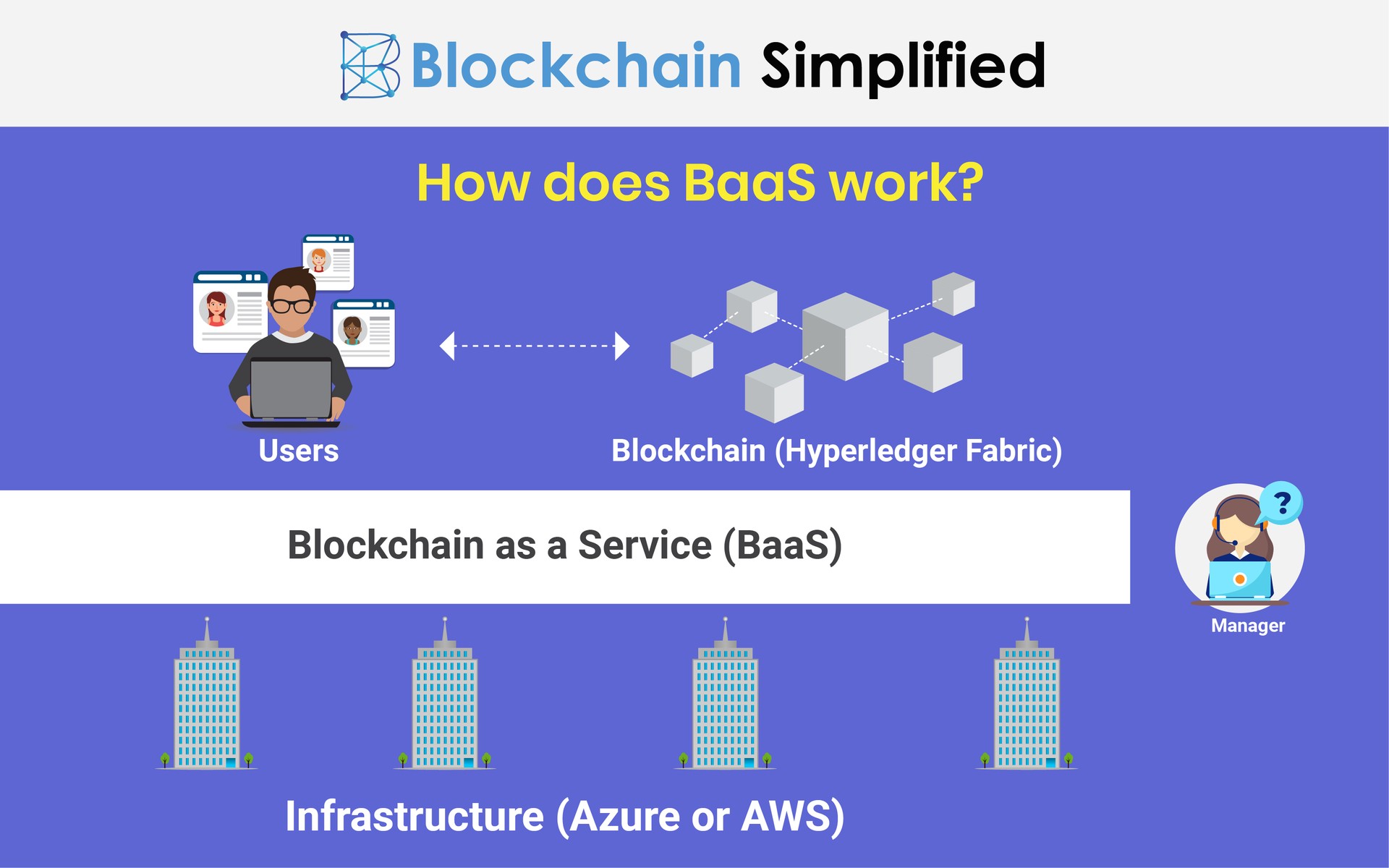 Similar to how a website is hosted on any web hosting provider like Microsoft Azure or Amazon Web Services (AWS) rather than hosting it on your server and managing all the maintenance work yourself, a Blockchain as a service (BaaS) provider provides all the necessary setup and infrastructure to businesses to develop their Blockchain applications. The BaaS provider is responsible for hosting and deploying the application, managing the back-end nitty gritties, resource allocation, protection from cyber attacks etc. It also takes care of always keeping the infrastructure up and running.
The business that is using Blockchain as a Service is obliged to pay fees to the service provider for the platform they provide for implementing the Blockchain solution. The BaaS provider can configure the blockchain network on blockchain platforms like Ethereum, Hyperledger Fabric, Bitcoin etc. Now that we know how Blockchain as a service works, there are some parameters which need to be taken into account while choosing the correct service provider.
Criteria to choose the right Blockchain as a Service platform
There are many Blockchain as a service providers in the market. Listed below are a few pointers that can help identify the best BaaS provider or you can say the criteria that a good Blockchain as a service provider should meet.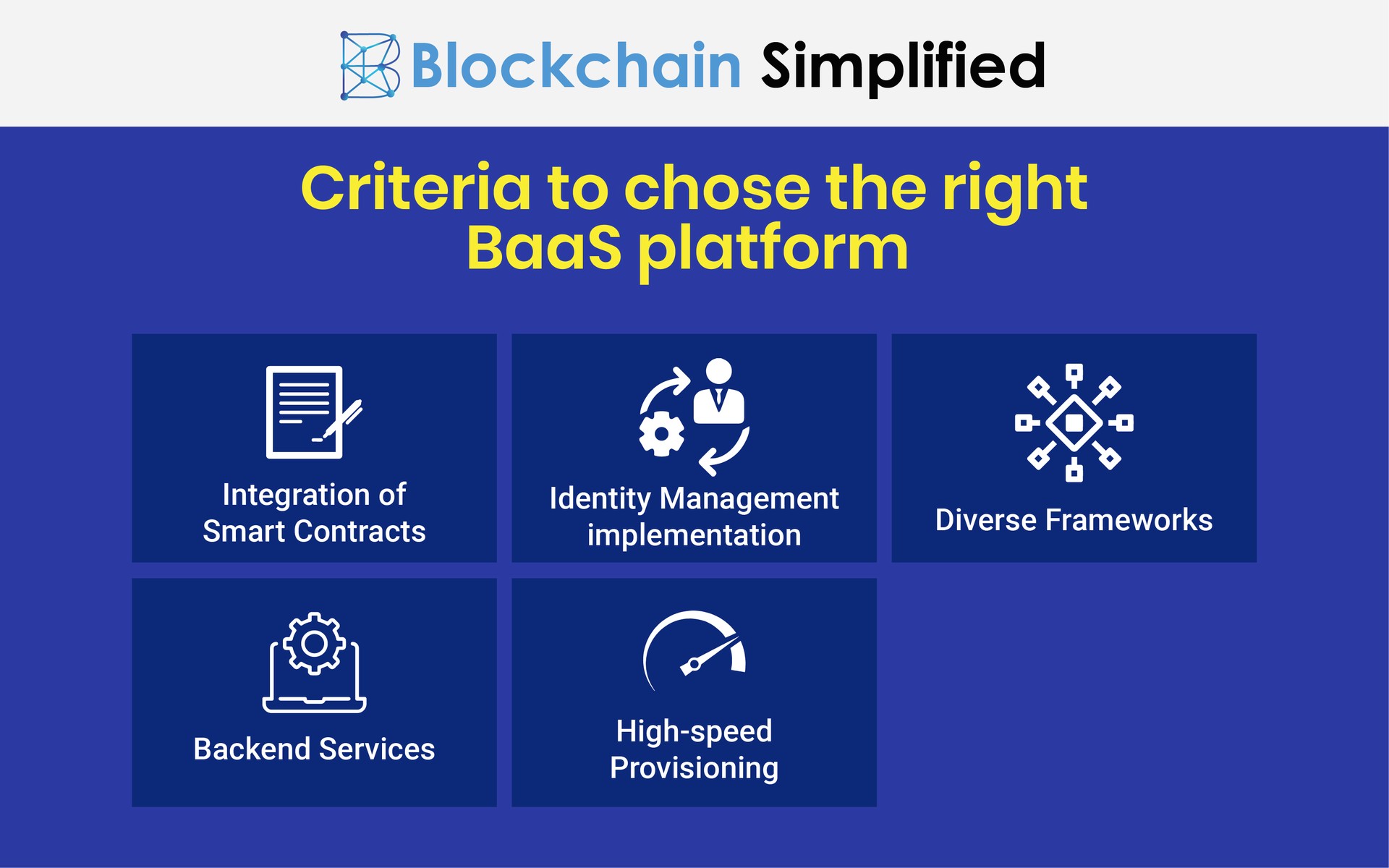 Integration of Smart Contracts
First and foremost, the ability to integrate smart contracts in your applications is a must. Smart contracts not only apply business logic to the application but can also specify rules in case of certain triggers, can automate complex business processes, so on and so forth. For a Blockchain as a service provider, it is imperative to provide the facility of integrating smart contracts within the Blockchain application.
Identity Management implementation
With respect to guaranteeing high level security inside the network, a blockchain as a service provider is required to provide a framework that manages permissions and access on the blockchain network. Not every user should be able to enter the network without prior permission. A well-built access management system that authenticates and validates every user before granting access to the network is mandatory for any BaaS provider to implement.
Diverse Frameworks
A good Blockchain as a service provider is the one that offers multiple Blockchain platforms and frameworks in their services. To make the Blockchain application more flexible and versatile, it is essential that the BaaS provider supports many frameworks.
Backend Services
Providing full support of backend services is an important service for any Blockchain as a service provider. Every enterprise has its unique needs for backend services. Providing high-end data security, cost-effectiveness, managing system scalability in times of heavy traffic, always maintaining system availability, balancing energy consumption etc are some of the many services that a good BaaS provider needs to offer.
High-speed Provisioning
Due to a lot of hosting requests, a Blockchain as a service provider has to face a lot of pressure to host and deploy Blockchain applications. These requests can come from various browsers, different hardware, diverse databases and varied servers, the requirements of each being unique and complex. A high-speed provisioned BaaS provider can serve each one of these requests with equal ease and performance. The best is the one which provides quick deployment, staging, testing and production with minimal hassles and zero errors. Also important is that the BaaS provider provides feasible solutions for backup and recovery in case of system failures.
(Visit us at https://blockchainsimplified.com for your Blockchain development requirements.)
Blockchain as a Service - Conclusion
There are several Blockchain as a service (BaaS) providers like AWS, Azure, R3 Corda etc to choose from, in the market. According to business requirements, go for the suitable one!
About Blockchain Simplified
Blockchain Simplified is a Top blockchain development company in Pune - India which works on all major Blockchain requirements. We specialise in Blockchain, Web and Mobile development (One Stop Shop for all technology development needs).
Our clientele includes Multiple Funded Start - Ups, SMBs and few MNCs few of which are NASDAQ and NSE listed.
Some of our work includes,
Blockchain based-
hubrisone.com - is a Live app with 100,000+ downloads, All-in-One Cryptocurrency current account. The entire development from scratch carried out by Blockchain Simplified.
All in one Platform - Complete responsibility of entire software development of the platform ,for a $1m funded blockchain start up, led by a team of serial entrepreneurs and tech veterans in Silicon Valley.
Well funded Blockchain startup - Blockchain Simplified helped a $6m funded American Blockchain startup to build the first blockchain protocol to leverage on-chain smart contracts to manage distributed storage of application data off-chain.
Multinational Bank - The company helped one of the top 3 ranking Multinational Banks to integrate various cryptocurrencies into their banking application.
and more…
Non-Blockchain-
SHC - Built entire platform and app from scratch for a $1m funded startup led by a team of Americans including PhD degree holders.
VMW - Developed app for a multi-national company providing mass factory-to-factory shipment services. App is being used by 53 of the Fortune 500 companies such as John Deere, Coca-Cola, Nissan.
and more…
Expertise
Blockchain Development : Bitcoin, Ethereum, Hyperledger, Corda, and more.
Mobile App Development : Android Native, iOS Native, React Native, Flutter, Xamarin.
UI/UX Design : Strategy, Planning, UI/UX Design, Wireframing, Visual Designs.
Web App Development : Node.JS, Angular, React.JS, PHP.
Backend Development : MongoDB, MySQL, AWS, Firebase.
Visit our official website https://blockchainsimplified.com/ for more information.