The Advent of Bitcoin Hedge Funds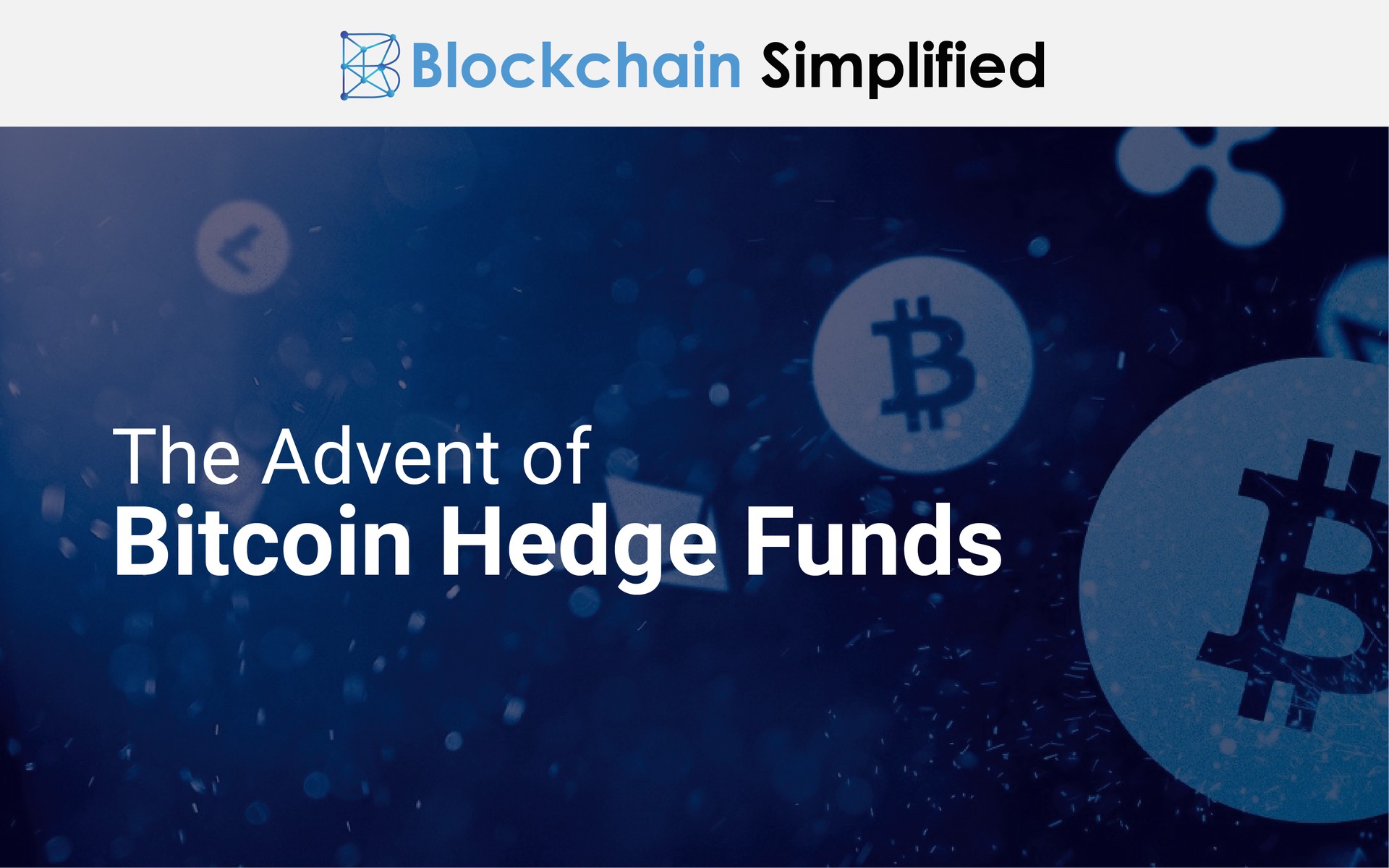 Those who are familiar with the financial markets and its operations, may surely know what hedge funds are. In a hedge fund, financial investment is done in alternative financial strategies like stocks, bonds etc to mitigate any future risk arising due to unforeseen market fluctuations. Now, one may argue that mutual funds also serve the same purpose. Well, the answer is yes but only partially. Learn more about the difference between Hedge Funds and Mutual Funds here.
(https://blockchainsimplified.com is a top Bitcoin development company in Pune, India)
What are Bitcoin Hedge Funds or Crypto Hedge Funds?
On similar lines as that of hedge funds, Crypto Hedge Funds invest the cryptocurrency of investors, leveraging multiple strategies, in various financial investments with the aim of generating returns for investors while also managing and hedging risks against the investment. In some of our previous blogs, we saw how Decentralized Finance and its services like Crypto loans, Crypto Derivative Trading, Yield Farming etc have garnered much attention and interest from crypto investors. Crypto Hedge Funds is another such area which is gaining immense popularity in the crypto space in recent years.
Currently, the main focus area of crypto hedge funds are Bitcoin and Ethereum. Infact, Bitcoin is already running in the race, with Bitcoin hedge funds witnessing substantial investments from investors. According to a survey, the % of crypto hedge funds managing assets of over $20 million increased to $44 million last year, clearly indicating the rise in their stakes. Below is a graph depicting the growth in the volume of Bitcoin hedge funds in the last couple of years.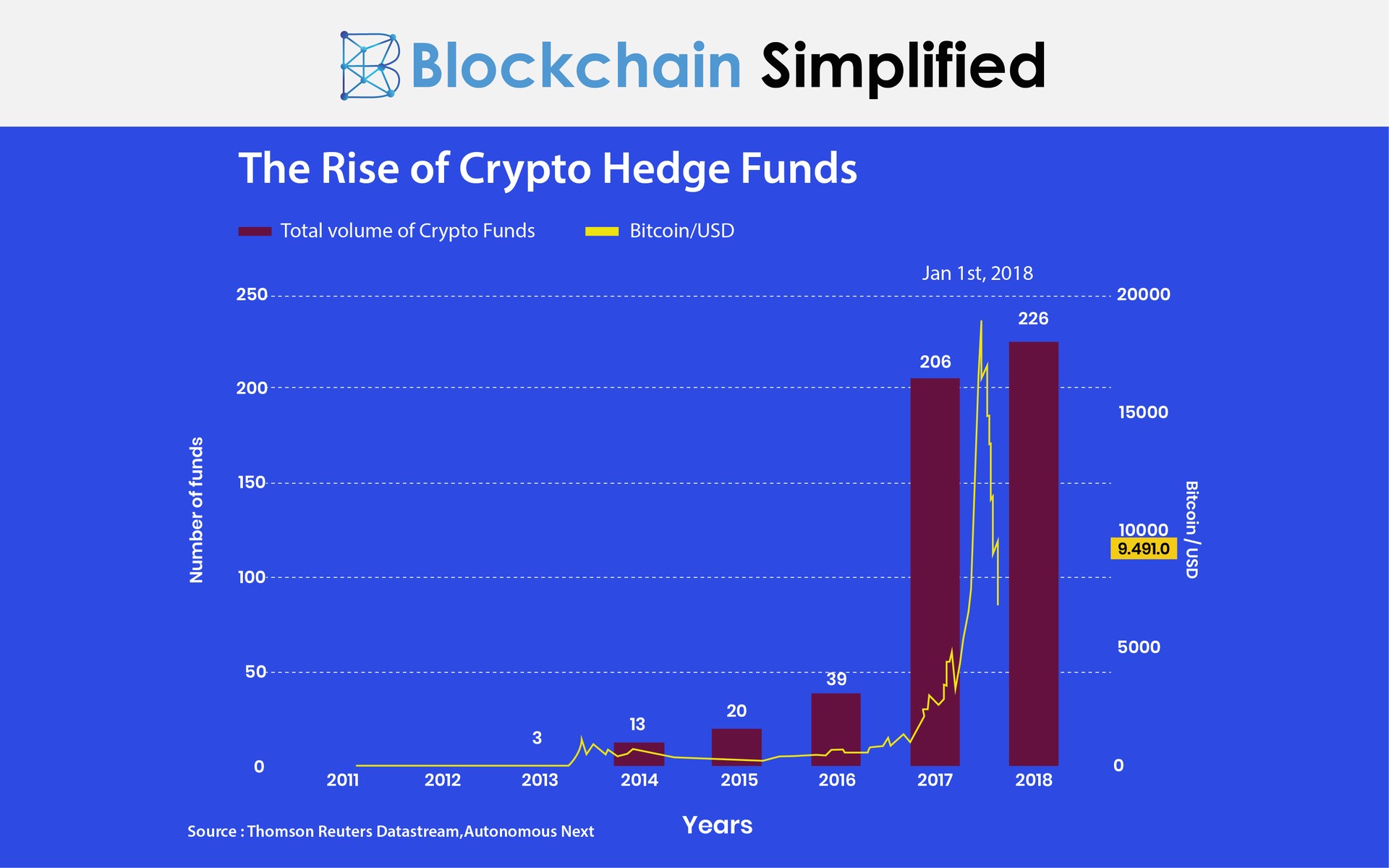 Types of Crypto Hedge Funds/Bitcoin Hedge Funds
The investment company has multiple options to choose from to invest in crypto hedge funds. These are strategies that can be applied to any cryptocurrency like Bitcoin or Ethereum. Bitcoin Hedge Funds also follow the below strategies.
Forex Trading
In Forex Trading, a trader, based on his experience, research and analysis and the latest market news and trends, decides whether it is the correct time to buy or sell cryptos. If the trader decides to invest in Bitcoin Hedge Funds, he gathers all the trading signals for Bitcoin from the market like news, events etc to determine the feasibility of buying or selling.
FoF (Fund of Funds)
As the name suggests, Fund of Funds, abbreviated as FoF, is investing in a portfolio of other funds instead of investing in stocks or bonds. Hence, it is also known as multi-manager investment.
Quant models or Quantitative
In this type of Bitcoin Hedge Funds, quantitative models are developed to do a thorough study of how the funds should be invested in order to beat the risk. There have been proven records that show how quant models are used to tackle highly volatile cryptos like Bitcoin.. According to the annual PwC–Elwood Crypto Hedge Fund Report, the most common crypto or bitcoin hedge fund strategy is quantitative totalling up to 48% of the entire volume.
Multi-Strategy
True to its name, multi-strategy funds means investing in multiple strategies like long and short equity, convertible bonds, arbitrage trading etc. By investing in multiple and diverse strategies, it is possible to mitigate the risks associated with crypto fluctuations and single strategy investments. Multi-strategy bitcoin hedge funds account to almost 17-18% of the total volume of crypto hedge funds.
Arbitrage
Simply put, the arbitrage method of Bitcoin hedge funds or any other crypto hedge funds is the strategy of earning profits due to the price difference of an asset in different markets.
(To hire Bitcoin developers, visit us at https://blockchainsimplified.com)
What the future holds for Bitcoin Hedge Funds?
While the crypto trading space was limited to private traders and investors before, the emergence of the crypto hedge funds and bitcoin hedge funds has attracted other professional investors as well. The overall growth and the increased interest in this field is very promising.
About Blockchain Simplified
Blockchain Simplified is a Top blockchain development company in Pune - India which works on all major Blockchain requirements. We specialise in Blockchain, Web and Mobile development (One Stop Shop for all technology development needs).
Our clientele includes Multiple Funded Start - Ups, SMBs and few MNCs few of which are NASDAQ and NSE listed.
Some of our work includes,
Blockchain based-
hubrisone.com - is a Live app with 100,000+ downloads, All-in-One Cryptocurrency current account. The entire development from scratch carried out by Blockchain Simplified.
All in one Platform - Complete responsibility of entire software development of the platform ,for a $1m funded blockchain start up, led by a team of serial entrepreneurs and tech veterans in Silicon Valley.
Well funded Blockchain startup - Blockchain Simplified helped a $6m funded American Blockchain startup to build the first blockchain protocol to leverage on-chain smart contracts to manage distributed storage of application data off-chain.
Multinational Bank - The company helped one of the top 3 ranking Multinational Banks to integrate various cryptocurrencies into their banking application.
and more…
Non-Blockchain-
SHC - Built entire platform and app from scratch for a $1m funded startup led by a team of Americans including PhD degree holders.
VMW - Developed app for a multi-national company providing mass factory-to-factory shipment services. App is being used by 53 of the Fortune 500 companies such as John Deere, Coca-Cola, Nissan.
and more…
Expertise
Blockchain Development : Bitcoin, Ethereum, Hyperledger, Corda, and more.
Mobile App Development : Android Native, iOS Native, React Native, Flutter, Xamarin.
UI/UX Design : Strategy, Planning, UI/UX Design, Wireframing, Visual Designs.
Web App Development : Node.JS, Angular, React.JS, PHP.
Backend Development : MongoDB, MySQL, AWS, Firebase.
Visit our official website https://blockchainsimplified.com/ for more information.