Can Blockchain in Pharma industry prove to be an effective drug?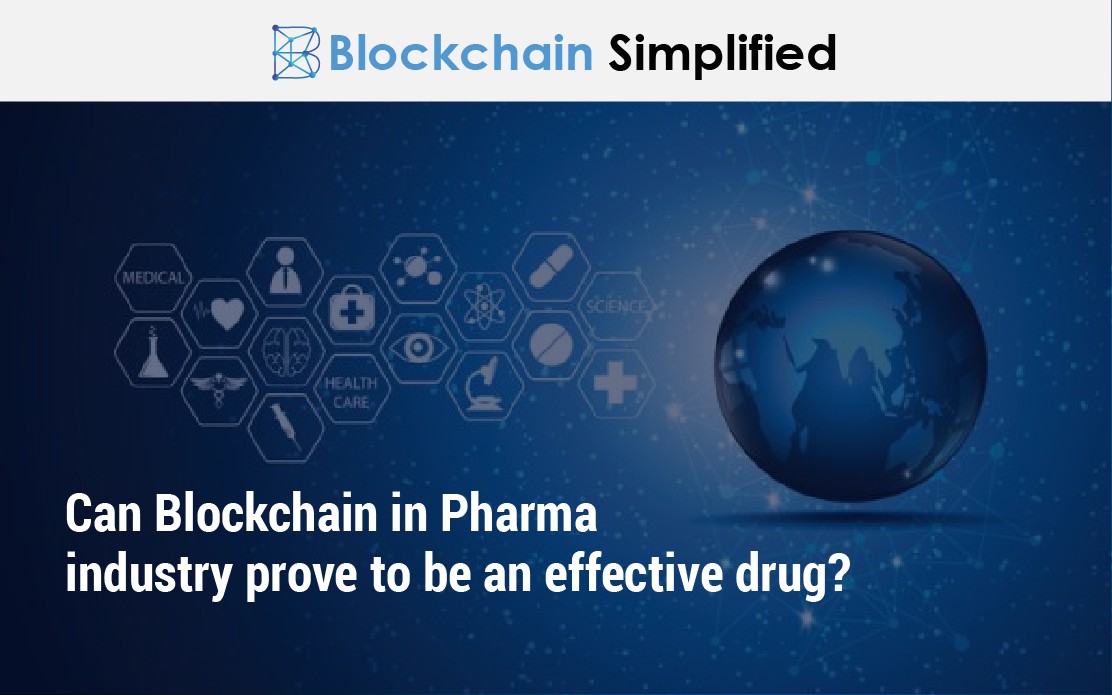 We have discussed enough about Blockchain technology in our previous blogs. Blockchain has possibly captured every sector across the globe; from digitally inclined fields like e-Commerce, Insurance, Finance to lesser tech-savvy fields like Energy & Agriculture. One of the most important sectors of Healthcare has also acknowledged Blockchain's immense potential in eliminating the challenges associated within its functioning. Infact, according to research, if implemented, Blockchain in Pharma & Healthcare can save up to a whopping $100-$150 billion per year. That is huge!
So how exactly does Blockchain in Pharma work? What are Blockchain's attributes that can be applied to the pharma sector? Let us deep dive into finding the answer to the above questions.
Challenges associated with the Pharma industry : is Blockchain the medicine?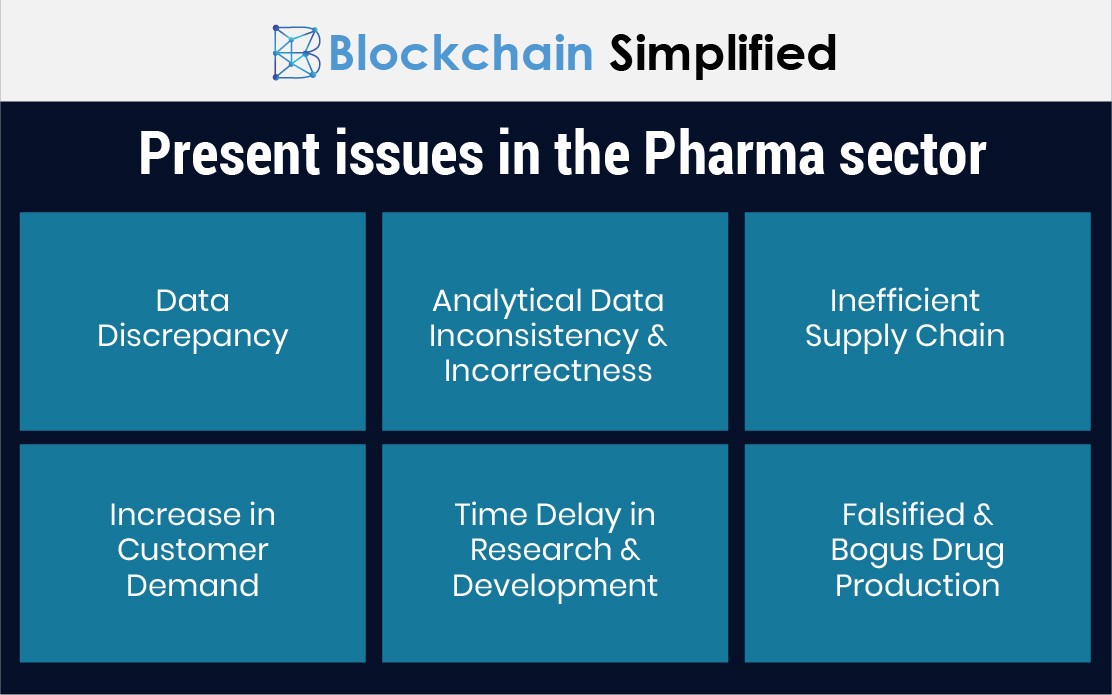 Data Discrepancy
Data is the most crucial and integral part of any working system. Data about new drugs, medicines etc form the foundation of the pharma database. This data is used for research and analytics to generate reports about experiments and innovation. Now this data is fetched from multiple silos connecting hospitals, various pharmaceutical companies, research labs etc. These systems use different platforms and divergent data structures. Connecting non-identical systems, matching and merging unalike data from diverse sources causes data discrepancy. Will Blockchain in Pharma be useful to remove this data discrepancy?
Analytical Data Inconsistency & Incorrectness
Due to the discrepancy in data, it is not useful for performing any analytics on it as it may generate incorrect reports. Incorrect analysis and erroneous data leads to undesirable generation of drugs which can lead to catastrophic consequences. The pharma industry also lacks meaningful tools that provide insightful analytical data useful for future innovation. The shortage of useful tools also leads to considerable delay in research and development. Blockchain in Pharma helps eliminate this inconsistency, we will see below how.
Inefficient Supply Chain
Like every industry, the supply chain remains one of the biggest challenges of the Pharma industry. No transparency and visibility in the end-to-end chain of drug supply from manufacturer to consumer is a major concern. Any vulnerability in the supply chain can invite fraud and there are potential chances of loss of drugs and money. Neither the manufacturer, nor the supplier, nor the pharmacies and nor the patient have access to the chain through which the drug travels. Additionally, pharma companies, drug retailers, and third party companies are involved in a lot of illegal processes to paint an unrealistic picture of the drug market. Blockchain is the perfect solution to remove these supply chain based inconsistencies in every industry; Blockchain in Pharma can also do wonders in this case.
Increase in Customer Demand
With the advent of the generic drug market and customers getting more and more smarter with access to the internet, their knowledge about the drug as well as demands for relevant drugs and medicines has increased. Due to this, pharma companies and everybody involved in the business have to be well aware of the scrutiny that they will go through if they are into any illegal or unethical practices.
Falsified and Bogus Drug Production
There are a lot of unlawful activities that happen in the pharma industry due to the involvement of middlemen, third party agents who take undue advantage of the shortcomings in the system. Production of bogus drugs, incorrect drug information, distribution of these bogus drugs to pharmacies and consumers can cause disastrous ramifications like death of people. The number of deaths caused by counterfeit drugs is seeing a steep rise everyday. In a startling statistical report, the pharma companies lose around $200 billion every year due to counterfeit drugs. Can implementation of Blockchain in Pharma eliminate this engagement of middlemen?
(Visit us at https://blockchainsimplified.com to hire blockchain developers. We are an offshore blockchain development company based out of Pune, India)
How Blockchain in Pharma Sector solves the above challenges?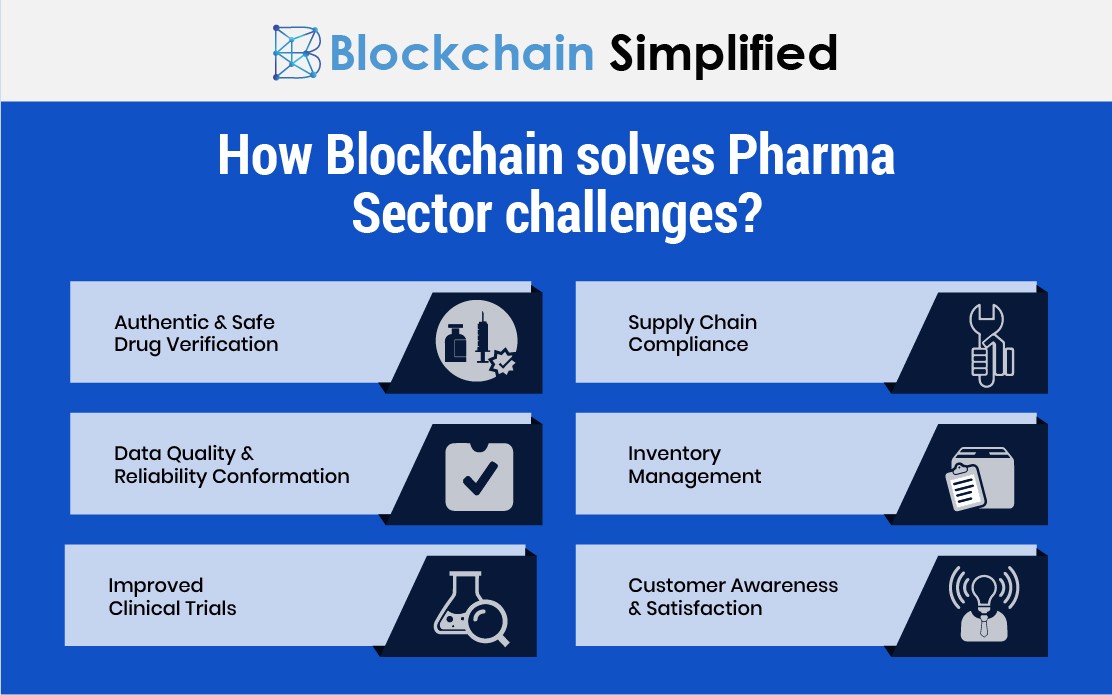 Authentic & Safe Drug Verification
In order to check the authenticity and verification of the drugs, typically there is a centralized authority in countries like the United States and also across many countries in Europe. These associations take care of barcoding and serializing the drugs before distributing to the wholesalers. And obviously the involvement of a central party creates many issues.
Blockchain in Pharma can resolve this issue by providing a decentralized platform where manufacturers record their data and this data can be verified by anyone from anywhere. The platform can be accessed by wholesales, retailers and consumers alike to self-authenticate and verify without having to rely on central agencies. This feature of Blockchain guarantees complete traceability of the drugs to everyone on the chain.
Supply Chain Compliance
Regulated compliance, transparency, better visibility are some of the advantages, if Blockchain in Pharma is implemented. Sensitive drugs like vaccines have to be under specific temperature control, have to be maintained within particular humidity range etc. For this, these have to be transferred through cold-chain shipping equipment. Blockchain and IoT coupled together can solve this issue by sensors determining the temperature and humidity and notifying break-outs or deviations. These records can be captured on a Blockchain system; smart contracts can be created to automatically alert the concerned authorities who can take the required action. Sensefinity is one such company that develops cold chain equipment powered by Blockchain technology. We at Blockchain Simplified are proud to be associated with Sensefinity in this Blockchain based project.
Data Quality & Reliability Conformation
Blockchain offers an immutable, decentralized platform where data cannot be tampered with or modified. No access to manipulation of the system and the immutable ledger ensures that the data is safe, secure and trustworthy. Researchers can rely on the data to be fresh and untampered and can carry out various analyses to churn out sharp and intuitive reports and models that can be put to use for innovation of new drugs. This is also important during clinical trials of new drugs on patients. Blockchain improves Clinical Trials Management because both the patient as well as the labs trust the data quality.
Inventory Management
Let us see how Blockchain in Pharma is useful for Inventory management.
Managing drug inventory is a tedious task for the pharma companies. Sudden increase in demand and shortage of supply is difficult to track if we had to look at the current scenario. A blockchain based system complete with automatic triggers in place to trace the demand and generate regular notifications about the necessary production and supply of the demanded drugs would help in efficiently managing the inventory. The unnecessary delays caused due to poor supply of drugs because of the unclear picture of the demand can be easily solved by Blockchain.
Customer Awareness and Satisfaction
At the end of the day, the main motive of the healthcare and the pharma industry is to keep the end customer i.e. the patient healthy and happy. By integrating customer-centric values like providing patients the access to the Blockchain based system to check authenticity, by maintaining the quality of drugs, by eliminating the risk of counterfeit drugs entirely from the system, Blockchain manages to win the trust and faith of the common people, the end consumer.
Blockchain in Pharma
Pharma biggies like Pfizer have joined the MediLedger project specifically designed for the pharma sector. Other big names in the industry are also using blockchain to improve their work process.
(https://blockchainsimplified.com is a top offshore blockchain development company in Pune, India.)
About Blockchain Simplified
Blockchain Simplified is a Top blockchain development company in Pune - India which works on all major Blockchain requirements. We specialise in Blockchain, Web and Mobile development (One Stop Shop for all technology development needs).
Our clientele includes Multiple Funded Start - Ups, SMBs and few MNCs few of which are NASDAQ and NSE listed.
Some of our work includes,
Blockchain based-
hubrisone.com - is a Live app with 100,000+ downloads, All-in-One Cryptocurrency current account. The entire development from scratch carried out by Blockchain Simplified.
All in one Platform - Complete responsibility of entire software development of the platform ,for a $1m funded blockchain start up, led by a team of serial entrepreneurs and tech veterans in Silicon Valley.
Well funded Blockchain startup - Blockchain Simplified helped a $6m funded American Blockchain startup to build the first blockchain protocol to leverage on-chain smart contracts to manage distributed storage of application data off-chain.
Multinational Bank - The company helped one of the top 3 ranking Multinational Banks to integrate various cryptocurrencies into their banking application.
and more…
Non-Blockchain-
SHC - Built entire platform and app from scratch for a $1m funded startup led by a team of Americans including PhD degree holders.
VMW - Developed app for a multi-national company providing mass factory-to-factory shipment services. App is being used by 53 of the Fortune 500 companies such as John Deere, Coca-Cola, Nissan.
and more…
Expertise
Blockchain Development : Bitcoin, Ethereum, Hyperledger, Corda, and more.
Mobile App Development : Android Native, iOS Native, React Native, Flutter, Xamarin.
UI/UX Design : Strategy, Planning, UI/UX Design, Wireframing, Visual Designs.
Web App Development : Node.JS, Angular, React.JS, PHP.
Backend Development : MongoDB, MySQL, AWS, Firebase.
Visit our official website https://blockchainsimplified.com/ for more information.