Introducing the Blockchain exercise for the Fitness industry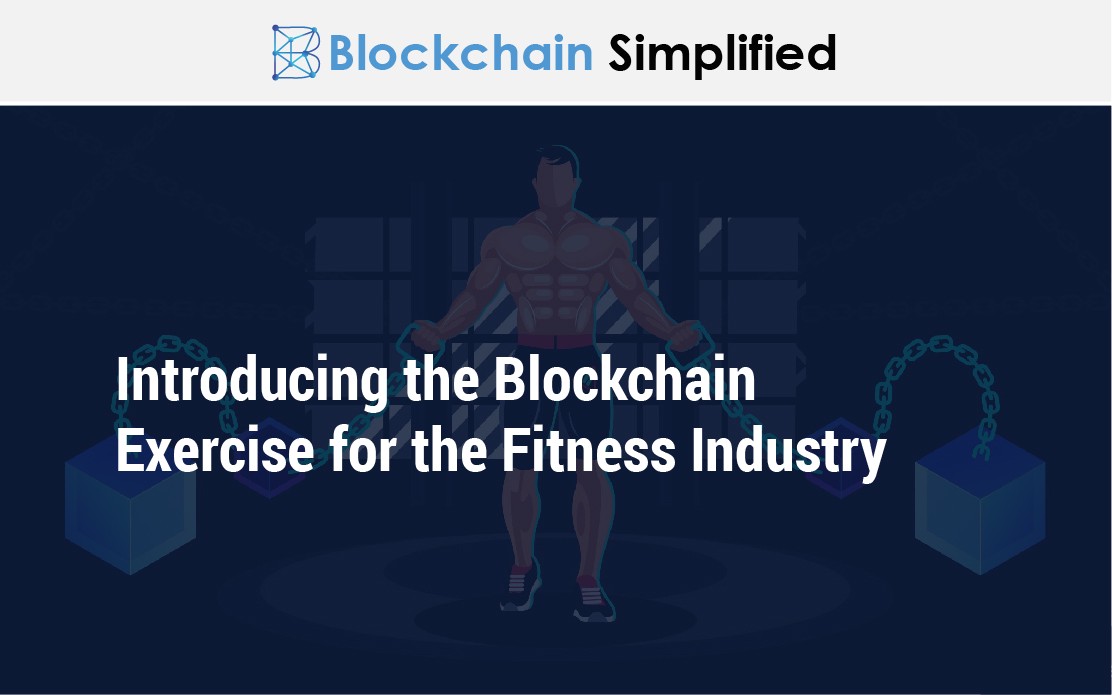 Looking at the blog title, you must be wondering that the title is misleading or that what has Blockchain got to do with the Fitness industry? Fair enough - how can a technology that was built for facilitating cryptocurrency trading be of any use to the health and fitness sector? But Blockchain has penetrated possibly every sector existing in the world today, whether it is a technologically premature field like Agriculture or a technically sound sector like Finance.
With people becoming more health-conscious and promoting a healthy way of living, the fitness industry is seeing a significant boom. People are showing more interest in consuming organic food, gymnasiums and health clubs are witnessing a never seen rush, people are becoming increasingly aware of the importance of the products they consume and the importance of being fit.
Technology has been the pioneer in developing devices that have brought remarkable changes in the healthcare sector. We saw in one of our blogs how AI and Blockchain have successfully created new-age devices to diagnose a disease as big as Cancer. But technology has also designed a number of fitness devices that can be used at home by a common man like blood pressure machine, blood sugar check machine etc. This has helped mankind to keep a tab on general health statistics on a day-to-day basis on his fingertips. Learn about some of the health monitoring devices here. Not only devices but there are multiple fitness apps that enable people to count their calories, track their exercise routines etc.
The need of Blockchain in the Fitness Industry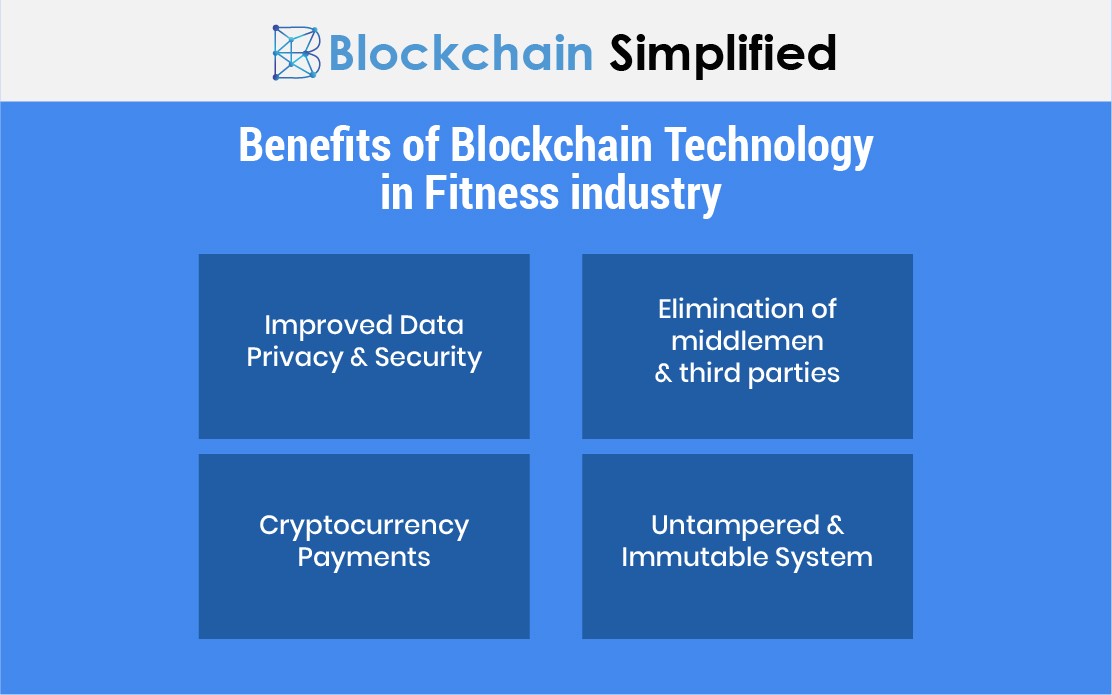 Due to the current COVID-19 pandemic and indefinite lockdowns across the countries be it United States of America, or countries in Europe like France, Germany, Switzerland, people have not been able to venture out of their homes. Hence, their fitness schedules and health routines of visiting the gyms have gone for a toss. Since almost everything has become virtual these days, people have now shifted to virtual exercising sessions.
Blockchain technology can be implemented along with the already underlying technology that manages these fitness services online. Blockchain can bring more security and reliability to the existing system by the virtue of its various features as described below.
Improved Data Privacy & Security
With Blockchain in tow, it is impossible that the personal data of consumers is tampered with. If data is stored on centralized systems, it is vulnerable to cyber attacks and thefts. Users have to be extremely cautious about the genuineness and the authenticity of the fitness app they use. Blockchain's encryption algorithms and its immutable structure ensures complete data privacy and security. Owing to its decentralized model, users will have full access to their health information without having to worry about manipulation of data.
Elimination of middlemen and third parties
Thanks to Blockchain technology, users will have direct access to their trainers online without having to deal with middlemen or avail club memberships in order to access a trainer. Blockchain can design smart contracts for fitness tips and lessons of a particular trainer to a particular consumer.
Cryptocurrency Payments
Blockchain can enable cryptocurrency payment methods like Bitcoin or Ether. The world is rising to digital payments and digital currency and it will not be a surprise if the fitness industry starts accepting crypto payments online.
(https://blockchainsimplified.com is a top offshore blockchain development company in Pune, India.)
Use-Cases of Blockchain Technology in Fitness Industry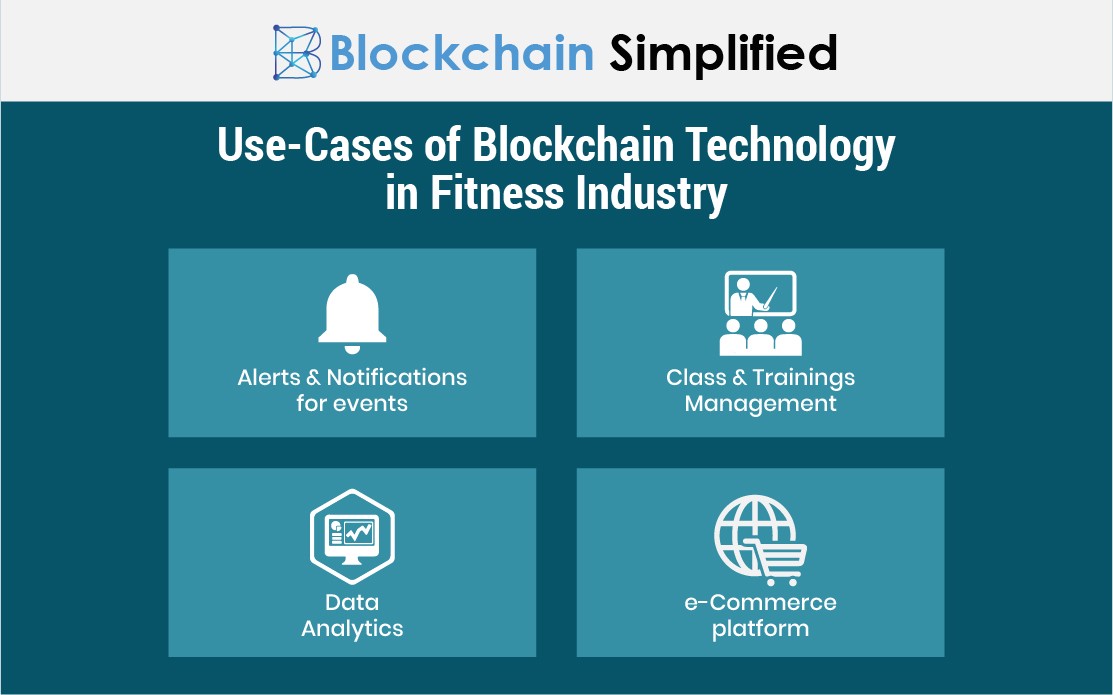 Alerts & Notifications for events
Blockchain technology can be used to generate alerts and notifications to an area specific audience to advertise about the fitness service. Marketing the product and online service in such a way helps reach a wider and potential target. The fitness sector can benefit largely using this application.
Class & Trainings Management
Managing hundreds of consumers online can be a tedious task. Individual classes, group sessions, maintaining diet charts, scheduling various exercises; there are plenty of tasks to take care of. Blockchain is the one-stop solution for all these tasks. Scheduling automated smart contracts for weekly sessions, managing diet schedules, managing instructor changes etc can be well taken care of by a Blockchain platform. Also, automation reduces a lot of manual tasks and there are lesser chances of errors or mistakes.
Data Analytics
Blockchain helps in generating analytical and inquisitive reports about the fitness center that can be used to take important decisions. Information regarding feedback of consumers, their requirements, services generating the most revenue, user payment data etc are some of the various reports that Blockchain can help fetch from the system.
e-Commerce platform
Blockchain is a boon for any e-Commerce platform, we saw that in our blog on Blockchain for e-Commerce. The fitness club can have its own marketplace for consumers where they can buy fitness products, avail services like diet charts, exercise regimes etc. Blockchain can integrate multiple payment methods like Stripe, PayPal etc on this platform for user to pay in an easy way.
One of America's leading health club chain SmartHealthClubs is a pioneer in implementing Blockchain technology for its wellness platform. Loaded with a plethora of features, SmartHealthClubs is an all-in-one platform for fitness enthusiasts who can find anything and everything related to health and fitness on the platform. We at Blockchain Simplified, are proud to be associated with them as their Blockchain development partner. Take a look at the various features of SmartHealthClubs at this link - https://blockchainsimplified.com/smartHealthClubs .
(Visit us at https://blockchainsimplified.com to hire blockchain developers. We are an offshore blockchain development company based out of Pune, India)
Blockchain for the Fitness Industry
As seen above, Blockchain offers many benefits to the Fitness Industry like data privacy, security, transparency. Many fitness companies are turning towards Blockchain for creating a more fitter and a healthier lifestyle among people. The day is not far when Blockchain will be the backbone of every fitness club!
About Blockchain Simplified
Blockchain Simplified is a Top blockchain development company in Pune - India which works on all major Blockchain requirements. We specialise in Blockchain, Web and Mobile development (One Stop Shop for all technology development needs).
Our clientele includes Multiple Funded Start - Ups, SMBs and few MNCs few of which are NASDAQ and NSE listed.
Some of our work includes,
Blockchain based-
hubrisone.com - is a Live app with 100,000+ downloads, All-in-One Cryptocurrency current account. The entire development from scratch carried out by Blockchain Simplified.
All in one Platform - Complete responsibility of entire software development of the platform ,for a $1m funded blockchain start up, led by a team of serial entrepreneurs and tech veterans in Silicon Valley.
Well funded Blockchain startup - Blockchain Simplified helped a $6m funded American Blockchain startup to build the first blockchain protocol to leverage on-chain smart contracts to manage distributed storage of application data off-chain.
Multinational Bank - The company helped one of the top 3 ranking Multinational Banks to integrate various cryptocurrencies into their banking application.
and more…
Non-Blockchain-
SHC - Built entire platform and app from scratch for a $1m funded startup led by a team of Americans including PhD degree holders.
VMW - Developed app for a multi-national company providing mass factory-to-factory shipment services. App is being used by 53 of the Fortune 500 companies such as John Deere, Coca-Cola, Nissan.
and more…
Expertise
Blockchain Development : Bitcoin, Ethereum, Hyperledger, Corda, and more.
Mobile App Development : Android Native, iOS Native, React Native, Flutter, Xamarin.
UI/UX Design : Strategy, Planning, UI/UX Design, Wireframing, Visual Designs.
Web App Development : Node.JS, Angular, React.JS, PHP.
Backend Development : MongoDB, MySQL, AWS, Firebase.
Visit our official website https://blockchainsimplified.com/ for more information.