TrackMyCharity - the ultimate donation tracking platform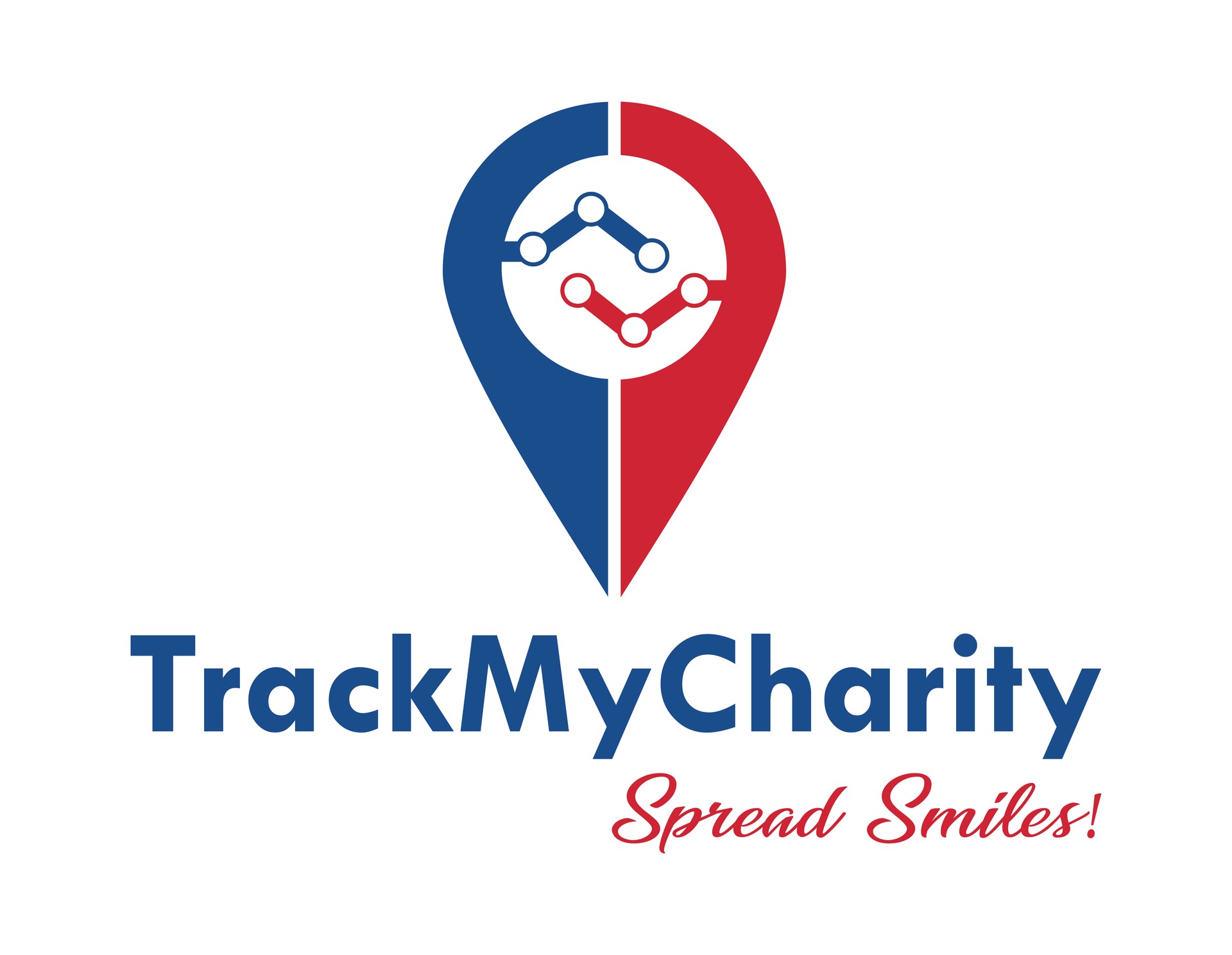 There has been enough research and study that shows that doing charity generates "feel good" hormones and chemicals in the brain that keeps it active and positive. Helping the needy is the most noble and respectable work for mankind. While most of us do small charities and help our maids, househelps or drivers; companies involved in philanthropic work who donate on a large scale cannot do so in a direct manner. These companies mostly depend on NGOs for donations and work with them instead of directly helping the needy. NGOs are non-governmental bodies which are engaged in humanitarian causes and helping needy people on a massive scale.
But the NGO and charity sector has lost trust and reliability from the general public due to constant money laundering incidents and scandals due to middlemen, sometimes even internal authorities of the NGO, involved in illegal activities. This sector lacks a system that is transparent and shows the complete donation tracking process. Funds donated are mis accounted in between, money is forged, data is lost and countless cases of misrepresentation of facts happen. The donor in the entire process is totally unaware of the journey of his donations. He doesn't know if his money has reached the intended donee or whether it is misused in the process.
This challenge of the Charity sector can only be solved by Blockchain, a decentralized, distributed ledger technology. Read more about Blockchain and NGOs in this blog.
What is TrackMyCharity?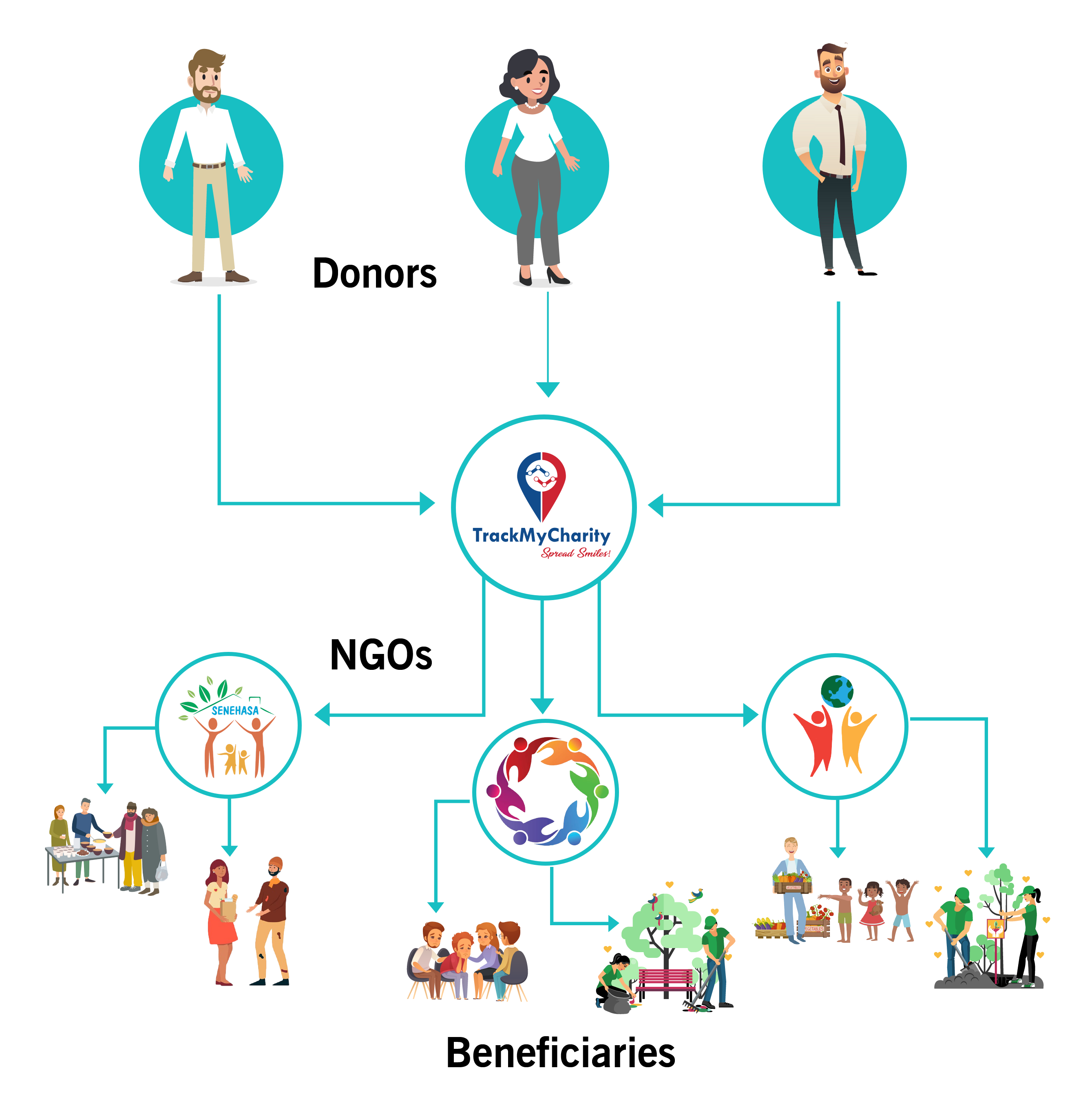 -TrackMyCharity is India's first Charity portal, built on Blockchain Technology for Tracking, Trust & Transparency.
-Built on IBM Hyperledger blockchain, TrackMyCharity has thoroughly verified, genuine donors, donees and NGOs associated with it.
-TrackMyCharity helps track the entire donation process right from the source of the donation, fund management, flow of the funds, whether it has reached the actual recipient etc.
-Since it is a public blockchain, TrackMyCharity is openly accessible to the general public.
-TrackMyCharity gives complete information of the NGOs and the donees to the donors with supporting documents, previous work of the NGO etc. Not only that, the donor is also aware of the actual end beneficiary whose KYC details are available on the platform. Thus the donor is assured of the genuineness of the donee and NGO.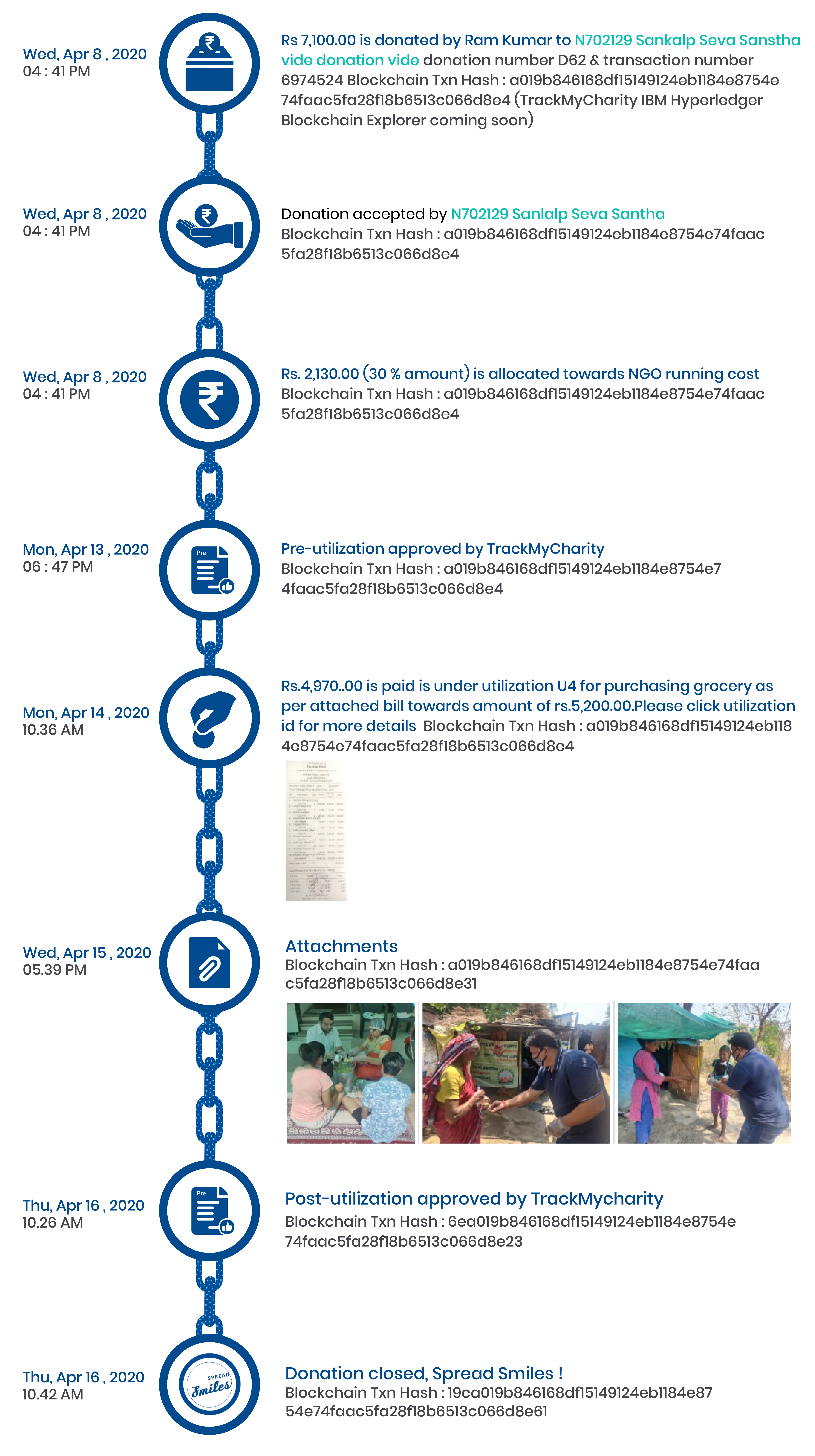 -TrackMyCharity provides real-time updates of the live donations as well as their utilizations.
Features of TrackMyCharity
-True to its name, TrackMyCharity lets you track your complete donation process in the most transparent manner with evidence and proof at every stage. No donation platform to date has provided this amazing feature.
-Complete background verification of the NGO and donee is done before they are actually registered on the platform. Hence, there is no question of bogus NGOs or fake recipients.
-Being a publicly open Blockchain platform, every individual/participant in the donation process can access the system to check the status of the donation.
-Blockchain is an immutable ledger technology, which means that transactions can never be modified, manipulated or hacked. Data is safe, secure and reliable with no scope for cyber attacks or thefts.
-TrackMyCharity gives you access to thousands of NGOs across India catering to multiple causes like education, civic issues, employment, women development and many more.
Take a look at TrackMyCharity on this link.
TrackMyCharity up for Sale
TrackMyCharity is developed by Blockchain Simplified, a top blockchain development company based out of Pune, India. The domain is up for sale and if you are looking for a flexible platform that can grow with your organization, then TrackMyCharity is the one. The portal can be easily integrated with your website and accounting software, thanks to its simple software setup. It provides a secure and reliable payment processing platform, easy for donors. It is built using state-of-the-art technology, is mobile friendly and easily navigable.
If you are interested in buying the TrackMyCharity portal, contact us on mail@blockchainsimplified.com . Let us know and we can take the discussion further.
About Blockchain Simplified
Blockchain Simplified is a Top blockchain development company in Pune - India which works on all major Blockchain requirements. We specialise in Blockchain, Web and Mobile development (One Stop Shop for all technology development needs).
Our clientele includes Multiple Funded Start - Ups, SMBs and few MNCs few of which are NASDAQ and NSE listed.
Some of our work includes,
Blockchain based-
hubrisone.com - is a Live app with 100,000+ downloads, All-in-One Cryptocurrency current account. The entire development from scratch carried out by Blockchain Simplified.
All in one Platform - Complete responsibility of entire software development of the platform ,for a $1m funded blockchain start up, led by a team of serial entrepreneurs and tech veterans in Silicon Valley.
Well funded Blockchain startup - Blockchain Simplified helped a $6m funded American Blockchain startup to build the first blockchain protocol to leverage on-chain smart contracts to manage distributed storage of application data off-chain.
Multinational Bank - The company helped one of the top 3 ranking Multinational Banks to integrate various cryptocurrencies into their banking application.
and more…
Non-Blockchain-
SHC - Built entire platform and app from scratch for a $1m funded startup led by a team of Americans including PhD degree holders.
VMW - Developed app for a multi-national company providing mass factory-to-factory shipment services. App is being used by 53 of the Fortune 500 companies such as John Deere, Coca-Cola, Nissan.
and more…
Expertise
Blockchain Development : Bitcoin, Ethereum, Hyperledger, Corda, and more.
Mobile App Development : Android Native, iOS Native, React Native, Flutter, Xamarin.
UI/UX Design : Strategy, Planning, UI/UX Design, Wireframing, Visual Designs.
Web App Development : Node.JS, Angular, React.JS, PHP.
Backend Development : MongoDB, MySQL, AWS, Firebase.
Visit our official website https://blockchainsimplified.com/ for more information.