Can Blockchain be the driving force for the Automotive sector?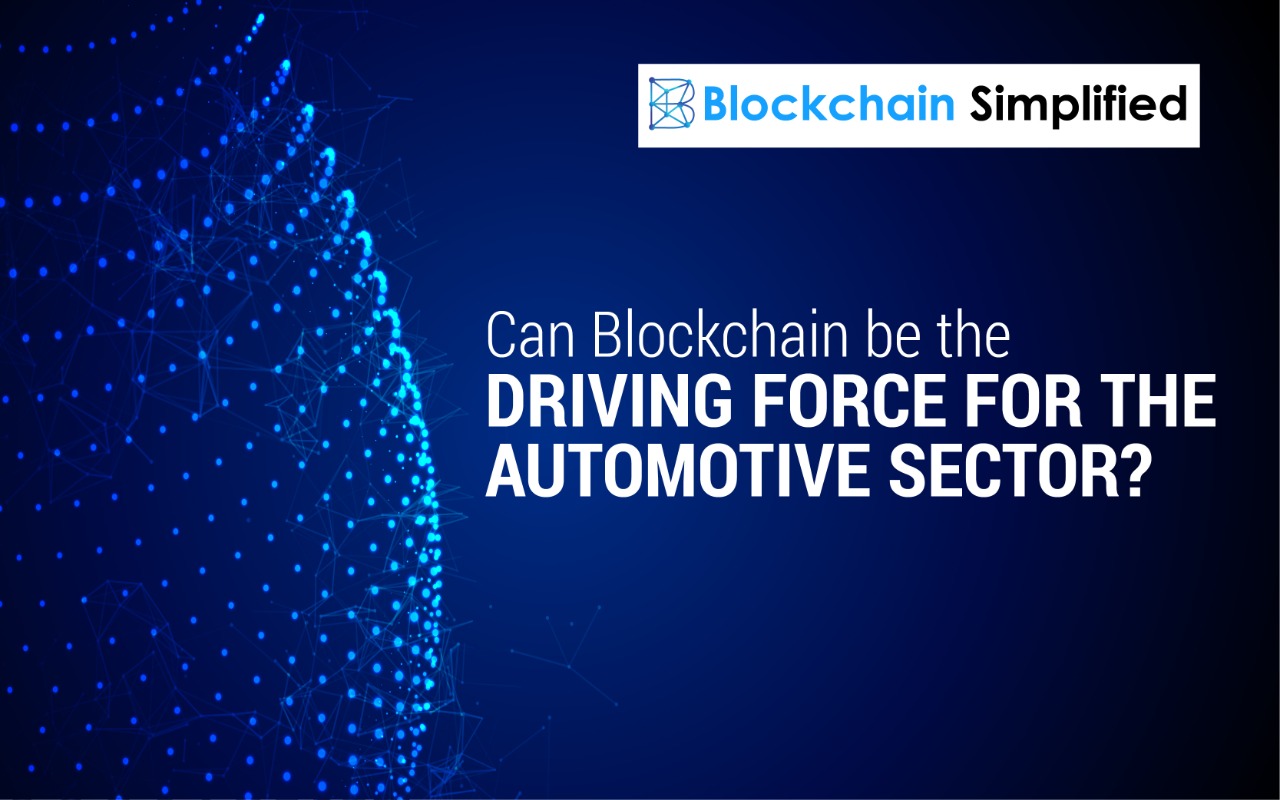 The automotive industry is one of the most complex and growing industries in the world. According to an auto industry market research, the revenue growth of 2019 stood at a staggering 2.3%, a huge increase from the previous years. By the looks of it, the automobile industry is here to stay, since the demand for vehicles is always increasing.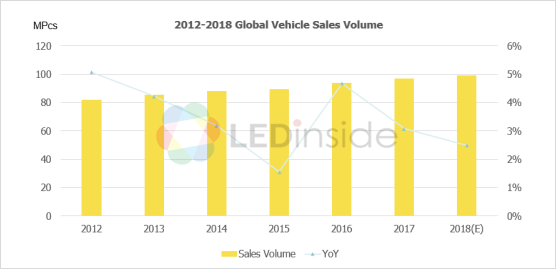 Source : ledinside.com
The automobile industry has always embraced latest and advanced technologies be it building an autonomous vehicle, driver override systems or other innovations. Renowned automotive companies like BMW, Hyundai, Porsche have always had a competitive edge over others due to their increased interest and tremendous investment in technology. It is believed that the automotive industry of the future will be contrastingly different from what it is today. With the emergence of newer and robust technologies like Blockchain, the automobile industry is ready for an uplift in the coming years.
Blockchain is one disruptive technology that the automobile industry hasn't explored much yet. It has vast potential to transform the way businesses function. While already proving its mettle in industries ranging from Energy to Agriculture, Blockchain is now expected to provide efficient solutions to a myriad number of technology hurdles that the automotive sector faces.
"Blockchain technology gives us the technical foundation we need to create helpful and effective solutions - Dr. Andre Luckow, Head of Distributed Ledger and Emerging Technologies at the BMW Group."
Now, let us in depth understand the different use-cases of Blockchain technology in the automobile sector.
Blockchain enabling seamless Supply Chain Management for Automotive sector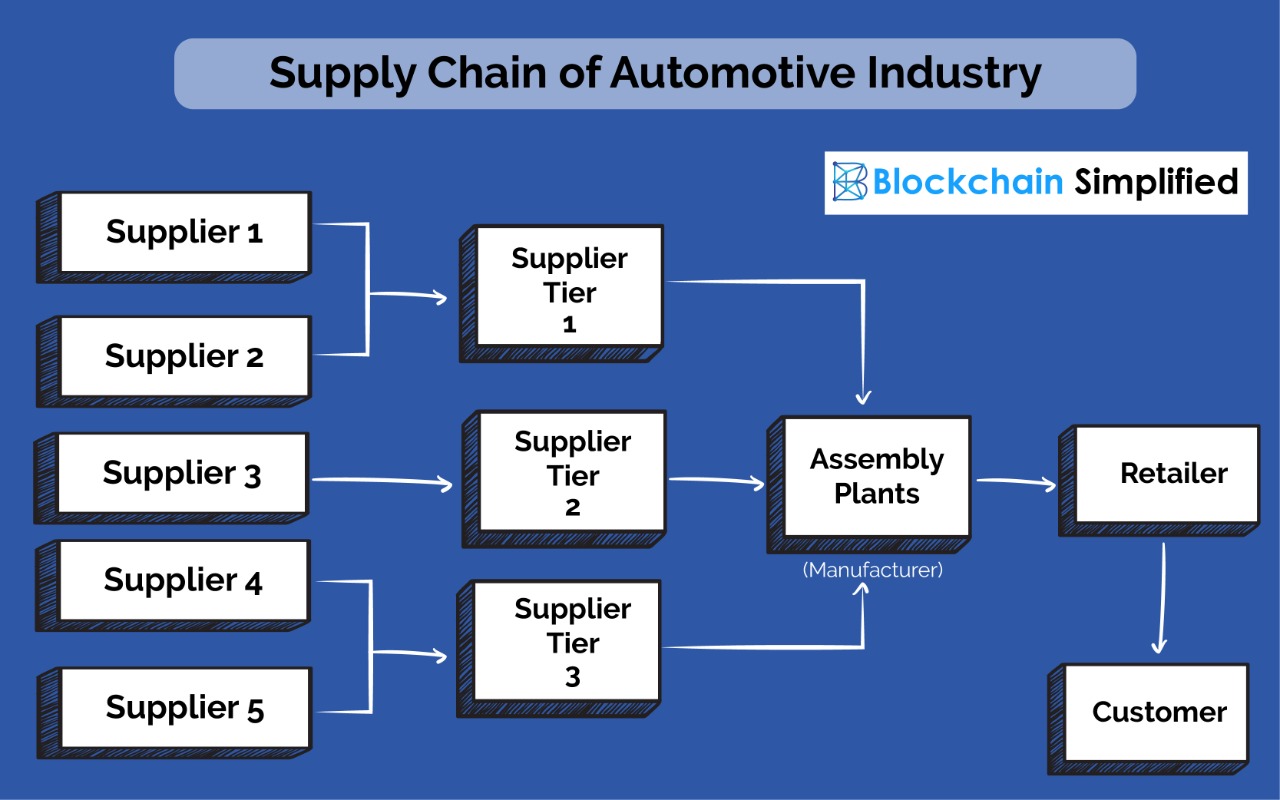 The logistics process of thousands of parts required to manufacture a car involves an extensive network of individuals, organizations, resources & activities. Managing these complex and large supply chains comes with the risk of parts being damaged, stolen, and replaced. By integrating Blockchain in the process, auto companies can implement an effective & efficient process of tracking all the components from the day it's produced, to it being shipped as the final product. Blockchain will help companies manage the entire Supply Chain in a seamless manner by ensuring complete transparency in tracking.
( Please visit https://blockchainsimplified.com to hire Blockchain developers )
Blockchain As a Service (BaaS) for in house commerce operations
Even today, day to day inhouse finance operations and transactions involve a lot of human intervention and manual processing. Problems can arise when an error occurs as the result of manual data entry, facilitating trade, and data management, thereby compromising on data integrity. Blockchain can streamline these processes by enabling maintenance of accurate records of a vehicle's lifetime on the network. A Blockchain platform can be developed that stores vehicle's ownership details, confidential vehicle information such as mileage, service history and age. The data on this Blockchain platform is permanent and can never be destroyed or manipulated with, thus safeguarding its integrity. Since Blockchain is decentralized, it completely eliminates the necessity of a centralized power, in this case, any manual authority.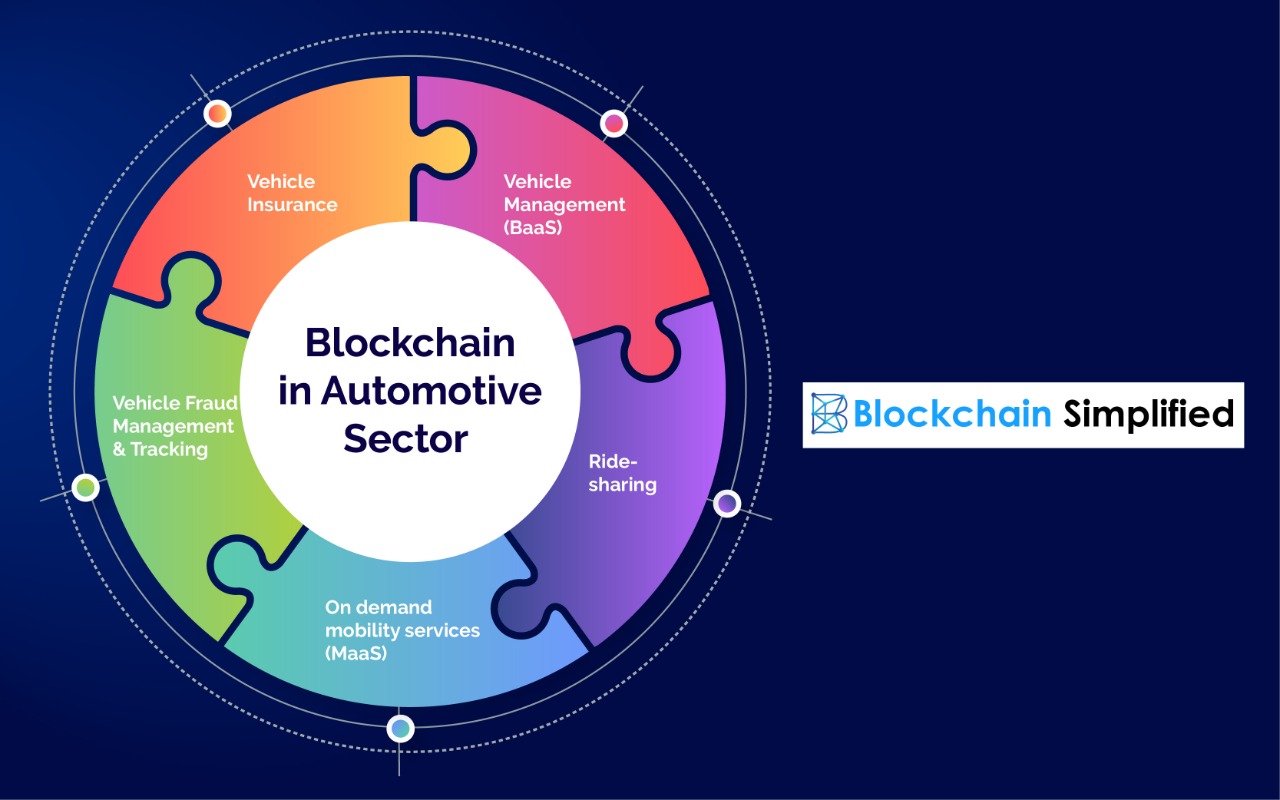 Blockchain for Third party Services in Automotive sector
Blockchain can prove very effective for vehicle management where vehicle information and data needs to be shared across the industry, vehicle specific information, vehicle frauds and odometer manipulations, ride-sharing and on-demand mobility services (MaaS).
Blockchain can also be used for financial transactions like payments and insurance. Blockchain in Insurance helps improve efficiency of transaction processes, effective storage of related information like insurance agreements, term payments, premium payments etc.
(Please visit https://blockchainsimplified.com for Blockchain development related requirements)
Blockchain - IOT in Automotive sector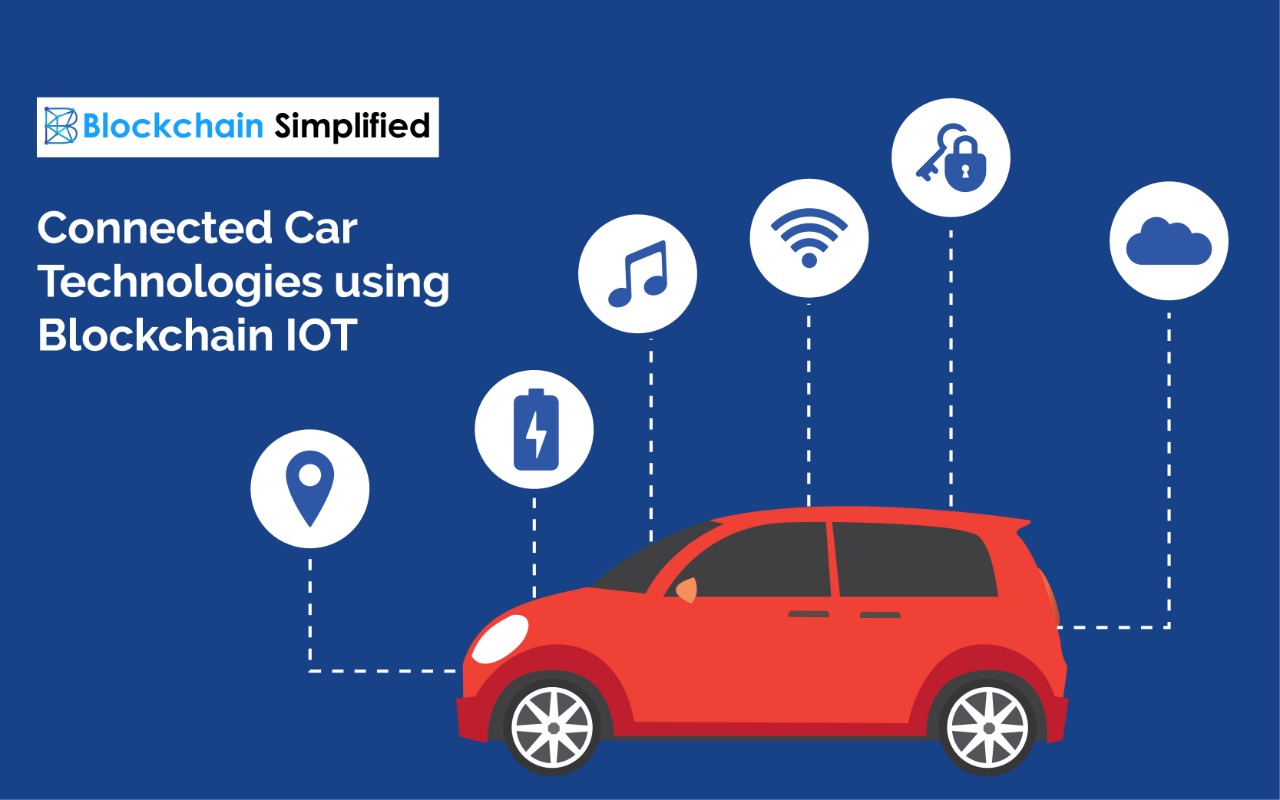 Although blockchain can be used in isolation, it, if combined with Big Data , IOT and Artificial Intelligence can potentially produce a greater impact. The biggest example of this would be Connected Car Technologies. The automotive industry is about to bring about a digital revolution with the invention of inter-connected autonomous vehicles. The amalgamation of Blockchain and IoT can help in creating ''connected cars'' that communicate & connect with one another over a network. Blockchain will be instrumental in improving the speed and quality of the communication between these vehicles. Perhaps this would be the greatest use-case of Blockchain in the Automotive sector.
Apart from these, other applications of Blockchain in the automobile sector include creating digital passports of vehicles, locking and unlocking a vehicle so on and so forth.
Accelerating Blockchain in Automotive sector
While industry biggies like BMW have been very vocal about their interest and investment in Blockchain, investing in Blockchain will completely depend upon any company's objectives and readiness. As seen above, Blockchain can provide a solution to many of the challenges faced by the industry today. Companies will have to assess, analyze and identify the potential benefits of Blockchain that are suitable for their organization. Companies that do not realize the value of Blockchain for their business will be at the risk of losing greener opportunities.
About Blockchain Simplified
Blockchain Simplified is a Top blockchain development company in Pune - India which works on all major Blockchain requirements. We specialise in Blockchain, Web and Mobile development (One Stop Shop for all technology development needs).
Our clientele includes Multiple Funded Start - Ups, SMBs and few MNCs few of which are NASDAQ and NSE listed.
Some of our work includes,
Blockchain based-
hubrisone.com - is a Live app with 100,000+ downloads, All-in-One Cryptocurrency current account. The entire development from scratch carried out by Blockchain Simplified.
All in one Platform - Complete responsibility of entire software development of the platform ,for a $1m funded blockchain start up, led by a team of serial entrepreneurs and tech veterans in Silicon Valley.
Well funded Blockchain startup - Blockchain Simplified helped a $6m funded American Blockchain startup to build the first blockchain protocol to leverage on-chain smart contracts to manage distributed storage of application data off-chain.
Multinational Bank - The company helped one of the top 3 ranking Multinational Banks to integrate various cryptocurrencies into their banking application.
and more…
Non-Blockchain-
SHC - Built entire platform and app from scratch for a $1m funded startup led by a team of Americans including PhD degree holders.
VMW - Developed app for a multi-national company providing mass factory-to-factory shipment services. App is being used by 53 of the Fortune 500 companies such as John Deere, Coca-Cola, Nissan.
and more…
Expertise
Blockchain Development : Bitcoin, Ethereum, Hyperledger, Corda, and more.
Mobile App Development : Android Native, iOS Native, React Native, Flutter, Xamarin.
UI/UX Design : Strategy, Planning, UI/UX Design, Wireframing, Visual Designs.
Web App Development : Node.JS, Angular, React.JS, PHP.
Backend Development : MongoDB, MySQL, AWS, Firebase.
Visit our official website https://blockchainsimplified.com/ for more information.