A Brief Introduction to ICO Initial Coin Offering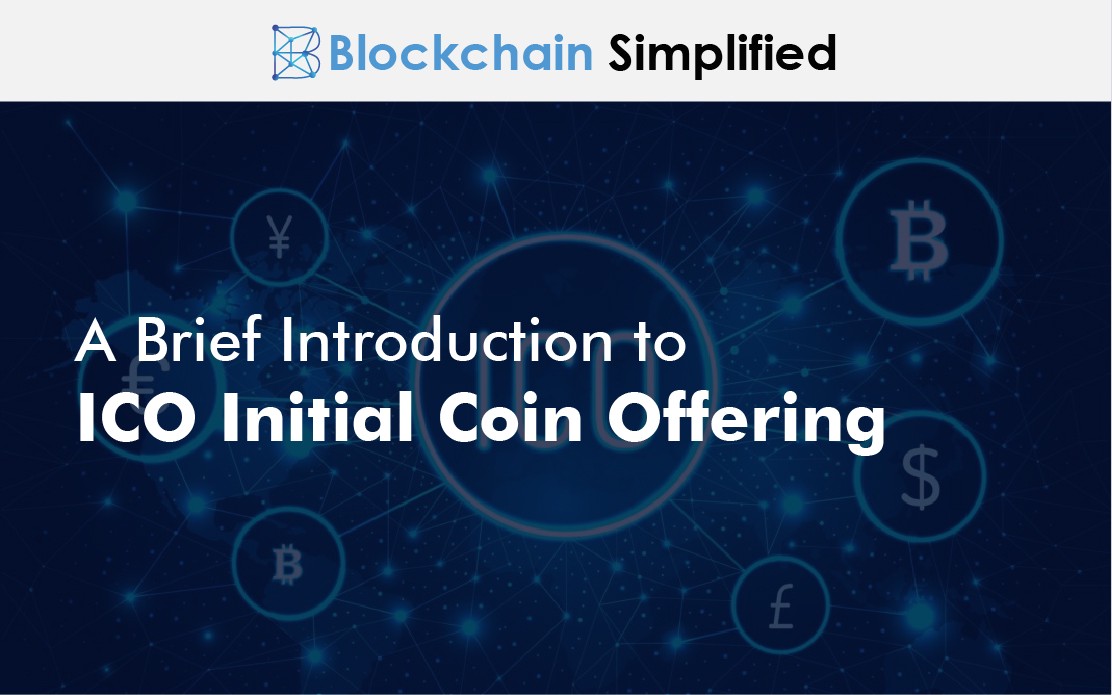 Img source : moneycrashers.com
Finance is an integral part of our day to day lives; money is a bare essential for any exchange in the real world. Be it hard cash or physical checks that were the mode of exchange earlier, or digital cash and currencies that is trending off late, money as a medium for exchange is an absolute must. There is a whole new world of cryptocurrencies like Bitcoin, to which, people slowly and gradually have warmed up to. Cryptocurrencies are seeing a steady growth with more and more number of people acknowledging it as a worthy investment.
ICO Initial Coin Offering is the latest big thing in the field of finance which has grabbed everybody's attention. Let us understand what exactly is an ICO, what are ICO tokens or ICO coins, how does ICO work and what is its purpose?
See our blogs on Blockchain, Bitcoin, Ethereum to get a basic idea before we proceed to know more about ICO Initial Coin Offering.
https://blockchainsimplified.com is a top blockchain development company that offers complete ICO launch and development services in Pune, India.
What is ICO Initial Coin Offering?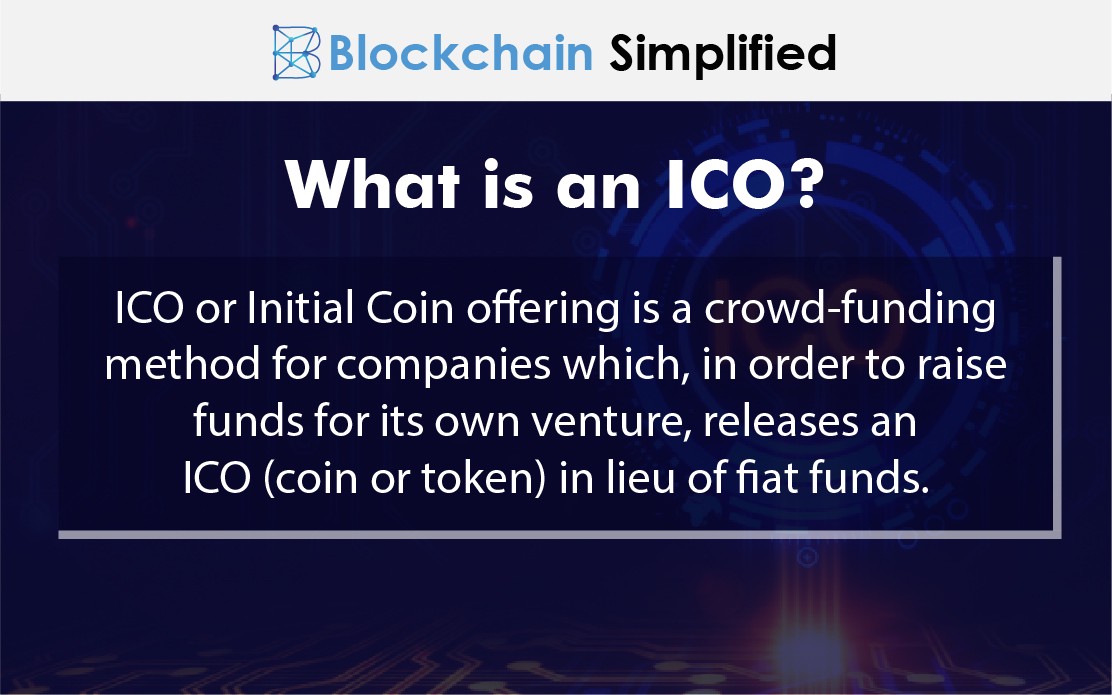 Img Source : medium.com
An analogy between IPO Initial Public Offering and ICO Initial Coin Offering can help understand how both are completely different from each other but have slight similarity. An IPO is released by a company to sell a portion of its stock/share to the public. People interested, can purchase the shares at a certain price and later sell them (if they want to) whenever the share price increases, as the company makes a profit. It is a profitable engagement for both, as the company raises capital and attracts investors whereas the general public earns more money.
ICO Initial Coin offering is a crowd-funding method in the world of cryptocurrencies. In an ICO, there is an exchange of ICO tokens or ICO coins. Whenever a new company wishes to launch its own ICO coin or any new project (dApp), it releases an ICO in exchange of any other cryptocurrencies like Bitcoin or Ether, in order to raise funds for its own venture.
ICO Initial Coin Offering, unlike IPO, does not provide any authority or ownership of the project to the investors investing in it. Rather it is a token sale, where ICO tokens are offered in lieu of investor crypto tokens. These ICO tokens or ICO coins don't necessarily have to be ICO cryptocurrencies, but can be anything like a voting right, a stake(utility tokens) etc. If the token is, indeed, an ICO cryptocurrency (security tokens), it can be sold later at a price higher than the buying price, if the project succeeds and makes a profit.
Please visit https://blockchainsimplified.com for hiring the best ICO developers.
How does an ICO Initial Coin Offering work?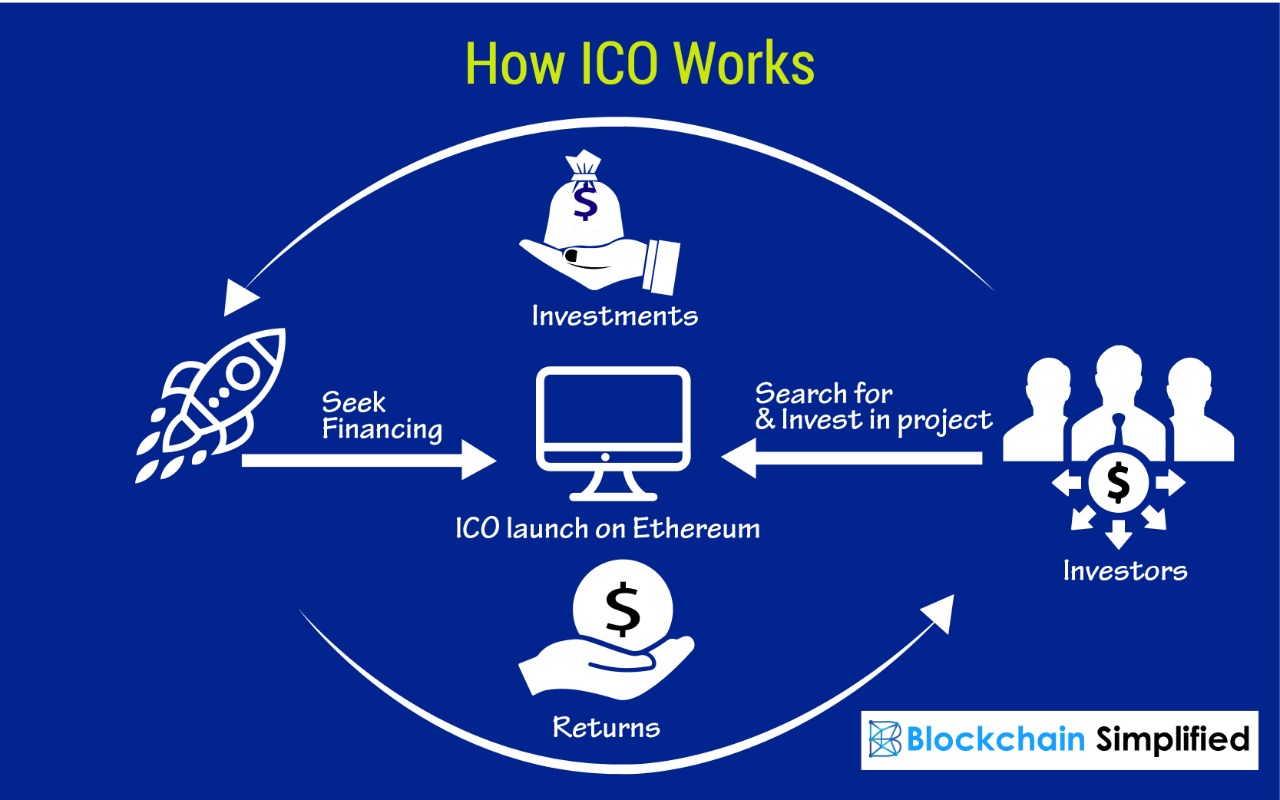 Img source : unifiedinfotech.net
-An ICO Initial Coin Offering can use a platform like Ethereum that allows decentralized apps (dApps) to be built on its platform with the help of smart contracts.
-A company looking to raise funds for its new venture, builds a new dApp (project) on the Ethereum platform.
-It releases an ICO with a stipulated amount of ICO tokens (in this case could be Ether/any new token created by a dApp/utility tokens).
-Interested investors interact with the dApp to send their cryptocurrencies to the dApp and receive ICO tokens, thereby raising funds for the project.
Ofcourse, a lot of marketing strategies have to be designed to advertise about an ICO, to create an awareness about it to the general public and invite them for investment. With numerous frauds and scams happening around, it becomes the responsibility of the investor/public to study the ICO Initial Coin Offering whitepaper thoroughly and invest wisely.
ICO Initial Coin Offering Whitepaper
An ICO Initial Coin Offering whitepaper is a document which provides complete information about the ICO project. Details like what is the purpose of the project, for what does it require capital, what are the funds used for etc are defined in the whitepaper.
It also contains details of the creators of the project, already existing investors, and so on. The whitepaper can help potential investors take an informed decision whether to invest or not based on the history, brand status and other important considerations.
Please visit https://blockchainsimplified.com for end to end ICO launch and development, pre and post ICO services
ICO Initial Coin Offering - Advantages and Disadvantages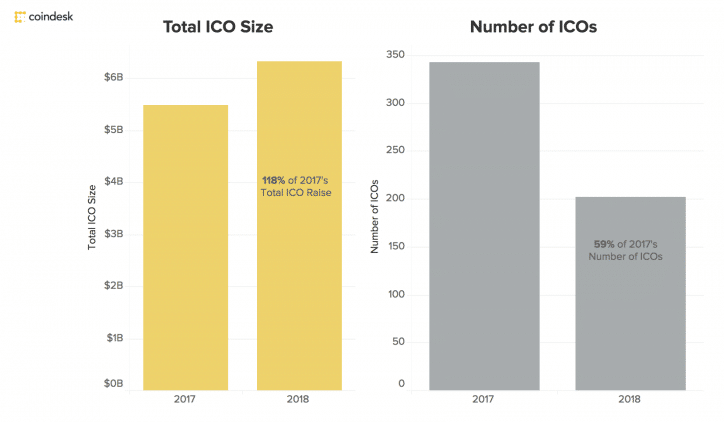 Img source : blockgeeks.com
As the above image suggests, ICO Initial Coin Offerings have managed to raise funds in millions in a very short span of time which is why more and more people are expressing interest in ICO investments. Because there is a great deal of paperwork involved in releasing an IPO, companies have started shifting their attention to ICOs which involve only submitting a whitepaper for any new project to start crowdfunding. In short, it is a beneficial agreement for both parties.
Albeit an excess of deskwork is a hassle, IPO provides a higher level of security. As ICO lacks paperwork, it invites fraudsters and hackers to create inauthentic and counterfeit whitepapers in order to make some quick money. Therefore, it is very important to do thorough research on the project, outside the whitepaper, before investing, and choose the ICO Initial Coin Offering wisely.
About Blockchain Simplified
Blockchain Simplified is a Top blockchain development company in Pune - India which works on all major Blockchain requirements. We specialise in Blockchain, Web and Mobile development (One Stop Shop for all technology development needs).
Our clientele includes Multiple Funded Start - Ups, SMBs and few MNCs few of which are NASDAQ and NSE listed.
Some of our work includes,
Blockchain based-
hubrisone.com - is a Live app with 100,000+ downloads, All-in-One Cryptocurrency current account. The entire development from scratch carried out by Blockchain Simplified.
All in one Platform - Complete responsibility of entire software development of the platform ,for a $1m funded blockchain start up, led by a team of serial entrepreneurs and tech veterans in Silicon Valley.
Well funded Blockchain startup - Blockchain Simplified helped a $6m funded American Blockchain startup to build the first blockchain protocol to leverage on-chain smart contracts to manage distributed storage of application data off-chain.
Multinational Bank - The company helped one of the top 3 ranking Multinational Banks to integrate various cryptocurrencies into their banking application.
and more…
Non-Blockchain-
SHC - Built entire platform and app from scratch for a $1m funded startup led by a team of Americans including PhD degree holders.
VMW - Developed app for a multi-national company providing mass factory-to-factory shipment services. App is being used by 53 of the Fortune 500 companies such as John Deere, Coca-Cola, Nissan.
and more…
Expertise
Blockchain Development : Bitcoin, Ethereum, Hyperledger, Corda, and more.
Mobile App Development : Android Native, iOS Native, React Native, Flutter, Xamarin.
UI/UX Design : Strategy, Planning, UI/UX Design, Wireframing, Visual Designs.
Web App Development : Node.JS, Angular, React.JS, PHP.
Backend Development : MongoDB, MySQL, AWS, Firebase.
Visit our official website https://blockchainsimplified.com/ for more information.