What is the purpose of a Proof of Concept (POC) ?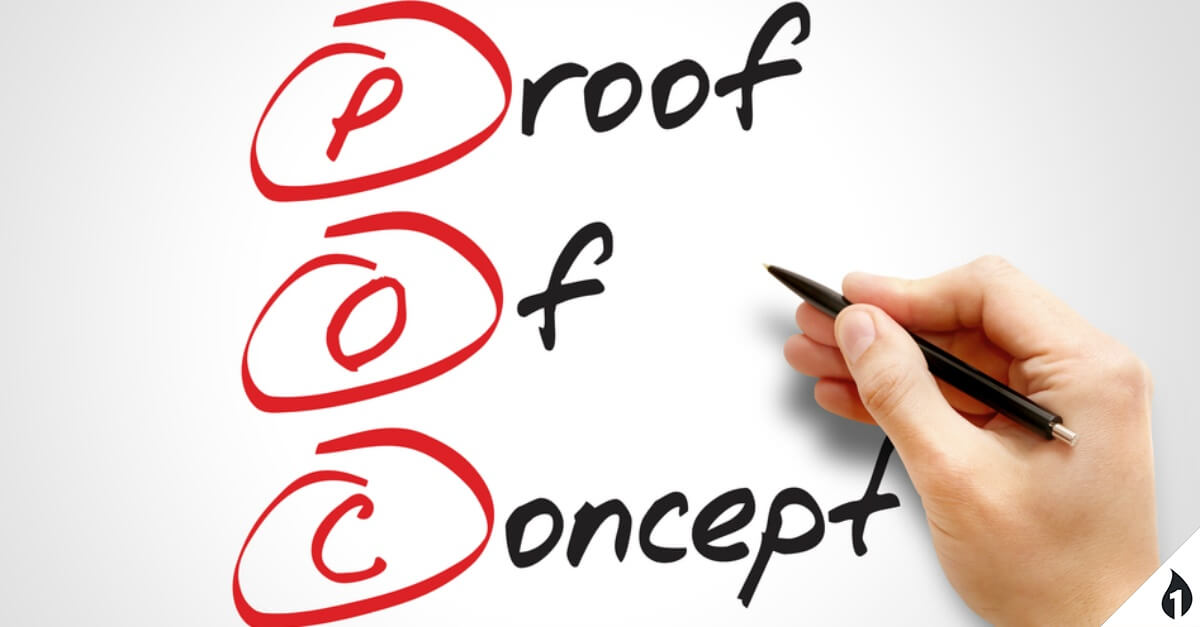 Image source : techjini.com
Note : This blog has been written from a software developer's POV
At some point in your life, dreams about starting your own venture like, opening a restaurant or becoming a retail entrepreneur or owning a dance academy etc, may have surely crossed your minds. But, when was the last time you turned your dreams into reality? People might have laughed off the idea, since you could not convince them about the value and feasibility of it.
Cut to the IT space, where as a software developer, you encounter situations where you feel that an existing old software requires refurbishment, or there is a need to build an entirely new mobile app, or even a small process improvement opportunity in the current functioning of a process. But the catch is that, while you are completely convinced about the potential of the idea you have conceived or thought of, not everyone might express their interest in it and brush it off as a mere, unnecessary expense.
For practically making your ideas thrive and realize, you need to persuade people and sell your idea to them by proving its worth and viability. You would require the collation of multiple resources like finance, logistics, technology, material management, infrastructure etc. and investors associated with these for the actual implementation of your idea. How would you approach and convince them about your proposal?
This is where the Proof of Concept (POC) comes into picture.
What is a Proof of Concept (POC)?
Proof of concept (PoC) is a realization of a certain method or idea in order to demonstrate its feasibility, or a demonstration in principle with the aim of verifying that some concept or theory has practical potential.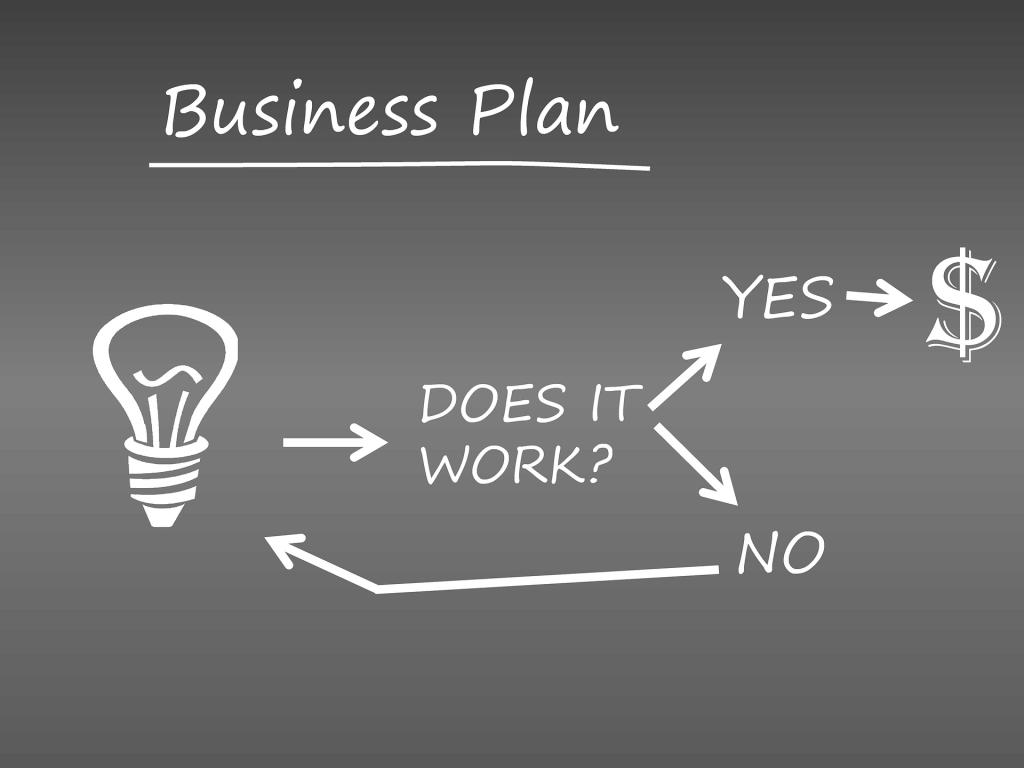 Image source : techjury.net
In general, a Proof of Concept or a POC, is a way of determining or testing a certain business idea or product for its feasibility and viability in the market. Essentially, the purpose of a Proof of Concept is to explain and convince potential investors/buyers, that the idea can be turned into a real and profitable venture.
A POC can either be a small piece of paper like a document, an initial video demo of the idea or even an early prototype of the product, depending upon the nature of business. In the field of software development, a Proof of Concept focuses on the technical aspect of the feasibility of a product or app. Like, we at Blockchain Simplified, create a Proof of Concept to examine which technologies to be used, what existing or new softwares or updations are required, manpower required so on and so forth. It can vary from project to project, and is subject to client requirements.
One needs to bear in mind that a POC is different from an MVP or for that matter, a prototype (although POC and prototype are interchangeably used). While a prototype is designed to show how a product will function once developed, a minimum viable product (MVP) is a complete functional product in its basic form with just enough features required to run it and analyze audience response. On the other hand, a Proof of Concept is created just to discover whether an idea or product can be converted into a real life application. A POC doesn't need to gather customer feedback or function as a complete product.
A typical SDLC goes through the Proof of Concept (POC) -> Prototype -> Minimum Viable Product (MVP) stages -> Production stages.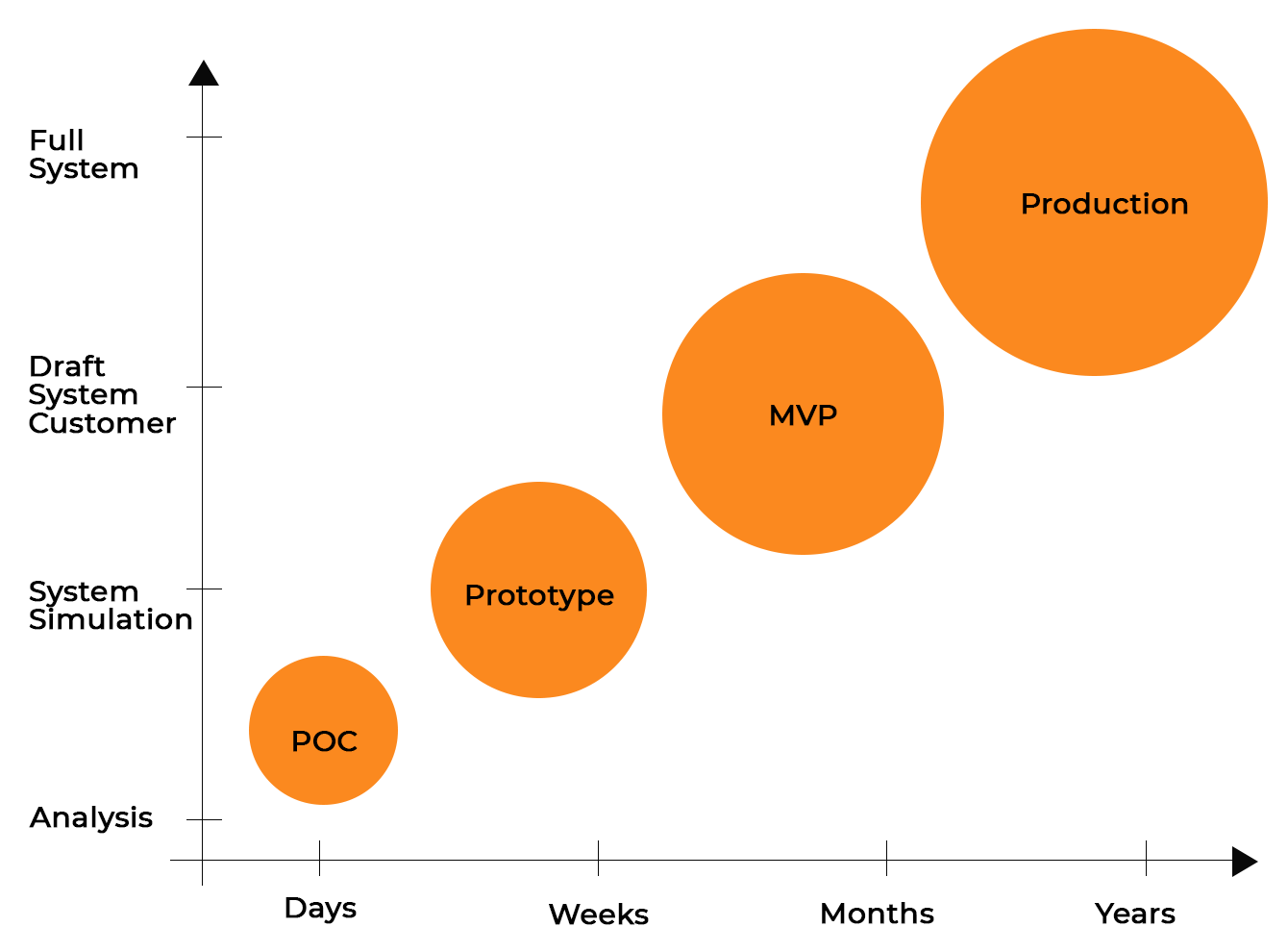 Image source : steelkiwi.com
( Blockchain Simplified can help you with the initial Proof of Concept for your project before the actual commencement.)
Why do you need to have a Proof of Concept (POC)?
An example of creating a Proof of Concept, in the realm of software, could be while building a new web or mobile app for a new client, or could also be while automating a redundant manual task, to name a few. In any case, the POC is developed to pin down the different technologies that may be required, the configurations of the systems, and many other hardware and software specifications. Although a technical proof of concept doesn't focus on the commercial aspect of the product, it does provide you details of cost-effective technologies that can be used.
The POC is designed in order to generate immediate internal feedback inside the company, before it is taken forward and presented in front of potential investors or clients. Once it is approved by the internal managers and supervisors, it can then be used as a successful idea to sell it to stakeholders and buyers.
To know more about how to write a POC, click here.
Benefits of Proof of Concept (POC)
A Proof of Concept can be viewed as a deciding factor before even an actual product is developed and launched. It can help you take informed decisions about monetary investments in the project, by determining the commercial viability of the product. It can tell you if the project is feasible, technology wise or not. Generating a POC can help you identify potential gaps and loopholes and other risk factors beforehand, thereby preventing huge losses and down-time in the future.
About Blockchain Simplified
Blockchain Simplified is a Top blockchain development company in Pune - India which works on all major Blockchain requirements. We specialise in Blockchain, Web and Mobile development (One Stop Shop for all technology development needs).
Our clientele includes Multiple Funded Start - Ups, SMBs and few MNCs few of which are NASDAQ and NSE listed.
Some of our work includes,
Blockchain based-
hubrisone.com - is a Live app with 100,000+ downloads, All-in-One Cryptocurrency current account. The entire development from scratch carried out by Blockchain Simplified.
All in one Platform - Complete responsibility of entire software development of the platform ,for a $1m funded blockchain start up, led by a team of serial entrepreneurs and tech veterans in Silicon Valley.
Well funded Blockchain startup - Blockchain Simplified helped a $6m funded American Blockchain startup to build the first blockchain protocol to leverage on-chain smart contracts to manage distributed storage of application data off-chain.
Multinational Bank - The company helped one of the top 3 ranking Multinational Banks to integrate various cryptocurrencies into their banking application.
and more…
Non-Blockchain-
SHC - Built entire platform and app from scratch for a $1m funded startup led by a team of Americans including PhD degree holders.
VMW - Developed app for a multi-national company providing mass factory-to-factory shipment services. App is being used by 53 of the Fortune 500 companies such as John Deere, Coca-Cola, Nissan.
and more…
Expertise
Blockchain Development : Bitcoin, Ethereum, Hyperledger, Corda, and more.
Mobile App Development : Android Native, iOS Native, React Native, Flutter, Xamarin.
UI/UX Design : Strategy, Planning, UI/UX Design, Wireframing, Visual Designs.
Web App Development : Node.JS, Angular, React.JS, PHP.
Backend Development : MongoDB, MySQL, AWS, Firebase.
Visit our official website https://blockchainsimplified.com/ for more information.