A reliable Lending Management Platform
UPTIQ connects wealth advisors and their clients to a comprehensive set of financial services products by providing a secure and reliable wealth management platform. With the help of Data Analytics and Artificial Intelligence, the platform not only provides efficient financing solutions to investment experts that help them meet their financial growth objectives faster but also protects their AUM, expands their client base and helps generate additional revenue. UPTIQ's incredible clientele include Credibility Capital, Bank 34, Celtic Bank and many more.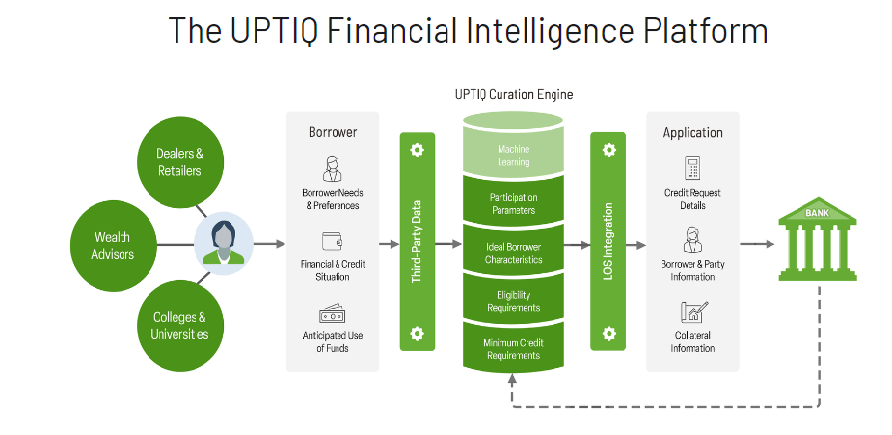 UPTIQ for Financial Wealth Aggregators
Uptiq's AI based intelligence platform helps wealth aggregators streamline their operations and speed up activities by providing their advisors and clients curated financial solutions. From intelligently matching lenders and borrowers, automating loan processing, submission and approval processes, collateral data collection to reporting and analytics, Uptiq does it all and much more. By enabling a seamless lender-advisor-borrower relationship, the platform expedites the entire deal workflow that eventually helps in generating more loan volume.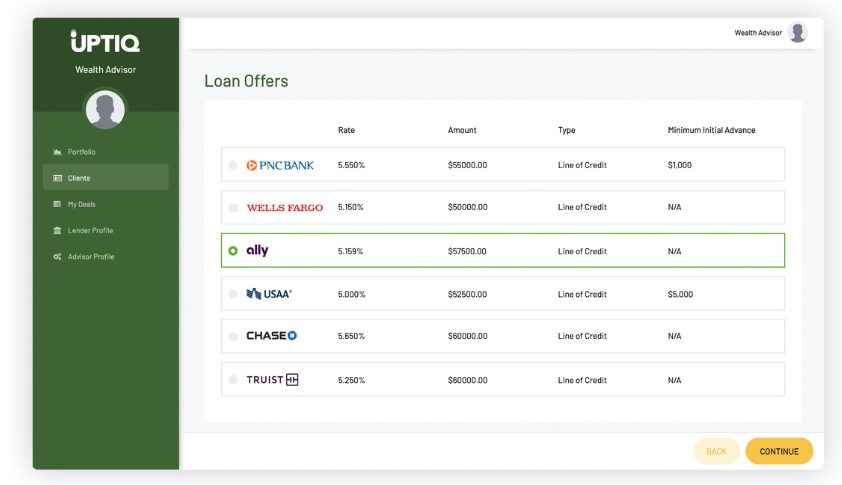 UPTIQ for Financial Wealth Advisors
Uptiq aids financial wealth advisors seamlessly manage their clients' credit and liquidity. Its intelligent financing technique helps advisors match their clients to loan products and lenders based on their requirements and financial objectives. It simplifies financing for advisors by giving them different ways to solve client challenges like enabling clients to make large purchases, fund their business activities or access cash on-demand without liquidating their assets. Along With that, Uptiq also facilitates and automates loan application and submission processes to accelerate the approval and funding.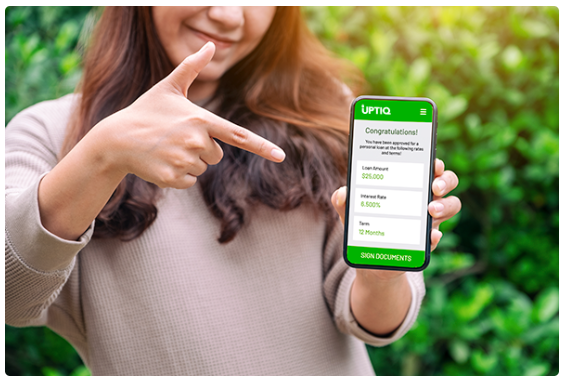 UPTIQ for Borrowers
Borrowers can use the UPTIQ Financial Intelligence platform to connect to lenders based on their unique needs and requirements, preferences, financial condition, anticipated use of funds etc. The platform matches borrowers to lenders using the intelligent Needs Assessment technique, which dynamically renders questions, based on borrower responses, that determines the loan product and amount required, the credit and financial profile of the borrower and other relevant criteria that is used to curate loan offers from its network of lenders. This guarantees relevant loan offers and qualified financing for borrowers.