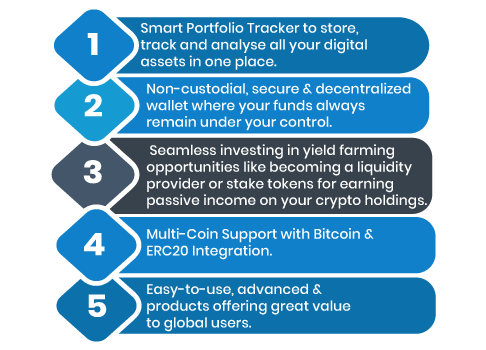 Features of HubrisOne X
1. Smart Portfolio Tracker to store, track and analyse all your digital assets in one place.
2. Non-custodial, secure & decentralized wallet where your funds always remain under your control.
3. Seamless investing in yield farming opportunities like becoming a liquidity provider or stake tokens for earning passive income on your crypto holdings.
4. Multi-Coin Support with Bitcoin and ERC20 Integration.
5. Easy-to-use, advanced and products offering great value to global users.
The HubrisOne X wallet
An integrated, non-custodial wallet that allows you to easily send or receive crypto to anyone in the world just by using their HubrisOne Wallet username, email address or mobile number. The wallet enables you to access any crypto exchange using HubrisOne X liquidity. It also offers the latest crypto prices and charts. The wallet can be connected in case of token swaps or contributing to the pool.